The first color that comes to mind when you think about nursing shoes is the color white. Most medical schools require clinicians and nurses to wear white shoes. However, keeping white shoes clean can be very difficult, especially if you're working in an environment where you will come into contact with bodily fluids, spills, and chemicals that could easily stain your white shoes.
Whether you're working in a healthcare facility or hospital that requires you to wear white nursing shoes or you just prefer white shoes, there are a variety of shoes you can find in the market that will suit your needs while still providing you with comfort, style, and protection for your feet.
The history behind why nurses wear white nursing shoes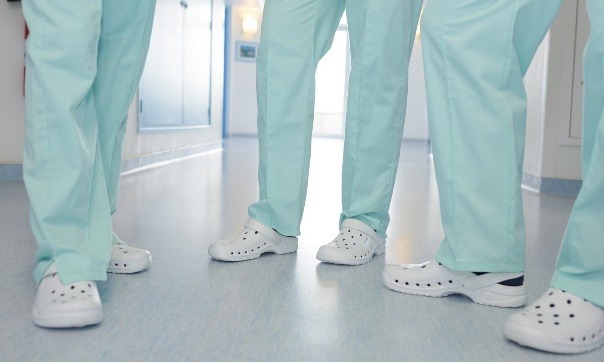 Although nurses have a nursing uniform, the dress requirements for nurses by Florence Nightingale was what paved the way to an all-white nurse's uniform in the 20th Century. When Nightingale founded her nursing school, a student of hers came up with the uniform for nurses in training, and nurses today still abide by these dress codes. When the World Wars broke, nurses needed to be more mobile, and this forced them to roll up their long sleeves and hemlines. This changed the design of the uniform to having shorter sleeves and hemlines.
Later, the nurses started wearing an all-white nurse's uniform from the all gray tweed dresses after the public and scientific community became aware of how gems are spread as a sign of their cleanliness and care. The nurses still wore black shoes until white leather was introduced to the market, and that's where the white nursing shoes were born.
please read more: Top 10 best black leather nursing shoes
In the 1980s, the traditional nurse's scrubs became a thing of the past when male nurses came into the scene, which gave way to a more gender-neutral attire. So instead of an all-white uniform, nurses could now wear uniforms with different colors and patterns. Most hospitals became more practical than traditional, and now nurses can choose to wear white nursing shoes or not.
please read more: Cute White Nursing Shoes
Best White Nursing Shoes
Dansko Professional Clog: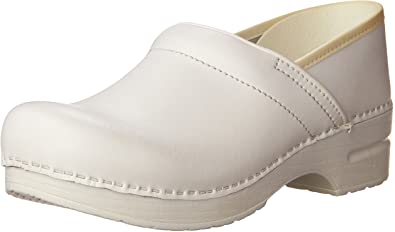 Dansko is one of the top brands that medical professionals turn to when they need high-quality work boots. And one of the best options for white nursing shoes is the Dansko Pro Clog. When you slip into these beauties, you'll be showered with compliments. The traditional comfort clogs are available in a range of polished or oiled leather finishes, as well as patterns and textures, to blend in or stand out.
As soon as the feet touch the shoes, the padded collar provides a supportive and safe fit. Extra durability and freedom of mobility are provided by a wider reinforced toe box right where you need it. The removable dual-density foam footbed retains moisture and offers all-day comfort. The walking movement is supported by the rocker forefoot's propelling action. The non-slip grip sole is resistant to sweat, bodily fluids, oils, and even animal fats, so all you have to worry about is your work.
read more: Dansko professional clog review
Alegria Duette Slip Resistant Work Shoe: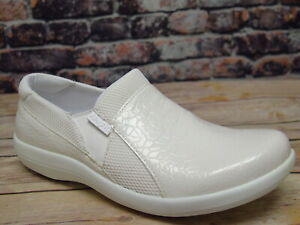 The slip-on style makes getting in and out of these shoes, which have a 1.25-inch heel height, a breeze, making it one of the best white nursing shoes. Comfortable and supportive, the shoes come in a variety of colors, including white and five other dazzling hues.
Alegria work shoes are ideal for anyone who may be on their feet all day. For maximum comfort and protection, these nursing shoes have a perfect fit removable footbed made of latex, cork, and memory foam. This pair of work shoes are made of leather and has a leather lining for added comfort. The sole is made of slip-resistant polyurethane, which serves as a shock absorber as well as prevents slips and falls.
Crocs Women's Neria 2 Pro Clog W Mule: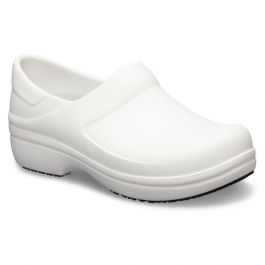 Crocs are no doubt one of the best white nursing shoes out there. If you work a lot of long hours, the Crocs are ideal. These shoes provide all-day support, reducing the tension and exhaustion that come with working long hours. The heel is 1.5 inches high, and the platform is 0.75 inches wide.
The slip-resistant rubber sole has a snug bottom that provides the right amount of shock absorption as well as a deep heel strike that provides excellent traction and slip resistance, and the inside has a soft fabric lining.
The Crocs are made to be quickly put on and taken off, but they are not built to slip off while walking or running. These shoes are also great for people who suffer from plantar fasciitis. This is because they have three layers of comfort: memory foam pillows, a foam footbed, and a croslite outsole.
Originally designed for nurses and other healthcare professionals, this shoe is now being worn by hospitality staff, teachers, and veterinarians who appreciate the all-day comfort it provides. Crocs Neria Pro Clog shoes come in several different colors and sizes.
read more: Crocs Women's Neria 2 Pro Clog W Mule review
Skechers Performance Go Walk Shoe: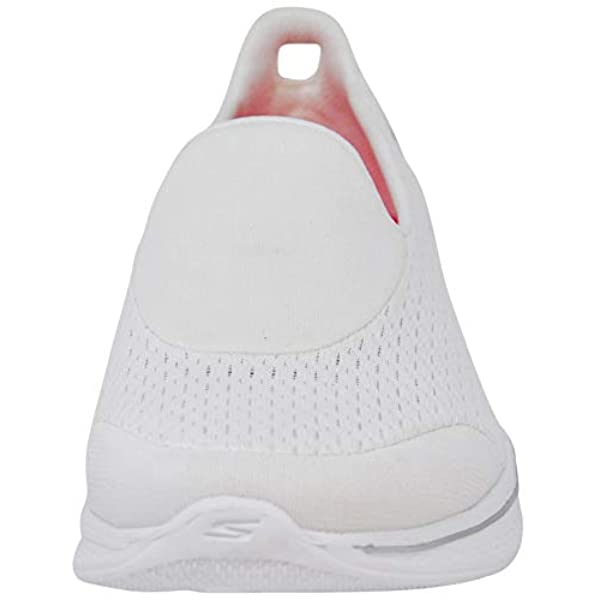 Skechers Performance shoes have been specifically designed with the needs of the nursing community in mind, and are marketed as shoes that provide all-day comfort and support. These shoes have good arch support and a comfortable shape that enables nurses to stand for long periods without being fatigued.
The platform is 0.75 inches and the heel is 1.5 inches. The soft fabric lining on the inside, as well as the roomy interior, offer superior comfort and security for your toes. Its rubber sole has a comfortable bottom that provides just the right amount of shock absorption, as well as a large heel strike that provides excellent stability.
The best thing is that this shoe offers a wide range of heel sizes and heights, meaning that anyone can find a perfect match. It's available in a variety of colors. You'll never have to choose between looking good and feeling good with the Skechers Performance walking shoe.
read more: Skechers Performance Go Walk Shoe
Crocs On The Clock Work Clog:
Finally, the Crocs work clog is a unique-looking nurse's shoe that is immediately recognizable and appealing. Croc is a popular brand, and these nursing shoes have a stylish look to them, but they are still understated enough to function in a hospital setting.
There is a good color range; traditional white for the wards but also black; all the materials are synthetic with clean lines; there is a strong slip-resistant sole, Croslite material to relieve pressure, and a footbed that increases circulation and messages feet; and there is a strong slip-resistant sole, Croslite material to relieve pressure and a footbed that increases circulation and messages feet.
read more: Crocs On The Clock Work Clog
Nurse Mates Libby Slip On Shoes:
Because of their comfort, ease, and versatility, slip one is common in the medical field. And the Nurse Mates Libby white slip-on shoes are one of the most common models. Full-grain leather uppers are available in a variety of colors to match or complement your favorite scrubs. By fully enclosing the heel with a padded collar, the clog style shoe goes beyond and beyond traditional back lip choices.
The soft leather lining wicks moisture away from the feet, keeping them cool and dry. For added comfort, the footbed has a pillow top that can be removed to accommodate your orthotics. The heel is just under 2 inches for a secure and easy rise. The lightweight rubberized sole is also slip-resistant, so you'll be safe no matter what you're up against.
Alegria Women's Paloma Flat:
If you've ever wondered what happy feet look like, you've come to the right place. The Alegria Women's Paloma Flat is a colorful, immensely successful Mary Jane that is arguably one of the trendiest nursing shoes. So, what distinguishes this apartment from the rest of the MJs? I'm glad you inquired.
Aside from being dazzling white, the Paloma Flat is jam-packed with a variety of technologies aimed at keeping you relaxed for the duration of your shift and then some overtime.
But that's not the best part; once you see the specs, the Alegria Women's Paloma Flat is sure to become a regular staple. Do you prefer to use your custom-made orthotic insoles? Simply remove the removable footbed and replace it with custom insoles for even more personalized comfort.
Similarly, the manufacturer thought to provide built-in arch support and anatomically correct design to provide you with that extra bit of comfort and support during the day. The Rocker Outsole, on the other hand, is designed to roll naturally and provide you with better posture and a regular gait. After a few hours on your feet, you won't be limping anymore.
Now comes some shoes which might not be traditionally the best white nursing shoes but are considerable nowadays. Sneakers!
read more: Alegria Women's Paloma Flats review
Skechers ( Work 76555 Albie Tennis Shoe):
The Skechers for Work Women's 76555 is not the same as the Skechers model we just mentioned. This product is not a slip-on like the previous one. In reality, the Work women's 76555 is a laced-up tennis shoe that supports your foot as you go about your daily tasks. Since lacing them up takes time, these shoes are intended to be worn rather than removed regularly. This is why the majority of ICU nurses choose to work in pairs like this.
Spillage is not even an issue thanks to synthetic fiber. Spillage is normally an issue since we are concerned about the diseases it can cause. The material used to make the 76555 is synthetic. This substance does not absorb liquids, as well as natural materials, do. It's also a lot easier to keep clean!
The work women's 76555, like the other shoes, has a rubber sole that lets the wearer maintain a tight grip on the field.
ASICS Gel Nimbus Tennis Shoe:
The ASICS gel Nimbus shoe is made to perfectly match your foot. Spills are not absorbed into the shoe thanks to the synthetic fabric. We all know that almost every nurse is concerned about this. It also implies that the shoes are simple to maintain!
A rubber sole is also included with the shoe. This indicates that the shoe has a strong grip on the deck, lowering the risk of a nurse slipping. The platform's height makes the shoe comfortable and simple to wear. The back and calves are not subjected to any extra pressure.
The ASICS gel is a product developed by ASICS. The Nimbus shoe is a lace-up shoe made for running. It's ideal for nurses who operate in high-intensity environments such as emergency rooms, trauma centers, and even intensive care units. The breathable mesh and padded collar function together to provide greater comfort for the customer. They also aid in the securement of the foot. Another nice feature is the protective heel clutching device, which supports the user's heel and ankle! This shoe is perfect for nurses who supinate or under pronate.
read more: ASICS Gel Nimbus Tennis Shoes
Brooks Women's Addiction Walking Shoes:
It may be the HydroFlow technology, which improves and boosts midsole cushioning for unrestricted shock absorption. Ladies, you know what that means at closing time: good news for battered feet. Furthermore, Brooks attached dynamic gooey fluid units to the forefoot and heel to give you the sensation of walking on artificial clouds.
But that isn't even the most appealing aspect; not by a long shot. The Brooks Women's Addiction Walker tennis shoes feature extended progressive diagonal rollbars and a solid, dual-density arch post for pronation control. Finally, the ASTM-approved skid and slip-resistant outsole are designed to reduce the number of workplace injuries.
read more: Brooks Women's Addiction Walking Shoes
New Balance Women's WW577 Walking Shoe:
Although this pair of shoes is not available in a wide range of colors, the black and white versions that are available are extremely common. The New Balance Women's WW577 Walking Tennis Shoe is made of leather and is both sturdy and practical.
It protects your skin from spills by covering the entire surface of your foot. The lace-up feature allows you to customize the fit of the shoes to your foot. This helps to avoid injuries caused by ill-fitting or loose shoes. The rubber sole is another attribute that helps to avoid injuries. It accomplishes this by allowing the wearer to maintain a secure grip on the round.
On those days when you're running back and forth, the Abzorb shock-absorbing cushion comes in handy. Any time your feet make contact with the earth, it absorbs the impact. This helps to avoid aches and pains that are common at the end of a long day at work.
read more: New Balance Women's WW577 Walking Shoes
Reebok Women's Work N' Cushion 4.0 Walking Shoe:
This is one of the most underappreciated shoe brands, with just a few people aware of it. The truth is that this shoe is extremely well-stabilized and is thick enough to withstand extended periods of standing. This tennis shoe is available in three different colors: white, grey, and black.
The Reebok Company's iconic DMX Ride technology and low-cut design work to provide arch support and excellent traction in any scenario. In terms of comfort, this shoe has dense padding that not only makes it comfortable but also makes it slip-resistant, making its way up in the list of best white nursing shoes.
Reebok's fashionable style is timeless; you can wear them to work and even after work. They are irresistible, particularly at such a low price. What stands out the most, though, is the ultra-soft leather interior, which helps to keep your feet healthy by wicking away excess moisture.
The Reebok conforms to the contours of the feet, making standing more comfortable. The removable insoles provide superior arch support, as do most other nursing shoes, and there is plenty of toe space. Overall, it's an excellent decision.
Fila Women's Memory Slip Resistant Work Shoe:
These Fila Collection slip-resistant shoes are sure to please. They are slip-resistant and extremely light, as the name implies. These shoes are recommended as the perfect option for standing all day on your feet.
The lightweight structure and memory foam in this shoe contribute to its comfort. The upper portion is made entirely of leather, which offers lateral protection as well as a fantastic look and feel. Rubber inserts in the light outsoles have superior comfort and stability.
The shoe also features a 1.5-inch heel and a memory foam sock lining for superior arch protection. This extra help relieves exhaustion without adding weight to the shoe. EVA (ethylene vinyl acetate) is used in the midsole to provide additional cushioning when standing or walking.
The shoe's collar is cushioned and has an elastic opening, allowing you to easily slip your feet inside while still enjoying a comfortable fit. The shoes are available in a variety of colors and sizes, with medium and small sizes to accommodate all.
read more: Fila Women's Memory Slip Resistant Work Shoes
Nike Women's Lunarglide 9 White Tennis Shoe:
Nurses do a lot of work that allows them to drive. As a result, it's always safer to go for a pair of shoes that are specifically made for running. One example is the Nike Women's Lunarglide tennis shoe.
The shoe is made of mesh, which gives it a light and airy feel. The rubber sole is designed to keep the wearer from slipping. The Lunarglide foam is known for its luxurious cushioning. It is for this reason that Nike has used it to support the foot. The lightness of the padding significantly decreases the shoe's weight.
Another feature that makes this model so common is the lack of bulky support. Nike has used Fly-knit material and fly-wire cables to ensure that this is delivered to the wearer. This not only provides support but also aids in breathability. All of this adds up to a fantastic pair of Nike Lunarglide shoes.
read more: Nike Women's Lunarglide 9 White Tennis Shoes review
What to consider when buying:
Lightness & comfort:
The weight of the shoes is a very important factor because you will be wearing them nearly every day and for long periods. Shoes that are clumsy or heavy can make you feel uncomfortable. This can affect your productivity and results. Your efficiency will suffer if you are wearing uncomfortable nursing shoes.
As a result, make sure your nursing shoes are very comfortable and don't cause any discomfort. If your job requires you to move around a lot, you'll need to invest in a pair of lightweight shoes.
You can improve your overall comfort by getting compression socks in addition to lightweight and supportive nursing shoes. These socks aid in blood circulation and flow, reducing the swelling that is common in people who spend a lot of time on their feet.
Shoes that support you:
Since nurses work long shifts, it's important to invest in a shoe that provides adequate support and stability. This is crucial for both your relaxation and your well-being. To remove or minimize foot, back, and leg pain, the shoe you're considering should provide awesome back and ankle support during your workday. If you don't, you could end up with leg and back problems in the future.
Style and content, as well as shape and height, may have a significant effect on how the shoe performs. As a result, when purchasing nursing shoes, keep these considerations in mind. You can also try out various combinations of features to see which ones work better on your feet. Supportive footwear is both convenient and beneficial to your well-being.
Design and make:
Best white nursing shoes come in a variety of types, designs, and materials. Clogs, crocs, running shoes, and tennis shoes are some of the most popular shoes worn by nurses. Depending on the work surface, foot style, and medical condition, each shoe has its own set of advantages and disadvantages.
If you have to pick between trendy nursing shoes that aren't comfortable but look nice and plain-looking shoes that keep your feet safe and happy, go for the latter. Another important factor to remember is the material quality. You don't want to have to go to the store every so often. One material that is known for its toughness is leather.
Factors to consider when choosing the right white nursing shoes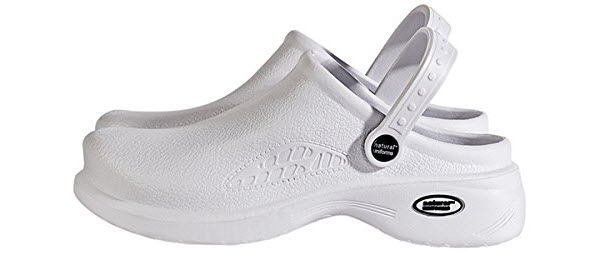 Choosing the right nursing shoe depends on where you work, the amount of time you spend on your feet, and the type of hazards you face regularly, and the kind of shoes that are appropriate for your situation all have a significant impact on your daily comfort, protection, and support.
Support and stability
Support and stability are critical when choosing nursing shoes because you will be spending most of your time walking or standing on your feet. As the months and years pass by, the shoes you wear will have a significant impact on the health of your back and feet. Factors like ankle support, shoe arch, width, midsole, heel, and toe box all play an essential role in your overall experience, so you need to consider how the design of the shoes can provide proper support for your shoe type. You can also consider using premium insoles to give you extra arch support if you find the right shoes, but the standard arch support that they offer doesn't fit properly with your foot type.
Breathability
Depending on where you work in the hospital or healthcare facility, the kind of shoes you can wear will vary, and also the breathability of your shoes. The shoes may keep your feet cooler, but it might not be safe to wear them in some environments. In some healthcare facilities, it might be safe for you to wear tennis shoes with small perforations if you work in a low-risk area. Still, in other areas, you will be required to wear closed solid clogs to protect your feet from chemicals and hazardous materials. If you're not sure what is acceptable in your workplace, check with your supervisor.
Grip and non-marking outsoles
If you work in an environment with slippery floors or frequent spills, you need to wear nursing shoes with excellent grip and traction to reduce your chances of accidental slips and falls. Also, ensure that your shoes have non-marking outsoles so that your shoes don't leave streaks on the floor that are a frustration to the cleaners.
Stainability
Get shoes you can easily clean, are stain-resistant, and durable because your shoes easily collect dirt, debris, spills, and spills. Your shoes should be easy to wipe with a cloth or a shoe cleaner to maintain the shoes and increase their lifespan.
How to Shop for the Best White Nursing Shoes
Comfort isn't something that can be associated with nurses because most of your days are filled with a lot of discomforts. This can be attributed to several factors like spending long hours standing, physical exertion, and lack of time to get a break to relax. You can reduce the stress of the job, depending on the kind of nursing shoes you wear to work. Wearing inappropriate shoes can be your worst nightmare.
If you're looking for all-white nursing shoes that are stylish, comfortable, and functional and you haven't found one that suits your personal needs, then you might be overlooking some important factors that might have a huge impact on your overall experience and satisfaction. Although many factors go into making a good nursing shoe, some of the most important factors include overall support, foot protection, shoe material, outsole grip and slip resistance, quality built, design, comfort, and price. While you can buy a good pair of shoes based solely on reviews, but you should also consider how you will use them and your own needs as there may be certain aspects about the shoes that might not satisfy your individual needs.
For example, you might get a very stylish shoe that highly works functional and is very comfortable. Still, if you have wide or narrow feet, joint problems, low or high arch, or work in a hazardous environment, then you realize that the shoes will not accommodate your needs. This is especially important for people with different foot shapes and sizes because we all don't have the same feet, and what works for you might not work for another person. In the long run, your nursing shoes have a significant impact on your overall physical health, comfort, and support, so make sure you know all the good and bad about the nursing shoes you want to buy.
How to Pick the Best White Nursing Shoes

Read the reviews
Reading the reviews and comments that customers leave concerning a particular shoe is an excellent way of giving you more information that will help you decide if that particular pair of shoes are right for you. Most of the time, you will learn a lot more about the shoes than from the average ratings. You may find customers with similar feet to yours, and the shoes might not fit them properly, especially if you have wide or narrow feet, have low or high arches, or you have a particular foot condition that requires the shoes to have a specific design, shape, or construction.
Some websites use ratings that help to determine how close a shoe is to your expectations. A shoe might end up being bigger or smaller than expected or be a bit narrow or wide, and the reviews can help you realize that this is a common thing with a particular type or brand of shoes. Reviews help you to pinpoint important areas that you would otherwise overlook in the first place. Other websites provide you with charts and comparison tables that show the strengths and weaknesses of each shoe, making it easier for you to compare and contrast each nursing shoe.
A nursing shoe may look great on its own, but when you compare it with another shoe in the same category, it doesn't fair very well. Reading reviews and looking at comparison charts also helps you to check the quality and authenticity before making your decision. Websites like Amazon allow you to check the reviews of verified purchases, which reduces the chances of the comments or ratings being fake.
Blogs and forums
Reading popular blogs and forums is also another strategy you can use to help you choose the right nursing shoes. These websites provide you with a lot of information about specific nursing shoes that you may not find in your typical shoe store or eCommerce website. An excellent blog will provide you with lots of information about each product and explain to you why a particular shoe is best for you. Forums are a good discussion point where you can voice what you like and don't like about a specific shoe, style, or brand and get feedback from other nurses on what they think would suit you based on their experiences.
Co-workers recommendations
If you work with nurses or know some who have worn most of the clogs, crocs, or tennis shoes available in the market, you can ask them the type of shoes they prefer or recommend and especially if you two have similar foot problems or share the same foot type. In most cases, nurses who have been working in the field for a long time have tried most of the nursing shoes and their accessories over the years and have become better at choosing the right nursing shoes that have the perfect balance of comfort, durability, protection, and support. It's not a guarantee that asking your co-worker will help you find the right nursing shoes, but it will help you in your research and may even give you a solution to your problems.
Foot experts and specialists
Podiatrists and foot specialists are experts in the field of foot health, and they will help in diagnosing any foot problems you may have, measuring your feet, and recommending the proper shoes that will help meet your specific needs. As a nurse, you will likely spend most of your time on your feet, and with time this can lead to back, foot, and joint problems if you don't take good care of yourself. If you're always finding it hard to find comfortable nursing shoes or have a problem with your lower back, then a podiatrist is an excellent option if you want to improve your foot health and make your life less stressful.
Even if you don't have any physical ailments currently, it's always a good idea to visit a specialist to reduce your chances of choosing the wrong shoe that may contribute to some problems later on. The support, comfort, and durability of your shoes become increasingly important if you're going to spend most of your time on your feet standing or walking daily. Going to see a podiatrist and investing in a good pair of nursing shoes is a significant investment that your feet will thank you for.
How to clean white shoes with toothpaste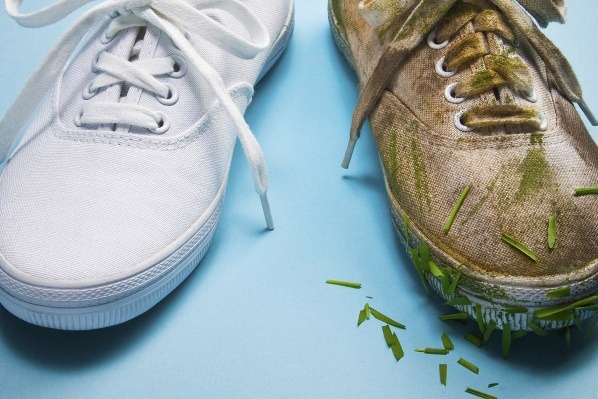 Remove excess dirt or mud.
Use a soft nylon brush or cotton cloth to remove excess dirt from the surface of your shoes.
Remove the laces
Removing the laces will make it easier to clean the shoes. Soak the laces in warm soapy water or throw them in the washing machine.
Dampen the outside of your shoes
Use a damp rug and rub it over the entire shoe to remove the initial dirt so that you don't soak the shoes. You don't want to saturate the leather on your shoes over because it will damage them with time.
Rub toothpaste on the stains
Use non-gel whitening toothpaste that has no artificial dyes that can stain your shoes. Put a dab of toothpaste on the problematic areas and rub gently with your fingers.
Scrub stains with a toothbrush
In a circular motion, scrub the toothpaste to break down the stains and clean the entire shoe in the same way.
Wipe the toothpaste with a towel
Use a rag dipped in warm water to wipe off all the toothpaste left after cleaning.
please read more: How to clean nursing shoes
How do you narrow down your choices?
It's not easy as a nurse to determine the right shoes you want to wear solely on their appearance, because you're not a podiatrist or a shoe sales rep who sells shoes for a living. Even though you're not an expert in nursing shoes, you can still find a great pair of shoes if you keep some things in mind before making your purchase.
The first thing you need to consider is the kind of shoes that will be appropriate in your workplace. This way, you will be able to narrow down the type of shoes that you need. Some hospitals and healthcare facilities may even give you a guideline on the kind of shoe you should wear in your workplace, and this will make it easier for you to find the right shoes that will provide overall comfort, support, traction, and protection for your feet as you work.
The next thing you need to think about is the features and designs that best suit your foot type, but this will mostly depend on the arches and width of your feet. If you have a normal arch, this will not be a problem, but if you have problems finding a comfortable shoe to wear, it would be advisable to get your feet measured by a professional to get your arch, size, and width to know the best shoes for your feet. You could also buy premium insoles to provide extra support if you have a medical condition or if you have a low or high arch to help improve your comfort and foot health.
Once you've got the right shoe for your particular foot type, you can check several websites to compare the different shoes to get their pros and cons before you make an informed decision. This way, you can create a list of the must-haves and deal-breakers to help you narrow down on the kind of shoes you should wear.
FAQ
Why do nurses wear different colored uniforms?
The light green uniforms are worn by the domestic staff who work in the wards and other areas as part of the cleaning team. The white uniform with dark blue sleeves and collars is worn by physiotherapists in the hospital.
please read: Colorful Nursing Shoes
Should nurses be wearing scrubs?
Scrubs provide a nurse with enough space to put all your nursing gear thanks to the pockets in the uniform. However, this all depends on the dress code in a particular healthcare facility that is specific on the scrubs to wear, which can reduce the pockets in the uniform.
please read: Why do nurses wear scrubs?
Why do nurses wear white?
The color white typically symbolizes cleanliness, purity, honesty, and other characters that people associate with a nurse.
What kind of shoes do nurses have to wear?
The most commonly worn shoes by nurses include clogs, sneakers, crocs, and casual shoes. What is required in some facilities may vary, but most healthcare facilities require nurses to wear closed-toe shoes with a covered heel to provide foot protection and slip resistance.
please read: Top 10 Nurse Shoe Brands
Why do surgeons wear crocs?
Surgeons mostly wear crocs because of the proprietary Croslite material used to make the crocs resistant to stains from bodily fluids and blood that spills from patients on the operating table to them.
more related posts: