The first color that comes to mind when you think about nursing shoes is color white. Most of the medical schools require clinicians and nurses to wear white shoes. However, keeping white shoes clean can be very difficult, especially if you're working in an environment where you will come into contact with bodily fluids, spills, and chemicals that could easily stain your white shoes.
Whether you're working in a healthcare facility or hospital that requires you to wear white nursing shoes or you just prefer white shoes, there are a variety of shoes you can find in the market that will suit your needs while still providing you with comfort, style, and protection for your feet.
The history behind why nurses wear white nursing shoes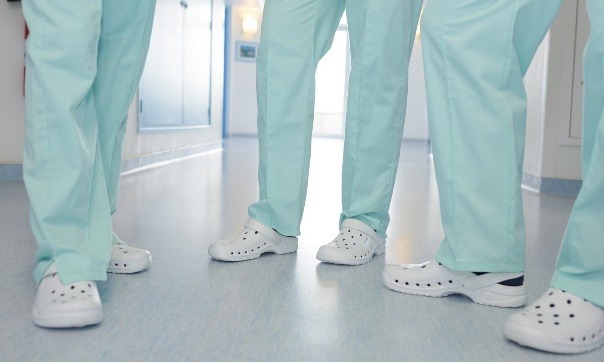 Although nurses have a nursing uniform, the dress requirements for nurses by Florence Nightingale was what paved the way to an all-white nurses uniform in the 20th Century. When Nightingale founded her nursing school, a student of hers came up with the uniform for nurses in training, and nurses today still abide by these dress codes. When the World Wars broke, nurses needed to be more mobile, and this forced them to roll up their long sleeves and hemlines. This changed the design of the uniform to having shorter sleeves and hemlines.
Later, the nurses started wearing an all-white nurse's uniform from the all gray tweed dresses after the public and scientific community became aware of how gems are spread as a sign of their cleanliness and care. The nurses still wore black shoes until white leather was introduced to the market, and that's where the white nursing shoes were born.
In the 1980s, the traditional nurse's scrubs became a thing of the past when male nurses came into the scene, which gave way to a more gender-neutral attire. So instead of an all-white uniform, nurses could now wear uniforms with different colors and patterns. Most hospitals became more practical than traditional, and now nurses can choose to wear white nursing shoes or not.
Tips to help you choose the right nursing shoes
Comfort isn't something that can be associated with nurses because most of your days are filled with a lot of discomforts. This can be attributed to several factors like spending long hours standing, physical exertion, and lack of time to get a break to relax. You can reduce the stress of the job, depending on the kind of nursing shoes you wear to work. Wearing inappropriate shoes can be your worst nightmare.
If you're looking for all-white nursing shoes that are stylish, comfortable, and functional and you haven't found one that suits your personal needs, then you might be overlooking some important factors that might have a huge impact on your overall experience and satisfaction. Although many factors go into making a good nursing shoe, some of the most important factors include overall support, foot protection, shoe material, outsole grip and slip-resistance, quality built, design, comfort, and price. While you can buy a good pair of shoe bases solely on reviews, but you should also consider how you will use it and your own needs as there may be certain aspects about the shoes that might not satisfy your individual needs.
For example, you might get a very stylish shoe that highly works functional and is very comfortable. Still, if you have wide or narrow feet, joint problems, low or high arch, or work in a hazardous environment, then you realize that the shoes will not accommodate your needs. This is especially important for people with different foot shapes and sizes because we all don't have the same feet, and what works for you might not work for another person. In the long run, your nursing shoes have a significant impact on your overall physical health, comfort, and support, so make sure you know all the good and bad about the nursing shoes you want to buy.
Here are some tips that will help you in choosing the right pair of nursing shoes.

Read the reviews
Reading the reviews and comments that customers leave concerning a particular shoe is an excellent way of giving you more information that will help you decide if that particular pair of shoes are right for you. Most of the time, you will learn a lot more about the shoes than from the average ratings. You may find customers with similar feet to yours, and the shoes might not fit them properly, especially if you have wide or narrow feet, have low or high arches, or you have a particular foot condition that requires the shoes to have a specific design, shape, or construction.
Some websites use ratings that help to determine how close a shoe is to your expectations. A shoe might end up being bigger or smaller than expected or be a bit narrow or wide, and the reviews can help you realize that this is a common thing with a particular type or brand of shoes. Reviews help you to pinpoint important areas that you would otherwise overlook in the first place. Other websites provide you with charts and comparison tables that show the strengths and weaknesses of each shoe, making it easier for you to compare and contrast each nursing shoe.
A nursing shoe may look great on its own, but when you compare it with another shoe in the same category, it doesn't fair very well. Reading reviews and looking at comparison charts also helps you to check the quality and authenticity before making your decision. Websites like Amazon allow you to check the reviews of verified purchases, which reduces the chances of the comments or ratings being fake.
Blogs and forums
Reading popular blogs and forums is also another strategy you can use to help you choose the right nursing shoes. These websites provide you with a lot of information about specific nursing shoes that you may not find in your typical shoe store or eCommerce website. An excellent blog will provide you with lots of information about each product and explain to you why a particular shoe is best for you. Forums are a good discussion point where you can voice what you like and don't like about a specific shoe, style, or brand and get feedback from other nurses on what they think would suit you based on their experiences.
Co-workers recommendations
If you work with nurses or know some who have worn most of the clogs, crocs, or tennis shoes available in the market, you can ask them the type of shoes they prefer or recommend and especially if you two have similar foot problems or share the same foot type. In most cases, nurses who have been working in the field for a long time have tried most of the nursing shoes and their accessories over the years and have become better at choosing the right nursing shoes that have the perfect balance of comfort, durability, protection, and support. It's not a guarantee that asking your co-worker will help you find the right nursing shoes, but it will help you in your research and may even give you a solution to your problems.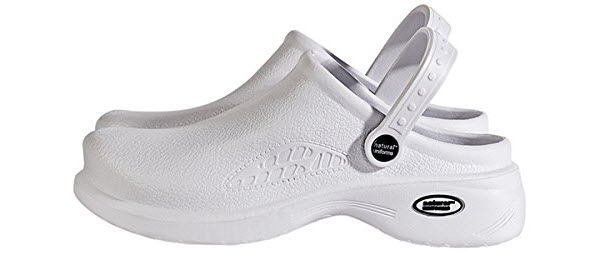 Foot experts and specialists
Podiatrists and foot specialists are experts in the field of foot health, and they will help in diagnosing any foot problems you may have, measuring your feet, and recommending the proper shoes that will help meet your specific needs. As a nurse, you will likely spend most of your time on your feet, and with time this can lead to back, foot, and joint problems if you don't take good care of yourself. If you're always finding it hard to find comfortable nursing shoes or have a problem with your lower back, then a podiatrist is an excellent option if you want to improve your foot health and make your life less stressful.
Even if you don't have any physical ailments currently, it's always a good idea to visit a specialist to reduce your chances of choosing the wrong shoe that may contribute to some problems later on. The support, comfort, and durability of your shoes become increasingly important if you're going to spend most of your time on your feet standing or walking daily. Going to see a podiatrist and investing in a good pair of nursing shoes is a significant investment that your feet will thank you for.
Factors to consider when choosing the right nursing shoes
Choosing the right nursing shoe depends on where you work, the amount of time you spend on your feet, and the type of hazards you face regularly, and the kind of shoes that are appropriate for your situation all have a significant impact on your daily comfort, protection, and support.
Support and stability
Support and stability are critical when choosing nursing shoes because you will be spending most of your time walking or standing on your feet. As the months and years pass by, the shoes you wear will have a significant impact on the health of your back and feet. Factors like ankle support, shoe arch, width, midsole, heel, and toe box all play an essential role in your overall experience, so you need to consider how the design of the shoes can provide proper support for your shoe type. You can also consider using premium insoles to give you extra arch support if you find the right shoes, but the standard arch support that they offer doesn't fit properly with your foot type.
Breathability
Depending on where you work in the hospital or healthcare facility, the kind of shoes you can wear will vary and also the breathability of your shoes. The shoes may keep your feet cooler, but it might not be safe to wear them in some environments. In some healthcare facilities, it might be safe for you to wear tennis shoes with small perforations if you work in a low-risk area. Still, in other areas, you will be required to wear closed solid clogs to protect your feet from chemicals and hazardous materials. If you're not sure what is acceptable in your workplace, check with your supervisor.
Grip and non-marking outsoles
If you work in an environment with slippery floors or frequent spills, you need to wear nursing shoes with excellent grip and traction to reduce your chances of accidental slips and falls. Also, ensure that your shoes have non-marking outsoles so that your shoes don't leave streaks on the floor that are a frustration to the cleaners.
Stainability
Get shoes you can easily clean, are stain-resistant, and durable because your shoes easily collect dirt, debris, spills, and spills. Your shoes should be easy to wipe with a cloth or a shoe cleaner to maintain the shoes and increase their lifespan.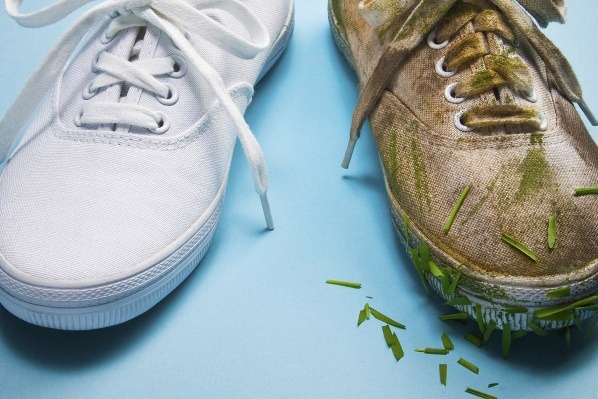 Remove excess dirt or mud.
Use a soft nylon brush or cotton cloth to remove excess dirt from the surface of your shoes.
Remove the laces
Removing the laces will make it easier to clean the shoes. Soak the laces in warm soapy water or throw them in the washing machine.
Dampen the outside of your shoes
Use a damp rug and rub it over the entire shoe to remove the initial dirt so that you don't soak the shoes. You don't want to saturate the leather on your shoes over because it will damage them with time.
Rub toothpaste on the stains
Use non-gel whitening toothpaste that has no artificial dyes that can stain your shoes. Put a dab of toothpaste on the problematic areas and rub gently with your fingers.
Scrub stains with a toothbrush
In a circular motion, scrub the toothpaste to breakdown the stains and clean the entire shoe in the same way.
Wipe the toothpaste with a towel
Use a rag dipped in warm water to wipe off all the toothpaste left after cleaning.
How do you narrow down your choices?
It's not easy as a nurse to determine the right shoes you want to wear solely on their appearance, because you're not a podiatrist or a shoe sales rep who sells shoes for a living. Even though you're not an expert in nursing shoes, you can still find a great pair of shoes if you keep some things in mind before making your purchase.
The first thing you need to consider is the kind of shoes that will be appropriate in your workplace. This way, you will be able to narrow down the type of shoes that you need. Some hospitals and healthcare facilities may even give you a guideline on the kind of shoe you should wear in your workplace, and this will make it easier for you to find the right shoes that will provide overall comfort, support, traction, and protection for your feet as you work.
The next thing you need to think about is the features and designs that best suit your foot type, but this will mostly depend on your arches and width of your feet. If you have a normal arch, this will not be a problem, but if you have problems finding a comfortable shoe to wear, it would be advisable to get your feet measured by a professional to get your arch, size, and width to know the best shoes for your feet. You could also buy premium insoles to provide extra support if you have a medical condition or if you have a low or high arch to help improve your comfort and foot health.
Once you've got the right shoe for your particular foot type, you can check several websites to compare the different shoes to get their pros and cons before you make an informed decision. This way, you can create a list of the must-haves and deal-breakers to help you narrow down on the kind of shoes you should wear.
FAQ
Why do nurses wear different colored uniforms?
The light green uniforms are worn by the domestic staff who work in the wards and other areas as part of the cleaning team. The white uniform with dark blue sleeves and collars is worm by physiotherapists in the hospital.
Should nurses be wearing scrubs?
Scrubs provide a nurse with enough space to put all your nursing gear thanks to the pockets in the uniform. However, this all depends on the dress code in a particular healthcare facility that is specific on the scrubs to wear, which can reduce the pockets in the uniform.
Why do nurses wear white?
The color white typically symbolizes cleanliness, purity, honesty, and other characters that people associate with a nurse.
What kind of shoes do nurses have to wear?
The most commonly worn shoes by nurses include clogs, sneakers, crocs, and casual shoes. What is required in some facilities may vary, but most healthcare facilities require nurses to wear closed-toe shoes with a covered heel to provide foot protection and slip resistance.
Why do surgeons wear crocs?
Surgeons mostly wear crocs because of the proprietary Croslite material used to make the crocs resistant to stains from bodily fluids and blood that spills from patients on the operating table to them.