If you work as a nurse, most of your shifts are often long, with very little time to rest. This means one of the few things that can offer you comfort in your shoes. Alegria nursing shoes are famous for being extremely comfortable and supportive, which is perfect for alleviating back and feet aches and pains.
Alegria is a brand that has become well known for its comfort in its casual and professional footwear. It's a brand that is loved by medical professionals, people in the hospitality industry, and anyone whose job requires standing or walking for long periods. Alegria shoes are the perfect choice if you're looking for better comfort levels, superior shock absorption, arch support, and a perfect fit with proper alignment.
Why nurses love Alegria shoes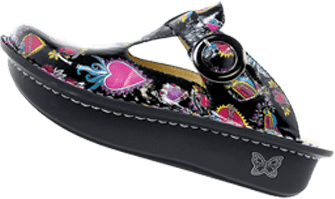 Nurses mostly work long hours on their feet, which can lead to backaches, sore feet, and aching legs. But if you have the right arch support, slip-resistant outsoles, and cushioning, Alegria nursing shoes will help to solve your problems and keep your feet happy. You will not only feel better, but you will be able to perform your duties better and more efficiently, whether you're working an 8-hour shift of more than 12 hours. Your feet will remain comfortable throughout any shift.
Physicians and other medical specialists also love Alegria shoes because of their comfort and support. Maximum shock absorption, rounded and high toe boxes and supportive insoles are some of the great features that nurses and other medical professionals need in most of their shoes. And Alegria has these features and much more to offer.
Different types of Alegria shoes
Best Alegria Nursing Shoes
The Paloma flat design is very similar to the Mary Jane shoes. They're very popular and loved for their breathable leather upper designed to keep your feet cool and dry, a footbed that contours to the shape of your feet, which creates a seamless mold of comfort and support. It has a lightweight and airy exterior to prevent your feet from being hot or sweaty when working for long hours walking or standing and a unique footbed made with latex and cork for superior comfort all day. The footbed conforms to your feet, forming a mold around your feet to provide excellent support for your arches and foot widths. You can use your inserts if you have a pre-existing condition. Although it's expensive, it's very comfortable with a good design, comfortable quality leather retains shape, and is stylish.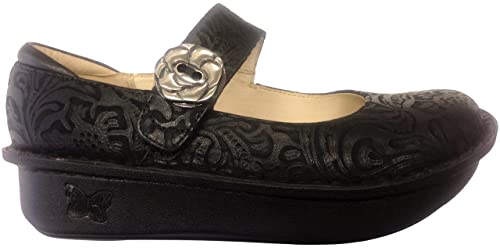 Pros
Very comfortable with or without socks
The removable insoles can be replaced with customized ones
The leather is soft and flexible
Has trendy styles and prints
Cons
Sizing can be tricky
Has a long break-in period
Verdict
Stylish, comfortable, and durable shoes that you can wear for hours without having any aches and pains on your feet.
read more: Alegria Women's Paloma Flats review
These are slip-on shoes that have a high arch and fashionable flair for a busy person who is always on the go. They're made with memory foam, cork, and latex blended footbed for proper cushioning and support even for people with high arches. A rocking sole will help to improve your gait, eliminate heel and toe pains, and relieve pressure from your lower joints from all the hours you spend on your feet. These clogs have a very pliable leather and a super soft insole which makes them easy to slip in and reduces the break-in time.
Pros
Very comfy and lightweight
Easy to break-in
Perfect if you have high arches
A good option for people with feet problems
Cons
Verdict
A comfy, stylish clog that is perfect for people who are always on the go. It provides excellent arch support, and the slip-on design makes it easy to put on and off with pliable leather, which makes it easy to break-in.
read more: Alegria classic clogs review
If you're looking for a pair of slip-on clogs that will get you through the day on your feet with both style and comfort, then these clogs are perfect. These shoes are made with a low-top arch to help prevent back and feet pains after a long shift. They're lightweight and made with a leather upper and lining for extra comfort, a flexible and well-defined rocker sole that encourages proper posture and gives you a natural stride, elastic insteps for a secure fit, and exceptional arch support. The leather-covered insoles contour to the shape of your feet to keep you dry and fresh to provide all-day comfort. These sturdy shoes have a rubber outsole that provides excellent grip, traction, and stability, so you don't have to worry about the floor surfaces you're walking on.
Pros
Has beautiful colors and patterns
Provides relief from heel and foot pains
Incredibly light and comfortable
Requires very little breaking-in time
Cons
They're expensive
The outside wear out quicker than the inside
Verdict
Lightweight slip-on shoes that you can wear all day without developing back, feet, and ankle pains. The rubber outsole gives you proper grip and traction, which keeps you stable no matter the floor surface.
read more: Alegria Women's Keli Professional Slip Resistant Work Shoe review
Duette slip-on
These are stylish slip-on clogs with trendy styles and a slip-resistant sole that are safe to wear to work. They're stain-resistant, so you always look pretty and polished and don't have to worry about messes and spills on the job. The slip-resistant outsole will ensure you're safe and stable on your feet, combined with the rocker outsole to encourage proper posture and balance throughout the day. The stain-resistant leather makes it easy to clean off messes and ensures your clogs look new and polished at all times and increases their lifespan. The removable insoles make it easy to replace with customized inserts or replace them when they're worn out or smelly.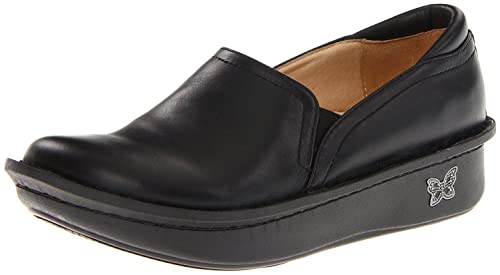 Pros
Very comfortable with ample toe room
Comes in beautiful prints and patterns
Perfect if you have foot problems
They're slip-resistant and stain-resistant
Cons
The prints and patterns fade
It takes time to break them in
Verdict
Slip-on clogs with beautiful and trendy prints and patterns that you can still wear to work. They're made with durable and stain-resistant leather that you can easily clean off any spills or messes and always look good as new.
The Mary Jane flats are a combination of traditional and comfort, giving you classic comfort and everyday support. They come in a variety of different colors and patterns that will easily match any outfit or uniform. They have a fashionable ornamental closure that adds to their unique design with a solid or embossed leather upper to keep you looking stylish even at work. The closure keeps your feet snugly in place while the rubber sole provides traction to prevent you from accidental falls and slips. These comfortable shoes have removable insoles that you can replace with custom orthotics. There is a moisture-wicking leather lining to help your feet breathe and avoid sweaty and smelly feet. The slip-resistant small rocker outsole provides excellent traction and allows your feet to move, which reduces foot fatigue.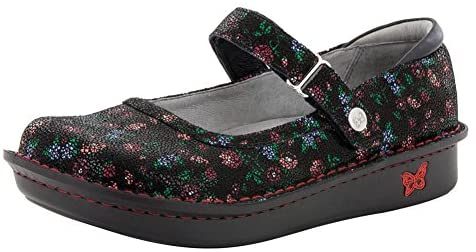 Pros
They have a small rocker bottom, so they look less clunky
They're very comfortable
Helps to alleviate back and feel pains
The insoles provide excellent arch support
Cons
They're expensive
Sizing may vary
Verdict
Comfortable and fashionable shoes that have a unique design with an embossed or plain leather upper for a stylish look. They have a smaller rocker bottom so that your feet don't look so big and clunky.
These shoes have a professional look and style that is resilient, durable with a business design that you can wear with any outfit. The leather is treated and embossed with beautiful patterns to give them a business appeal. These flats have a stain-resistant and durable exterior to keep them looking new for longer and double straps with an elegant buckle to keep your feet securely in place at all times when walking. The slip-resistant PU outsole helps to reduce the pressure on your heels and lower back and a flat bottom to increase your stability when walking on any surface.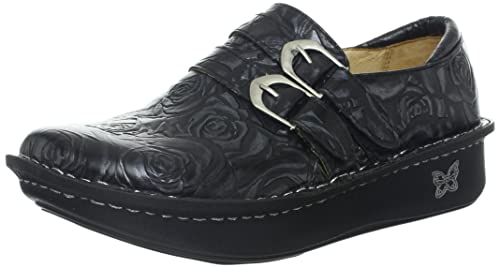 Pros
Comes in a wide variety of colors you can choose from
The double buckle keeps your feet secure
The non-slip outsole has good grip and traction
You can wear the shoes to the office
Cons
The shoes are a bit narrow
They're expensive
Verdict
Classic flats with embossed floral designs that give them a business appeal. They have a professional look and style that you will be super comfortable all day.
These are beautiful and fashionable ankle boots that are perfect for chilly weather, and you can wear them with many outfits as they come with a variety of different uppers with different colors, patterns, and designs. They're easy to slip on and off and have a decorative buckle that covers a Velcro strap that you can easily adjust to fit. The upper Nappa leather is easy to break in and has a soft velvety material at the toe box, so you don't need socks. They also have a mild rocker outsole with a good grip, a removable footbed for arch support and shock absorption, and a moisture-wicking lining to keep you dry and odor-free.
Pros
The velvet-lined toe box is very comfy and roomy
The leather upper makes the shoes flexible
The Velcro side strap makes it easy to put them on and off
Cons
The outsole isn't durable
A bit tight around the instep
Verdict
Fashionable ankle boots you can wear to work or during your days off. Have beautiful patterns and colors with a roomy and comfy toe box and secure strap for a perfect fit.
Features of Alegria nursing shoes
Comfortable
The sole is the part of your shoes that is solely responsible for your comfort. It comprises the insole which touches your feet, the outsole that is in contact with the ground, and the midsole that is responsible for shock absorption. To ensure that you maximize your comfort levels, you need to wear the right shoes. All Alegria shoes have the same but with different variations that comprise of the following parts:
Memory foam lining:
This is the best material that is used for cushioning in shoes because it has compounds that aren't highly elastic, but they spring back to their original form, maximize comfort, and reduce flattening. This material can also conform to the shape of your feet, giving you a customized fit, just like a customized orthotic insert.
Mild rocker outsole:
This is made with a non-slip rubber that provides protection that you need in your workplace as well as maximizes comfort and provides proper feet alignment. This means you can avoid joint and back pains that are associated with standing for long hours by wearing the right shoes. The rocker bottom is designed to give you a more natural gait cycle, make it easier to take each step, and help in the push-off phase regardless of the hours you spend on your feet.
Leather lining:
This is the part that is mostly in contact with your feet, which should be made with a material that is both soft and breathable and shouldn't irritate your skin, cause sweating, odors, or growth of bacteria. All Alegria shoes are made with a leather insole, which has a soft, natural touch to give you a better wearing experience.
Cork and polyurethane midsole:
This part is responsible for providing your feet with shock absorption with every step you make to reduce the stress on your heels and feet. If you have foot problems, you need shoes that will provide you with excellent arch support. This gives your feet the necessary elasticity required for natural shock absorption when you're walking or running. A pair of supportive shoes and proper alignment will help reduce the pain caused by overpronation, shin splints, low arches, heel spurs, and other problems.
A removable footbed in Alegria shoes is an excellent option if you want to use a customized insole that will provide a better-customized fit and feel.
Supportive
Heel and arch support are significant when choosing the right shoes to wear. Shoes are meant to protect your feet from the outside climate and surfaces you walk on every day. They also contribute to your overall physical health by promoting good body posture when standing or walking to prevent muscle and joint pains from being on your feet for long hours. Alegria shoes provide excellent arch support through a customized fit that helps with better shock absorption and reduced joint pains and muscle fatigue. It also helps to prevent over or under pronation so that your back, hips, knees, and ankle stay well-aligned. Your heel also needs support to prevent injuries from wearing the wrong shoes. And the best way is to keep it securely in place and provide a stable surface to prevent accidental slips.
Breathable
The leather insole and lining help to prevent your feet from getting sweaty and stinky. Leather is a naturally breathable material that is porous to allow fresh air to circulate in the shoes and also allow moisture and hot air out of the shoes, increasing your level of comfort without having to spend many hours on your feet with sweaty shoes. The ventilation in the leather lining won't retain moisture, which helps to prevent bacterial and fungal infections. You will be at peace knowing your feet aren't smelly no matter how many hours you're on your feet in these shoes.
Flexible
Wearing a flexible pair of shoes can help to prevent problems with your joints and muscles because your feet will have a lot of free movement from all the walking and running your job requires of you. Stiff shoes prevent your feet from moving, which affects the soft tissue and muscles in your feet. It also prevents the arches of your feet from storing usable energy, which prevents you from being comfortable over long periods. Alegria shoes have a leather upper that allows free movement and also conforms to your feet. The sole is made with cork, polyurethane, and memory foam that aren't stiff, but provide comfort and support.
Durable
Alegria shoes are made with natural and synthetic materials to ensure they have a long lifespan. The PU outsole is also made with a resilient material. Taking care of your shoes helps to prolong their durability and to replace the insoles when they have lost their cushioning and support or are smelly. However, if you're walking on abrasive surfaces like concrete, the treads will wear out faster, and they will start to lose their grip.
Conclusion
Alegria shoes are stylish, fashionable, and provide superior comfort, support, and durability that you will love. The shoes are perfect if your job requires you to spend most of your time on your feet.
FAQ
Are Alegria good shoes?
If you're looking for shoes that will provide you with superior arch support, superior comfort levels, excellent shock absorption, and a perfect fit with proper alignment, then Alegria shoes are perfect for you.
Where are Alegria shoes made?
Alegria shoes are made in China.
Are Alegria shoes good for bunions?
Bunions are protrusions that form at the base of your big toes. Foot specialists recommend that you wear shoes that offer superior arch support to relieve pressure across your toes, and Alegria shoes fit the bill.
Can you wash Alegria shoes?
You shouldn't wash these shoes as the materials aren't water-resistant. Instead, you can manage odor. You can replace the insole after a year or when it's worn out.
Are Alegria shoes good for flat feet?
People with flat feet should wear shoes that aren't too soft or too cushioned. Alegria shoes have a memory foam cushioned insole and a flexible rocker outsole that provides the right amount of support.
read more: