Nursing is a job that demands most of your time and one that can be very tiring, especially if you're not wearing the best shoes. Nurses need to wear very comfortable and supportive shoes because they spend most of their working hours walking around the hospital.
Sometimes nurses experience back and foot pain because you're not wearing the right shoes. You can improve your foot health and reduce stress by improving your fitness and investing in foot care accessories to ensure that you're healthy and comfortable when you're walking for long hours. Items such as compression socks and quality insoles, and sitting down as often as you can help to remove some pressure from your back, feet, and joints. It's also good to exercise regularly to build and maintain muscle and visiting a foot specialist to get your feet checked to prevent future injuries or if you have some medical issues.
Since most of your time is spent walking, lifting, and running for long periods of times, it's important that you keep in mind the impact this will have on your body for many years to come, which means you need to take care of your back, legs, and feet so that they can take care of you.
In this article, we will look at some of the factors you need to look for when buying nursing shoes and some of the best shoes for nurses you can find in stores.
Features of the best shoes for nurses
For a nurse to be highly productive and not get tired easily, you need quality shoes, and some of these factors will help you choose the best nursing shoes.
Comfort
As a nurse, you spend the majority of your time every day walking around on your feet, and sometimes your feet may begin to feel tired and pain in your legs, feet, and back from all the walking and constantly being on your feet. Wearing unfit walking shoes will affect your productivity and performance. Getting a good pair of comfortable nursing shoes will improve your overall comfort and how you feel throughout the day. Be careful when selecting the type of shoes to wear to work and make sure it correctly fits you, not too soft or hard on the soles of your feet. Ultra-Soft support is very comfortable when starting your day, but it won't be as the day progresses.
Support
Since nurses work for long hours, you need a shoe that will offer good leg and back support. A good quality shoe should not only improve your comfort, but it should also be safe to wear and ensure that you have good stability when working throughout the day, especially when lifting. Look for qualities like flexibility, material, thickness, and strength of the shoe's sole and select one with a heel for support. This will make it easier for you to move around and lift heavy objects without causing any injuries or accidents.
Stability
Quality nursing shoes should provide you with support, comfort, and stability, which will help reduce pain in your feet, legs, and back. The material and design of the shoes are essential, also the shape and height. The best shoes for nurses are made of rubber or leather. Rubber is a popular material for nursing shoes because it's comfortable and lightweight. Avoid selecting shoes that add weight or are difficult to clean.
Slip resistance
This is an essential aspect to factor in when selecting nursing shoes. Working in a hospital, you won't miss spills and liquids that make the floor very slippery and slick, which can be very hazardous if you fall. The shoes you wear should have a good grip to ensure that you're safe and reduce injuries from a potential fall. Also, make sure that the sole of your shoes is flexible enough to comfortably walk in, but not too soft or thin as it can increase your chances of getting hurt.
Protection
If you deal with heavy objects and machinery that can accidentally land on your feet, you require to wear nursing shoes that will provide enough protection from such hazards. Make sure the type of shoes you purchase provide overall protection and fully cover your upper feet and toes. If you work in different stations in the hospital, you can decide to buy different pairs of nursing shoes for working in different settings.
Style and design
Nursing shoes come in many different styles and designs which are meant to fit specific types of feet and medical conditions. The pair of shoe you choose should be available in a style that is both comfortable and appropriate for your workplace. Some of the most appropriate and common nursing shoes include tennis shoes, clogs, athletics sneakers, and crocs. Each type of shoe has its benefits and drawbacks depending on your feet type, work surface, and any medical conditions you might have.
Buy shoes that are made of durable quality material like leather so that you don't have to keep buying more shoes, and ones that keep your feet healthy and happy. Apart from selecting a shoe that is work compatible, you should also consider the finishing of the shoe and how well it fits you as well as the material, stain resistance, flexibility, and design. Even though there is a clothing guideline you have to adhere to, it's not a bad idea to add a touch of your personality, flare, and fun to your wardrobe.
Shock absorption
A good pair of nursing shoes should be able to support your feet well enough to absorb the impact of your movements. As a nurse, your feet take the toll of your work, and the shock impacts your feet endures all day is tremendous. To protect your feet from these impacts, you need nursing shoes that have a good sole and support that provide excellent shock absorption for your feet. This will reduce pain and fatigue and help you feel better throughout the day.
Different styles of nursing shoes
Slip-on
This is a very common shoe among nurses because it's easy to wear and take off and easy to change if they get damaged during your shift. If you work in a theater, your shoes need to be always sterile, and wearing shoes that you can easily slip off makes your work simpler. Working in the theater means you need to change your shoes every time you enter and leave the theater, and this is difficult to do if you're wearing shoes with laces. It also makes it difficult to keep your hands sterile if you have to untie your shoelaces.
Clogs
Clogs are also very popular shoes with nurses and other people who spend most of their time on their feet. These shoes are designed to provide you with maximum comfort and support, which make them the best shoes to wear if you're standing or walking for a long time. They're designed with a closed front to protect your feet from falling objects or spills and a strap at the back to keep the shoe securely in place. They're perfect slip-ons you can use in the theater as they're easy to put on and off. Clogs are not only roomy in style to keep you comfortable, but they also help to relieve pressure from your feet so that you don't have aching, painful feet at the end of your shift.
Apart from style, make sure that shoes you buy help to maintain your posture, reduce your chances of having back and spine problems, and protect your feet from spills and falling objects. Also, consider the material the shoe is made from. Clogs made from synthetic material tend to get hot and uncomfortable, but natural material like leather is preferable. The shoe should be easy to clean and maintain and water-resistant. Get a pair of clogs that are durable and the right fit for your size and shape because they can get a little loose so that it can fit yours properly.
Lace-up
These are shoes with the sneaker style that are worn by people in intensive areas of the hospital where you walk and run a lot. If you work in the ICU or ER, these types of shoes will keep your feet securely in place hen running around. They're easier to run with, and the fact that they're closed will protect you from fluids on the floor and hazardous materials like needles. Your feet will be adequately supported and stable when you're always on the move.
Review: Comparison table for the best nursing shoes
[table "" not found /]
Dansko women's mule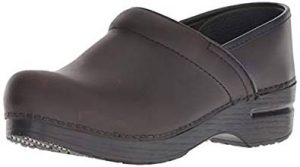 The Dansko is not only an excellent shoe for nurses, but it's also very comfortable, durable, and practical, to protect your feet while giving you a professional look. These clogs reduce the strain on your legs and feet. It's a stylish and durable shoe made from leather with a synthetic sole for comfort and slip resistance that you need when working. The toe box not only provides durable protection for your toes but gives your feet plenty of space.
It has a lining that is made of an anti-microbial solution to prevent your clogs from stinking. The wide heel keeps you stable as you move up and down while the outsole absorbs the shock as you walk or run, allowing you to stay on your feet for longer. These clogs are very durable and easy to clean, and the best part is you can easily slip in and out of them. You can easily remove them to let your feet breathe for a few minutes. They're the best shoes to wear if you work in wet or slippery areas.
Verdict
They're great professional nursing shoes that are durable and look stylish at the same time. The rocker bottom effectively absorbs shock while the wide heel keeps you stable as you move around. The padded inner lining and outsole ensure that your feet are comfortable and protected.
Pros
You can easily take off your shoes at your desk
They don't leave your feet sore and in pain after a long day at work
They don't rub on the top of your feet
The clogs have beautiful designs
Cons
The size conversions may not give you the right size of shoes
May be uncomfortable at first before breaking them in
View price on Amazon
Alegria women's Debra slip-on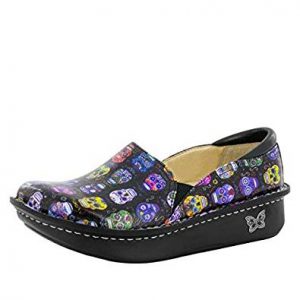 These are high-quality, classic, and lightweight nursing shoes that are made of stain-resistant leather. They're designed to provide you with comfort with durable and easy to clean leather as well as give you a stylish look. They're comfortable enough to wear the whole day with a removable insole allowing you to use your orthopedic insole if you have one.
The Alegria has a roomy toe box that allows some room for your toes to move freely and a memory foam footbed for extra cushioning of your feet. The lightweight rocker outsole is shock-resistant, which not only helps to propel you forward effortlessly but provides stability and prevents you from slipping. You can easily slip them on and off, which makes them perfect for the theater.
Verdict
They're stylish and comfortable professional shoes that are designed to ensure that your feet aren't hurting from all the walking and running around. The removable insole, memory foam footbed, and slip-resistant outsole are just some of the impressive features you will find in these shoes.
Pros
Very durable shoes
Your feet don't hurt after wearing them after a long shift
The foam inside provides you with great comfort
Great shoes for people suffering from plantar fasciitis
Cons
The insole can become loose
The shoe can stretch and become loose.
View price on Amazon
Crocs mercy work clog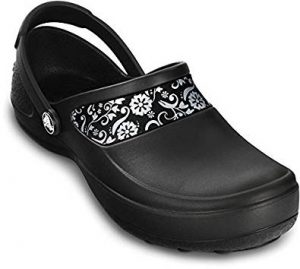 Clogs have become common footwear for nurses. They're easy to clean, comfortable, and inexpensive. They will keep your feet comfy and safe during the long shifts, as well as giving your feet some breathing space. They're made with Croslite material that makes the crocs soft, lightweight, comfy, and odor-resistant. The back strap hugs your heel, keeping it securely in place at all times, reducing your chances of slipping or falling while the outsole is made of slip-resistant material. These clogs are designed to be worn in the laboratory or theaters, as you can easily slip in and out of them.
These clogs are not only easy to clean, but they're also odor-resistant during the hot days, and the outsoles are non-marking. They have a footbed that enhances your arch support, and the tiny nubs around the feet provide a massage-like feeling when you're walking. Clogs are very comfortable regardless of how many hours you wear them and very good for medical students and healthcare professionals who also need protective and comfy shoes. You can also wear these stylish shoes both indoors and outdoors.
Verdict
Comfortable shoes you can wear during your long shifts and remain securely on your feet. They're designed with a footbed that features massaging nubs, a back strap that hugs your heel, and a comfortable, roomy fit. You can wear these stylish and comfy odor-resistant clogs indoors and outdoors.
Pros
The nabbed footbeds prevent slipping
The arch support is very good for your feet
The shoes have a roomy fit
Very stylish and easy to clean
Lightweight, comfortable, and inexpensive
right pair of shoes
Cons
The clogs don't have vents on the side to help your feet breathe
Too narrow for people with wide feet
View price on Amazon
Sketchers women's D'lites memory foam sneakers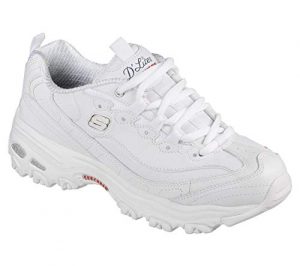 The Sketchers is a brand that is known for its stylish and comfy working shoes, and this sporty memory foam sneaker is no exception. This lace-up sneaker is made of an attractive leather, synthetic, and mesh upper with a padded collar and mesh tongue for comfort and ankle support. The thick rubber sole will provide not only excellent traction on any surface but also comfort and non-slip. These sneaker fits properly in your feet to provide support and protection while keeping you comfy and stable.
The padded collar and the memory foam insole offer extra support and make these shoes stand out for their comfort and support. They're durable and breathable shoes you can wear in the EE or ICU where you need to be light and quick on your feet because you need to attend to many patients. These shoes help you to concentrate on your work and forget about your feet.
Verdict
They're great lace-up shoes that will provide comfort, support, and protection to your feet throughout the day. They provide a high level of comfort with the memory foam insole, cushioned collar and tongue, and supportive overlays. The rubber outsole is non-slip, which keeps you safe on any surface you're walking on.
Pros
Fits perfectly and very comfortable
Lightweight and have a wide width
Offer great protections for your feet
They have great cushioning overlays
Cons
The memory foam insole thins quickly
They provide no arch support.
View price on Amazon
Sketcher sports slip-on sneakers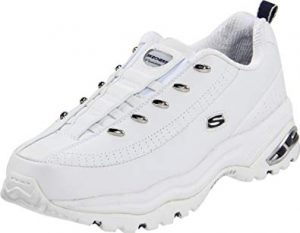 These are very popular sneakers among the Sketchers brand. Just like the name suggests, you can easily slip them on and off with a lace-less design that has elastic inserts and a cushioned collar and tongue for a comfortable and supportive fit around your ankles and feet. It has perforated panels for breathability, a heel that is cushioned with supportive air, and the upper leather that is durable and easy to clean.
The EVA midsole is shock absorbent, and the non-marking flexible rubber outsole is durable to offer excellent traction for your feet. This is a great shoe for nurses who are looking for a shoe with a comfortable traditional sneaker design, but one you can easily slip on when going to work and off when you come home, also for health professionals who work in the operating theater.
Verdict
This is a very comfortable sneaker that makes sure your feet are well protected, comfortable, and supported throughout the day. Features like the front stretch panel, air-cushioned heel, and lace-less design add to its appeal, and the fact that it's a slip-on makes it even better.
Pros
There are very durable and comfortable
They have better arch support
Your feet don't feel tired after wearing them for a long period
The cushioned insole provides heal support
Cons
It's a bit difficult to slip the sneakers for the first time.
View price on Amazon
Alegria women's Paloma flat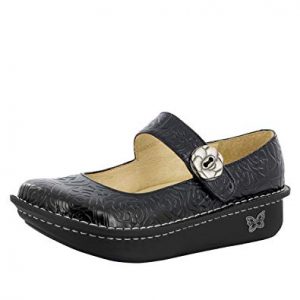 The Alegria Paloma flat is a shoe that will give you happy feet. It's designed with style, leather, with patented leather on the upper part and a rubber sole to provide comfort and support for your feet that whole day. The rubber platform sole provides excellent traction, and its non-slip qualities make it a great shoe for nurses to wear. The best part about this shoe is that you can remove the insole and replace it with the one you prefer to help you with any medical condition.
They're designed in a way your feet don't sweat to prevent unwanted odors. You can easily take the shoes off to allow your feet to breathe for some time during your busy day. The built-in arch support will keep your heels well support to avoid pain and plantar fasciitis. The footbed will conform to your feet to provide great comfort while the rocker outsole will help reduce pressure on your heels and toes and promote proper posture. The Paloma has a roomy fit that allows your feet to breathe and the toes to move freely. The bottom of the shoe is flat to provide more excellent stability when your feet touch the floor.
Verdict
The Paloma is a great shoe that has a removable insole that allows you to replace it with an orthopedic insole of your choice. Its arch support helps to keep your ankle and feet in place to prevent heel pain while the footbed molds itself to your feet's contours for maximum comfort and a non-slip rubber sole for excellent traction. It has a roomy fit, and the upper leather is durable and easy to clean and maintain.
Pros
Very comfortable with or without socks
The arch support helps to alleviate back pain
Great for people who stand for long periods
memory foam insoles
Cons
Produces a squeaking sound
View price on Amazon
Nurse mates dove slip-on loafers.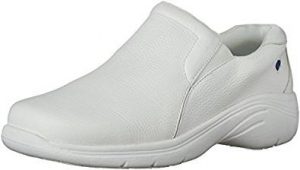 This is a stylish shoe that is designed for nurses with all the features that you need to keep you comfortable and make your work easier. It has a clean, stain-resistant white finish and heavy cushioning. The thick EVA cushioning is light and can be easily removed and replaced with an orthopedic insole while the collars are padded, and the elastic edges make it easy for you to slip them on and off.
A lightweight steel shank gives you more arch support and stability when you're walking and cushions your feet in all the right places to help you get through the day. The outsole is durable with an EVA bottom with rubber inserts that make your sole slip-resistant, which secures you from any surface. This shoe is designed to take off the pressure and stress from your feet as you work and is ideal if you work in the theater as they're designed with a slip-on style design that is easy to put on and off.
Verdict
This shoe is designed to relieve pressure from nurses who work 12-hour shifts and make it easier to get through your day. The light steel shank gives you more stability, and the slip-resistant outsole gives you excellent traction on any surface you walk on. The removable insole and padded collars add to the comfort of this shoe.
Pros
Very comfortable to walk in the whole day
The leather is durable and easy to clean
Great for people with plantar fasciitis
Offer excellent support when walking
Cons
May be prone to cracking
May be not fit well for people with wide feet.
View price on Amazon
Final thoughts
As a nurse, it's essential to be thoughtful when choosing the best shoes for nurses because you need to be comfortable when walking around. Your feet also need to be well supported with excellent traction to avoid back and feet pains at the end of your shift. The Dansko women's professional mule is a great shoe that will provide you with all your feet needs to keep them happy all day.
Also, invest in good insoles that will provide cushioning and sometimes arch support while helping to reduce foot fatigue and improving on shock-resistance. They also extend the life of your shoe and remove some of the friction when you're walking as well as helping to fight odors and bacteria with its anti-microbial properties. Something else you should invest in is a good pair of compression socks to help prevent blisters, reduce swelling, improve blood flow to the lower part of your body while supporting your ankle, calf, and feet, and help speed up recovery of any medical conditions.