Introduction
We can all agree that the shoes we wear reveal a lot about our personality. Whether you are at your workplace or attending a casual event, it's very important to wear shoes that suit your dressing style and the environment.
In this article, we are going to review clogs offered by one of the most popular shoe brands in the world. These are an ideal option for those who want to avoid buying multiple pairs of shoes for different occasions.
So, if you're looking for high-quality clogs to match your day-to-day needs, look no further because Crocs on the clock is the answer. Let's discuss some of the prominent features of these clogs.
Overview – Crocs On The Clock Work Clogs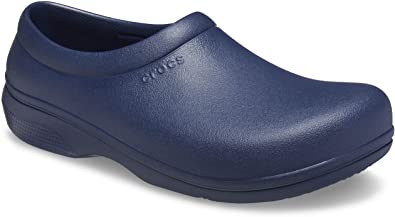 Crocs on the clock come in 2 colors and a wide range of sizes. Their design allows them to be worn by both men and women. These shoes are made up of a material called croslite. This material prevents odor and enhances the durability of the product.
Moreover, the clogs consist of a thick layer of cushioned footbeds to keep your feet comfortable and prevent any sort of foot stress.
Now that we've gone through the specs, it's time to highlight the pros and cons of Crocs on the clockwork clogs.
Pros and Cons – Crocs On The Clock Work Clogs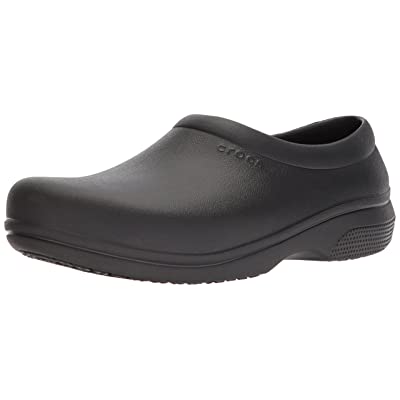 As with any other product, these pairs of clogs also have their own set of positive and negative factors. First, we are listing down some of the reasons why you should buy Crocs on the clock.
Pros
Affordable: With the starting price of $45, Crocs on-the-clock clogs are considered to be a mid-range product. Although you can easily find clogs that are cheaper than these, there is no guarantee that you will get the same level of quality and specs. These shoes are worth every cent.
Trusted brand: If you are a shoe enthusiast, you've probably heard of Crocs. They have maintained a high reputation for themselves in the shoe industry and have millions of satisfied customers from all over the world. There's no reason to question the quality of the products offered by Crocs.
Installment option: Although this pair of clogs only costs $45, if it is exceeding your budget, Crocs also offers an installment plan that allows the buyers to pay the total price of $45 in 4 installments. It can't get more convenient than this.
Gender: Here's another reason for buying Crocs on the clock! These pairs of shoes aren't gender-specific, which makes them suitable for both men and women. It can be an ideal option for those who are willing to buy identical pairs for themselves and their spouse.
Slip Resistant: Crocs on the clock are slip-resistant, allowing the user to maintain grip while walking, especially on titled and other slippery surfaces. You won't have to be extra-cautious with your steps.
Washable: Thanks to the materials used, you can easily wash these clogs and make them as good as new. The materials would also prevent any sort of deterioration as you may have previously experienced with other brands.
Multipurpose: Need something suitable for both work and casual use? Crocs on the clock are the answer. The design and color ensure that these clogs match up with your casual and professional look. From now onwards, there's no need to buy 2 pairs to fulfill your needs. Just buy Crocs on the clock and you're all good.
Refund policy: As we've noticed with other brands, it's rare to see shoe brands offering a refund policy. This is especially useful if you receive an incorrect order or you're not satisfied with the delivery. That being said, it's important to note that the refund is also valid if the item is still unused.
Odorless: As mentioned earlier, these shoes are made up of croslite and it's known to prevent odor.
Since we've already discussed the positive factors for Crocs on the clock, it's time to highlight some of its cons.
Cons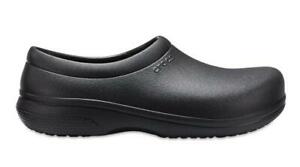 Color variety: This is a big turn-off for many buyers. These clogs come in only 2 colors – Black and Navy. Sure, these colors can easily match any dress code, but some buyers still prefer color variety.
Not comfortable: As indicated in the product review section, some buyers are not satisfied with Crocs on the clock for being too uncomfortable to wear.
Sizing issues: Many buyers complained that they received an incorrect size. On top of that, some were even frustrated because it's difficult to get in touch with the customer support staff who could help them out with their queries and replace the order with the correct size. We recommend that you get in touch with the seller and discuss the sizing options before placing your order.
Frequently asked Questions
Q. Where are these made?
Although the company's headquarters is located in the US, these shoes are either made locally or imported from China.
Q. How much do they weigh?
The overall weight for both pairs is 1.25 pounds, translating into 0.625 pounds each. This is less than the average weight of 0.8 pounds/shoe.
Q. Are these clogs suitable for flat feet?
Going through the review section on the sales page, there is no indication that the buyers had any sort of issues with flat feet. Thus, we can confidently say that these shoes are also suitable for people with flat feet.
Q. Are these shoes waterproof?
No! The materials used to manufacture Crocs on the clock clogs are not suitable for washing. This may result in deteriorating the quality of the product.
Verdict – Should I buy Crocs On The Clock Work Clogs?
These shoes have an overall rating of 4 stars out of 5 and we believe that it's just about right. Having the price tag of $45, Crocs on the clock fulfill most of the buyer's requirements. It would have been perfect if these clogs had more color options to choose from. Other than this, we believe that it's worth every cent.