Just like an athlete running a marathon, nurses also run their daily marathon, and wearing the right shoes is very important to a nurse's health just as it is to a marathoner. You may argue which shoe is the best, but ultimately, the best shoe is one that has a great fitting and is comfortable.
As a nurse, being on your feet all day requires you to invest in shoes that are both comfortable and supportive, and with such a challenging job, you need all the physical stamina and mental focus you can gather to be productive and alert. Aching feet and fatigued legs cause a lot of discomfort and distraction that takes your attention away from your duties. Wearing the right shoes is the first step in ensuring you take care of your feet so that you can take great care of your patients.
Before you go out shopping for comfortable nursing shoes, there are factors that you need to consider that will help you make an informed decision.
Factors to consider when buying nursing clogs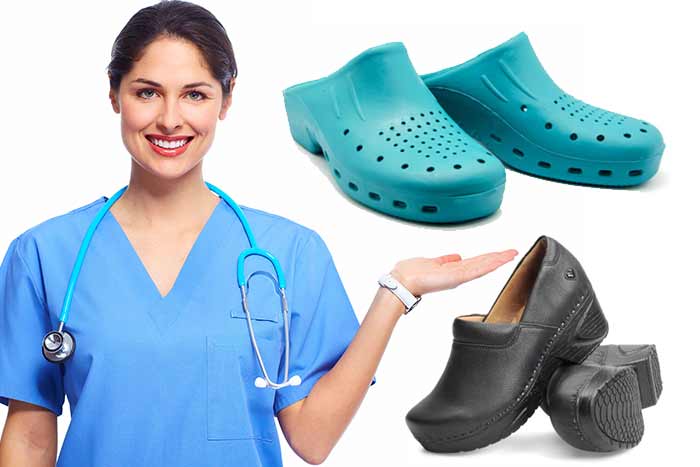 Comfortability
Clogs are most loved because of their comfort levels, but you need to be careful because there are cheap clogs that look exactly like clogs, but they don't provide any comfort. Comfortable clogs have a padded tongue, comfortable insole, and enough space inside for your toes to freely move and your feet to be comfortable.
Size
Getting the right size for your shoes is one of the most essential and first conditions that you need to get right. If the shoes you buy are too big and don't fit your feet properly, your feet will not be stable, and you won't have control over them, and you can't feel the comfortable footbed and padding in the shoes. On the other hand, if you walk in clogs that are too tight for you, you will end up hurting your feet. So, you need to choose a pair of clogs that are the right size and also consider how well they would fit your feet if you wore socks.
Upper material
In most instances, if you want to gauge the durability of a pair of clogs, check the durability of the upper part of the clog. So, if you don't want to spend a lot of money on a pair of clogs that aren't durable, you should consider this point carefully. Some of the most durable materials that are used to make clogs include rubber, polyurethane, and leather. Thanks to the high-quality materials, you get to wear your clogs for a long time, and your clogs are protected from stains.
Bottom sole
The soles are the only part of your clogs that makes the most contact with the ground as you walk, so they need to be made with a strong material that will be able to withstand wear and tear and also keep you balanced in any situation. A pair of clogs is only strong if it can keep you stable, and this will mostly depend on the pattern of the sole and the material it's made from. Most clog soles are either made with rubber or synthetic rubber, and they both can ensure that you remain on your feet at all times no matter the kind of surface you're walking on.
Easy to maintain
As a health professional, you tend to get very dirty, very fast, so you need to keep yourself clean at all times. That means you need to wear shoes that you can easily and quickly clean. Clogs made with rubber are the best shoes that you can easily clean and fresh at all times, and you can even machine wash some clogs. The best part is they dry faster than any other type of clogs.
Stylish look
This isn't a critical point to consider in the hospital environment since it's more important to be comfortable and safe rather than be stylish. However, if you're a stylish person and still want to look good even at work, there are a variety of stylish clogs that can suit your preference. Although it's optional to wear a stylish pair of clogs during your shift, you can still wear them when you're going out with family and friends. Make sure that when you buy this kind of clogs that the design or decorative patterns are made with durable materials.
read more: How to select the best nursing clogs
Things to consider when buying tennis shoes

Tennis shoes are sports shoes that are mainly designed to endure all the running, jumping, sliding, and lateral movements. For you to do all that and still stay healthy, you must wear a good pair of tennis shoes that can handle the demands from your feet.
Comfort
Tennis shoes are specifically designed to perform a certain task. Although you can wear your sneakers to get you from one place to another, the support system that includes padding, arches, and insulation is limited in what they can do. However, tennis shoes are designed to perform physical activities and provide you with the support that you need and more comfort when you're walking, running, or standing for long hours during your shift. Some tennis shoes have breathable features that help to keep your feet from sweating or overheating as you work.
Amount of traction
A good pair of tennis shoes are designed to provide maximum traction on most surfaces. Different sports shoes will provide you with different levels of traction depending on the terrain you're using them on. For example, you can't wear tennis shoes if you're going hiking or use running shoes to play tennis because each shoe type is designed to interact with a specific surface. A good pair of tennis shoes have very responsive traction since the soles of the shoes have been integrated with the movement of your feet. The shoes are speedy to adapt to your feet' movement, which makes them comfortable, and they help to absorb shock as you walk or run.
Support and stiffness
Due to the nature of your work as a nurse, you need lightweight shoes, which will help you to walk faster and run quicker without having to put too much effort into your legs. But they shouldn't come at the cost of the shoe's durability. Tennis shoes are a little bit stiffer, which makes them equipped to stand the test of time, and this design factor makes the shoes more durable. Tennis shoes have less cushioning near the sole of your feet so that you're more stable when moving from one place to another, and this keeps your feet a little bit closer to the ground. The lateral support ensures that you're more stable on your feet.
Style of the shoes
Before you make any purchases, you need to distinguish the differences between tennis shoes and other sports shoes. Tennis shoes have a more flat design with specific design patterns on the soles. Others have a softer, thicker heel, which reduces the weight and cushioning to make them sturdier.
read more: best tennis shoes for nurses
Foot type
To get the right shoes, you need to know your foot type so that you're comfortable and can avoid injury. If you aren't sure about your foot type, you can consult a foot specialist so that you can know the perfect tennis shoe fit. There are three different types of foot, including:
Overpronation: If you step on a wet floor and you can see a complete imprint of your foot, it means you have a flat foot. Overpronators tend to roll their foot inwards as you walk, so you need to wear shoes that give you better stability with every stride. If your feet are pronated, your shoes will mostly wear out more on the inside near the balls of your feet. You will need shoes that offer superior lateral support to avoid knee and ankle injuries.
Neutral: When your foot has a neutral foot type, it means there is some space in your arch area. Most people have neutral foot types so that you can wear any type of shoe. This is the ideal foot imprint that is balanced.
Underpronation: This means your foot imprint leaves a large open area, and your shoes will mostly wear out on the outside of your heel and forefoot. This means you should wear shoes that give you greater flexibility and better shock absorption and more space for your heel.
Differences between nursing clogs and tennis shoes
Nursing clogs and tennis shoes are popular nursing shoes that most nurses and health professionals wear to work every day that provide comfort and support for your feet during your long 12-hour shifts. However, these two types of shoes have very different designs and are meant for specific functions. Here are some of the differences you will find.
Material
Nursing clogs are mostly made with high-quality leather with a synthetic sole, and some are even made with a rubber sole, EVA material, and memory foam padding to increase your comfort levels and durability of the shoes. The leather is stiffer than most shoes, and it makes most of the shoe. Tennis shoes are made with more flexible leather and synthetic leather that is specifically designed to help you move easily and more freely than the clogs. It also has less cushioning than most sports shoes and a smaller sole.
Comfort level
The modern styled clogs ensure that your feet are comfortable and well protected; that is why most health professionals, including nurses, choose this type of shoes over others. They provide plenty of room for your feet and toes to move freely, and the backless design of the clog ensures that the shoe doesn't rub on your heels as you walk, which can cause painful blisters. Tennis shoes, on the other hand, are designed to quickly adapt to the quick movements of the user and a lot of vigorous activities. They accommodate the swift movements you make when you're walking or running, and the snugly fit you're in control of your feet.
Support and stability
Tennis shoes are designed to be used on a tennis court, so the focus is more on providing you with lateral support and stability. This is important because of the quick movements your feet will be making when you have to move quickly and abruptly in different directions. They have less cushioning and more lateral stability with low to the ground feel because the lower your feet are to the ground, the more stable you are. Nursing clogs are specifically designed to provide support and stability to nurses and other health professionals. The insoles provide good cushioning to improve your level of comfort when standing or walking. The midsole ensures that the clogs maintain their shape, giving it structural support.
Traction and grip resistance
Nursing clogs have an outsole made of rubber, which is an excellent material to provide great traction on wet and slippery surfaces. Tennis shoes are made with non-scuffing soles with extra padding on the toes of the shoes to provide traction and stability and help to absorb shock while avoiding less friction in your joints.
Weight
Wearing shoes that tend to weigh down your feet puts added strain and pressure on your feet, something you don't need when you need to be flexible and quick on your feet in case of an emergency. Nursing clogs tend to be a bit heavier than other shoes, while tennis shoes are a bit stiffer to ensure that your ankles and feet are supported to avoid injuries.
Design
Clogs come with a front cover, and back support that is either closed or open, and others have laces at the back and high heels. Women clogs are designed with plain solid colors, floral or animal prints, and patterns while men clogs have a plain look. Tennis shoes cover your entire foot from your toes to the back heel to ensure a snugly fit. They come in an array of different designs that are trendy and stylish to suit your preference.
Purpose
Nursing clogs are primarily used as work shoes; that is why you will find most health professionals preferring clogs over other shoes. You will even get clogs that have a modern touch that you can wear both to work and as casual shoes. Tennis shoes are specifically made for the tennis court to keep your feet stable on the ground and the lateral support so that you're able to move in different directions without hurting your feet and ankles.
Final thoughts
Getting the right shoes to wear to work can be a stressful activity, especially if you don't know what you're looking for. Before you decide on the shoes, there are a few things you need to keep in mind, like the shape of your feet, your arches, any medical conditions, and the comfort and support your feet need. These are important factors that will make it easier to get the right shoes. As a nurse, putting on the wrong shoes during your long 12-hour shifts will cause you a lot of discomfort and pain. Nursing clogs and tennis shoes are some of the popular nursing shoes that are worn by different healthcare professionals, and they offer excellent support, comfort, and stability while on the job.
FAQ
How often should you buy new work shoes?
Generally, if you're shoes are slip-resistant, they should last you between 6-12 months if you're working in an environment that doesn't put a lot of strain on your shoes. Some shoes may last longer, while others may not.
Can nurses wear tennis shoes?
Different healthcare facilities and hospitals have dressing codes and requirements that vary for your uniform and shoes. Some facilities require that you wear shoes that have closed toes with covered heels to provide you with protection and stability. The main shoes that nurses wear include clogs, crocs, sneakers, and casual shoes.
Are clogs good for nurses?
Clogs are popular and best preferred by nurses because they're comfortable, and if you're going to be working for more than 12 hours on your feet, you need comfortable shoes. Other shoes may be comfortable, but they compromise on support and durability. Clogs are great shoes because they combine both support and comfort, which leaves your feet happy.
How long should a pair of shoes last?
If you take proper care of your shoes and use them in the right way, they can last you a long time. If you wear nursing shoes as your everyday shoes, they will wear out quickly, and they will lose their support and shape.
Is it bad for your feet to wear the same shoes every day?
When you wear shoes, the leather absorbs the sweat from your feet, which is a normal thing, so you need to clean them and give them time to dry before you wear them again completely. But if you wear the same pair of shoes every day, your shoes won't have enough time to dry, and this will distort the shape of the shoes.
read more posts: