If you are reading this review, you are probably looking for a shoe that allows you to feel good on your feet, regardless of the conditions you find yourself in. If you want a shoe that offers you comfort in style, then clog shoes are a part of that. They have retained their popularity over the years because of the comfort they provide through their good arch support, therefore promoting good foot and leg health – and in this review, we will talk about Dansko clogs and see whether they actually live up to the hype.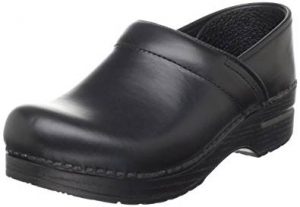 Dansko is quite a young brand compared to brands that have lasted for decades, as it traces its beginnings to 1990, thanks to a couple that were horse trainers and were searching for a proper equestrian shoe. Although they look like the most unfashionable shoes ever, they are also heavily popular around the globe – just ask your local chef, flight attendant, nurse, teacher or doctor, especially if they have to stand for many hours while doing their jobs.
Working in an environment that is constantly hot, greasy or wet requires you to use shoes that maintain cool temperatures in your feet, as well as helping them stay dry, all without risking damage to your back, legs and feet.
The Dansko professional shoes do all this and much more, as they give you optimum levels of safety in these situations. Therefore, it is not surprising to find that they are highly popular, even after the manufacturer introduced later variations such as the Dansko XP 2.0 and Dansko XP.
As the manufacturer continues to make these shoes, they are also evolving into a fashion statement through different choices and styles. In fact, some of these clogs are suitable for the greasy and wet environments, while you must only use others in dry conditions. For instance, if your main job is in the kitchen, you need to go for box leather instead of Cabrio leather.
Summary of facts about this shoe
Has a leather upper
Round toe box, with additional reinforcements
Platform measuring 1", heel measures 1.75"
Padded in-step collar
Non-removable memory foam foot bed
PU Outsole, which adds flexibility and shock absorption
The shoe is entirely comprised of leather, making it very easy to clean up and maintain excellent shape even after using it for years.
Pro tip: For you to extend the life of the shoe, it is best to spray some water repellent on it to make sure it stays dry, especially in rainy conditions or if you work on wet floors.
Pros
Very comfortable
Good shock absorption
Very good stability
Breathable
Very good levels of arch support
Durable
Cons
Some customers have raised complaints about the top middle being too tight
Conclusion
Regardless of where you are working, you need shoes that help you stay comfortable throughout the day, and that makes it essential to find the right one. Thankfully, the Dansko clog shoe is quite the great pick, and will serve you well for many years to come.