Introduction
Whether we realize it or not, our dress-up plays a very important role in our day-to-day life. Our dressing sense not only helps us in adjusting to the office environment but could also help in reducing work-related stress and tiredness.
Talking about dressing, we normally associate it with tops and bottoms, thus neglecting the comfort required by our feet. Not everyone is lucky enough to have a "behind-the-desk" 9-5 job. Some jobs require the employee to constantly be on foot for hours, making it a necessity to select footwear that's durable, long-lasting, and most importantly comfort.
Here's good news for everyone who's looking for an ideal pair of shoes to fit their professional routine. Dansko Professional Clogs are designed specifically for this niche. Let us guide you through the overall review, pros, and cons of these pairs of shoes.
What are the Dansko professional clog shoes?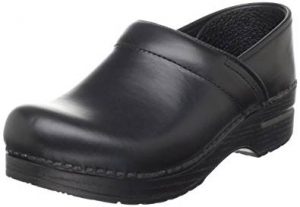 Dansko is quite a young brand compared to brands that have lasted for decades, as it traces its beginnings to 1990, thanks to a couple that was horse trainers and were searching for a proper equestrian shoe. Although they look like the most unfashionable shoes ever, they are also heavily popular around the globe – just ask your local chef, flight attendant, nurse, teacher, or doctor, especially if they have to stand for many hours while doing their jobs.
Working in an environment that is constantly hot, greasy, or wet requires you to use shoes that maintain cool temperatures in your feet, as well as helping them stay dry, all without risking damage to your back, legs, and feet.
The Dansko professional shoes do all this and much more, as they give you optimum levels of safety in these situations. Therefore, it is not surprising to find that they are highly popular, even after the manufacturer introduced later variations such as the Dansko XP 2.0 and Dansko XP.
As the manufacturer continues to make these shoes, they are also evolving into a fashion statement through different choices and styles. In fact, some of these clogs are suitable for greasy and wet environments, while you must only use others in dry conditions. For instance, if your main job is in the kitchen, you need to go for box leather instead of Cabrio leather.
Dansko Professional Clogs – Overview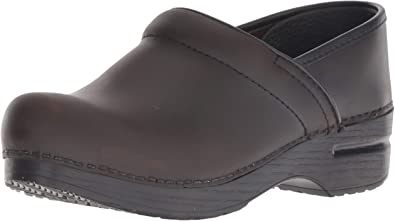 Dansko Professional Clogs are made up of pure leather and consist of a synthetic sole. These clogs are designed specifically to fit the needs of working women. The pair only comes in brown color and some of its most prominent features are:
Shock-absorption ability allows a comforting and stress-free experience.
Protective TPU heels that allow the person to easily move their heels up and down. This feature comes in handy if you're working at a supermarket or any similar workplace.
Non-slippery sole that helps in maintaining the grip while walking.
Summary of facts about this shoe
Has a leather upper
The round toe box, with additional reinforcements
Platform measuring 1", heel measures 1.75"
Padded instep collar
Non-removable memory foam footbed
PU Outsole, which adds flexibility and shock absorption
The shoe is entirely comprised of leather, making it very easy to clean up and maintain excellent shape even after using it for years.
Pro tip: For you to extend the life of the shoe, it is best to spray some water repellent on it to make sure it stays dry, especially in rainy conditions or if you work on wet floors.
Now that we've covered the basic aspects of Dansko Professional Clogs, it's time that we move on to the next section of this review. Like any other product, these clogs have their fair share of pros and cons. Let's take a look.
Dansko Professional Clogs – Pros and Cons
Pros
Durable: Tons of reviews indicate that Dansko Professional Clogs are highly durable and long-lasting. Some buyers even mentioned that they used the same pair for years without any problem.
Comforting: As mentioned in the overview section, Dansko Professional Clogs are comfy due to features like shock absorption and protective TPU heels. It encourages easy movements and offers enhanced grip while walking.
Affordable: This is probably one of the first things that the buyers check when buying shoes. It's difficult to find something that not only stands out in terms of features but also the price. Don't worry, you'll end up spending a fraction of what you will pay for some renowned brand offering the same features. Dansko Professional Clogs are a perfect deal when it comes to the price.
Trusted brand: Dansko shoe brand is trusted by millions across the globe. They have been in this business for over 30 years and have a loyal customer base. Some buyers even mentioned that they own multiple pairs of shoes by Dansko.
Now, let's explore the cons!
Cons
Only comes in Brown color: This is probably the biggest turn-off for many potential buyers. Unlike other brands that offer the same shoes in a wide range of colors, these only come in brown. It would have been much better if these were also available in black since black is the most commonly used shoe color in an office environment.
Size issues: According to what we have noticed in the reviews section of this product, incorrect size is the most common issue experienced by buyers. Many buyers complained that the shoes were too tight for them to wear. We strongly advise you to discuss the sizing details with the seller before placing an order.
Hard sole: While the inner walls of Dansko Professional Clogs are covered with a thick layer of foam, the soles are a bit too hard for some. This factor is worth a thought especially if your job requires you to stand for hours. That being said, a hard sole might be a good option for those who are suffering from arthritis because these soles would allow a straight ankle position.
Let's move on to the next section where we will answer some commonly asked questions by the buyers.
Frequently asked questions
Q. What makes Dansko Professional Clogs different from Dansko XP?
Although Dansko professional and XP appear to be identical, they do have some minor differences. Dansko pro consists of non-slippery soles that help you in maintaining the overall grip. This feature is not available in Dansko XP.
Q. Are the soles bendable?
Clogs are known to have unbendable soles. This is one of the fundamental factors that separates clogs from other types of shoes. The same is the case for Dansko professional clogs. This is not necessarily a con and depends upon the buyer's preferences.
Q. How much do they weigh?
The overall weight for the pair is 1.6 pounds, translating into 0.8 pounds per shoe. This number falls within the average shoe's weight.
Q. Is there any refund policy?
Since there is no mention of a refund policy on the Dansko Pro sales page, we assume that Dansko doesn't have one. Therefore, make sure to carefully go through its features before making a purchase. If you are in doubt or have any questions, you must get in touch with the seller and they will help you out with the queries.
Verdict – Should I buy Dansko Professional Clogs?
After going through the list of its features, pros, and cons, it's hard to give a simple answer to this question. It mostly depends upon who you ask. Some buyers prioritize quality over price, while others consider the features that are offered.
In terms of price, Dansko Professional Clogs are a clear winner. However, when it comes to the sizing issues experienced by many buyers, you might want to reconsider your decision. If you're already suffering from arthritis, we recommend these shoes because they will keep your ankle in a fixed position. Lastly, if you're someone who prefers a soft sole, then Dansko Pro is not for you.
If we were to rate Dansko Professional Clogs, we would give these pairs 3 out of 5 stars.
Good luck