When you're on your feet all day, you want to be wearing comfortable shoes that offer proper support to your feet. You also need to know how to clean nursing shoes so that these shoes can last longer and serve you for a long time.
Nurses spend most of your time during your shift on your feet, taking care of patients, and you can't afford to have painful and sore feet because of wearing uncomfortable shoes. When your back, feet, and knees are in pain, you shift your focus from your patients to your feet, which reduces your productivity. Taking care of your nursing shoes is a crucial point in ensuring that they last and give your feet the necessary support to get you through your 12-hour shifts.
There are essential aspects of nursing shoes that you need to take into consideration so that you get good quality footwear that will keep you comfortable, stable, and well protected throughout the day. You also need to know the various types of nursing shoes that are available that will make it easier for you to clean and maintain when you don't have a lot of free time.
Different types of nursing shoes that you can wear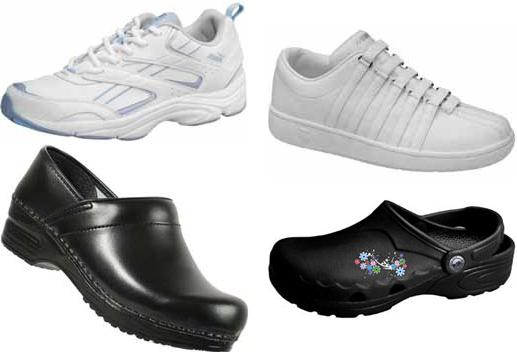 The kind of nursing shoes you wear should not only offer you the comfort you need, but they should also protect your feet and ensure that there is less stress on your back and legs. Walking, running, and a lot of standing is part and parcel of a nurse's job, and it places a high demand on your feet. If you're wearing the wrong type of shoes, you could end up hurting your back, knees, and feet and cause you significant discomfort.
Clogs
These are the most popular shoes worn by nurses, other health professionals, and working people who spend most of their time working on their feet. The main reason is that they're designed for optimum comfort and support for your arch and heels, and are great for walking and standing for long hours. Clogs come with a closed front part that protects your feet from spills or falling objects while the strap at the back keeps your feet securely in place at all times, or a closed back to provide a more secure fit. There are also clogs with a slip-on design that is perfect for nurses who work in the theatre because you can easily put them on and take off.
Clogs are very stylish and roomy to give you comfort and to provide relief to your feet's pressure points to avoid having aching feet at the end of your shift. A good pair of clogs should also help to maintain your posture so that you don't get any back or spine problems and protect you from slips and falls from wet and slippery floors. You must wear shoes that are made with good quality material like leather, and a pair you can easily clean and maintain that is water-resistant. With such a busy schedule, you need a pair of clogs that are durable because you will be on your feet for long periods.
Crocs
These are also very popular among health professionals. They're very similar to clogs, but with a variation where the back has a strap for supporting your feet or not. The straps are made from solid resin that is part of the same material that makes the whole shoe. Crocs are mostly designed with a closed heel and a low-level design with a closed vent air portal to help with air circulation and keep your feet cool during your shifts. This final air portal design helps to protect your feet from accidental spills and germs, but you will also find crocs with open front end portals that aren't allowed in some of the hospitals because they don't provide your feet with enough protection.
Athletic shoes
These types of shoes come in a wide variety of styles and designs from sneakers, tennis shoes, and sports shoes, which has naturally made them be a trendy choice for nurses. Sports shoes are specifically designed to improve your performance levels and increase your comfort when wearing them. Athletic shoes are not only popular for their high comfort levels, but they're also well known for their ability to provide excellent support, traction, and protection, all the requirements that you need from a single shoe. Sneakers with a lace-up design if you're a nurse who works in the ER or ICU and other intensive areas of the hospital because you will need shoes that will keep your feet secured in place with no chance of slipping off.
You will be able to run more easily if you're in sneakers than if you were wearing clogs. Athletic shoes with laced-up and closed enclosure designs protect your feet in these types of environments where there are high chances of all kinds of fluids on the hospital floor and other hazardous materials. That's why you need shoes that will offer you maximum protection working in this kind of environment. Sneakers will provide you with ample support and stability when you're constantly on the move. Athletic shoes essentially are often stylish, lightweight, and flexible with excellent shock absorption to ensure that you remain comfortable the entire day and to avoid foot and back pains.
Casual shoes
As a nurse who spends a limited amount of time on your feet, wearing a slip-on or a casual walking shoe would be an ideal choice. These are attractive and stylish shoes that are widely available and very affordable. However, these types of shoes rarely provide you with the kind of comfort, support, protection, and stability you need for a hospital environment. But in a less stressful environment, they would be perfect.
Tips on how to clean nursing shoes
After choosing the right nursing shoes, it's now time to look at how to clean nursing shoes so that they keep looking as good as new and serve you for longer.
Check the material of the shoes.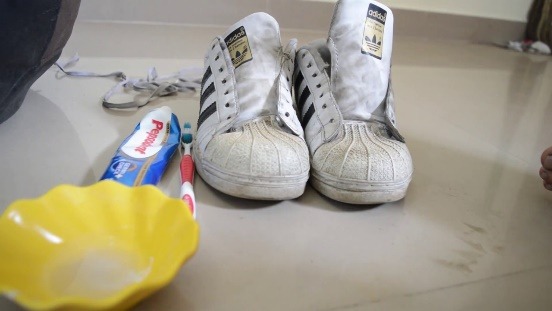 The style of the shoes and the materials they're made from will determine how you should care and clean the shoes, and each type of shoes have their specific way of cleaning them. Some shoes come with cleaning instructions from the manufacturer, so it's good first to check and follow them correctly. For example, nursing shoes made with cloth material can be put in the washing machine for a good clean, while clogs are made with EVA materials that can be easily cleaned by just using soap and water. This means that every shoe that is made with a different material should be cared for differently.
Wash the shoes where possible
The easiest way of cleaning your nursing shoes is by throwing them in the wash and putting some detergent and some bleach if they're white shoes. If you're sneakers or tennis shoes are made from leather or wash-friendly material, then you can clean them using the washing machine. However, for shoes like clogs that are made of a different material, don't put them in the washing machine as it will damage and the material and even destroy its shape. Only use some cold water and soap to clean them.
Use disinfectant if you can't wash them.
There are some shoes that you can't put in the washing machine because of the material they're made from. If you have a shoe that is more structured like a synthetic plastic material or thick leather, it's not advisable to clean them in the washing machine because you can damage the shoes. Instead, you can use disinfectant wipes to wipe your shoes after every shift or when you feel your shoes need a good cleaning of germs. Since disinfectant can be harsh on your shoes and it can remove the protective coating, using a conditioner will dilute this effect of the disinfectant.
Don't dry your shoes in the dryer.
It might seem like a good idea to put your shoes in the dryer since they will take less time to dry than if you put them out to air dry. However, this would be a bad idea because the material of your shoes will shrink, and the constant banging of your shoes against the dryer will damage the sole, making it uncomfortable to wear your shoes. This will also affect the way your shoes support your feet. Instead, place the shoes in a well-ventilated place to air dry, and if you want to speed up the drying process, you can place them outside on a sunny day or use a gentle fan.
Moisturize the leather
Shoes made from leather tend to last longer than other shoes made with a different material, but only if you take care of them. When leather isn't properly taken care of, it tends to crack, especially if you do a lot of walking in them, which stresses the leather. Moisturizing the leather after a few months is a good way of maintaining your leather shoes. You can use a damp cloth to wipe your shoes or use a little disinfectant, but don't let any liquid to sit on your shoes for a long time because leather is a porous material that can absorb stains very easily.
Carry a clean pair of shoes in your car or bag
The secret to prolonging the life of your nursing shoes is to only wear them during your shifts. Most of the nurses usually carry an extra pair of regular shoes in their bags or car so that they can change into their nursing shoes immediately before their shift and wear them back after their shift is over. This also prevents you from carrying anything you might have picked up on your shoes during your shift to your car or home, which is also very hygienic.
Rotate your shoes
If you wear more than one pair of shoes during your shifts, you allow the material of your shoe to return to its original shape before the next time you wear them again, and this also helps to increase the lifespan of your shoes. This is especially important if your shoes are made with delicate material or thin leather that can lose their shape very easily. It would be advisable to invest in two pairs of nursing shoes and swap them between your shifts.
Different ways of cleaning different nursing shoe materials
Leather or patented leather shoes
If your nursing shoes are made from leather or patented leather, mix equal parts of cold water and distilled white vinegar and use a cloth to wipe off any soil and winter stains from your shoes, then allow them to air dry. To remove scuffs on pure leather, simply use the normal shoe polish or if you can't get the right color for your shoes, use a soft wet cloth dipped in some of the baking soda. Rub the cloth gently over the area then wipe any soap left with a clean, dry cloth. Allow the shoes to dry then use a dry cloth to buff them. To remove scuffs on patented leather, rub the area with petroleum jelly then buff with a soft cloth. To restore the shine on your shoes, spray a bit of glass cleaner and use a soft cloth to buff.
Athletic and tennis shoes
Most athletic shoes can be washed by simply tossing them into the washing machine with some strong detergent to remove all the dirt. But first, you need to remove the insoles and laces if they have any and wash them separately. Then wipe off all the excess soil and dirt and use a stain remover to pretreat the stubborn stains, then add a few towels into the washing machine together with the shoes to avoid banging the shoes on the drum. Air-dry the shoes but don't expose them to direct sunlight or excess heat from another heat source. To take care of odor and bacteria, use a disinfectant to wipe the inner soles before putting them back into your shoes or replace them with new liners.
Mesh or canvas shoes
The mesh in your nursing shoes allows for air circulation in your shoes, but it's very easy to tear and damage it when cleaning. You can use some sneaker cleaner or use a mixture of cold water and mild dishwashing soap to clean the shoes then rinse with cold water. Don't throw them in the washing machine or dryer because the heat and agitation will cause a lot of damage to the shoes.
Fabric shoes
Tossing fabric shoes in the washer is a bad idea because most of the shoes are assembled with glue, which will fall apart in all that water, and some of the shoes have a leather lining. Instead, you can use warm water, some dishwashing detergent, an old toothbrush, and some paper towels. Use the dry paper towels to remove excess soil and dirt, then mix two cups of warm water and a teaspoon of dishwashing soap.
Dip the toothbrush in the soapy solution and gently scrub the shoes in sections, but don't over-saturate the fabric. Work along the grain of the fabric to avoid spotting then use the paper towels moistened with clear water to remove excess soap residue. Use dry paper towels to blot out any remaining moisture, then air-dries away from direct sunlight or excess heat. To help the shoes maintain their shape, put dry paper towels in the toes and heel of the shoes until they're scorched.
FAQ
How do you clean white nursing shoes?
If your shoes are made with a thin leather material or fabric, you can wash them. Tossing them in the washing machine is the least labor-intensive way of disinfecting your nursing shoes with some detergent and some bleach if your shoes are white.
How do you get yellow shoes white again?
If, after cleaning and drying your shoes, there are stains left, take a wet cloth with hydrogen peroxide and rub over the area. If it's a stubborn stain, pour a bit of hydrogen peroxide on the stain and wait for a few minutes. Peroxide is a mild bleach agent that removes stains.
Can you bleach mesh shoes?
You can use bleach to clean your mesh white sneakers, but in tiny quantities, because bleach can damage the delicate material in the mesh. To be on the safe side, it would be better if you cleaned your mesh shoes with some soap and water.
How do your whiten leather?
If your leather shoes are filthy, try using saddle soap to get rid of all that dirt. A mixture of equal parts water and white vinegar will help to get rid of winter salt marks on your shoes. Nail polish remover can be very helpful in removing scuff marks on your white shoes.
Why do shoes turn yellow?
Your shoes turn yellow when oxidation takes place. This is when oxygen combines with a substance which causes the discoloration to occur.
Final thoughts
The way you clean your nursing shoes will mostly depend on the material. Each material has its unique way of cleaning and maintaining it, which helps to prolong its lifespan. When you take care of your shoes, they will, in turn, take care of your feet.