If your profession involves long-time standing and running or being on your feet the whole day, the lower body is continually being put under a lot of strain and stress. This is especially true of nurses and many others in the medical profession and also for any professionals who are forced to stand all day at work. If the shoe you are wearing is not supportive, various health problems like aching arches, joint pain, varicose veins, knee problems, swollen legs, and swollen feet may ensue.
Most of the foot injuries related to work can be avoided if extra effort is taken to take care of your legs and feet. These days there are quite a lot of footwear options that are ideal for people who need to be on their legs the whole day. So many nurses and medical professionals can be seen wearing running shoes on hospital floors and operating rooms since they are designed to withstand a lot of strain and stress.
Shoes that are ideal for nurses are those with a wide toe box, helping to accommodate natural foot expansion through the day. The shoe also has to be lightweight and durable, and one that doesn't wear you down or wear out. Also, the sole has to be resistant to slipping, as advised by podiatrists. Clogs are also recommended as a good choice.
To help provide ample support to the feet, it is advised to have at least two sets of clogs or supportive sneakers. With continuous use, after around six hours, the cushioning layer of any shoe gets completely suppressed and is no longer able to provide the necessary support. So having two comfortable pairs lets you change the footwear halfway through the shift, which is a perfect option for nurses and any other professionals who need to stand most of their workday.
The Skechers Company
Skechers USA is an American footwear company with an emphasis on performance and lifestyle. It Founded in 1992; it is now one of the three large branded athletic footwear companies in the USA. The headquarters is in Manhattan Beach in California and was started by Robert Greenberg, who formerly belonged to L. A. Gear.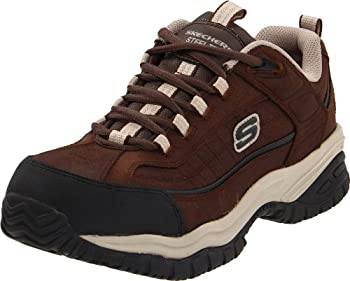 The initial focus of Skechers was in the area of casual footwear. The first products were skate shoes and utility-style boots. The range has since been diversified to include casual as well as athletic styles and performance shoes for women, men, and children.
Two footwear categories are offered by the company, such as the lifestyle division and the performance division. The lifestyle division includes the Memory Foam of Skechers, BOBS – the charity line, Relaxed Fit model comfort shoes. The performance division includes the Skechers GOwalk and Skechers GoRun footwear. The company also offers branded bags, eyewear, watches, and other additional merchandise through licensing agreements.
The advertisements for Skechers are usually based on celebrities. The company has promoted many of its products with the help of celebrities such as recording artists Demi Lovato and Camila Cabello, earlier baseball athlete David Ortiz, football players Howie Long and Tony Romo, just to name a few. The Performance Division of Skechers has featured leading runner Meb Keflezighi, as well as professional golfers Brooke Henderson, Wesley Bryan, and Matt Kuchar. An endorsement deal had also been signed with leading star Ringo Starr by Skechers in 2014.
At Skechers, they believe that the customer should feel confident enough to endorse their products. For the customer to do so, they understand that developing high-quality products that the customers expect from the company plays an essential part. Genuine leather is used with fabric contouring on the inside for proper fitting.
Skechers Nursing shoes
The Skechers Performance division offers the best footwear choices ideal for nurses on the run. Whether it be sneakers or clogs, Skechers has a nursing shoe that can fit your life at work or even beyond that. More styles and colors are available to complement your looks as well as to provide you the needed comfort in every shift. They ensure that your long-suffering feet are nursed back to life while you are nursing the patients.
Skechers Sport Premium-Premix Women's Slip-on Sneaker
This is a trendy sneaker offered by the Skechers brand. They are designed to be slipped on and taken off easily and have the laced option as well as the lace-less design having elastic inserts and cushioned collar and tongue to provide a most comfortable fit, which is very supportive around ankles and feet. The exterior of the shoe is made using leather or synthetic material, coming with the classic stitch accent and upper leather design from Skechers for a pleasing look.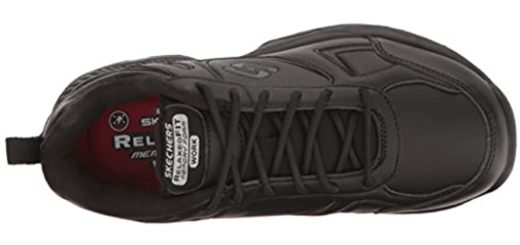 For added comfort and support while walking or standing, there are perforations along the side and front panel of the shoe, which provide better airflow, and heel air cushion. At the bottom of the shoe, a rubber outsole is fixed, which is flexible and provides traction, allowing the shoe to adjust well throughout the heel and arch during movements. There is an EVA midsole which helps in absorbing the impact with every step.
The sneakers without lace make you feel more comfortable while moving around since you don't have to trip over shoelaces or worry about tying them up properly. These are great shoes for nurses who are looking for an athletic sneaker having traditional design, but at the same time, easy to slip on at work and easy to take off at home.
The Skechers Women's Premium Premix Sports Slip-On Sneaker is presented in all-white shoe design as well as the white finish having navy accents for those nurses who prefer their shoe to be a bit more stylish.
Skechers Performance GoWalk 4 Pursuit Women's Walking Shoe
This is another excellent option from the Skechers range of athletic shoes with more comfort and offers a seamless, comfortable slip-on design. These shoes are ideal for walking and comprise lightweight, flexible materials that are designed to reduce stress and fatigue throughout the entire day.
The Skechers shoes feature a slim, breathable profile with tapered midfoot and advanced cushioning to increase the arch support provided. At the bottom of the shoe, a super rubber outsole, which is light in weight, is provided with built-in Goga pillars or cushion pods, which help in absorbing shock during each step and for providing a highly responsive and new walking experience.
In addition to this, the high rebound, comfortable insole, helps in further improving shock absorption and comprises an anti-bacterial fabric, which also provides odor control for a healthier and cleaner foot. The overall design of the shoe material is planned for providing optimal comfort by letting the feet be cuddled in like a supportive sock along with the protection and security of a walking shoe.
The Skechers Women's GoWalk walking shoes are constructed from a breathable, lightweight fabric, which makes it great for nurses working in hospital environments. More than a dozen color variations are available which match well with most hospital outfits.
Tips for improving foot comfort through long working days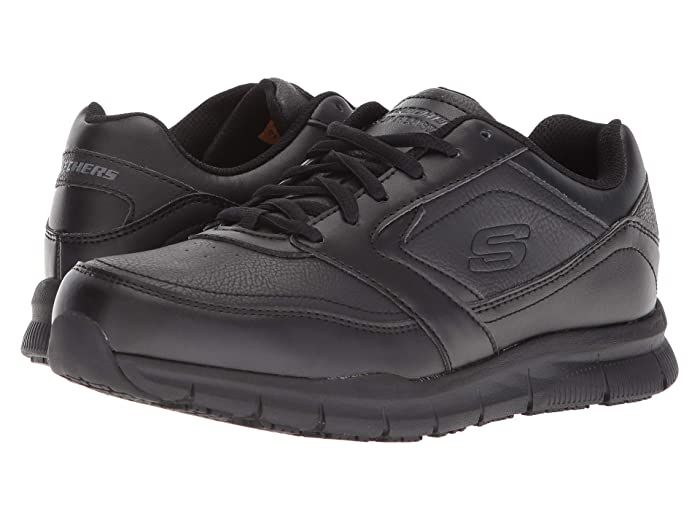 Investing in a proper pair of nursing shoes
This is essential and goes a long way in improving the comfort level of the foot while standing or running around throughout a long working day.
Investing in premium insoles
Insoles are the direct point of contact with the feet soles and provide cushioning and arch support, as well as shock resistance. It also extends the shoe life by reducing friction and adds antimicrobial characteristics as well. If your shoe always feels uncomfortable with the existing insoles or if you need extra arch support, additional premium insoles can be purchased.
Buying high-quality compression socks
Compression socks are also beneficial for nurses as they help them through long days. They help in improving blood flow through the lower body, adding support to calves, ankles, and feet. It helps to reduce swelling, prevents blistering, and keeps the feet and legs warm.
Taking regular breaks
Getting off your feet and taking regular breaks helps in relieving some of the pressure from joints, legs, feet, and ankles. It can even be sitting down just for a few minutes each hour. Working nonstop may make you feel like you are getting things done, but eventually, it slows you down and makes working efficiently and effectively more difficult.
Soaking sore feet
Soaking the feet in hot or warm salty water helps reduce swelling and blisters and improves blood circulation throughout the legs and feet. It is a natural remedy for many foot problems and is very relaxing too.
Taking regular exercise
Stretching in between work and taking regular exercise helps in strengthening the muscles and bones in the body, improving the posture and form, and also leads to less medical problems. It is very much an essential part of living an active and healthy life. An appropriate workout regimen combined with enough rest and a healthy diet helps to make your life enjoyable both in and out of work.
How to choose a comfortable pair of nursing shoes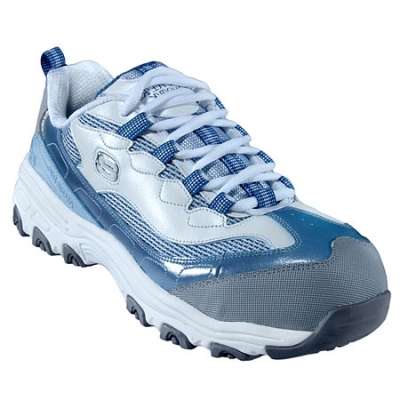 When you purchase a new pair of nursing shoes, the following factors need to be considered.
Comfort
A nurse or any medical professional will have to spend many hours in a day walking around on the feet. Over time, discomfort and foot fatigue can occur due to all the lifting, walking, and moving involved as part of the job.
The right pair of nursing shoes adds to the overall comfort and helps to feel better through the day. Have your feet professionally measured and identify the type of your foot and find a shoe that suits you best, and not one that complicates your comfortable walk.
Support
The right pair of nursing shoes should offer good back and leg support. Good quality shoes improve your comfort, will be safe to wear, and ensures good stability through the entire work shift, even while lifting heavy stuff.
Factors such as material, thickness, flexibility, and strength of the shoe soles are important along with a supportive heel. These enable you to move around easily and to lift heavy objects without fear of accident or injury.
Slip-resistance
Ensuring that the shoe soles are made of slip-resistant material is most important while purchasing nursing shoes. Slick surfaces and slippery floors might have to be encountered during a busy working day, and extra anti-slip protection is most necessary to reduce the chances of getting injured by falling.
Protection
Certain healthcare settings may need you to work in areas where heavy objects or machinery that can potentially roll over and fall on your feet are involved. In such cases, you need to make sure that the nursing shoes you are wearing can protect you against those hazards. Be careful to purchase shoes that offer overall protection and cover your upper feet and toes quite well.
Style
While purchasing nursing shoes, choose a style that is both comfortable and work-appropriate. This means you may need to follow certain specific guidelines regarding material, color, and design, such as clogs, sneakers, or closed-toe. The fit, as well as the finish of the shoe, the materials used, stain resistance, flexibility, and design touches – all need to be looked into carefully. You can add a little flare, fun, and personality to your accessory choice even while sticking to the approved guidelines.
Also, consider asking yourself the following questions.
Does the benefit outweigh the cost?
While a pair of good nursing shoes doesn't have to be expensive, it is wise to invest in one that can last long, at the same time providing support, protection, and comfort to your back and feet. Since it is an important purchasing decision that can affect your long-term health and work performance, it is probably better to pay a little extra for the added benefits. You may end up paying more for replacing less expensive shoes in the long run, rather than buying a reliable one which may cost more but last for years.
Does it have a warranty?
Finding a nursing shoe with good warranty offers may help to relieve stress for those who are concerned with the durability or quality of the product. Knowing that you may be able to return it if it is not suitable for your working environment helps a lot in making a buying decision. Going with well-known brands that you like, know, and trust as reliable is also an option.
Does it make sense to invest in an extra pair?
Investing in an extra pair of nursing shoes can be helpful if your shift involves working in various environments. Lightweight slip-on sneakers can be used most of the day, but you could switch on to protective and sturdy clogs where spills or threats can occur.
Light, breathable shoes in a relaxed setting and protective shoes in hazardous areas allow you to remain both comfortable and protected, giving your feet proper care and rest at the same time. Either find a nursing shoe that covers both situations well or get two pairs to deal with diverse settings.
Another reason why this is advisable is that the cushioning of any shoe gets completely suppressed with continuous use beyond around six hours, and is no longer able to provide the necessary feet support. So having two comfortable pairs of nursing shoes lets you change the footwear halfway through the shift, leaving you comfortable at all times.
Market Reviews
The nursing shoes marketed in the brand name of Skechers has been shown to conform well to all the above criteria and are one of the most stylish pair of shoes among nurses and other professionals whose job involves standing continuously or walking and running throughout the day. Skechers gives great emphasis on the wearer's comfort with a U-shaped outer sole, which is comfortable for walking.
The memory foam shoes are also well appreciated in reviews in comparison with other well-known brands. With Skechers, many claim that they could stand comfortably for longer periods without feeling any strain on the joints, compared to other conventional shoes.
The lightweight slip-ons give good comfort and good movement along with a strong grip while working or walking. Shoes are available in the Skechers range for normal running, marathon running, and weight training. They are said to be extremely comfortable, and the perforations on the side panel allow air to enter the shoe, helping to keep the feet cool.
The Skechers shoes should not be machine washed but can be cleaned by using a hand brush and then wiped with a soapy mixture. It can be air-dried as well. The non-leather shoes can be placed inside a pillowcase or laundry bag and can then be machine washed. The leather, Nubuck, or Suede shoes have to be protected using a Water-proofer spray before they are worn in wet conditions.
Skechers is generally agreed to have the capability to become one of the best brands for shoes, along with so many other quality products.