Introduction
Are you looking for an ideal pair of flats that are suitable for both work and casual events? Well, look no further because today we've got something special for you. In this article, we are going to introduce one of the best-selling flats by a brand that's globally known for offering some of the highest quality products in the footwear industry.
The name of this brand is Alegria and we're reviewing its highest-selling product "Paloma Flats" which was first introduced in 2013. This particular model has a huge fan following and some buyers even mentioned that they repurchased the same pair of flats after using it for years. Let's check out some of the most prominent features of Alegria Women's Paloma Flats.
Overview – Alegria Women's Paloma Flats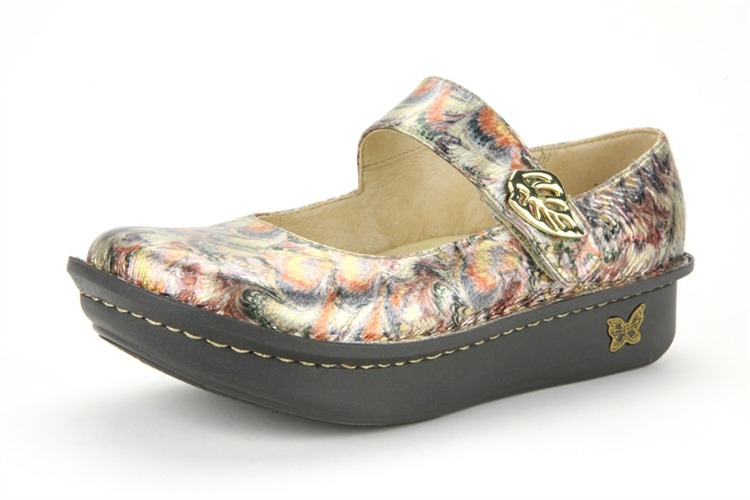 These flats are made up of high-quality leather and a rubber sole and come in a wide range of colors and sizes. Paloma flats are hand-stitched to provide better durability and prolong their life. The outer layer consists of a shiny stain-resistant surface that comes with a textured design. To provide a better grip and prevent any sizing issues, Paloma flats also consist of an adjustable hook-and-loop closure.
The sidewalls of these flats consist of a padded collar that will keep your feet safe and prevent friction. Lastly, the rubber outsole is slip-resistant so you don't have to be extra-cautious when walking over tiled or similar surfaces.
Now that we have gone through the basic specs of Alegria Women's Paloma Flats, it's time to take a quick look through its pros and cons.
Pros and Cons – Alegria Women's Paloma Flats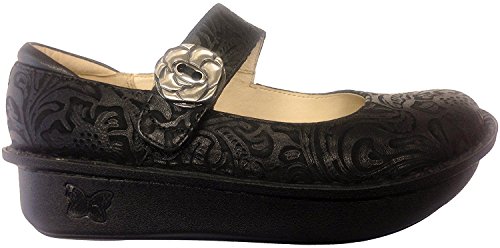 Like any other product, these shoes have their own set of positive and negative factors. Let's check out the factors that support the reason for buying Alegria women's Paloma flats.
Pros
Color variety: Alegria Women's Paloma Flats comes in 54 different colors. Yup, you read that right. This is probably the highest number of colors that any shoe brand offers. If you have very specific color requirements, chances are that Alegria has got you covered.
Slip-resistant outsole: As mentioned earlier, the outsole consists of textured rubber to prevent slippage.
Trusted brand: With years of experience in the footwear industry, Alegria has served millions of loyal customers from all over the world.
Stain-resistant: We all know how frustrating shoe stains are, especially if they are unwashable, but when we talk about Alegria Women's Paloma Flats, you don't have to worry about staining.
Hand-stitched: Hand stitching is preferred by many buyers. The simple reason is that it provides better durability and prevents the shoes from tearing easily.
Size variety: With 46 different sizes, it's guaranteed that you will find the perfect fit for your feet. No matter how old you are, or what type of feet you have, Alegria covers all.
Padded collar: Padded collar allows the person to easily put the shoes on and off without causing any sort of friction to the backside of the feet.
Adjustable: Alegria Women's Paloma Flats contain an adjustable hook-and-loop closure that allows easy adjustment of the shoe fitting. Now you won't have to worry about the flats being too tight or loose. Just adjust the strap according to your desired preference.
Since we've already discussed the positive factors for Alegria Women's Paloma Flats, it's time to highlight some of its cons.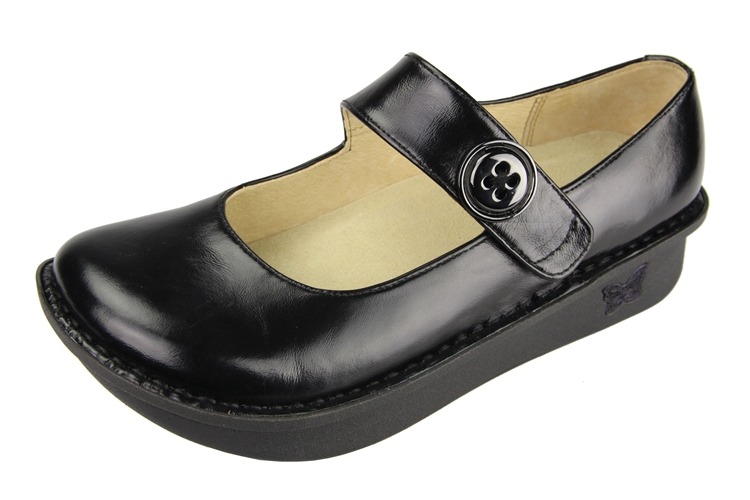 Cons
Expensive: Alegria women's Paloma flats start with a price tag of $65 and can go as high as $165. This is way more than an average buyer is willing to spend on shoes. Don't get us wrong, people do spend hundreds of dollars on footwear but many other brands are offering the same specs and quality for a fraction of this price.
No refund policy: High pricing and no refund policy can be a recipe for a disaster. If you are planning to buy these, we highly recommend that you get in touch with the seller and discuss all queries before placing an order.
Non-washable: The materials used for manufacturing these flats are not suitable for washing and will deteriorate the quality of the product.
Squeak: Due to the materials used in the manufacturing process, these shoes can be very squeaky. This can be annoying to wear at work or you'll end up getting constantly distracted.
Not suitable for the workplace: Due to its open front and squeakiness, Alegria women's Paloma flats are not recommended to wear at the workplace. Not only will it become difficult for you to focus (due to constant peep), it also doesn't give a professional look.
Poor customer support: With no refund policy, things can only get worse if the company also has poor customer service. Many buyers complained that they had an issue with the delivered item but it's difficult to get hold of any customer support agent who could help them out with the queries.
Frequently asked questions
Q. Where are these shoes manufactured?
Alegria Women's Paloma Flats are manufactured in China.
Q. How much do they weigh?
The overall weight for both pairs is 2 pounds, translating into 1 pound each. This is more than the average weight of 0.8 pounds/shoe.
Q. Are these good for flat feet?
Yes! Algeria Women's Paloma Flats are also suitable for people with flat feet.
Q. Are these flats washable?
No! The materials used to manufacture Paloma flats are not suitable for washing. This may result in deteriorating the quality of the product.
Verdict – Should I buy Alegria Women's Paloma Flats?
The rating section on Alegria women's Paloma flats shows 4.5 stars out of 5. However, if we were to rate these shoes, we would only give them 3 stars. We believe that these shoes are a bit overpriced and barely meet the requirements of an average buyer. As far as the quality is concerned, there's no doubt that this product easily exceeds the requirements. Good luck!