Clogs are trendy shoes for nurses because they provide you with better support to minimize any foot, ankle, knee, and back pain, especially because you spend most of your working hours on your feet. That is why nurses must get the best nursing clogs that are designed for the workplace and offer you more benefits than regular shoes and sneakers.
Apart from offering support for your ankle, back, and knee support, clogs are designed to cover your entire foot, which keeps your feet protected from getting injuries from falling objects, bodily fluids, or dangerous chemicals. Most clogs don't have laces, so you can easily slip them on and off, which helps to reduce stress, tension, and pressure.
While other shoes require you to keep tying and tightening your shoelaces, which can restrict your foot and reduce the level of your comfort after a while, clogs don't have laces, so your feet aren't restricted which is a good improvement in your level of comfort.
Not all clogs are the same.
Although clogs are a great alternative to wearing shoes and sneakers and a preferred shoe by many nurses, it's essential to realize that not all clogs are the same. While some clogs are very fashionable but don't offer you any comfort or support, others have no benefits at all. If you want to be comfortable, supported, and with no pain, you must select clogs that focus more on comfort than fashion.
Even though fashionable clogs look good on your feet, they don't provide your feet with proper support, and sooner or later, you will have to replace them with better shoes or sneakers. In the long run, wearing the right clogs will play a big part in reducing the joint pains, stress on your back, and body aches you may have in the future.
Factors that make a good pair of clogs
As a nurse, your priority when it comes to your footwear is to focus more on the comfort of your feet than on fashion because when you're walking around for long hours, the shoes you wear will determine how well you do your job. You don't want to walk in shoes that are so uncomfortable with no support that you end up with foot and back pains.
First, you need to understand the anatomy of the shoes you're going to select.
Footbed or insole
The insole can also be called the inner sole and the part of the shoe that is under your foot. A good nursing shoe should have an insole with enough cushioning to increase your level of comfort, whether you're sitting or standing.
Counter
This is the material you find at the back of your shoe that provides support to your heel. A good pair of clogs will have enough space for your pinky toe between the heel and the counter.
Collar
This is the top part of your shoe above the counter. Most of the time, it has extra padding because it can rub against the back of your foot.
Toe box
The toe box is the part of the clog that covers your toes. There are different variations of the boxes depending on the shoe, but if you're going for comfort, the toe box should be wide enough to provide enough space for your toes.
Tongue
This is the loose piece of the shoe that is found at the top part of your shoe under the laces – if it's present. It helps to close the shoe around your foot at the top part and evenly distribute the pressure from the laces.
Midsole
This is the shoe material found under the insole and over the outsole. In most shoes, the midsole has extra padding to make the shoe soft and comfortable when you walk in it. It also fives your shoe structural support, which helps it to stay in shape and avoid the insole from collapsing into the outsole.
Outsole
This is the material that makes the bottom part of your shoe. Most outsoles are usually made of rubber. The outsole protects the bottom part of your shoe when walking on wet surfaces or harsh terrine.
Now that you know the features to look at in a nursing shoe, here are some important factors you need to consider when getting a good pair of the best nursing clogs.
Comfort
A majority of nurses suffer from back or foot pain because of the demanding work you do all day being on your feet. Wearing inadequate shoes is a major contributing factor to this problem. This means that wearing the right shoes can help improve your posture, which will, in turn, correct your spine alignment, provide a cushioned sole that will absorb shock, and arch support. A good pair of clogs should increase your level of comfort because you're walking around and on your feet for long hours and easy to slip them on and off.
The fact is you can't properly execute your job if the shoe you're wearing don't support your feet and keep them happy. Shoes are supposed to enhance your performance, not being a constant headache that you have to deal with during your shifts. It's also important to realize that the comfort of the shoes you're wearing shouldn't only be during your shift, but even after you go home.
The comfortability of your shoes should encompass its breathability, absorption, padding, and soft materials, which affect your feet even after you remove them. If your shoes start to affect your ability to move as you carry out your daily activities, it won't be long before the condition gets worse. That is why you need to make sure the clogs you wear to work every day provide adequate comfort.
Support
Nursing is a job that comprises of walking, standing, and running for the most of your shifts. The most important features on your shoes should be stability and support because they go hand in hand. This means that the shoes you wear can adapt to the shape of your feet. So with better support, the greater the control and accuracy you will have over your feet's coordination and motions.
As a nurse, you should get a supportive shoe so that your feet and shoes can move in harmony. If the shoe you're wearing is pressed against your foot and follows your foot perfectly as you move, that is a supportive shoe. Support holds the shoe and your foot together for a harmonious movement, but most importantly, it prevents over or under pronating. Pronation is the inward motion from your foot as it rolls.
Usually, the human foot pronates between 12-17% before it impacts with any surface. This way, it's able to naturally support your body weight to reduce applying undue pressure on your joints. This process helps in shock absorption and distributing impact energy. However, this degree of pronation varies with each individual when running or walking, and although it's a natural process, the height and length of your foot's arch can affect how it rolls.
Types of support that are important in your shoes
Arch support
Most people don't know how to determine the degree of arch support you need for the shape of your feet. This leads you to get shoes that have the wrong support or none at all. Since the lack of arch support isn't something you notice until your feet start to hurt, it's mostly ignored. People with flat feet tend to over-pronate, meaning you twist your feet inward more than you should. This causes an unnatural angle of your feet and weight distribution when walking or running, which increases tension on your ankle and joints.
On the other hand, if you have high arches, you tend to under-pronate. In this case, you should get a shoe with neutral cushioning so that your feet can have a neutral movement. For these two instances, a customized insole is recommended.
Heel support
This holds your heel in place at the back of your clogs to minimize stressing your knees, feet, and back. Your heel s very important when it comes to supporting. It acts like a pivot for your foot when it starts to pronate or twist. Your heel should remain stable at all times and support your foot so that it can pronate naturally and comfortably.
Tongue support
Most people don't know this, but the tongue apart from providing cushioning, it also helps to support your upper foot. By evenly distributing the pressure from the laces or straps, the tongue and other enclosures help to reinforce the support on your upper foot.
Review: Comparison table for the best nursing clogs
[table "" not found /]
Dansko women's professional mule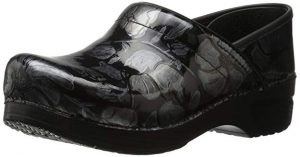 Dansko women's professional mule is a beautiful clog that is both stylish and comfortable. It's made of durable leather, padded upper collar, and protective heel counter to help improve your comfort and mobility. They're ideal for nurses who spend most of your time on your feet by delivering comfort to ease joint pressure and strain and give your feet a natural stride to help reduce fatigue. It boasts of a wide reinforced toe box for added protection and a padded collar for more support.
The wide heel keeps you stable as you walk while the memory foam footbed keeps your feet comfortable during the long 12-hour shifts. The outsole is made of polyurethane material with a rocker bottom to help propel your feet forward and absorb shock. It has closed-back and excellent arch support to keep your feet well supported to maintain comfort throughout the day.
The padded collar will support your ankles, and the rocker bottom helps you to walk with ease to reduce sore feet at the end of your shift and promote good foot health. This clog is available in a variety of different styles and colors, from basic solid and bright colors to fancy patterns.
Verdict
A beautiful clog that provides plenty of room for your toes while providing comfort and support to your feet for the long hours you're walking or standing. The padded collars keep your feet and ankles well supported while the wide heel keeps your feet firmly on the floor as you walk. The wide toe box protects your feet from falling objects and other hazards, and the memory foam footbed keeps you comfortable. And you can get it in whichever color you want.
Pros
Have very good arch support
Excellent shoes for people with plantar fasciitis
Has a very roomy toe box
Very comfortable when walking
Cons
The clogs may not fit the same way.
View price on Amazon
Crocs mercy slip-on clog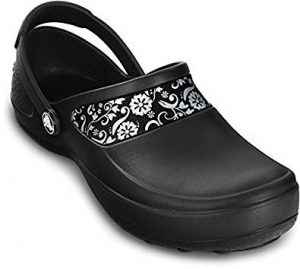 Mercy work clog is roomy and made to provide you with all-day comfort. This classic clog is made with Croslite material, which makes the clog soft, comfortable, lightweight, and odor-resistant. It's designed with a large toe box, ideal for people with both narrow and wide feet. Your toes can move freely, which will keep you feeling great the whole day. Its unique material softens with your body heat, which helps it to contour with the shape of your foot.
This clog has a 3/4 inch heel and a back strap to keep your feet secured in place at all times while its non-marking outsole is slip-resistant, which makes it perfect for hospital floors. It also has a footbed that enhances arch support, and the tiny nubs around your feet create a massage-like feeling as you walk. Regardless of the many hours you wear them, crocs are very comfortable, and they don't hurt your feet. They're very stylish, and you can wear them both indoors and outdoors. Medical students, as well as professionals, will be very comfortable, protected, and supported all day in clogs.
Verdict
Very affordable, stylish, and comfortable classic clogs you can wear the entire day without complaining of pains in your feet, back, or knees. They're lightweight with a non-marking outsole that is hospital-floor friendly and a midsole made of a unique material that molds to the shape of your feet. With all these features, this clog is among the best nursing clogs you can find.
Pros
Has a very durable sole
Great clogs for all-day wear
The nobbed footbeds prevent your feet from slipping
Has a lot of room for your toes and socks
Great arch support
Cons
Doesn't have vents to allow your feet to breathe
View price on Amazon
Skechers for work slip-resistant clog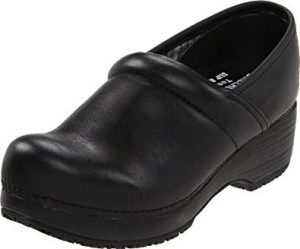 Skechers is a shoe company that makes nursing and medical shoes. This Skechers for work clog is lightweight and made of leather with a 1-inch platform, a larger heel height, and a removable insole. This clog has a rounded toe box that gives your toes extra wiggle room and a rubber sole with a heel stabilizer to absorb shock. The medium-sized arch support helps to keep you stable when walking and reduce foot fatigue after a long day.
The insole is made of very comfortable memory foam and a lightly padded collar to add extra cushioning. The soft removable textile insole has an excellent feeling on your skin with a midsole that is light and provides cushioning and shock absorption every time you walk or run. A flexible non-slip outsole will provide excellent traction when walking on wet or slippery surfaces, and the heel stabilizer gives you a comfortable, smooth stride as you walk.
This nursing clog has a traditional clog design that has a bigger size. That's why it's advisable to adjust down half a size because it tends to stretch a little after wearing the clogs for some time.
Verdict
Skechers work clog is a lightweight leather shoe that will keep your feet happy and comfortable throughout the day. The inner memory foam and the padded collar makes this clog seem too soft for some people. However, it has ample wiggle room for your toes and excellent arch support with heel stabilizers to keep you from falling and a rubber sole to absorb shock.
Pros
The memory foam makes the clogs very comfortable
Very lightweight
The arch support is fantastic
Cons
Difficult to get the right size as the clogs stretch
Might be too soft to stabilize your feet
View price on Amazon
Alegria women's Debra slip-on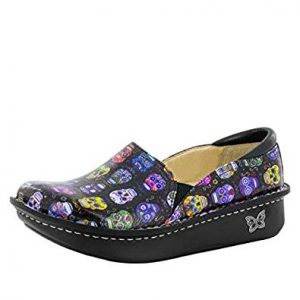 Alegria is a brand that is well known for designing orthodontic shoes for people who love comfort and support. This Alegria Debra slip-on is a comfortable clog that you can wear to work or wear it on your days off. They are designed with a roomy toe box to give your toes ample space so that they don't feel crushed together. The upper leather has a stain-resistant coating that protects your shoes from spills and liquids that are harmful. This way, it protects your feet at the same time prolongs the lifespan of the clog.
You can remove the insole and replace it with the one you like while the soft upper leather material and the padded heel make sure you get maximum comfort. The sturdy and supportive footbed is designed to conform to your feet after a while for a custom feel, which makes this slip-on ideal for a wide variety of foot types. The rocker bottom is lightweight with a 1.5-inch heel that gives you a smooth forward stride and helps reduce fatigue and spent energy. The outsole is made of slip-resistant material and grooving to improve its grip on many surfaces and a great addition to your protection and stability.
Verdict
Stylish clogs that you can wear in your workplace and at home to keep your feet comfortable and happy. The great comfort and protection features make this slip-on clog ideal for nurses, medical professionals, and everyday individuals who want stylish clogs without compromising on comfort and support. You can choose from its wide variety of solid colors, fun and festive colors, and many pattern variations that you can wear with your uniform and still show off your style.
Pros
Great shoes for people with plantar fasciitis and broke bones
Your feet don't hurt after wearing them for 12 hours
Very comfortable and well-constructed
Excellent arch support
Cons
The shoe sizes may differ.
View price on Amazon
Klogs Naples leather nursing clog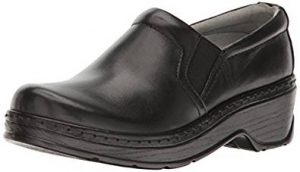 Klogs Naples nursing clog is a unique shoe specifically designed for nurses who work 12-hour shifts and need a shoe that will provide excellent arch support. This clog has a slip-on design, which includes a stretchable upper fabric which allows your shoe to hug your feet without squashing your feet and ankles. It has a roomy toe box that gives your toes wiggle space and keeps you comfortable during your shifts when walking, running, or standing.
The footbed has a lightweight material to help reduce foot fatigue, and the 2-inch heel helps to ease your forward mobility and keep you stable. The footbed also has microfibers that control odor to maintain a healthy environment for your feet. The outsole is slip-resistant, so you're well protected when walking on wet, slippery, or oily surfaces, while at the same time providing excellent traction over many surface terrains.
Verdict
Klogs Naples nursing clogs are great for nurses who are looking for shoes that will offer them overall protection, comfort, and support during the long hours on their feet. Your toes have a lot of space to feel comfortable while the slip-on design means you don't have to stress about laces, especially if you work in the operating room. You can easily slip them on and off. The wide heel keeps you stable and removes the strain from your ankles and feet when walking. And your feet don't smell thanks to the antimicrobial properties in the footbed.
Pros
Lightweight and comfortable shoes
Great for people suffering from plantar fasciitis
The very roomy toe box
Great arch support
Cons
Have issues with durability
The platform is a bit stiff.
View price on Amazon
Crocs Neria pro work clog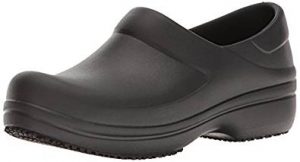 Crocs are nursing and medical shoes that are designed to provide increased arch support, enhance the insole padding, reinforce your toes while giving you a variety of options in design. Neria pro clog is a nursing shoe that offers nurses and medical professionals something more specific to wear to work.
This clog is made with Croslite technology that gives it its lightness properties and durability. Unlike other clogs, the Neria clog has an enclosed toe and heel, which makes it suitable for the medical work environment to protect your feet from spillages and hazardous liquids that might land on your shoe. A slip-on clog that is well-fitting with extra room at the heel for a comfortable and relaxing fit. For some people, this nursing clog may be too wide, while for others, it's an excellent fit; it all depends on your feet.
The slip-resistance synthetic outsole will provide you with adequate stability when walking. When selecting these crocs, make sure they feel comfortable right away since they don't usually break in much like other clogs, or you might be wearing the wrong size of shoes. This is an excellent nursing shoe for people suffering from plantar fasciitis, although they don't breathe so well, so your feet might feel a bit warm after wearing them for some time.
Verdict
Even though this clog may start producing a squeaky sound when you're walking on hard surfaces, which can be distracting or annoying, it has excellent features that will leave your feet comfortable and protected. If you work in the operating room, this clog has a slip-in design that you can easily put them on and off without any hassle. The comfortable outsole will keep you stable and make it easier to move around without a lot of effort.
Pros
Very comfortable if you're on your feet for long hours
You can easily slip them on and off
Ideal shoes if you suffer from plantar fasciitis
Seamless and easy to clean
You can wear them with socks
Cons
Not suitable for people with a high arch support
Don't breathe well
View price on Amazon
Final verdict
Clogs are very comfortable shoes to wear to work, especially if you're spending most of that time on your feet. They provide adequate comfort, support, and protection to your feet, which is the essential thing in any footwear. The best part about clogs is you can easily clean them, and they easily slip on and off your feet, especially if you're working in the operating room.  Dansko women's professional mule is one of the best nursing clogs that is specifically made for nurses and doctors to cater to all their needs. It's handmade with leather and a polyurethane sole. Its wide heel and platform provide excellent arch support and stability when walking. It's a great shoe if you want a shoe that is focused on comfort and support.