Nursing is a very demanding job that requires a good pair of nursing shoes to keep your feet comfortable as you work throughout the day. That is why overweight nurses need to invest in a good and quality pair of nursing shoes so that you can be effective and efficient in delivering the care your patients need.
Wearing comfortable footwear is very crucial in this industry, and there are a huge number of nursing shoes available in the market that come in different styles, shapes, colors, and designs. This makes it a little bit complicated when it comes to choosing the best shoes that meet your needs. Unlike ordinary shoes, nursing shoes are lighter and provide you with better support, which helps to reduce aches and pains that you might get if you wore shoes that were of low quality.
How are nursing shoes different from other shoes?
While some people might think that nursing shoes are your normal walking or running shoes, but there is more to it than just that. There are specific factors that set nursing shoes apart from all the other shoes that you find in the market today. First of all, nursing shoes are designed to be lightweight than your average shoes. This makes them easier to walk around in them for many hours without having to worry about the added weight from heavy shoes. This makes a huge difference because your feet are happy, and you don't develop back legs or feet pains during or at the end of your long shifts.
Another thing is the material that medical clogs are made of. It helps to protect your feet and legs from spills, hazardous chemicals, and falling objects that could hurt your feet. The shoes also have grips to help keep your feet securely stable on the ground when you're walking on slippery or shiny floors. Additionally, the soles of the shoes are specifically designed to reduce the pressure and strain on your spine, knees, and other joints. And the best hospital shoes don't have laces they're slip-on, which are easier and quicker to put on and take off without having to bend, which also helps to avoid contamination.
Essential features to look for in a pair of good nursing shoes.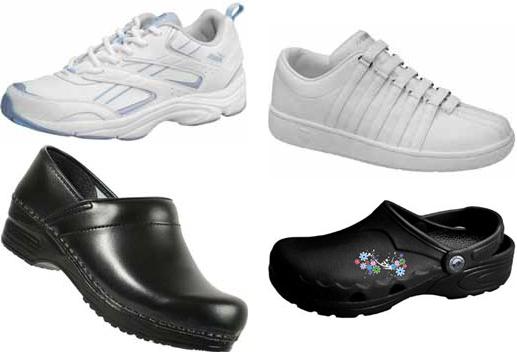 Types of nursing shoes
Nurses are important people that need to highly productive throughout the day, and your tiredness and fatigue will mostly depend on the kind of shoes you're wearing. Here are some essential factors you need to consider to help you choose a good pair of nursing shoes.
Comfort
As a nurse, you spend most hours in your shift on your feet, either walking, running, or standing. The job requires you to move back and forth from one patient to another, and this requires your shoes to have adequate cushioning and support to last you through your shift. This way, you can focus on your patients and not on your feet. When looking for comfortable shoes, you need to find shoes that won't hurt your feet, legs, and back. However, don't go for shoes that are ultra-soft because while they may be the most comfortable shoes as you start your shift, they won't be towards the end.
If you don't take off your sore feet and continue to wear shoes that don't quit your job, you will develop painful feet down the line. Look for shoes that are made with memory foam or other dense materials on the inside that tend to provide good cushioning with adequate comfort and support. Apart from being lightweight and comfortable, you can improve the comfort levels of your nursing shoes by wearing compression socks. They will help to improve circulation and reduce swelling in your legs and feet from all the standing and walking.
Support
The support you get from shoes you wear is extremely important. The shoes you buy should provide excellent back and ankle support during your shifts to eliminate and reduce any foot, leg, and back pains. Go for shoes that will provide support repeatedly on a reliable basis because prolonged standing can create stress-related issues later. Shoes with an ultra-soft or squishy sole will feel great at first, but later, the sole compresses becoming less supportive. Running, pushing, and bending are activities that happen during a normal shift, and you need all the support you can get to carry out these activities without hurting yourself effectively. Supportive shoes should keep your feet properly aligned and leave them feeling good no matter what you do throughout the day.
Protection
As a nurse, you might not need the same kind of protection from your shoes as someone working around heavy machinery, but your feet still need protection against other things that may hurt your feet. Wearing shoes with an open toe or an upper made with a piece of see-through mesh fabric are both bad choices and suitable for an environment where you're at risk of bumping into equipment, spills from bodily fluids and other hazardous chemicals, bacteria, and germs. Shoes made of leather and synthetics will offer you more protection, but it will at the cost of breathable material. Another factor you should keep in mind is slip protection.
In your line of work, you will inevitably encounter spills and wet floors, and the shoes you wear should be able to provide adequate traction and slip resistance, which will prevent you from falling and hurting yourself. Shoes are supposed to protect you from your surrounding environment, but they should also protect you from the wear and tear and grind of everyday use. Prolonged walking and standing on hard surface floors can cause a lot of harm to your feet, and the running back and forth all day can lead to blisters and sores on your feet. This is why you need a good pair of nursing shoes to protect your feet from such situations and leave your feet happy all day.
Shape and style
This isn't a very critical factor, but it does matter. Some hospitals and healthcare facilities may have a fairly conservative dressing code depending on where you work. And just because you're supposed to wear shoes with solid white or black colors doesn't mean they have to be boring and ugly. There are modern shoe styles that come with laces, slip-on design, or even a backless slip-on design without laces. The shoes you buy will mostly depend on how practical they are in your work environment. Just because you're always working doesn't mean you can't be stylish, but comfort and style have to go hand in hand. There are many styles of nursing shoes you can choose from that will leave your feet feeling comfortable and supported and still look cool.
With all the demands that come with the job of being a nurse, the last thing that you want to deal with has uncomfortable feet. A few years back, the only nursing shoes available were clogs and sneakers, and they didn't fit everyone. However, nowadays, things have changed, and you have a wide variety of nursing shoes available to cater to your needs, but this makes the task of finding the right nursing shoes more difficult.
The most popular and best types of nursing shoes for overweight nurses to wear
Clogs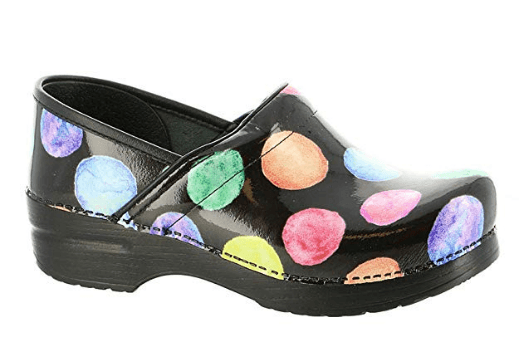 Nursing clogs are one of the most popular and loved nursing shoes by nurses and healthcare professionals. They're not only designed to keep you comfortable, but they also provide you with excellent support to your heels and arches. They also have a protective design that comes in handy when you're working in a hospital environment. Clogs come in different styles, designs, colors, and patterns that you can choose from depending on your preference and your work dress code. Most of the clogs feature closed toes and an open back, but the newer designs that have been introduced come with a closed back to provide you with a more secure and stable fit.
A good pair of nursing clogs should provide you with great slip resistance and increased traction on any kind of surface floor and especially on slippery and wet surfaces. Clogs are also made with waterproof materials, which makes them easy to clean without forgetting the superior arch support and reinforced toe guard. All these features make the clogs excellent nursing shoes and a trendy choice for nurses. Some clogs are made with a synthetic material that can get hot, making them very uncomfortable to walk in them, but clogs made with a natural material like leather are preferred.
The best thing about clogs is that they're very roomy, which keeps you very comfortable throughout your shift, which also helps to relieve the pressure and strain off your feet so that you don't end up having painful and aching feet during and after your shift. This way, you can have more time to focus on your patients instead of worrying about aches and pains. Apart from having a modern and stylish look, clogs are also very durable, but only if you get the right size that fits you properly so that they can help maintain your posture and reduce your chances of developing spine and back problems.
Crocs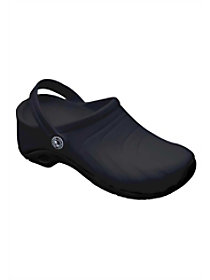 Crocs are also popular nursing shoes among healthcare professionals and often recommended shoes if you're suffering from certain medical conditions because of their increased comfort and support. Crocs have a slip-on design that makes it for you to quickly and easily slip them on and off, making your work easier. Crocs are mostly made from a solid foam resin and are have a closed or low-level design and have a unique closed air vent at the front to help with air circulation to prevent your feet from sweating and keep them cool all day.
The closed air vent design also helps to protect you from accidental spills and germs. There are also crocs with open-air vents, which most health facilities don't allow because they don't offer adequate protection for your feet. They're similar to clogs except for the variation at the back that includes a rear strap for support instead of an open back. These straps are also made with the same solid resin material as the rest of the shoes. These are great shoes to wear if you work in the theater because you need to keep changing your shoes each time you enter and leave the room, and you don't want to touch your shoes with sterile hands.
Athletic shoes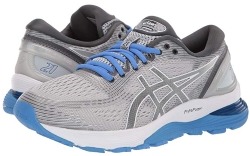 There is a wide variety of athletic shoes which include running sports shoes and tennis shoes. The fact that they're very comfortable shoes makes them very popular among nurses. Most of the sports shoes have a sneaker style with a laced-up design that is ideal if you work in the intensive care unit, ICU, or ER, where you need to do a lot of fast walking and running. They help to keep your feet securely in place, which makes it easier for you to run in them. Athletic shoes are specially designed for superior comfort and increased performance, and they also come in a wide range of designs and styles. They're able to provide you with great support, increased traction and grip resistance, and adequate protection, which are all factors that a nurse requires in good nursing shoes.
Apart from athletic shoes being lightweight, stylish, and flexible, they also offer excellent shock absorption, which helps to prevent you from foot pains from the impact of your feet and the hard floor. You can easily run in them, and being closed helps to protect your feet from spillages and dangerous materials on the floor or falling objects.
Tips on how to remain comfortable when you're on your feet overweight
Standing overweight  can take a toll on your entire body and not just your feet. Here are some tips that will help you ease the strain and stress of standing overweight.
Get the right shoes
This goes without saying, if you want to be comfortable when you're on your feet overweight, you need to wear the right shoes. You need to avoid wearing shoes with a heel that is more than 2-inches high because a high heel will force your body to tilt forward, which will lead to knee and lower back pain, foot strain, or tight calf muscles. You should also not wear flat shoes because they put a lot of pressure on your heel, at least ½ inch will give you good elevation. Shoes that are too narrow at the toes give your toes an unnatural shape, which increases your risk of developing bunions. The shoes you wear should fit you properly at the heels but still have enough room for your toes to move freely and excellent interior support to avoid overpronation.
Sit down when on your breaks.
Any time you're on your break or whenever possible, sit down and elevate your feet to help in improving your circulation. It's essential that once in a while in-between your breaks to rest your feet and body even if it's a few minutes to let your feet cool down.
Maintain a good posture
Maintaining a proper posture can help prevent a lot of problems with your feet and lower back that are caused by standing all day. The best posture is making sure you stand upright where everything from your ears to your hips is aligned.
Stretching
There are many stretches you can do while on the job to relieve the stress and strain of being on your feet all day. Your hamstrings can tighten if you're on your feet for a prolonged period. You can try bending your knees slightly and sticking out your buttocks, then rock back on your heels. Keep your knees still as you squeeze your thighs together. Another way is by stretching your calf muscles where you place your palms on a wall and lean forward and bend one leg at the knee as you straighten the other leg behind you. Lean forward to stretch the back leg for about 30 seconds.
Move around
If you're confined to a particular work station, you can still move around the room to help with circulation as you re-distribute your weight by shifting it from one leg to another after every 20 minutes. This is very helpful in relieving the strain off your legs and feet.
Compression stockings
Compression socks or stockings are beneficial in providing you with extra support for your muscles and the blood vessels in your lower legs, increasing circulation.
FAQ
Are crocs good shoes for overweight nurses?
Crocs are comfortable and lightweight nursing shoes that you can wear during your long shifts and not get any foot or leg pains afterward. They're durable and stain-resistant and don't put pressure on your feet and spine.
Why do overweight nurses wear clogs?
Clogs are trendy shoes with nurses and other healthcare professionals. They provide excellent support, which helps to reduce ankle, back, and knee pain, which is essential if you're going to spend most of your time on your feet.
Why do my feet hurt after standing all day?
If you wear shoes that are unsupportive and are ill-fitted, they will cause foot and heel problems from all the excess standing. It will also cause you a misalignment in your body posture as you try to adjust to a comfortable position.
Why are nursing shoes comfortable?
Unlike other professionals, nurses spend most of their time on their feet, so you need a good pair of shoes to keep you comfortable. And also provide you with the right support and protection throughout.
Final thoughts
Nursing is a very demanding job, and it needs commitment and a good pair of shoes. As a overweight nurse wearing comfortable shoes means your focus is on your patients and not your feet. This way, you can carry out your duties with happy feet.