Introduction
Are you looking for women's shoes that are high quality and match the work environment? If yes, here's good news for you because today we will be discussing work shoes from one of the most reputable brands in the world.
When we talk about shoes from big brands, people automatically start assuming that the shoes in question would be expensive and way out of their budget. Well, that's not the case with Fila women's memory slip-resistant work shoes. These shoes are not just affordable, but they also consist of all features that buyers are usually looking for.
If you're a shoe enthusiast, you must have heard about Fila. If not, let us tell you that this brand has been in the shoe business for over a century and their products are trusted by millions of customers from all around the world. Fila is known to target average buyers with an average budget, ensuring that you get all the required features for a fraction of the price that you will pay elsewhere.
Let's go through some of the specs of these shoes.
Overview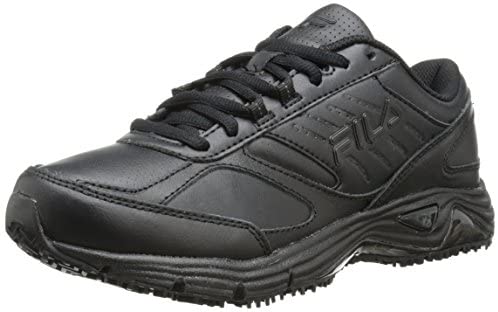 These shoes come in black color and the materials that these shoes are made up of include synthetic leather, nylon, and rubber. These materials ensure that the shoes are durable enough to withstand twists, stretch, and shock. Some of the prominent features of these shoes include;
Lace-up closure: This ensures a better fitting and grip while wearing.
Comfortability: To ensure maximum comfortability, these shoes consist of a midsole and memory foam sock liner.
Now that we have already discussed the specs, it's time to quickly go through the pros and cons of Fila women's memory slip-resistant work shoes.
Pros and Cons
Pros
Trusted brand: Fila is an Italian shoe company that started in 1911. That right, they have been in the shoe business for over 100 years. No wonder they are recognized as one of the best shoe companies in the world. Their products are loved by millions of users around the globe and they are known for their high-quality items.
Slip-resistant: Women's Memory Runtronic consists of slip-resistant soles and you will have no problem walking through tiled or other slippery surfaces.
Affordable: With the price tag of only $32, there's no doubt that these shoes are one of the most affordable options in this range of quality that you can find in the market.
Multiple sizes: Fila Women's Memory shoes come in 13 different sizes, covering most types of feet and age groups.
Refund policy: Got the wrong size? Fila has got you covered. You can easily ask for a refund or replacement of items in case you got the wrong or damaged product. Just make sure that the product is still in unused condition. Moreover, some vendors may require additional fees for issuing the refund. It's best to get in touch with the seller and discuss these details before placing the order.
Good customer support: The best thing about Fila is its customer support. Unlike other companies, you won't have to wait for days or even weeks to receive any response. They also have a live chat option on their website that allows you to get immediate answers to your queries.
Cons
Not suitable for running: These shoes are not suitable for intense use such as running, jogging, or workouts that involve feet.
Not very durable: Some buyers complained that the soles peeled off after a few months of use. It's highly recommended that you use them at work or other casual activities that don't involve a lot of foot stress or the shoes may tear.
Limited colors: Unlike other shoes from Fila where you have tons of color options to choose from, these only come in 3 colors and those too are just different shades of black.
No shock absorption: Since these shoes are not designed for intense foot activities, they don't have the shock-absorbing ability. This means that using Fila Women's Memory shoes for jogging or running may result in foot strain.
No odor control: Some buyers complained that these shoes get very moist and ultimately result in odor. It would have been nice if these shoes also had odor control features.
Frequently asked questions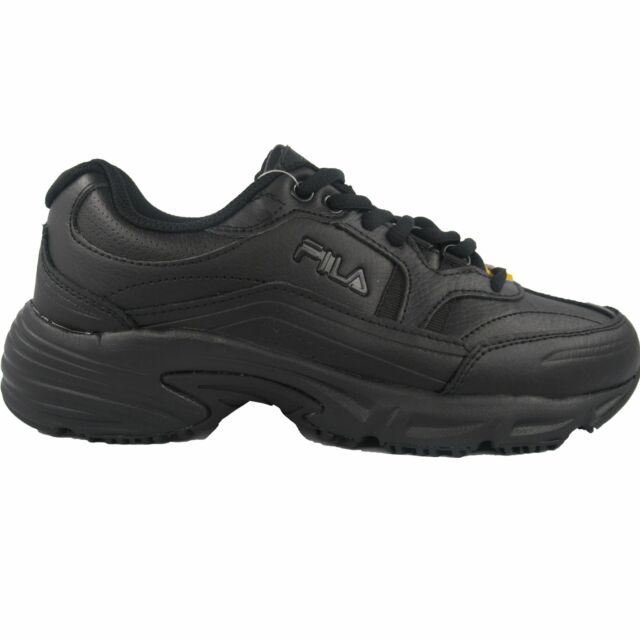 Q. Are these shoes suitable for hiking or sports?
No, the company made it very clear that these are only designed for work purposes. These shoes also lack some very important features (such as slip-resistance, shock absorption, etc) that are required for running and jogging. Using them for hiking or similar activities would result in tears or damage.
Q. How much do these shoes weigh?
Each shoe weighs around 0.68 pounds, translating into roughly 1.36 pounds for both shoes. This is a bit lighter than the average weight of 0.8 pounds per shoe.
Q. Where are Fila Women's memory shoes made?
Although the company headquarters is located in Italy, their manufacturing center is located in the US. Thus, these shoes are manufactured in the US.
Verdict
Although Fila Women's memory work shoes sales page indicates an overall rating of 4.5 stars out of 5, if we were to rate these shoes, we would give them 4 stars. Although these shoes are very affordable and have some extra features that are not often seen in work shoes, they still lack some features such as shock absorption, odor control, etc. It would have been great if these shoes had those features. That being said, we still believe that it's a steal at such a price and the quality is worth every cent.
Some buyers even mentioned that they like these shoes so much that they have been wearing the same model for years. Whenever the shoes ripping apart, they just replace them with new ones. We are sure that you would love these shoes too. Good luck!