Being a nurse requires you to be on your feet most of the time during your shifts. This puts a lot of pressure on your feet, which can prevent you from being focused on your work, so you should invest in the best tennis shoes for nurses to keep your feet comfortable.
Wearing the right pair of shoes will save you a lot of discomfort and pain in your legs, feet, and back. A comfortable pair of nursing shoes should provide excellent support, stability, and above all, keep you comfy all day. Most times, you may find yourself working 12-hour shifts straight, and you have to lift patients and assist them in bed baths, and when there's a code, you run to get the patients the quick help they need. All these movements require you to be wearing a good pair of nursing shoes to prevent having pains in your heels, legs, and back during and after your shift.
Before we look at some of the best tennis shoes for nurses, let's look at what you should consider when buying a comfortable nursing shoe.
Points to consider when buying the best tennis shoes for nurses
Measure your feet in advance
Before you buy a new pair of shoes, you must take accurate measurements of your feet as your shoe size can change with time. As you grow older, the size, structure, and position of your feet and bones may alter the size of your feet, which means you need to get the right fitting for new shoes. If you have recently bought some new shoes, you can use that as a reference to get the right size for your tennis shoes. However, if the shoes you're using as comparison are old and worn out, it's best to get your feet measured afresh to get accurate measurements.
Consider your needs
When you're searching for the best tennis shoes for nurses, you must identify your needs and determine if the shoes you buy satisfy those needs. Most tennis shoes are designed to be comfortable and easily handle the pressure from flat surfaces while hiking shoes are for more diverse and uneven surfaces. Don't buy a shoe that isn't designed for that specific purpose; it will only disappoint you and your feet will suffer. Buy a shoe that you can walk comfortably in on slippery, flat, or hard surfaces.
Know your foot arch beforehand
Identifying if you have normal arches, arched feet, or flat feet will save you a lot of frustration and headache because different feet arches react differently to particular shoes because of their design and arch support. If you buy a shoe that you like and you realize it doesn't have the arch support your feet need, you can either return the shoes and get the right one or buy supportive insoles to avoid developing back and feet pain further down the road.
Choose quality, not price.
This means that you shouldn't base the quality of the shoe you want to buy on how inexpensive it is, but on whether it satisfies all your needs. Don't save a few dollars at the expense of having happy feet. Sometimes shoes that are sold at a low price have a high chance of being designed with low-quality materials that reflect on the price. Your back and feet will thank you for choosing quality over price and buying a shoe that is constructed with high-quality material instead of one with low quality.
Choose function instead of design.
Sometimes you may overlook the functionality of a shoe when comfort and support are concerned and go for one that is more attractive. The fact that you spend most of your time on your feet, you need to consider a good shoe that is more functional as far as your needs are concerned. While getting a shoe with an attractive design is good, you need to realize that if you don't buy nursing shoes that provide enough comfort and support, your back and feet will pay the price in the long run.
On the other hand, if you get a shoe that has both function and design features, go for a shoe that has neutral colors that will blend well with your uniform instead of drawing attention to your feet. If you're a person who likes being fashionable even in your workplace, don't sacrifice the health of your feet for fashion.
When the time comes to throw out your old shoes
Among all the work shoes you have, there is always one that is the pair favorite that you love to wear to work and don't want to throw out. While it may be a good idea to hang on to them, they can take a toll on your feet. Spending so much time moving from room to room, standing for hours, and walking around can wear out the shoes you love and cause the insoles to thin and reduce its durability, which will compromise on the health of your feet. If you still don't want to throw away your old shoes, consider getting a new pair and use your old pair less to improve the health of your feet.
Invest in a quality new pair of shoes
Buying a new pair of shoes is not only to help you stop wearing your old pair of shoes, but it can help to change the way your feet touch the floor and the impact that has on your feet the whole day. Getting a new shoe can improve your comfort at work and make your feet feel better. Wearing comfortable shoes can make your work more pleasant and reduce pressure on your feet. And because you're constantly walking on hard and slippery floors, it will improve traction, which will keep you safe and well supported.
Consult a foot expert or a podiatrist
If you're not sure or are having problems finding the right pair of shoes that suits your feet's needs or if you're having back and feet pain, you should consider paying a visit to a podiatrist or foot specialist to help identify the problem and get the perfect shoes that fit your needs. A foot expert will be able to give you accurate measurements for your feet based on their shape, arch, and size to help you get the correct shoe and taking into account any medical conditions to increase your recovery process from any pain or medical problems.
The long hours you spend on your feet can have adverse effects on your health, especially your back and lower body, which is why it's advisable to consult a podiatrist to prevent worsening your condition, which will save you a lot of pain and money in the long run.
Buy shoe accessories
There are a variety of shoe accessories that are available that help to improve your feet's support and comfort as well as keeping your shoes clean. Accessories such as insoles, compression socks, therapy wraps, shoe trees, and cleaners are just some of the shoe accessories you can buy to improve the quality of your shoes. Taking care of your feet and shoes will go a long way in making your work less stressful, you become more productive and focused on your work, not your feet.
Features of best tennis shoes for nurses
Slip-resistant
As a nurse, you're surrounded by liquids and spills every day, and the shoes you wear should be slip-resistant to prevent you from slip injuries.
Arch support
If you're wearing a comfortable pair of shoes, your feet should experience very little pain and fatigue at the end of your shift. This means your shoes should offer excellent arch support to keep your feet from hurting.
Shock absorption
Your feet, knees, and back can suffer the brunt of the many hours you spend walking on hard surfaces. A quality shoe is made of thick rubber outsoles that can absorb shock from the ground and provide traction.
Light and quality material
When buying a shoe, the quality of the material is important. Leather is the best material for your shoe as it's durable, breathable, and light on your feet.
Protection
If you're working in an area where there is heavy machinery or potentially falling objects that can land on your feet, you need to find shoes that will protect your feet against such hazards.
Review: Comparison table for the best tennis shoes for nurses
[table "" not found /]
New balance women's WX608V4 training shoe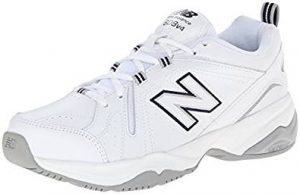 New Balance WX608V4 is an excellent training sneaker that has a cool design and many amazing features that help to keep you comfortable, stable, and well supported. This new version of New balance has premium cushioning and flex grooves for the outsole to increase your feet's flexibility. The extra cushioning protects your feet so that you don't get any discomfort throughout the day. The rubber heel is made with ABZORB technology to increase cushioning and compression resistance, while the internal shank improves your control and stability.
You can effortlessly walk or run in these sneakers thanks to the 1.75-inch heel at the back of the shoe. The inside part of the sneaker is made of a comfy and breathable lining and a padded mesh tongue to help your feet breathe and stay cool and also helps to keep your feet secure and stable so that your feet don't slide around.
The footbed is made of a removable EVA foam that you can replace with an orthopedic insole for medical or personal purposes. With all the features in this sneaker, your feet will be comfy, protected, and supported, and this pair comes in a variety of colors from pink, grey, blue, mint, navy, light blue, and white with a lining of brown, black, and purple.
Verdict
New balance is the best tennis shoes for nurses whose always on her feet, taking care of patients or an athlete in any sporting field. It will provide your feet with extra cushioning all-round, protection from sliding, and support to keep your feet happy when walking or running around during your shift.
Pros
Very comfortable with attractive colors
Great arch support
Wide width for people with big feet
The extra padding on the tongue and back keep are very comfortable
one of best tennis shoes
Cons
The quality is questionable.
View price on Amazon
Easy Spirit women's roomy sneaker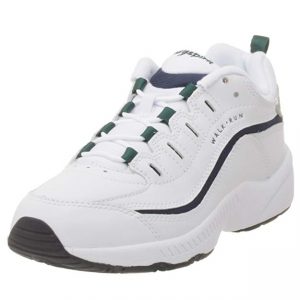 Easy Spirit is a roomy walking shoe that is designed to provide comfort and support for your feet and keep them well protected as you go about your busy day. It's made of a durable leather upper and a padded breathable tongue that helps to keep your feet securely in place and cool throughout the day.
On the inside, it has a padded sock liner for absorbing shock and improving your feet's comfort and cushioning. You can easily remove it and replace it with your preferred insole. The outsole is made of durable rubber with a beautiful tread design that helps to keep your feet on the floor at all times. The midsole and outsole are both flexible, which makes it easier for you when walking and provides excellent support without reducing its performance.
This shoe is perfect for nurses who perform light duties, and want a shoe that will provide you with comfort, cushioning protection, and durability. This sneaker is available in solid black and white colors, or if you prefer more color, you can choose from the accent colors and fabric styles.
Verdict
A great sneaker if you carry out lightweight duties. best tennis shoes for nurses will keep your feet comfortable, well supported, and cushioned throughout the day. The outsole and midsole are flexible, giving you a better walking experience while still keeping you supported. The padded tongue and collar protect your feet, and the removable insole gives you options of replacing with your preferred choice.
Pros
Incredibly durable for frequent use
They have very attractive color varieties
Keep your feet very comfortable
Great shoes for people with foot problems
one of best tennis shoes
Cons
The arch support is questionable
View price on Amazon
Skechers sport women's slip-on sneakers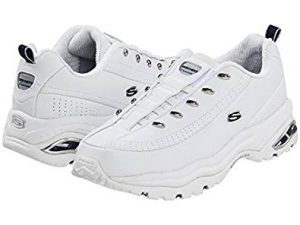 Skechers slip-on sneakers are made of a smooth leather upper with a soft padded lining. The back is designed to provide your ankles with maximum support when walking or running. It's made of extra cotton padding on the tongue and collar, the best tennis shoes is good for extra foot protection, while the outsole of this shoe is made with flexible rubber that offers your feet good traction when walking around on slippery floors.
It has a very cushioned footbed with a platform and a built-in thick heel to protect your feet from all the hours you spend on your feet. The EVA insole has extra padding and cushioning to offer superior comfort and support when walking on the hard floor. Excellent for nurses who work in the operation room where you need to put your shoes on and off.
Verdict
Very comfortable slip-on sneakers that provide extra cushioning around your ankles and soft padding for great comfort when walking around during your long shifts. The extra padded insole and thick heel provide good traction when walking on slippery floors while keeping your feet securely in the shoes at all times.
Pros
Very comfortable slip-ons
Better arch support
Your feet don't get tired after wearing them for a long time
Has cushioned tongue and collar for better support
best tennis shoes for nurses
Cons
The toe box can be a bit narrow
It's slightly stiff
View price on Amazon
Skechers sports D'lite's memory foam sneaker.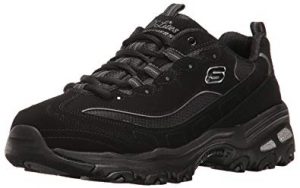 ThisD'lite's sneaker is sporty with an attractive leather upper with plenty of extra cushioning and support for your feet. It has a great design and features that are fit for a person with an active lifestyle. This sneaker is made of a lightweight material that makes it easier for you to walk or run effortlessly without compromising on its support or structure. The insole is layered with perforated memory foam to keep your feet cool and a cushioned midsole to support your feet.
The outsole is made of deep traction grooves that give your sneakers a good grip on any surface so that you can comfortably move around without the fear of falling on a slippery floor. The soft cushioning in the tongue and collar gives your feet a snugly fit, while the heel and tongue make it easy for your feet to slip into the sneakers easily. These D'lite's sneakers are excellent for nurses who love to wear Skechers shoes but want sneakers that provide support and comfort with an added benefit of using modern technology.
Verdict
Attractive and stylish slip-on sneakers that make it easier for you to put them on and off. They're super comfortable and made with a lightweight material, making it easy for your feet when walking or running. You can remove the insole and replace it with your favorite one. The perforated memory foam helps your feet to breathe and stay cool, while the outsole provides great traction on any surface.
Pros
Fits perfectly and are comfortable
Great sneaker for people with foot problems
The memory foam keeps your feet cool
Cons
The insole thins quickly
Questionable quality
View price on Amazon
Brooks women's ghost 10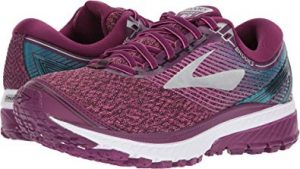 Brooks Ghost 10 is a running shoe designed for individuals, athletes, and runners with a busy life. Nurses sometimes have to run around attending to their patients, and this shoe is a lightweight active shoe that gives you great energy and absorbs shock. It's designed with light and breathable material that improves your comfort, mobility, and protection from hard surfaces.
The upper part is made of an airy mesh fabric to increase air circulation in the shoe and to keep your feet cool when you're walking or running around during your shift. The tongue is also made of the air mesh material for a double cooling effect. The collar and the tongue are padded for a snugly fit and to keep your feet comfortable as you walk, while the footbed has a cushioned lining that is soft and plush. This sneaker has an in-built midsole that adapts to your movements to give you energy and, at the same time, absorb shock.
The gripping outsole has a traction pattern made of omega flex grooves to give your shoe mobility and flexibility but doesn't compromise on protection. This stylish sneaker has elegant designs with vibrant colors and a creative logo that makes the shoe very appealing when you wear it.
Verdict
A very stylish and attractive running shoe that provides you with great comfort, protection, and great traction. The padded tongue and collar protect your feet and keep them secure while the air mesh fabric in the upper part and tongue helps air to circulate as you walk around.
Pros
Very comfortable and stable
Effective in absorbing shock
Offers support for people with flat feet
You can replace the insoles
the best tennis shoes.
Cons
The toe box is narrower
Quality is lacking
View price on Amazon
PUMA women's tazon 6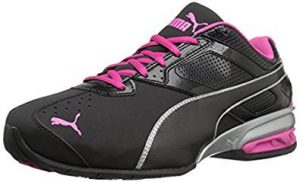 PUMA tazon 6 is a sleek shoe with a stylish look that sets it apart from the rest. PUMA is a very respected and popular brand for its stunning and appealing shoes that offer excellent comfort, durability, and support. This athletic sneaker has a built-in technology design that ensures it provides protection, it's sturdy, and still performs even after wearing over a long period.
It's made of smooth leather and synthetic upper with perforations for better air circulation. The padded collar and tongue help it to fit snugly around your foot and ankle without making your feet uncomfortable or restricting movement. The midsole has a high-rebound cushioning that protects your feet by absorbing the shock as you carry out your daily activities so that at the end of the day, your feet have less fatigue and more energy.
The sock liner has a breathable mesh lining to increase air circulation and keep your feet cool. The outsole is made of flexible and durable rubber to help with your mobility and an in-built TPU shank to increase support and stability. This is a best tennis shoes for nurses who are looking for a sneaker that is the fashionable ad still performs in and out of work.
Verdict
PUMA is a brand with a great reputation for manufacturing shoes that are fashionable and still gives you great performance. The technology used on these shoes incorporates great design, comfort, support, and performance to give you an all-round shoe you can wear to work and have happy feet the whole day.
Pros
A great cross-training shoe if you want stability
Very light and well structured
Excellent arch support
You can wear them through the day without heel pain
The gel sole inserts are very classy
Cons
View price on Amazon
K-Swiss women's St329 heritage sneaker-best shoes for nurses

K-Swiss St329 is a well-constructed athletic shoe for people who love sports and have an active lifestyle. This sneaker has an elegant style with a beautiful stitched detail on the upper leather with a K-Swiss logo on the top and side of the sneaker. The footbed is made of high-quality memory foam that keeps your feet comfortable and helps to reduce the pressure on your feet during the long 12-hour shifts.
The heel and the tongue have extra cushioning and a soft lining to keep your feet feeling cozy. The outsole is designed with a unique thick rubber traction pattern, which gives you excellent energy return to absorb shock while you walk on hard surfaces. The EVA midsole improves your feet support and helps to keep your feet in place as you walk to prevent injuries.
Verdict
A well-constructed shoe that is the best tennis shoes for nurses who have an active life and also like to work out in your free time. A stylish sneaker with an elegant K-Swiss logo to give it a unique look while the footbed with the memory foam cushioning gives your feet support and comfort. The cushioning from the tongue and heel reduces pressure from your feet from all the long hours of walking and standing.
Pros
Easy to clean
Offers great support to your feet
Alleviates pain and foot aches
Fits your feet very comfortably
Cons
The heel cushioning doesn't last
The rubber at the bottom doesn't give you enough grip.
View price on Amazon
Final verdict
Nursing is an excellent job, but it can be very strenuous, which requires you to be constantly active throughout your shifts. This means that you put a lot of pressure and stress on your feet, making it important that you get the best tennis shoes for nurses. As a nurse, you should always buy shoes that are comfortable and safe to wear, and New balance women's WX608V4 training shoe is a great tennis shoe you can wear. It has a cool design, it's comfortable, supportive, and keeps your feet stable when you walk.