As a nurse, you spend most of your time on your feet walking, standing, or running, which can put a strain on your back, feet, and knees. Wearing comfortable leather nursing shoes can help in relieving the pain and stress on your lower back while providing support and protection for your feet.
When your profession involves running from one corridor to the next checking on patients or standing for long hours in the operating room, you need to wear the right shoes for the job. Being on your feet all day puts a lot of pressure on the lower part of your body. But if you're consistently wearing unsupportive shoes, you could develop joint pains, achy arches, and other problems. The good news is there are shoes that you can wear that are made specifically for people who are on their feet all day.
Different types of nursing shoes are available in the market today. You can either wear clogs, crocs, sneakers, or casual shoes that are made using leather, synthetic, rubber, or fabric. The type of material the shoes are made from is necessary because it will determine how comfortable you will be or the durability of your shoes.
The best nursing shoes for nurses are made of leather and rubber. Make sure that the shoes you choose aren't too heavy because this will affect your performance. Light shoes offer extra comfort and provide constant support throughout the day. Comfortable nursing shoes should support your feet properly so that they can absorb the impact of your movements and have a curved surface that will cradle the arch of your feet. They should also provide excellent posture support, which will help eliminate lower back pains and leg problems.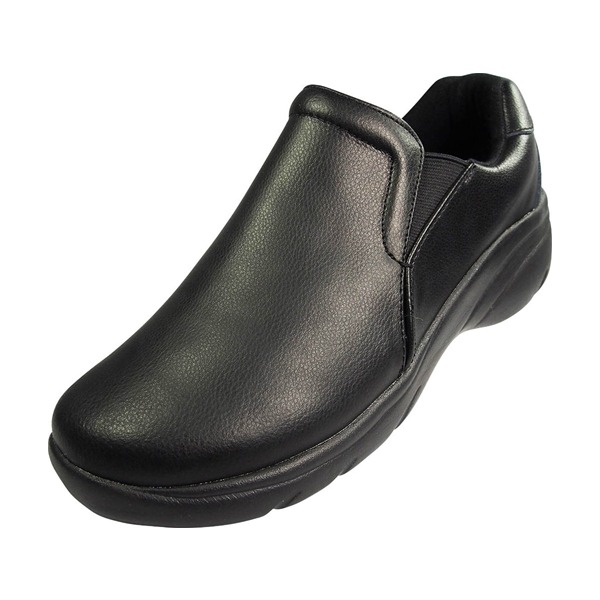 Leather shoes
Most of the high-quality shoes are made of leather, even nursing shoes. Leather is the most popular material in making shoes because it's flexible and durable. However, different types of leather are more preferred than others, and knowing the difference can help you in choosing the best leather nursing shoes. Each leather goes through a process that produces leather that is perfect for rougher use and scuff-resistant or others that are delicate that you can wear to formal occasions.
Different grades of leather
Full-grain leather
This leather comes from the top part of the hide, which includes the entire grain, and although it may have blemishes, it's the most expensive and sought after because of its durability and longevity. This means it hasn't been buffed or sanded to remove any imperfection or marks. Its tight porous nature means it's thicker and prevents moisture retention.
Top leather
This leather is like full-grain, but the difference is it has been sanded lightly to remove any imperfections. This means it's thinner and less durable but more uniformed. It has a smooth finish and can absorb a stain, but it's not good in breathability.
Corrected or split leather
This is also called genuine leather and is produced from the bottom part of the leather that has been split off from the grain at the corium. Split leather is a bit tougher in texture. That's why it's sanded to remove natural imperfections; then it's spray-painted and embossed with a leather-like pattern to give it a more natural appeal. This process makes it less breathable.
Bonded leather
This is made from the leftovers from the hide, which include shredded leather scraps and dust that are bonded together using latex or polyurethane at the top of a fiber sheet. This isn't leather, it's cheap, and falls part quickly.
Synthetic leather
This is usually cheaper and lighter than real leather, and it can also absorb water just like real leather. So to make it waterproof, it's sprayed with a synthetic spray, which creates a waterproof barrier between the synthetic layer and water.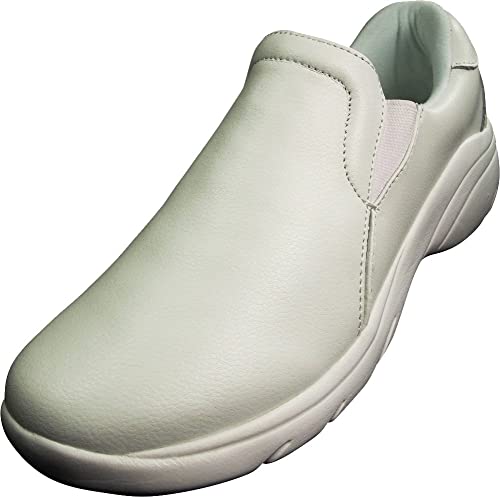 Suede leather
Suede can be ruined very easily by water and causes stains on the surface. The sensitive nature of the suede leather means you have to be careful, but to make it waterproof, it's treated with a waterproof spray but shouldn't be exposed to high amounts of water.
Benefits of leather shoes
Leather shoes are very popular with people who have active jobs or if you need shoes that will provide your feet with better comfort and protection. Due to the nature of the nursing profession, you need shoes that provide maximum comfort, protection, support, and stability during your long hour shifts. Here are some of the benefits of wearing leather shoes at work.
Durable
One of the best things about leather shoes is that they're durable. Shoes that are made with genuine leather can outlive other shoes made with other materials. High-quality leather can withstand the wear and tear of a demanding job in different environments. Although leather shoes can be expensive, they're a good investment because it's cheaper to buy one pair of leather nursing shoes than several pairs of synthetic shoes.
Better fit
The leather material tends to conform to the shape of your feet, providing you with better comfort and support for your feet during the long hour shifts when you're on your feet. Other shoes made from synthetic or other materials feel hard against your feet and don't conform to the shape of your feet.
Comfort
Leather is not only a naturally strong material, but it's also very comfortable to wear. Wearing leather nursing shoes will ensure that your feet are comfortable and well supported as you walk or stand around all day. This is very important because wearing the wrong shoes can cause serious injuries to your feet and back, and this will affect your productivity at work.
Easy to clean
It's effortless to clean leather shoes with a damp cloth compared to other shoe materials that require special cleaning. Because leather is a breathable material, it also dries very quickly after cleaning it. To keep your leather shoes looking new and shiny, you need to clean them properly and take care of them.
Extra protection
Although leather shoes don't provide the same protection as wearing steel toe caps, it's a strong natural material that can provide your feet with extra protection from falling objects, hazardous chemical spills, or bodily fluids. Depending on the station you're working in at the medical facility, it's essential to wear shoes that will protect your feet from accidents or injuries.
Water-resistant
When working in a medical facility, you need to wear shoes that are water-resistant to water and other fluids so that your feet remain dry and avoid damaging your shoes. Most of the leather nursing shoes are water-resistant, so they're easy to clean off stains and other dirt, and they don't absorb liquids. This helps to extend their longevity, so you don't need to keep buying shoes after a short time.
Breathable
Leather is breathable, which means air can circulate through the material. This helps to keep your feet cool and dry, so you don't have to worry about having sweaty and smelly feet after your shift. This is a significant factor to consider, especially if you're going to be wearing shoes for more than 12 hours a day.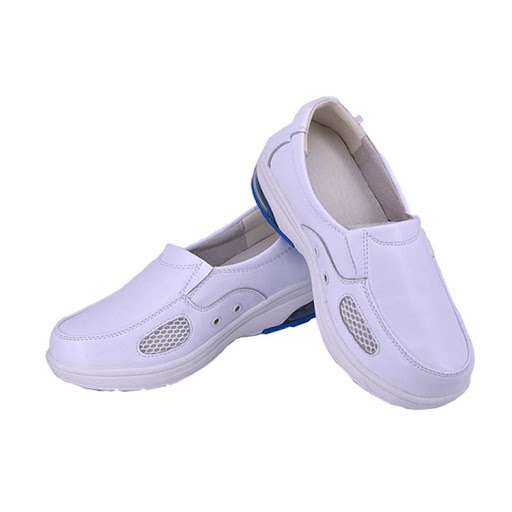 Comparison table for leather nursing shoes
These Dansko nursing clogs are comfortable, practical, and durable and give you a professional look while protecting your feet. This is one of the most comfortable shoes in the market today. These are stylish shoes that are made from leather, making them extremely durable. These are popular and classy nursing shoes and come in a wide variety of colors you can choose from. They're made with an upper leather and a synthetic sole that is both comfortable and slip-resistant with a 2-inch heel and a .5 inch platform. These Dansko clogs are very comfortable shoes with a padded instep collar for ultimate comfort and a rocker bottom that provides shock absorption when you're walking, standing, or running in and out of patient rooms.
They have a wide, comfy, and roomy fit for different types and sizes of feet. These shoes are very durable and very easy to clean. The wide heel will help to keep you stable on different floor surfaces, and the PU outsole has a rocker bottom that will absorb the shock as you walk and also help your feet to move forward effortlessly without applying too much effort. The toe box is reinforced to provide adequate protection from falling objects or accidental spills.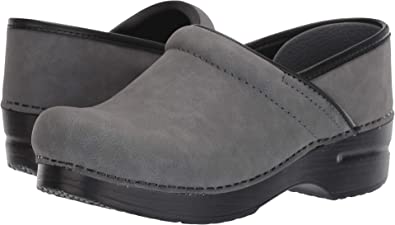 Pros
They provide excellent arch support
Come in many colors and patterns to choose from
Great clogs if you're suffering from plantar fasciitis
Very easy to wipe clean
Cons
They're humanmade so the sizes might be different than your standard size
Sometimes the leather tends to crack
Verdict
Very comfy and durable clog shoes that offer excellent arch support and protection for your feet when working. The rocker bottom helps to absorb the shock as you walk so that you don't experience heel and feet pains.
Skechers nursing shoes are well known for their slip-resistant shoes, and these are no different. These nursing shoes are excellent if you're looking for shoes that have a non-slip sole and don't require laces. They aren't very stylish, but they have a simple design that will suit the hospital environment. These slip-on casual shoes have a relaxing fit that is designed with a roomy and more comfortable fit and a memory foam cushioning for extra comfort. The smooth leather upper is durable and offers protection to your toes and feet from spills and falling objects.
The interior has a soft fabric collar and a shoe lining that will keep away moisture so that your feet stay dry and odor-free. These shoes have a removable insole with a memory foam that will provide cushioned comfort throughout the day while you're on your feet. You can replace the removable inserts with an orthotic insert of your choice. The FlexSole midsole offers much-needed support for your arches and absorbs shock as you walk, which helps to prevent heel and feet pains. The slip-resistant rubber outsole ensures that you stay on your feet even when you're walking on wet or slippery floors by providing excellent grip and traction.

Pros
Very comfortable shoes to wear the entire day
Offers excellent grip and traction
Very lightweight
Has an excellent arch support
Don't require any break-in period
Cons
They tend to stretch a bit
They aren't stylish shoes
Verdict
Comfortable but straightforward nursing shoes you can wear to work all day, and they don't need any break-in time. They have a removable insole that you can replace with customized inserts and an easy slip-on design that makes it easy to put them on and take off.
These are high-quality, comfortable, and stylish slip-on shoes that any nurse will love to wear. They're made with a leather upper that is easy to clean and durable while at the same time giving it a stylish look. They're designed with a very comfortable and roomy toe box that allows your toes to move freely and a memory footbed to provide cushioning for your feet. The removable insole allows you to replace it with your customized inserts if you want. The roomy foam bed provided extra comfort when you're on your feet for long periods and added cushioning for your feet to eliminate any discomfort.
These classy slip-ons have a 1.5-inch heel and a 1.0-inch platform that provides excellent arch support and a lightweight rocker outsole that is slip-resistant that will help prevent you from accidental slips and falls. This will provide enough stability and traction on wet or slippery floors and make it easy to propel yourself forward. The leather on the upper part of the shoes is stain resistant, so it's easy to clean, and the double elastic gore at the back of the shoes makes it easy to slip the shoes on and off. These classy shoes are hand-stitched, giving them a unique look with fantastic color options and beautiful patterns.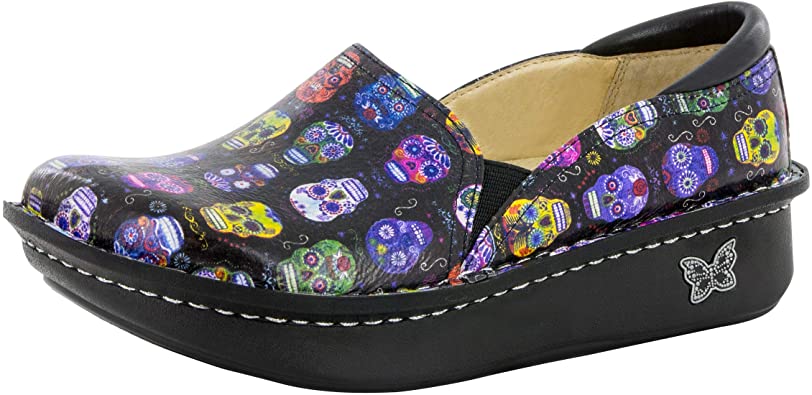 Pros
Well-constructed and sturdy shoes
Very comfortable to wear
Very helpful for people suffering from plantar fasciitis
The foam inserts provide extra comfort
They have excellent arch support
Cons
The sizes may vary with your standard shoe size
They're a bit expensive
Verdict
Stylish and comfortable slip-on shoes that provide you with everything you need to ensure that the long days on your feet go smoothly with no discomfort or stress on your body. They're made with memory foam footbed, removable inserts for extra comfort and shock absorption, slip-resistant rocker outsoles, and a roomy toe box for your toes to freely move around.
If you're looking for leather sneakers that will provide you with all-day comfort, then these shoes are perfect for you. These attractive sporty sneakers will feel good on your feet and also give you a sleek look. They're cute and stylish shoes that you can wear even on your off days with leggings or your favorite pair of jeans. They're made with a leather upper and a lace-up vamp that you can leave tied and still slip into the shoes easily.
They have supportive insoles which are good for your arch support and an elastic sockliner at the top. With a 1.5 inch heel and a .75 inch platform, these sneakers provide excellent support and help to keep you stable when walking and make it easier to move forward as you walk. The slip-resistant outsole provides a good grip and traction for your feet when walking of smooth and wet floors in the hospital.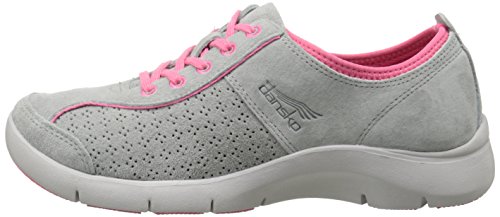 Pros
Attractive and comfortable shoes
Has a wide toe box
Provide excellent comfort and support
Cons
They're a bit larger than other shoes
Tend to be bigger or smaller than your normal size
Verdict
Attractive and sporty leather sneakers that you can wear both to work and on your off days. They come in attractive colors and provide ample room for your toes to move freely. They're comfortable and supportive, as well as protective of your feet.
Conclusion
Leather nursing shoes are very popular with nurses because they're durable and comfortable to wear all day. The Dansko women's professional mule are practical, comfortable, and durable professional-looking shoes that you will love to wear all day.
FAQ
Why do nurses wear clogs?
Clogs are trendy shoes among nurses. They provide excellent support, which helps to reduce foot, ankle, knee, and back pains. This is important because, as a nurse, you spend most of your time on your feet.
Do nursing shoes have to be leather?
Some of the popular nursing shoes worn by nurses include clogs, crocs, sneakers, and casual shoes. Most healthcare facilities have different dressing codes, but nurses should wear closed shoes with a covered heel that offers foot protection and slip resistance.
Are nursing shoes comfortable?
The best nursing shoes are made of leather or rubber. While rubber is lightweight and comfortable, leather is also comfortable and durable with better breathability.
How often should nurses replace shoes?
On average, a nurse stands for about 40 hours a week. So, shoes can be replaced at least twice a year or when your shoes are worn out.
Are crocs good for your feet?
Crocs may be easy to slip on, but they aren't good for your feet. They provide some arch support, but lack in many other features.