When it comes to shoes for nurses, you have very many comfortable options to select from. Since your job will involve you standing for very long hours, sometimes even going up to a full day, as well as constant movement, you owe it to yourself to have a pair of shoes that you can always rely on at work. Getting the right shoes might be a process, but it is worth it because of the value of constantly staying stable while working.
With that said, you might see crocs being a standard feature for many nurses in various hospitals, mainly because they are some of the most comfortable options to wear. However, this raises a question: are they good shoes in the nursing field? Do they promote the health of your feet? Or are they simply comfortable? We will discuss that in this article.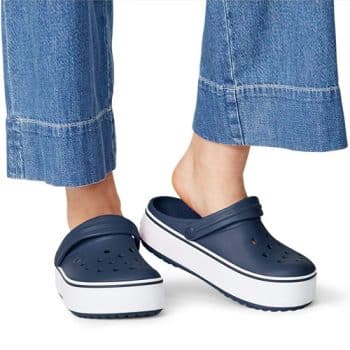 History of the crocs
Crocs are new shoes when compared to other options, as their history dates back to only 2002 through the founders George Boedecker Jr. and Lyndon Hanson. Their initial purpose was for boating, thanks to their waterproof tendency and non-slip treads, with the initial design taking the form of clogs before the current design came in.
They are widely popular throughout the world today, as recent estimates show that more than 300 million have been sold in almost 100 countries.
What makes them popular?
They also have solid backing from the American Podiatric Medical Association, as well as the US Ergonomics Council. According to the company, the shoe compensates in therapeutic benefits what it lacks in aesthetics, as it works on eliminating achy feet and plantar pain. They also assist you if you struggle with injuries on your feet, diabetes, or bunions, as well as other foot problems.
Their lightweight nature also makes them quite popular, as many doctors recommend=d the shoes to their patients in the healing stages. Thanks to the roomy toe box that they have, they can help individuals who have deformities in the foot bones, and specialty crops such as Rx Crocs have an antibacterial material in their lining that prevents bacterial and fungal infections.
People living with diabetes can also benefit, as they have problems with blood circulation in their feet. Because of this, they have a higher risk of developing wound infections and open sores, so the antibacterial properties and extra roominess of crocs help to deal with such issues.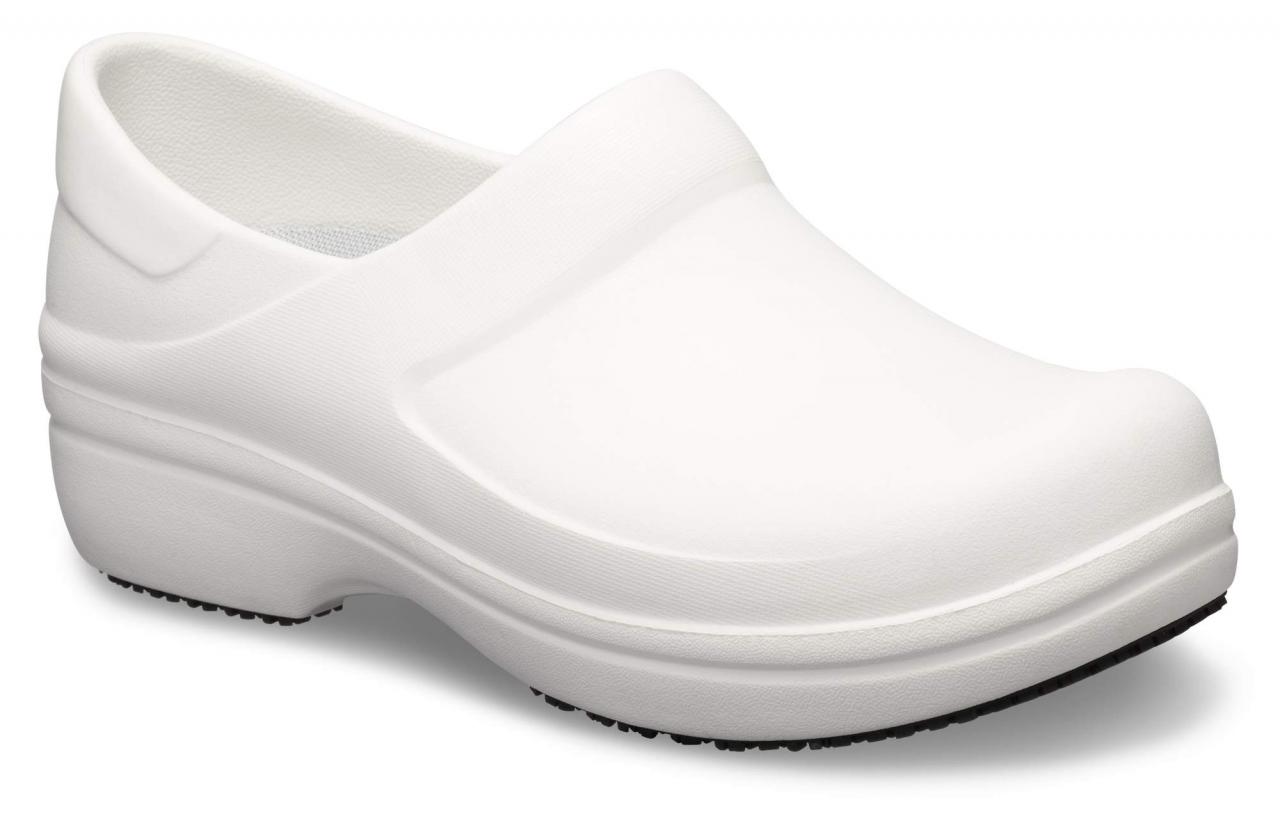 The skepticism
Even though the APMA has endorsed the shoes officially, not everyone has signed up regarding the benefits they have.
Many doctors say that crocs have many positive attributes, but they should not be used as substitutes for real shoes. In most cases, they are great for short-term activities, such as wearing them in the house or going to the shop, but not as a general-purpose type of shoe that you can wear everywhere.
However, in regards to nursing, they are excellent shoes as they help you tread hospital floors with ease – and you likely know how tricky it can become to walk on these floors without the risk of slipping.
What attributes of nursing shoes should you look at?
In the absence of crocs, there are certain attributes to look for in a good pair of nursing shoes. They include excellent comfort levels, non-slip qualities, and the cushioning it gives your foot while you are doing your work. Here is a short breakdown of these features.
Support levels
When you have a good pair of nursing shoes, they will fit your feet properly and offer you excellent support – something that is essential for the job you do. You need to wear those that relieve stress on your feet, but also offer support for the knees and back, as your job requires you to be on your feet for many hours in a day. Also, it will help your blood circulation in your feet if you wear compression socks as well.
The safety aspect
Since you are constantly moving around attending to patients and doing other activities such as helping surgeons during surgeries, you will need to wear shoes that promote your safety – for the sake of your patients. The floors in hospitals tend to be slippery as well, so accidents are quite dangerous for everyone involved, and you need shoes that give you a good grip.
Arch support
This is also very important, as it will reduce the stress on your arches, spine, and back and provide you with much-needed support. You will have less pain and concentrate more on the work you are doing without feeling unnecessary discomfort in the body.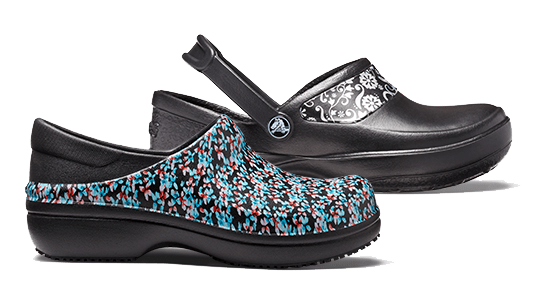 Weight
The advantage of crocs is that they are a lightweight option – something that you always need if you are wearing nursing shoes. They also have extra room in the toe box, which ensures they remain as comfortable as possible throughout the day and will give you some extra padding to protect the feet.
Based on all this, crocs are a very comfortable option as they satisfy the criteria above, which makes them quite a popular choice among many nurses. They are also straightforward to wear and give you plenty of stability, durability, and safety that you always need in your work shoes. Not all nurses will wear them, though, since they are not mandatory.
Disadvantages of crocs
They are not suitable for people with narrow feet since the foot moves around in the shoe, and this can lead to accidents such as sprains. Instead, they are better options for those with wide feet.
Their loose fit is significant in some instances, but they can also cause accidents because you can trip and fall while wearing them (which is why you cannot wear them when doing very intense activities such as hiking).
Final thoughts
In the workplace environment of a nurse, it is essential to have dependable shoes that ensure your comfort while you are on the job. Fortunately, crocs are a possible solution, but you also need to consider other alternatives in case they do not work for you.