Typically, the sparkly version of shoes is attributed to children, but Crocs is again breaking traditions by introducing their classic sparkly clogs. Crocs clogs are considered footwear mainly designed and created for the people who prefer comfort over style. So if you're looking for unbeatable comfort with a hint of glitz, look no further. At home or work, wear these glitzy crystal sequin classic clogs by Crocs!
Classic Clogs by Crocs:
Crocs are the leading player in casual and incredibly innovative footwear worldwide. Classic by Crocs is the famous clog that kicked off a global comfort revolution, and it is the most renowned and original style that's 300 million pairs have been sold to more than 90 countries in the last two decades. Day after day, people fall more in love with this irreverent go-to comfort shoe and appreciate their commitment to delivering comfort. Crocs Classic Clogs provide lightweight Iconic Crocs Comfort that is Crocs trademark, a variety of colors to suit any personality, and a continuing invitation to feel at ease in your shoes.
However, this shoe received massive fashion criticism and countless stink pieces for its unique design. Still, its comfort, durability, and affordability have forced people to make it part of their daily routine.
Despite its numerous ups and downs, Crocs as a company and its shoes have managed to stay afloat. Crocs is a publicly listed firm, and its stock has increased by nearly 300 percent since the outbreak began. So, although you may or may not slip into a pair of its clogs, you might invest in CROX stocks and profit.
Crocs Classic Sparkly Clogs – An overview:
These sparkly classic clogs are the ideal complement to your favorite jeans, skirts, or leggings. In addition, a vividly colored pair of socks can increase the adorability factor and get loads of praise. This pair of clogs is versatile, roomy, flexible, and attractive due to its sparkly looks.
With vented vamps, it offers enhanced breathability, and its water-friendly, odor-resistant features make these shoes compatible with various styles and appropriate for a variety of occasions. In addition, this irreverent and go-to comfort shoe is incredibly light and fun to wear. Crocs have established its leading standing in casual footwear by using their integrated approach towards value, design, durability, and modern comfort.
What makes Crocs Classic Sparkly Clogs special?
People consider classic clogs ugly, but this sparkly version will surely force them to rethink clogs' appearance. In my opinion, these are ridiculously comfortable and super cute shoes. The material, prominent features, and size are the same for all other classic clog versions by crocs.
These standard features are:
Crocs Croslite TM foam construction that is fully molded and easy to clean
Lightweight non-marking outsole to provide flexible traction
Odor-resistant, buoyant, and water-friendly
For an easy and secure fit, heel straps are available
Contoured footbed offers lasting comfort
When we mainly discuss Crocs Classic Clogs with sparkly appearance, style, comfort, and sizing are the main features to explain: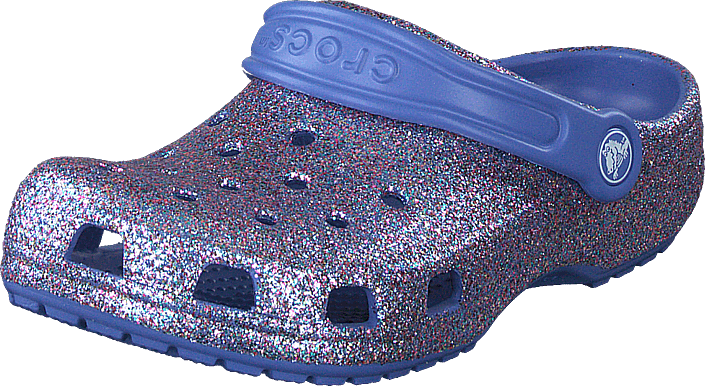 Style:
Frankly, they're not as absurd as I thought they were before. So many Instagram fashion gurus love these sparkly classic crocs available in countless shimmery color options. You may also find various methods to make them appear extremely wearable. Their sparkly appearance is worth buying, but you can use Crocs Jibbitz shoes to display their distinct flair and originality. You may express yourself, of the famous characters to the food and more.
This funky appearance with glitter makes these clogs stylish enough to wear with even party clothes to get a modern yet funky appearance. However, many complaints about its glitter peeling off, and Crocs needs to fix this issue quickly. Otherwise, this shiny appearance with vivid colors makes classic sparkly clogs an irresistible option to wear at events and gatherings where you need to look like a fashion icon with matchless comfort.
Comfort:
Crocs are comfy, and one can deny this fact. They are a wonderful house and errand shoe that are simple to slip, extremely cushioned for fast trips about the area, and supportive when cooking and cleaning. They give you a feel like walking on sponges. These are more comfortable with socks than without lengthy treks, although you wouldn't mind wearing them without socks around the home.
These are made of lightweight EVA that easily molds your feet. The US Podiatric Medical Association also recognized these as approved devices. Many health care professionals, cooks, and bartenders love to wear these comfy clogs when they need to stay on their feet for long working hours.
Size:
Crocs classic has a toe box that is roomy enough for your digits, and the sturdy design ensures that it will not shrink or distort with time. Note that Crocs offer a roomy fit and only come in whole sizes if you are contemplating a pair. We recommend that you go lower if you are a half size or between sizes.
Pros & Cons of Crocs Classic Sparkly Clogs: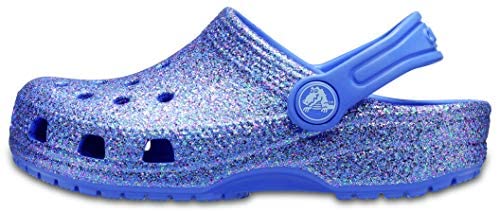 PROS:
Crocs are featherlight made of proprietary material they call Croslite, a foamable EVA ethylene-vinyl acetate (EVA) which is expanding in a mold
Sparkly and shiny
Waterproof, odor-resistant, and breathable
Slip-resistant with straps for a secure fit
Easy to clean
Affordable
CONS:
Crocs are not a Goodyear-worldly shoe; yes, they are not re-solvable and need you to buy additional shoes when they wear out.
Glitter may peel off soon
Half-size is not available
Conclusion:
So, should you buy Crocs Classic Sparkly Clogs?
Yes, you should.
The shoes are more practical with their durability and comfort, and even they look goofy. These are popular among non-fashion types for their waterproof and comfy nature. In addition, ventilation pores make these clogs odor-resistant. Undoubtedly, classic clogs have proved themselves on the spot, similar to a couple of Goodyear soldered boots. These shiny and sparkly Crocs classic clogs are equally popular among men, women, and children. These unisex are easy to clean with soap and water and quickly get dry.