Clogs by Crocs? You can love them or hate them, but there is no way to ignore them. The pedestrian-friendly shape of the clogs makes these shoes perfect for a lengthy period on your feet. These clog-style shoes are not just comfy, But they also are long-lasting, simple to clean, and protective. Crocs produce clogs that are lightweight, flexible, and comfortable for men, women, and children. These can be ideal for professionals who spend most of their time on their feet as these classic clogs comfortably wrap their feet whenever they go.
Crocs Bistro Clog: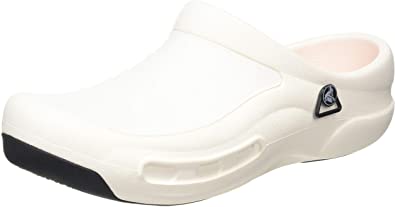 The Crocs Bistro Clogs offer us comfort with utility and affordability. This is one of the most affordable, high-quality shoes available, especially for chefs. Bistro clogs have unmatchable support with extreme durability. Bistro Clogs by Crocs offer:
360-degree comfort with famous comfort of Crocs
Protect foot from spills by providing thicker material at the toe box
Easy cleaning with soap and water
Extra comfort with a contoured footbed
Crocs Patented Slip-proof locker for minimizing accidents
This product review is going to highlight the prominent features of Crocs Unisex Adult Bistro Graphic Clog with its pros and cons.
Crocs Unisex Adult Bistro Graphic Clog – An Overview: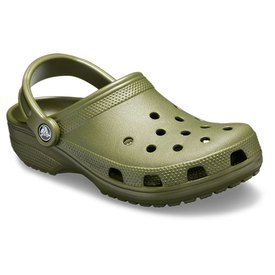 Its first impression is the same as for other Crocs, but like me, some people may find it pretty decent. This shoe is an updated version of classic clogs perfectly tailored with prominent features of being lightweight, slip-resistant, and liquid spill-resistant. Crocs Unisex Adult Bistro Graphic Clogs are available with a variety of graphics for a stylish, funky appearance.
Additionally, these bistro clogs have a messaging footbed that provides soothing to the aching feet, and their clog features can provide ample arch support.
However, inadequate ventilation is their weak point, but overall the performance of Crocs Unisex Adult Bistro Graphic Clog is impressive. Here is the complete review of the prominent features and issues related to these Unisex Graphic Bistro Clogs.
Prominent features of Crocs Unisex Adult Bistro Graphic Clog: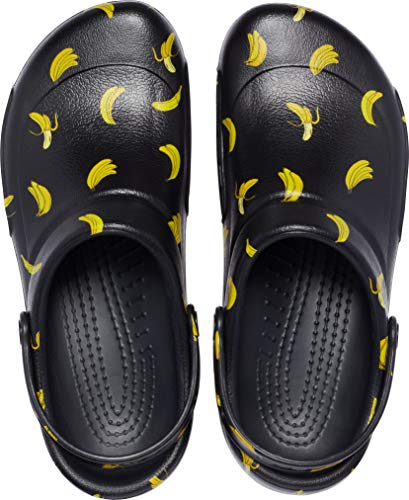 Here are the prominent features of these strange looking shoes:
Material & Making:
All Crocs are made from Croslite, a closed-cell resin that is the polymer of "Crude Oil." Its heel strap is composed of one singular piece of croslite, and it hugs your heels while walking. Croslite material is well known for offering maximum comfort. This material is durable, lightweight, and comfortable.
Comfort:
These clogs are the product of Crocs that is a brand well known for its comfort so that you can expect the same from bistro graphic clogs. These are supportive and comfortable with simple but effective design. The size is spacious, so you're not confined with your feet. This somewhat helps with respiration.
These clogs include a contained toe design and a thicker metatarsal region to protect the foot against spillage. Contoured footbeds provide men and women the most comfortable shoes. With its uniquely curved form, the well-known Crocs coated pedestal furthers this comfort and gives the foot optimal support. Its rubber sole and round toe collectively provide your feet an unconstructed relaxing feel. You can experience the nice foam feel from these graphic bistro clogs, but if you are looking for tons of arch support for your specific needs, then you have to look somewhere else.
Size:
You cannot find half sizes in Crocs, so you need to order a full size. For between sizes, it is advised to size down for perfect fit.
Slip Resistant:
Crocs Unisex Adult Bistro Graphic Clog is equipped with the same Crocs to Lock TM that means its sole has a slip-resistant tread that grips the hard tile floor perfectly during work. This tread technology of Crocs Lock exceeds the slip resistance criteria of the national industry for various slippery surfaces, such as greasy, damp, or soapy floors. Its unique Crocs Lock slip-resistant tread is an advanced synthetic sole technology developed to handle any surrounding area and to prevent mishaps in a busy kitchen that may all too easily occur.
Durability:
According to most of the client's perspectives, it seems impossible that these Crocs Unisex Adult Bistro Graphic Clogs would ever break down in a significant way. Croslite is a durable material and if you are thinking these clogs will break down within or after 6-8 months or in a year or two, then think once again. In our frank opinion, Crocs has built these clogs to last.
Breathability:
You can consider this feature as a weak point for Crocs Unisex Adult Bistro Graphic Clogs. Crocs clogs and sneakers are famous for their ventilation holes, but the Graphic Bistro Clog is deprived of this feature. Its extra protection provided for toes forces it to sacrifice its airflow and breathability. On the other hand, the size is roomy, so you're not confined with your feet, and this somewhat helps with respiration.
Easy to clean:
Croslite is the key substance of Crocs Unisex Adult Bistro Graphic Clog that is comfy and light. In addition, this manufacturing material makes these clogs incredibly easy to clean. You just need to wipe them clean with a tissue and a mixture of soap and water. It is a total breeze to clean your Crocs Bistro Graphic Clogs.
Pros & Cons of Crocs Unisex Adult Bistro Graphic Clog: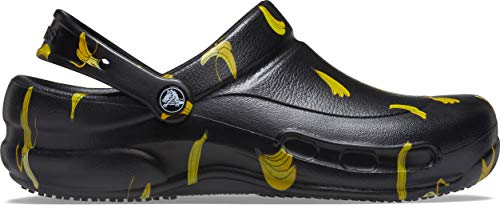 PROS
Super comfortable
Lightweight, affordable, and easy to clean
Supportive footbed
Roomy toe box and enclosed toe design
Durable and slip-resistant
CONS
May feel shrink in scorching weather
No clean and professional looks
No ventilation holes that generate lack of airflow and make smelly feet
Sizing may vary
Rivet on strap seem prone to breaking if pulled or moved excessively
Conclusion:
You may consider its graphics and style "unfashionable," and its appearance is popularly mocked like all other clogs by Crocs, but this cannot damage their reputation in terms of comfort and durability. Crocs came a long way, and this Graphic Bistro Clog is pleasantly pleasing.
These are affordable, and for most budgets, they are a lot cheaper and more feasible than other brand options. Bistro Clogs are the perfect combination of utility and comfort.