As the name suggests, nursing shows are mainly used by nurses on the job. However, many people make use of nursing shoes because of how comfortable they are. Nursing shoes are generally designed to be extremely comfortable as a means to accommodate the long hours' nurses spend standing and walking around hospitals, clinics, and nursing homes.
When nursing shoes were initially introduced, they were available in a plain white color and design. This became somewhat of an inconvenience as the shoes would start getting dirty and would be challenging to wash. The dirt was harmful to the clinical setting, and many hospitals started preventing nurses from entering with such dirty-looking shoes. Thus, nursing shoes of all colors are now available.
Other characteristics of nursing shoes include having high-quality soles (making it easier for nurses to walk) and being non-slip (to accommodate any running that needs to be done on the slippery hospital and clinic floors). Many nursing shoes come without laces (which also facilitates the ease and comfort of wearing them).
One of the best places to buy nursing shoes is Walmart. This is because Walmart has a great and diverse variety of nursing shoes available (in every color and price range). Walmart can also guarantee quality and value for your money. However, be sure to look online for customer reviews of different Walmart nursing shoes before going ahead and buying them.
Thus, if you are in search of Walmart nursing shoes, you may want to look at the following list of the good, the bad, and the simple average ones that are currently available:
The Good
Let's start with the good:
Women's Nurse Mates Dove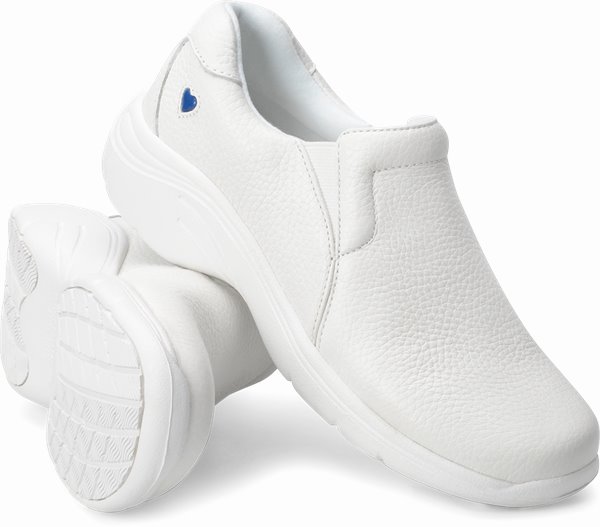 Available in sizes 5 to 9, the Women's Nurse Mates Dove is a fitting pick for anyone looking for a shoe that will provide them with some lift in their steps. This shoe is quite affordable (with the price ranging from approximately $56 to $122). The Women's Nurse Mates Dove is available in both black and white and can be found in both wide and medium sizes. These shoes are entirely slip-resistant as they have rubber insoles and steel shanks (which also ensure stability while walking). The high-quality leather is another huge benefit of these shoes.
Women's Ashland Bubble by Clarks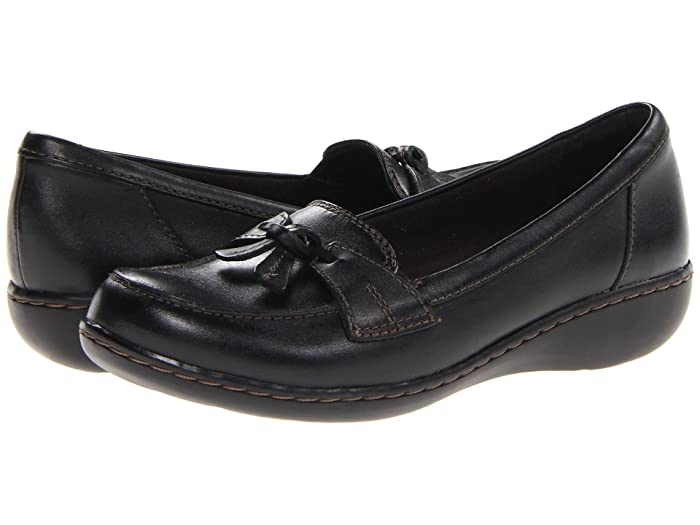 This pair of shoes is one of the most affordable ones on this list, with the price ranging from $52.48 to $56.21. This pair is also available in a variety of colors, including black, brown, burgundy, navy, tan and pewter. The shoes are made of high-quality leather and provide an effortless slip-on style for maximum ease in wearing. The OrthoLite insole is the best part because it cushions the foot to provide complete comfort while walking, so much so that it will feel like you are walking on clouds!
Nurse Mates Shoes: Women's Angel Lites Nursing Shoes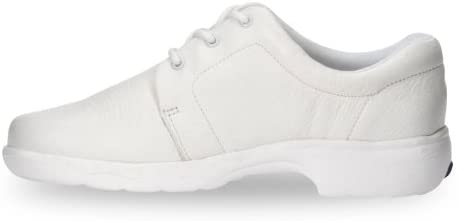 If you are looking for stereotypical, high-quality nursing shoes, this pair is the best option that is currently available. They are available at the low price of $68.95 and come in multiple sizes (ranging from 5 to 12 and in medium, wide and standard). The lace-up design, combined with the light sole and heel makes these shoes perfect for anyone looking for extra comfort. These shoes are also very durable, so they will provide extra longevity for those who want to get a reasonable amount of time out of them.
Women's Nurse Mates Anni Hi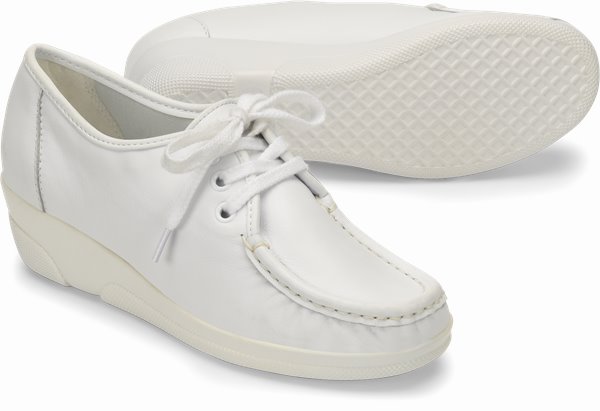 These shoes are the most comfortable of any on this list as they have been lined with soft foam. The leather construction makes these shoe stain-resistant, making them perfect for the hospital setting. The best part is that these shoes are available in many different sizes, ranging from 5 to 12 and including narrow, medium, wide, and extra-wide. They are available for only $64.95, which is quite affordable. These shoes are very lightweight as well, so they will not tire you down during a long shift at work.
The Average
Here are some of the average (but still very good) options you can choose from:
Women's Rockport Trustride Knit Tie Sneaker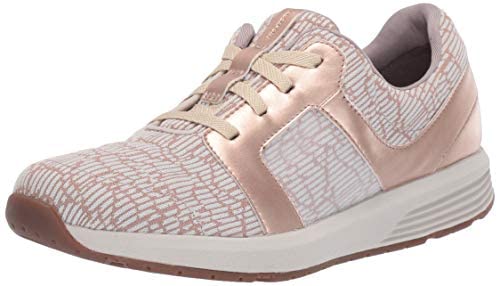 These shoes are only average because they are not made explicitly as nursing shoes. They are lace-up sneakers that are available in three different colors and many different sizes (from 5 to 11). They are also available in two widths (wide and medium). However, these shoes have been made for athleisure, but are also suitable as nursing shoes. The shoes have been fashioned out of cloth and may not be ideal if you are looking for something stain-resistant.
Nurse Mates Align Faxon Women's's Slip-Resistant Slip-On Shoe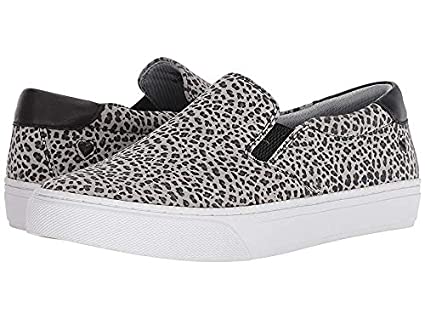 These are another great option; however, they are somewhat more expensive than the others on this list. They cost $145, which may seem like quite the investment for some. These shoes also have the disadvantage of not being available in different sizes. However, they are still light, non-slip, and ideal as nursing shoes. They are straightforward to wear and provide maximum comfort with the Align orthotic. The rubber outsole provides extra support and ensures that you will not slip.
Natural Uniforms Women's Slip-On Leather Nursing Shoes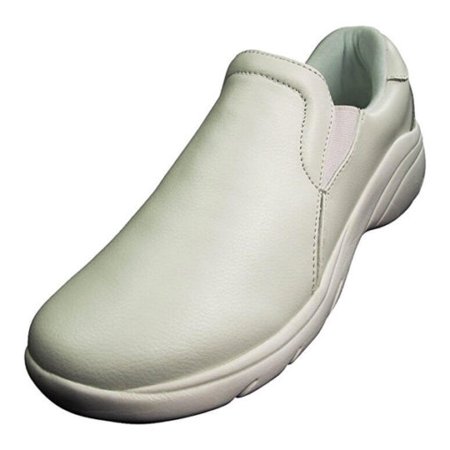 While this particular shoe has a lot of positive aspects to it, it is only average because of its elegant design. The shoes are made of leather and are available in both black and white. These shoes are also available in sizes between 5.5 to 12. They are also quite affordable, with a price ranging from $32.95 to $38.95. These shoes also provide excellent arch support with the proper heel and comfortable footbed.
Women's Nurse Mates Macie Lace Up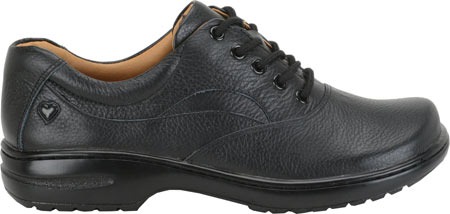 These shoes are also highly suitable for anyone looking for a sturdy pair of lace-up nursing shoes. They are available in sizes 5 to 11 and medium and wide shoe widths. While these may seem quite ideal as a pair of nursing shoes and are affordable at $55.97, there are a lot of features that may seem missing with this pair. For instance, they do not provide the proper arch support that you would want during a long shift at the hospital.
The Okay
The following are the nursing shoes that are lacking to the extent to make them simply okay:
Women's Nurse Mates Adela Slip-On Sneaker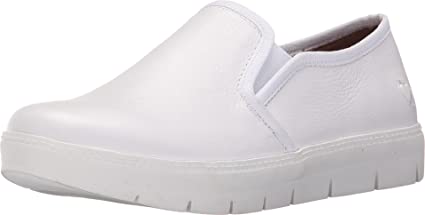 These are also quite suitable for nursing shoes; however, they lack in the area of providing worth for your money. These shoes cost $114 but are only available in three different sizes (7.5, 8.5, and 11) and one pure white color. These shoes do not provide a significant amount of arch support, but are still comfortable nonetheless and can be worn on long shifts. The only place they are lacking is in their design and how much value they give for the price.
Nurse Mates Dove Lightweight Leather Medical Nursing Clogs Slip-On Doctor Shoes
These are another pair of okay shoes because they are quite dressy and are not available in a variety of sizes. They are made of leather and are only available in one color (black). While they are quite affordable (ranging from $51.78 to $55.11), they do not provide much value for your money due to the small sizes and designs available.
Women Nurse Work Shoes by Kadell
These shoes are quite similar to crocs in their design, and they are also the most affordable pair of nursing shoes on this list (with a price tag of only $15.69). However, they have been designed for multiple purposes, which means they have not been explicitly made for nursing. They are also available in a variety of sizes and both black and white. The problem with them is that they do not have all of the features you would want in a pair of nursing shoes, like slip resistance and robust design.
Crocs Women's Patricia Wedge Sandals
These are another pair of shoes that have not been made explicitly for nursing. Their biggest disadvantage, however, is that they are open shoes and can expose your feet to possible germs and infections in the hospital. Because they are quite comfortable, affordable (with the price ranging from $16.77 to $27.98), and the diverse sizes and colors they are available in, they are an excellent pair for people who are looking for nursing shoes on a budget.
Final Thoughts
Walmart has some of the best quality nursing shoes currently available online and in stores. So, if you are looking to buy nursing shoes and need a variety to choose from, Walmart will be your best bet. Walmart's nursing shoes are affordable, high quality and will last you a long time while on the job. A pair of nursing shoes from Walmart will maximize comfort, minimize irritation, and allow you to travel by foot with great ease.
So, make sure to take a look at the Walmart nursing shoes if you want something reliable and comfortable to use at work.