When it comes to footwear, you cannot afford to compromise on the choices you make regarding comfortable shoes – they can easily make or break your experience. If comfort is what you are primarily searching for, the good news is that you can find plenty of comfortable shoes that do not sacrifice style; the Alegria clog shoe is among the top picks.
There are plenty of reasons that make this shoe highly popular, and it is all summarized the brand itself – the manufacturer claims it as their 'happy clog.' When you look at the features of the shoe, it is easy to understand why this is the case.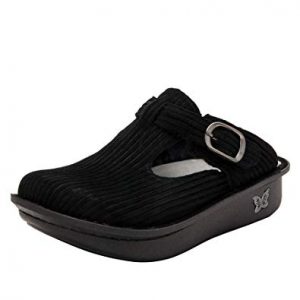 Summary of features about the shoe
Footbed made from blended cork
Memory foam and latex insole
Rocking sole to reduce foot pain
Padded instep collar
PU Outsole, which adds flexibility and shock absorption
Features and usability
Protection levels
If there is one thing you can be sure about, it is that the manufacturer has tested the shoe in a variety of environments to make sure they can protect you against slips. The bottom of the outsole prevents slipping, while the toe box has extra reinforcement to protect your toes from falling items. The shoe is also quite roomy, allowing the toes to move in a natural way as you move around.
Pros
A great option for people with high arches
Convenient style as a slip-on shoe
Easy to break in, therefore comfortable
Imported, high-quality leather
Cons
It tends to run too narrow.

Final thoughts
Finding an excellent clog shoe for a middle-range price can be quite the challenge, as may prove to be of lower quality and build. However, the Alegria Classic clog is a great alternative, as it features premium quality materials and builds at a reasonable price – you are guaranteed that it will serve you well for many years to come.