The world of clogs can be quite confusing, for a good reason – there is so much variety to choose from, you might not know exactly what to choose and why. However, before you pick any pair of clogs that seems promising, it is important to note that some clogs might not be suitable for your needs or the work you primarily do, while others are more versatile and can go well with a variety of outfits in your closet. Your choice will depend on these factors and many more.
Among the top picks in the market is the Alegria Women's Keli professional slip-resistance work shoe, which is quite the stylish fit. However, does it live up to the reputation it holds? Read on to find out our verdict on the pair.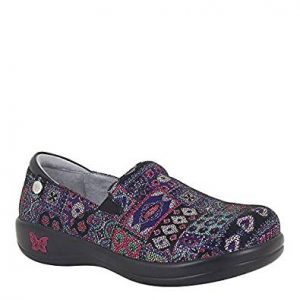 Generally, it is easy to associate Alegria as a brand that cares immensely about the comfort of the customer, which explains why their shoes are a favorite of everyone from professionals to people that love casual wear. Many people love wearing them, including a wide range of professionals whose jobs require them to stand for long periods – ranging from nurses, waiters, and so on.
In addition, the shoes are excellent if you are searching for comfortable options, as they feature great levels of arch support, proper alignment in fitting and shock absorption.
These shoes come in a wide range of finishes, colors and designs, which add a nice finishing touch to your clothes as well. Here are some of the features that allow it to stand out from the rest.
Features to look out for
The insole is comprised of leather, allowing the feet to breathe
Elastic at the instep area, which makes the shoe fit securely
Stain resistant coating and slip-resistant outsole
Detachable foot bed, consisting of polyurethane, memory foam and cork
Superior arch support and leather lining
Accepted by the APMA (American Podiatric Medical Association)
5-inch heel
What about its usability?
Comfort and support
If you are a busy person and constantly on the go, you will be pleased with this shoe and the benefits it gives in terms of comfort. Many buyers say that this clog shoe is among the most comfortable in the market, providing much-needed comfort even after long shifts.
Upper
This is definitely a clog that looks exactly what a good clog shoe should look like. The upper has a nice layer of durable high quality imported leather, allowing you to use it for a long time without wearing out or showing signs of cracking. Similar to high-quality leather, it will stretch after prolonged use, which should not worry you as it is quite normal.
It will please you to know that the entire shoe is hand-built, so it has plenty of strong construction and impressive layering. The shoe itself is also quite big inside, so it works perfectly for people with bunions or wide feet, while the padded collar increases your comfort levels.
Outsole
The outsole is quite similar to other clog shoes, since polyurethane comprises it. This material is particularly used thanks to its excellent shock absorption and flexibility as you stand or walk. The bottom section is made up of anti-fatigue rocker, which means that you do not need to worry about getting tired even after wearing it for long hours – you can even compare it to athletic shoes.
In addition, the outsole is durable and lightweight, as well as giving decent traction to allow you to use it on slippery surfaces.
Protection levels
If there is one thing you can be sure about, it is that the manufacturer has tested the shoe in a variety of environments to make sure they can protect you against slips. The bottom of the outsole prevents slipping, while the toe box has extra reinforcement to protect your toes from falling items. The shoe is also quite roomy, allowing the toes to move in a natural way as you move around.
Great for high arches
If you have a high arch foot type, these shoes are ideal for you as well, as they remove pain in the arches and feet. They are so comfortable; you even feel it especially if you wear them continuously for a long time. In addition, they have a molded foot bed, which means you do not need to think about wearing orthotics for a high-arch foot when recovering from injuries.
In addition, the sole is of a rocking type, which ensures your lower joints do not suffer when you stand for long periods during your working hours. It does this through engaging the muscles in your legs and calves, which helps them remain trimmed and toned.
Great Stability levels
The design of the shoe might make you wonder if you are actually safe wearing it, but you do not need to worry, as there are no issues with slipping or the heel itself. This is all thanks to the non-slip outsole as well as the wide heel that give you quite the solid grip as you walk.
You will remain stable and not prone to accidents, thanks to the wide heel that cushions the feet as you stand for long periods, especially if you wear the clogs frequently. Its flexible structure also molds nicely to your foot, which will also prevent ankle rolling from happening in the long term (which leads to sprains and ankle injuries), and a soft heel cavity for extra comfort.
Midsole
The latex midsole is anatomically contoured, positioned between the outsole and upper. It helps to maintain the stability and cushioning of your feet through its flexibility, reducing fatigue and allowing for extra comfort. It is also quite durable, as it has much better levels of aging resistance compared to foam-only midsoles.
Pros
Convenience
Easy to break in
Imported, high-quality leather
Cons
Expensive compared to other shoes
Conclusion
These might not be a premium pick among the Alegria shoes due to their price tag, but they are worth a try – especially if you want to buy shoes that you can wear with many outfits.