Wearing the right nursing shoes can make all the difference during your long shifts in the hospital or healthcare facility. As a nurse, you spend most of your long shift hours working in hazardous underfoot conditions, and wearing shoes that are comfortable, supportive, and protective is very vital for all nurses. It doesn't matter the type or shape of the shoes you're wearing; these are essential factors you should always consider.
Unlike most professions, nurses do their work while on their feet; that's why a good pair of shoes is inevitable. Dansko shoes are very comfortable and unique nursing shoes because they combine quality comfort with an accessible style, which makes them perfect for all healthcare professionals. You might be wondering why so much emphasis on wearing comfortable shoes? It has been shown that most nurses are at a higher risk of developing musculoskeletal problems because your job requires you to spend prolonged hours of your shifts walking or standing. Wearing shoes that have a low heel and extra arch support can evenly distribute the pressure on your feet, legs, and knees, which reduces the pressure and impact that causes musculoskeletal problems.
What are Dansko shoes?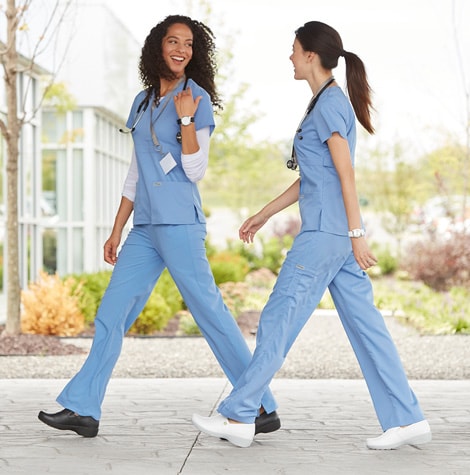 Dansko is a footwear company that was founded by husband and wife, Peter Kjellerup and Mandy Cabot in 1990 after taking a trip to Denmark and came across a simple pair of clogs that were very comfortable in running their farm. Shortly after, they introduced the clogs to the American market, and it didn't take long to be a trendy shoe. Dansko is a company based in Chester County, West Groove, in Pennsylvania, and they manufacture high-quality nursing shoes that are meant to keep the feet of healthcare professionals happy throughout your shifts. Since then, Dansko has had several shoe types, including heels, flats, boots, sandals, and other types of clogs.
please read:Best Dansko Shoes for Nurses
What makes Dansko shoes so great?
Dansko shoes are not only popular with the medical professions but also with other professionals like chefs, teachers, factory workers, etc. who spend most of their time on their feet because of their comfort and support. Dansko nursing shoes are made with comfort-focused materials with support features that help to minimize the pressure on your joints when you're on your feet all day. Here are some of the features that make Dansko unique clog nursing shoes.
Ample arch and foot support
Dansko shoes put a lot of emphasis on support. They're made with a protective heel counter that gives the heel flexibility to move up and down while still providing lateral stability for you as you walk or run. They also have padded collars that help in reducing the pressure and strain on your feet and also prevent blisters at the back of your feet caused by the friction of the shoes.
Moisture-wicking lining
It might not be a pleasant thing, but after some time, your feet will inevitably sweat, especially if you're wearing your shoes for long periods in a highly charged environment. Dansko clogs are made with a unique, comfortable lining that helps to wick away any moisture in your shoes so that your feet remain dry and comfortable throughout the day. Some other linings have antimicrobial treatments that ensure your shoes are free of foot odor and germs.
High-quality midsoles
The midsole is the layer in your shoes that is between the inner and outer parts of your soles that are responsible for shock absorption. Dansko clogs feature unique lightweight and EVA midsoles for anti-fatigue that provide superior shock absorption when you're wearing the shoes. You will also find some shoes with a contoured midsole for added comfort.
Anti-fatigue rocker soles
One of the main features of Dansko clogs is their effective anti-fatigue rocker soles that are very helpful in reducing foot fatigue during and after your long shifts. This kind of sole will come in handy when you're running from one room to the next taking care of your patients with no time to take a breath.
Different materials that are used to make Dansko shoes
A wide variety of materials are used to make Dansko shoes, and all are designed to keep you comfortable. Most of these shoes are 3M Scotchguard protectors to help the shoes endure the demands of your job.
Leather
Dansko clogs made from leather are one of the most popular because of their durability and because it's resistant to demanding working environments over a long period. However, the leather has to clean using a soft dry cloth and other specific products like a beeswax conditioner.
Patented leather
This material is mostly used to make dress shoes since its finishing is done with a high-shine treatment that gives it that extra dressy. You can easily clean it with a clean cloth and soapy water.
Fabrics and canvas
Dansko athletic shoes and slip-on sneakers are usually made using rugged canvas and fabrics, which are easy to clean and durable.
Suede
If you're looking for shoes with a unique texture and softness, shoes made from suede are a perfect choice. The only drawback with this material is it's difficult to clean although you can easily remove dirt and debris using a soft dry cloth.
How to walk in Dansko clogs: Points to consider when choosing a good pair of Dansko clogs to wear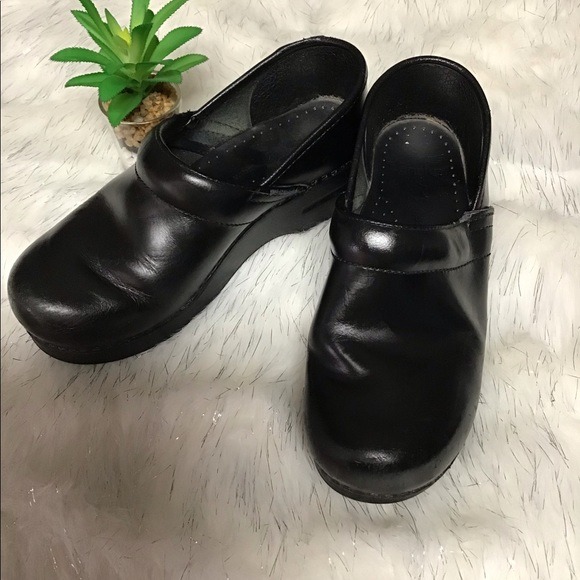 Dansko is a brand that prides itself in going above and beyond to ensure that its shoes are comfortable and made with high-quality materials. Here are points you need to consider when looking for a good pair of Dansko clogs.
Comfort
All Dansko shoes are made with interior cushioning along with the upper, toe box, lip, footbed, and heel for maximum comfort. To improve on your comfort, Dansko shoes also rely on the fit of the shoes and the high-quality materials they're made from.
Materials:
The materials the clogs are made from are essential and play a big role in your overall comfort. The well-padded interior increases your comfort, but it doesn't cause your feet to overheat and start sweating because the shoes are made with breathable leather and footbeds. The leather that makes the Dansko shoe is lightweight, breathable, and durable for your optimum comfort. The footbeds are very cozy and made with multi-layers that help in promoting air circulation and breathability.
Fit:
No matter what event the shoes are for, how well the shoe fit is very important in how comfortable you will be when you wear them. Dansko shoes the European standards when it comes to shoe sizes. This might be confusing if you haven't used Dansko shoes, but the European sizes come with a wide variety to choose from. The shoes are also designed and marked as wide if you have wide feet without having to compromise on your normal shoe size and style.
Durability
Durability means the shoes have resistance to oil, water, grease, and stains. Most Dansko shoes are made with treated leather that is designed to be resistant to stains, oil, and grease, which helps to prolong the life of the shoes and durability. With good maintenance and proper care, Dansko clogs can last for about two years before you have to think about buying a new pair. Its ability to resist stains helps the clogs to stay shiny and new, and although the shine fades after some time, the clogs will still provide adequate comfort and support for a long time. You can be assured of excellent durability season after season and with the same amount of support throughout.
Protection
You might be working in a healthcare facility where you're stationed to handle heavy machinery and objects that have the potential to fall on your feet accidentally. If you work in these kinds of settings, the shoes you wear during your shift should be able to provide adequate protection from all these hazards. Dansko clogs are made with strong and high-quality materials and a closed toebox that helps to protect your feet from hazardous spills, bodily fluids, and falling objects. These clogs ensure that your toes and feet are well protected while still ensuring that you remain comfortable throughout the day.
Support
Dansko clogs are very well known for offering great toe-to-heel support. They're designed with an elevated heel just above the forefoot and thus eliminates the tension and stress by evenly distributing it on the shoe's thickly cushioned insole. The rocker bottom outsole helps in promoting a good posture with every step you take and is a precious feature, especially if you spend most of your time on your feet. Though the rocking outsole might feel weird at first and might take some getting used to, your heels will be very thankful later.
When it comes to your support and stability, another important feature is the built-in shanks, which ensure that you're stable with every step so that you don't lose your footing no matter the surface you're walking on. These stability shanks are just what you need to keep you on your feet and to prevent any slips and falls from wet or slippery floors during your shifts.
Breathability
Dansko clogs have a loose fit design that helps to promote breathability and keep your feet cool. The shoes have a design that is borrowed from the backless clogs worn by the Danish, but the Dansko has a looser fitting to promote continued air circulation throughout your entire foot. By keeping your feet in comfortable temperatures all day, you avoid foot ailments like athlete's foot. Additionally, the clogs have a roomy toe box that provides ample space for your toes to move freely and breathe.
To ensure that the shoes stay dry and breathable, the clogs are made with a moisture-wicking lining on the inside and other antimicrobial treatments. This means that your feet don't sweat and stink even if you're not wearing any socks with the clogs. These clogs are also good during warmer weather to keep your feet from excess sweating and still keep your feet comfortable.
Style
Dansko clogs come in a wide variety of colors, patterns, textures, and styles to choose from and choice between a clog and mule. You can wear all these designs on a day-to-day basis or to the office. They have a professional appeal that you can either dress them up or down depending on if you're wearing your uniform or a pair of jeans. The awesome designs on the clogs are aimed at satisfying your preferences, style, and comfort.
Flexibility
This is a feature that Dansko clogs aren't very good at. Something you should keep in mind is the different break-in periods for most of the different clogs types, especially if you're going to be wearing them for many hours during your shifts. You need to properly break in Dansko clogs before you start wearing them to work, but this will depend on the design of the shoes. The part of the clog that needs breaking-in is mostly the top part of the forefoot, where your feet make a natural bend when walking.
You will feel some rubbing and irritation in that area till the breaking-in period is over. This doesn't mean that the clogs you're wearing will be uncomfortable throughout, it only means that the upper part of the leather needs some time to conform to the shape of your feet so that it can provide you with a comfortable fit. After a few days of breaking in, the clogs will have no issues that.
Specific features that make Dansko clogs perfect for healthcare professionals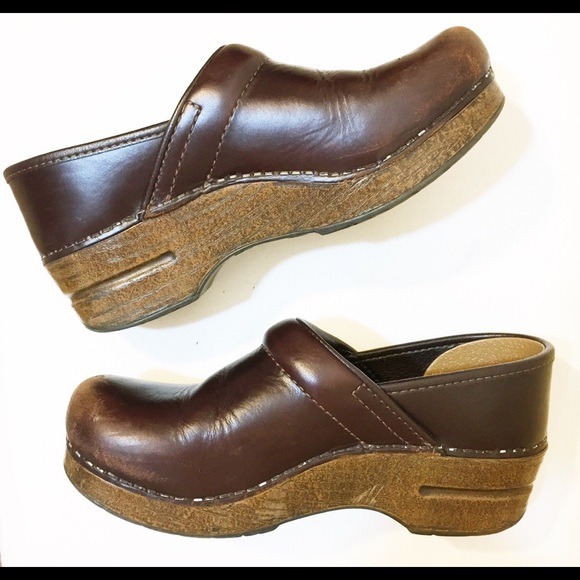 Aside from being super comfortable nursing shoes, Dansko clogs are uniquely designed with specific features to cater to healthcare professionals working in the office, hospitals, clinics, and other environments.
Easy to put on and take off
One of the best things about Dansko clogs is their versatility. You can easily slip them on when you're in a hurry to go to work without having to bend to tie any laces and easily take them off after your shift. If you work in the O.R or the theater, these clogs would be perfect for nurses and surgeons because you don't need to bend to touch your shoes when wearing or taking them off. This also helps to reduce the contamination of your sterile hands.
Removable components
A variety of Dansko cogs come with removable foam footbeds and other parts of the clog that are designed to allow you to easily customize to suit your preferences and make it easier to clean the clogs. The removable parts are also very convenient for nurses if you need to use an orthotic in your shoes during the day since you can easily remove them to accommodate the inserts.
Easy to clean and durable
Dansko clogs are designed explicitly with high-quality materials like leather or patented leather that make the shoes durable and last for many years. These materials have been specially designed so you can easily clean the shoes after a long shift, even if you're working in an environment where there are wet or greasy conditions.
Non-marking soles
Dansko shoes go through vigorous testing to ensure that they meet the standards set in healthcare facilities and also to make sure that they're non-marking on wet, oily, or dry floors. These clogs also have a slip-resistant sole that is meant to improve your stability no matter the kind of floor you're walking on to avoid slips and falls that can cause serious injuries. Dansko has clogs with slip-resistant sole for both men and women working in various healthcare roles.
Dress code compliant
Dansko manufactures a wide variety of stapled or classic nursing clogs that are designed especially to meet the needs of various hospital and health facilities dressing codes. Most of the employee dress codes require you to wear protective shoes that have no toe openings with non-marking soles that ensure that your shoes don't damage the hospital floors.
Final thoughts
If you're looking for a reliable and comfortable pair of shoes that will help in relieving you of aches and pains, Dansko clogs would be a perfect choice. They're well-constructed, durable, and extremely comfortable even after being on your feet for long hours. They're also easy to wear and clean.
FAQ
Are Dansko clogs supposed to be loose?
Dansko clogs are roomy shoes that are designed to allow your feet to move freely. However, it takes a little getting used to for first-time users. You can get clogs that fit you properly to ensure they don't fall off your feet.
Why do Danskos hurt your feet?
Danskos hurt the upper part of your feet if you have high arches because although the shoes fit you perfectly, the vamp is too low, and the throat is narrow. Breaking in the shoes might help, but sometimes it doesn't work.
Why do my Dansko clogs squeak?
Squeaking Dansko clogs is a common complaint among people who wear clogs. This is mostly caused by rubbing the buckle against the leather or rubbing the heeling material against the floor. You can easily remedy this by sprinkling some baby powder on the shoes.
What is the difference between clogs and mules?
If you want to know the difference between a clog and a mule, check the design at the soles of the shoes and the heel height. Clogs have a lower heel and a platform sole, but mules have no platform base, and the heel is higher. And most people prefer clogs over mules.
How do you clean Dansko clogs?
You can use a soft cloth to clean the clogs and a damp cloth for a more thorough cleaning. To maintain the shine of the leather, use a buff with a soft clean cloth and Dansko leather cream.\
read more: