The type of shoes that a nurse wears to work can either increase or reduce the stress and fatigue that accompany their job. Let's face it nurses rarely have time to sit and relax unless they are having lunch, but even then, they are always on call in case a patient needs them. You, therefore, shouldn't be surprised if you meet them in an awful mood after work. A day filled with discomfort and fatigue will, for sure, make anyone cranky.
So how about we ease the pressure by introducing the New Balance Nursing shoes by New Balance Inc. Shoes from New Balance are designed to give your feet the best feeling. Even though some of the New Balance nursing shoes are originally meant for running and walking, they will more than suffice in a hospital environment where the up and down movements are no different from the morning jog, besides most nurses do have a fit physique.
Features of the New Balance Nursing Shoes
In a hospital setting, the shoes do offer comfort and functionality thus leading to high productivity, the shoe widths of the New Balance have, therefore, been designed to fit different foot sizes and you can get them from a narrow 2A to the extra-wide 6E. The shoes also cater to the different types of feet; for example, the normal arch individuals can purchase supportive Nursing shoes that will help maintain the correct form.
The flat foot people have been provided with a stability shoe that can significantly assist with motion control. And lastly, we have the high arch type of feet individuals, who will benefit substantially from the New Balance cushioned shoes.
| | | | |
| --- | --- | --- | --- |
| Name of the shoe | Material | Action | Product |
| The New Balance Women's FuelCore Nergize V1 | Made of synthetic material | Buy Here | |
| New Balance Women's WW877-SB Walking Shoe | Features a mixture of mesh and Suede | Buy Here | |
| New Balance Women's W990V4 running shoe | 100% leather or synthetic | Buy Here | |
| New Balance Women's 1260v7 Running Shoe | Features a synthetic sole and a synthetic upper material | Buy Here | |
| New Balance Men's M1540v2 | The shoe is 100% synthetic with a synthetic sole | Buy Here | |
Best New Balance Nursing Shoes
The New Balance Women's FuelCore Nergize V1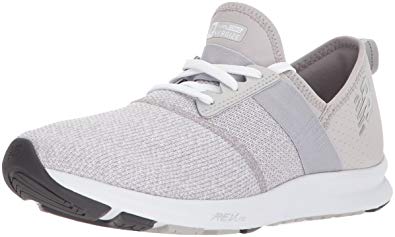 The New Balance women's Fuelcore Nergize v1 has got quite the aesthetics, so you will not be sacrificing comfort for style. The upper part of the shoe is characteristic of a textured mesh complete with an elastic band, to enhance comfort and stability as it also adds to the shoe's aesthetic look.
The shoes come in a variety of colors to suit different users' tastes, and though they have provision for laces, they are still easy to slip on even with the laces tied. Therefore, the nurses can slip in and out of the shoe whenever they need to without having to bend over to untie and tie the laces.
The New Balance Women's Nergize V1 also features the REVlite technology that incorporates a comfortable lightweight cushioning; now, this one encourages flight. Nurses can thus move easily from room to room without being weighted down by a heavy shoe. The outer sole is made of rubber, so traction is on point, and the insole is removable, giving users the liberty to incorporate their orthotics if they need to.
What's more, is that the outer sole features some grooves that will alert you in case your shoes need replacement. And once you notice that the grooves on your shoes have started disappearing, then it would be best if you got another pair because they can no longer offer traction, and you might easily slip and injure yourself.
Pros
Easy to slip-on
Are light in weight
Made with durable synthetic material
Have a breathable upper part.
Cons
Shoes are a bit narrow
Tongue and collar are not padded
New Balance Women's WW877-SB Walking Shoe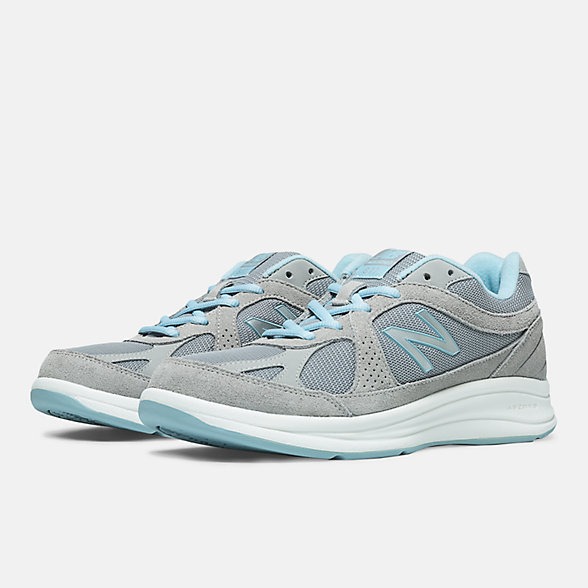 The New Balance Women's WW877 is made of an outer rubber sole necessary for tackling the hard floor and wet tiles without slipping; they are light in weight, thus enhancing movement. The collar is well padded for comfort at the Achilles, and the lace-up enhances stability and comfort.
The midsole is absorbent enough to obliterate any chances of discomfort caused by the accumulation of moisture.
Pros
Equipped with a rubber sole that enhances traction
Easy to move around with, as they are light in weight
Padded collar for comfort
Incorporated an absorbent midsole
Cons
The toe box is a bit narrow
Not waterproof
read more: New Balance Women's WW577 Walking Shoes
New Balance Women's W990V4 running shoe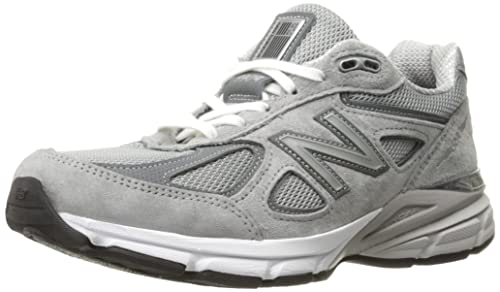 The New Balance women's W 990V4 has been designed to take the pressure of standing the whole day; the shoe has a slightly dense sole that offers comfort and support if you have to be on your toes for extended hours.
And to guarantee ease of movement, they have been made with lightweight material, and even more important is that they offer comfort to people with problem feet, either pronation or the fallen arches. The shoes also feature an Encap PU ring and an EVA core, which is meant to offer a balance between stability and cushioning.
Pros
Equipped with a cushioned collar and tongue for stability and comfort
Features an outer rubber sole with grooves that enhance traction
Made of durable leather or synthetic material
The enhanced outer sole provides a bounce when walking
Cons
Comes with a large fitting
The suede part needs careful maintenance
New Balance – Women's made in US 990 V4 Sneaker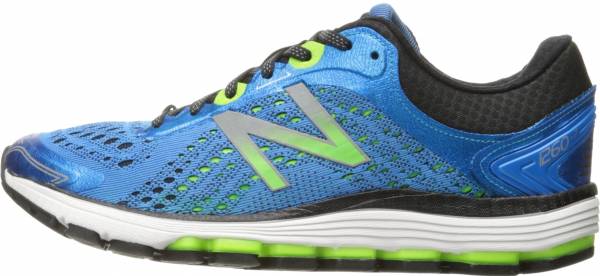 The outsole of the Women's made in US 990 V4 Sneaker is made of rubber. Though the sole features a synthetic material, the grooves on the outer rubber sole are perfect for the slippery hospital floor, thus giving stability and traction in case of a slip.
The collar and tongue feature dense padding for stability and to protect the Achilles during intense activity. The midsole has incorporated a Nitrogen-infused FuelCell midsole cushioning that enhances comfort and works well with the overpronated feet.
The variety of colors that come with this product gives nurses the freedom to match the shoe with their scrubs so that the only part of their outfit that seems to attract attention is not on the feet. Also, no short threads are hanging from the inside that usually results from the sewn material application.
Pros
Come in different sizes
Come in a variety of attractive colors
The full-blown outsole is not only durable but stable on slippery ground
The upper part is made of durable synthetic material
Cons
The different colors come with a high price tag
The tongue is too thick thus causing discomfort
read more: New Balance – Women's made in US 990 V4 Sneaker review
New Balance Men's M1540v2
The New Balance Men's M1540v2 is the perfect description of comfort; for starters, the shoe is made from a durable synthetic material and has incorporated the ACTEVA LITE technology. A feature that makes it light in weight and encourages movement; it also offers stability to nurses that have to be on their feet for extended hours.
The upper part of the shoe is equipped with a breathable mesh complete with synthetic overlays for stability during intense activity; a feature also enhances durability. Another exciting feature is the roll bar technology that works to improve lateral and medial rear foot stability.
Pros
The toe box is a bit wide thus accommodates wide feet individuals
Incorporated the roll bar technology
The upper, breathable mesh keeps the feet cool and dry
Made from a 100% durable synthetic material
Cons
Comes with a wide fitting
The shoe is a bit heavy for the feet
Key features of a New Balance Nursing Shoes
Arch support –since the nursing job involves a lot of movement, the arch of the feet needs to be very comfortable so that one doesn't develop pain and discomfort in the arch area.
Easy to change – the largest variety of nursing shoes are slip-ons. This is because when they enter the theaters or the ICU wards, they have to adhere to the standard protocol of removing any type of shoe that will produce unnecessary noise and also to maintain cleanliness. Therefore, good nursing shoes should be comfortable to put on and remove.
Waterproof- sloshing liquids are not uncommon in hospitals, and some should not come into contact with the human body. Remember that nurses are exposed to different types of liquids in the hospital like blood, and so they need a shoe that will keep the water out instead of absorbing it in.
Cushioned insole– a cushioned insole not only contributes to the comfort of the feet but also enhances balance and stability during movement, as they absorb shock when one is involved in the high-impact activity.
Traction– the hospital floor is not an exactly ideal place to be slipping, as you don't know the number of germs that you might pick up from the floor. Therefore, nursing shoes should have excellent traction features, when you look under your shoe check for the grooves and ensure that they have been made of a good quality durable rubber material that can offer you excellent traction in case you are walking the slippery floor.
Tongue and collar padding– have you ever tried wearing shoes with elastic binding at the top part, and in the afternoon, your feet get swollen, thus strangling your Achilles. Well, that is the reason why the New Balance shoes have been cushioned at the collar and tongue, to offer stability, support, and comfort.
Room for Orthotics– A good shoe, not only the nursing shoe should have a removable insole to allow individuals with problem feet to insert orthotics for arch support. If the room is not provided for inserts, then they should feature an insole with comfortable arch support. About the type of New Advance shoes that you want to adopt, it would work best if they could keep your feet happy by incorporating the prescribed orthotics.
Some New Advance shoes come at a steep price, the reason why the high price should complement the comfort offered.
Should be fairly priced- let's begin with the fact that you can always check out shoes that have special offers or are on sale. There are so many different designs of comfortable nursing shoes, and about design and brand, others are cheap, while others come with a high price tag, knock-offs also don't lack.
You should, therefore, take your time to read the reviews of the particular shoe you want to invest in before you purchase it. Some fairly priced shoes are very functional; you, therefore, don't have to purchase that one pair of shoes and use it till it is no more before you buy another one. You can buy up to 3 pairs of fairly priced shoes and one high-end for special occasions.
Conclusion: Best New Balance Nursing Shoes
These are the best type of shoes for nurses who spend less time on their feet; they do have the same qualities as athletic shoes, such as a cushioned midsole, collar, and tongue. They could, therefore, suffice as they are made of very lightweight material, are easy to clean, and very comfortable to walk around in, even when you are not in the hospital.
read more: