Are you a regular runner who looks for support, stability, and cushioning in your running sneakers? Well, luckily you are at the right place.
The New Balance is a brand providing quality designs and execution for more than three decades. The New Balance 990 running shoe line is a star range of the shoe world. When we say ''Women's made in US 990 V4 sneakers'' by New Balance, durability is the very first thing that appears in mind. This shoe offers the classic 990 aesthetic, with a great heel design and a sturdy overall appearance. The brand claims to provide a unique and satisfying running experience because of utilizing one of the best technologies to manufacture these shoes. This review of New Balance 990V4 for women will discuss all of the model's benefits and disadvantages. 
Overall appearance:
Fans of New Balance sneakers will be pleased to know that the 990v4 is meant to resemble the original model in the series. The retro design is complemented by a slew of modern innovations, including a lace keeper loop, 30% more breathable mesh, and better cushioning throughout the midsole. It doesn't look like a regular clunky stability shoe, but its slim construction and vintage design create an aesthetic wonder that can attract any fashion connoisseur.
This iconic women's running shoe has a distinctive style thanks to lightweight pigskin leather upper with mesh, while excellent cushioning and stability provide the sensation that keeps you coming back. This 4th generation of 990 V-series for women has a more streamlined ''N'' logo and lace keeper that is used to keep the tongue in place.
Weight, Size, & Fit:
With regularly improving technology, the weight of running shoes is declining continuously, but this New Balance 990 V4 for women has broken this rule and provides extra support, cushioning, and stability. All these extra comfort features make the weight of the New Balance 990 V4 quite heavier than other options. Its weight is 13.6 ounces, but most runners can sacrifice the lightweight feature of running shoes over the comfort and support provided by New Balance 990 V4.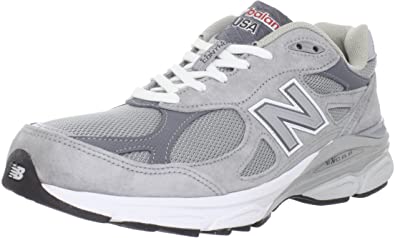 These are also available in a range of widths, allowing athletes of various shapes and sizes to benefit from the advantages of a New Balance sneaker. It has a more classic style and it does come in a few different color options, but the overall color scheme remains on a bland side. Follow our recommendations and order a half-size larger than your real foot size in this shoe.
Upper, Midsole, & Outsole:
Let's start from the Upper! With the impressive features of the New Balance 990 V4, you may now improve your whole running experience. You can securely fasten your laces to the tongue of the shoes thanks to an innovative lace keeper loop. Pigskin and breathable mesh also appear to be an unusual mix. 3M Reflectivity is also introduced to provide help in low visibility.
The ENCAP midsole technology uses ACTEVA LITE foam for cushioning. The polyurethane rim of this running shoe assures the durability factor also. 
The outsole of Women's made in US 990 V4 sneaker by New Balance is made of strong blown rubber with its abrasion-resistant feature. It provides a strong grip on the road and its lifetime is far more than an average running shoe.
Support & Durability: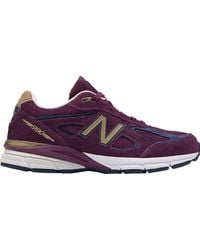 Overpronate runners are accustomed to pain in their knees, shins, and feet. Muscles get tighter and more stressed as a result of these running patterns. To prevent all of these problems, this shoe might be an excellent choice because its midsole and outsole give additional support and arch support for flat-footed runners. The New Balance 990 V4 makes it simple to get the ideal balance of support and comfort.
Breathability:
Purely leather-made shoes face difficulty in keeping your feet ventilated, but here leather is just an overlay to the upper so you can expect much-improved ventilation. Because the boots' cushioning is rather substantial, it is also advised that you wear thinner socks with them.
Receptivity:
We cannot give the New Balance's 990 V4 for women high marks for responsiveness because of added cushioning in the midsole and outsole. This pair of shoes provides confidence to logging long miles with it. These are not so impressive for a high level of responsiveness. 
Grip & Flexibility:
This is not an impressive option for extreme off-trail hikes, but it has a Blown Rubber outsole for extra grip on mild tracks, trails, and roads. It has extra cushioning of Blown Rubber and grooves on the bottom of the outsole for higher than average protection. Flexibility is also compromised for stability in this New Balance 990 V4. Though you can move easily with each of your foot strikes, it still lacks flexibility.
Price:
The price tag for New Balance 990 V4 for women is far higher than an average running shoe, but when you look for its durability, comfort, and reliability its price is all fair. New Balance 990 V4 for women is just not the right option for those having a low price tag as their priority.
Pros & Cons of New Balance – Women's made in US 990 V4 Sneaker: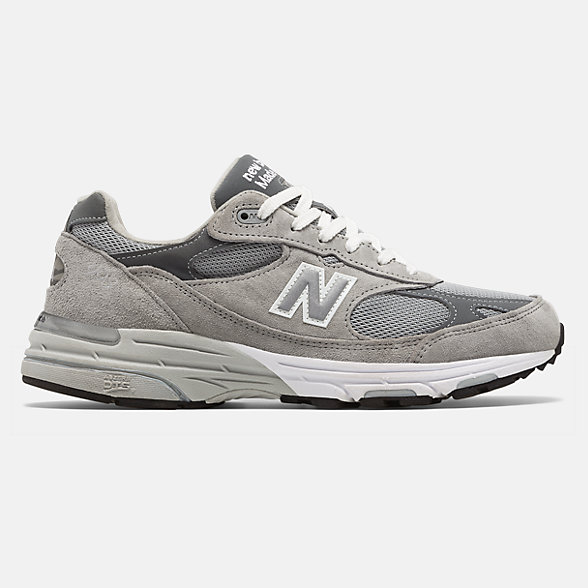 PROS:
Made of pigskin

Best for wide feet

Collar-foam with dual density

Durable rubber outsole with a stable design 

ENCAP midsole 

ACTEVA LITE foam in the midsole

Overall durability and comfort
CONS:
Heavier than average running shoes

Design flexibility is absent

Lesser traction for extreme off-trail hikes

Pricey
Final Verdict
If you have difficulties with your feet, such as plantar fasciitis, these shoes may be able to restore your enjoyment of walking and jogging. You can also expect reduction and elimination in the discomfort associated with this disease. These shoes are ideal for nearly every foot profile and are good not just for running but also as everyday shoes. They're also a sort of footwear that may be used for walks or excursions to the store instead of casual shoes.
The New Balance 990v4 for women is a style of running shoe designed to appeal to a wide variety of runners of all ages. The shoes are intended for practicality, as they are designed to appeal to such a wide spectrum of prospective consumers. They are not the best solution for you if you want to stand out. However, if you're looking for a pair of shoes that are both sturdy and likely to endure for years, the New Balance 990 v4 for women sneakers are a solid option. It has a traditional style but greatly increased support, cushioning, and flexibility.