It's always easy to buy shoes, but when they're for a specific purpose, you'll need to consider a lot of different factors depending on the kind of shoes you're looking for. With all the nursing shoe options available in the market, it can be a challenging process finding the right pair of nursing shoes that is the best value for your money.
As a nurse, you need to invest in a good pair of comfortable and supportive nursing shoes if you're going to spend all day on your feet. Such shoes will not only provide you with a comfy fit, but they also help to reduce the stress and strain on your lower back while still providing you with adequate protection. Nursing is a physically demanding profession, and inadequate shoes can affect the quality of care that you five to your patients. A durable pair of shoes means you don't have to keep buying new shoes after a short time. It's recommended that you replace your nursing shoes at least after 6-8 months because of the structural breakdown of the shoes that could cause foot pains even if the shoes may look the same as when you bought them.
The anatomy of good nursing shoes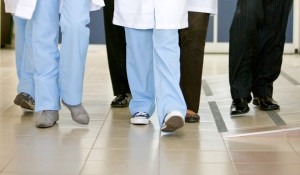 Before you buy a pair of nursing shoes, you need to understand the different features that make up a right nursing shoe.
Toe box
The toe box is the part of the shoe that covers your toes. Different shoes have differently looking toe boxes. For comfort reasons and to ensure that your toes aren't squashed inside the shoes but have ample space to move freely, buy shoes that have a wide toe box.
Tongue
The tongue is the top part of your shoe that has a floppy piece that is found under the laces if your shoes have laces. This part of the shoe helps to reduce the pressure from the laces and provide protection for your feet at the top.
Collar
The collar is found at the top part of your shoe above the counter. It usually has extra padding to prevent it from rubbing against the back of your feet.
Counter
The counter is the material that is found at the back of your shoe that is used to provide support to your heels. It's advisable to get nursing shoes that have ample space to put your pinky finger between your heel and the counter. This will help to prevent friction at the back of your feet, which can cause painful blisters.
Insoles
Also called the footbed is the inner part of your shoes that is under your feet. In a good pair of nursing shoes, the insole should be made with padded layers that help to improve on your comfort levels, especially when you're walking or standing for an extended period.
Midsole
The midsole is a part of your shoe material that is found between the insole and outsole. It has extra padding to add to your comfort and to make the shoe have a soft feel, and it's also made to provide structural support to your shoes.
Outsole
This is the material that is found at the bottom of your shoes. It's usually made with different materials like rubber, synthetic, or plastic. It helps to keep you stay securely on the ground and protect you from slips on wet and slippery floors.
Signs that your shoes are worn out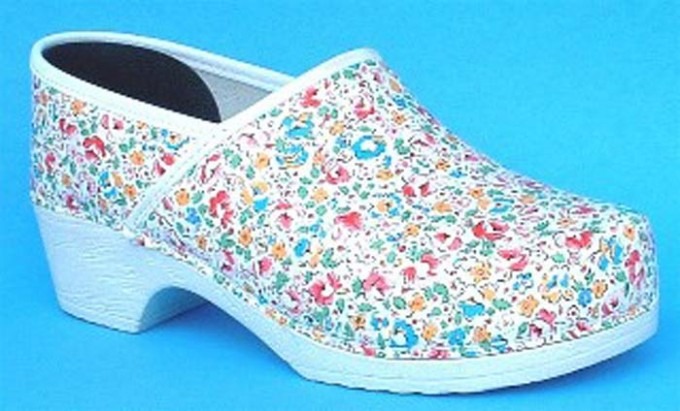 Your feet are a fusion of many complicated muscles and joints that all work together every time you want to walk, run, or stand. So when your feet hurt with every step you take, it affects every part of your life, even your performance at work. The easiest way to avoid or prevent aches and pains is by wearing good shoes. So, how do you know you need a new pair of shoes?
Check the top part of your shoes.
Check to see if there are any tears on the sides of your shoes and at the toe box. If there are tears over the toe area, this is a sign that your shoes have become small. The shape of your feet changes as you get older, so you need to wear a different shoe size, which is often a larger size to ensure that there is enough space for your joints that have spread out over the years.
Check the inside of your shoes.
Is the counter or the material found at the back of your shoes that wraps your heel worn out? This part of your shoes helps to hold your heel securely in place and prevents excess movement that could cause injuries to your feet. If it's worn out, it means your feet aren't stable, and there is increased movement of your heels that makes it dangerous to walk in such shoes.
Check the back of your shoes.
Do your shoes look like they have a square shape at the back? If your shoes seem to lean on one side or the seams at the back are coming out, your shoes can no longer provide excellent stability for your feet.
Check the bottom of your shoes.
The treads at the bottom of your sole provide traction and grip on different surfaces when you're walking or standing. This helps to prevent you from slips and falls, which causes injuries. When they get worn out, they stop providing adequate traction for your feet, and it can be risky to wear them, especially on hospital floors.
If your shoes show any of these signs of wear and tear, it means it's time to replace your old shoes with new ones to help stop your feet from paining.
How long do nursing shoes last? The lifespan of different types of nursing shoes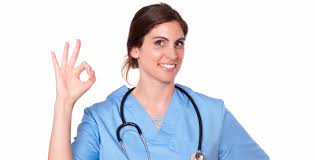 Your shoes will mostly wear out where you exert a lot of pressure, and that is the part that your feet need the most support. When your shoe loss support and cushioning, they tend to cause foot pains, shin splints, plantar fasciitis, which affects your heel, and Achilles tendinitis. As the heel and soles continue to wear out, it increases your risk of twisting your ankles or fractures. Although there is no expiry date on shoes, the lifespan of your shoes will largely depend on how it was constructed, how often you wear them, and how you maintain and clean your shoes.
Athletic shoes
The cushioning in these shoes wears off faster than in walking shoes. When you run, you exert two to three times of your body weight on your shoes. Generally, the lifespan of running shoes is about 300-500 miles, though this might differ depending on your body weight, gait, and the surface you're using your shoes on. If you're going to follow this rule, for example, if you run 4 miles four times a week, you should replace your shoes after about six months, but if you're using them for other casual purposes, it can take you even a year to replace them. One way of knowing that your athletic shoes need to be replaced is by checking the top part of your shoes where the laces are, the midsole cushioning, and the treads at the bottom of your soles. When your shoes start to get wrinkles, it's a sign that they're getting worn out and losing their cushioning.
Slip-on and sandals
The upper part of slip-on and sandals bear a lot of stress for keeping your feet securely in place at all times, and this reduces their lifespan than closed shoes. When your crocs or slip-on clogs start to stretch, broken straps, or start to bend on one side, it means it's time to buy new ones.
Leather dress shoes
If your shoes are made with high-quality material, you take good care of them, re-heel and resole them when necessary; you increase the lifespan of your shoes for many years. If you opt to repair your shoes, it will depend on how much you spend on the shoes in the first place. If your shoes have a leather sole, you will know when it needs replacing if the leather feels soft at the ball of your foot at the center of the outsole. Regular cleaning, polishing, and conditioning of the leather on the upper part of your shoes will help to prevent the leather from becoming hard and causing cracks when the shoes bend. The toe box can also get damaged from being stepped on, getting dents, or from stains and falling objects.
Walking or casual shoes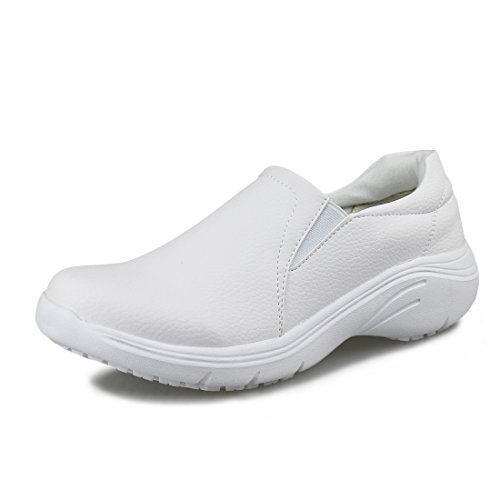 If you're going to wear one pair of shoes 3-4 times a week, you'll need to either repair your shoes or buy new ones after one year. When the back edge of your heel develops a sharp angle or scuffed heels, or flat spots on the outer sole, it's time to either repair your shoes or replace them. Another sign you can look for is when some pieces of your shoes start to poke your feet like nails from your heels. If your shoes tilt on the side when you place them on a flat surface, it's time to replace them.
How to extend the lifespan of your shoes
The quality of your shoes is a factor that plays a role in determining how long your shoes will last, but other factors determine if you'll wear your shoes for six months or one year. Here are some tips on how you can extend the life of your nursing shoes.
Put your shoes on and take them off the right way.
If you're wearing sneakers or other shoes with laces, ensure that you undo the laces before putting them on to avoid toeing them. If you don't untie or tie the laces, you will spoil the heel of your shoes and compromise the material that makes the counter. This reduces the ability of your shoes to keep your heel stable while walking. Your shoes also end up getting overstretched and lose shape.
Wear your nursing shoes only for work
Don't wear your nursing shoes when you're not at work to minimize usage and prolong their lifespan. Avoid wearing them when you want to do your errands during your free time, going for outings, or going shopping. The more you wear them, the more they develop wear and tear, and the longer they're exposed to bacteria and foot moisture, which causes your shoes to degrade faster.
Keep your shoes clean.
You might be exhausted after a long shift, but you must wipe your shoes to remove any dirt, stains, or dust. If your shoes can be machine washed, toss them in the machine with a few towels to avoid spoiling the drum, but if not, use a sponge and soapy water to wash your shoes then allow them to air dry.
Polish and condition your leather shoes.
If your shoes are made of leather, regularly polishing them helps to soften the leather and keep it looking new and shiny. You'll also be able to notice any wear and tear that needs to be fixed. While polishing helps to keep your leather shoes looking new, conditioning helps to moisturize them so that they don't dry and start to crack. Conditioning doesn't make your shoes look shiny, but it protects them. You can condition your shoes once in a while to keep them in good condition.
After washing your shoes, always air dry.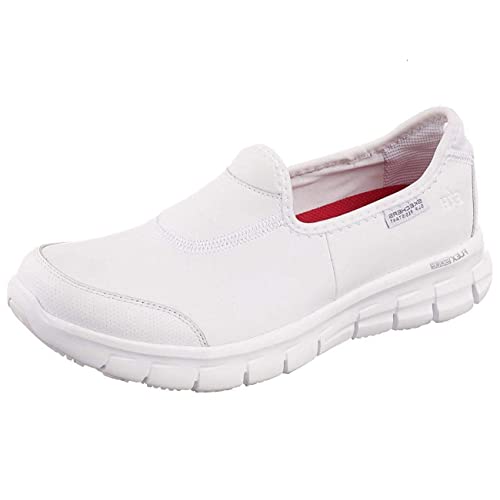 Some of the shoes you wear to work can be machine washed while others can't, but never toss your shoes in the dryer. The heat from the dryer will breakdown the material and the glue that holds your shoes faster. Instead, place the shoes on a shoe rack where there is plenty of air circulation or outside away from direct sunlight and let them dry before you wear them again.
Rotate your shoes
If you have a favorite pair of nursing shoes, you will form a habit of wearing them all the time, but your shoes need a break. Instead of wearing the same pair of shoe day in day out, invest in a second pair that you can rotate with so that you give time to your shoes to fully dry and get aired before putting them back on.
Replace the insoles
If you prefer using customized insoles, replace them every time you replace your shoes. Changing your insoles doesn't constitute replacing your shoes because although the insoles have extra cushioning, it doesn't offer the same cushioning and support that the shoes provide. So, once your shoes are worn out, you can't remedy the situation with an insole.
Protect your soles
To reduce the wear and tear of your shoes from all the walking, running, and standing, make them more slip-resistant and protect them from the cold and wet environments, consider adding a rubber sole to your shoes. You can also replace your worn outsole with a rubber sole so that your shoes don't lose their traction and grip, especially on slippery and wet hospital floors. It will also help to keep you stable when walking or running.
Final thoughts
Taking great care of your shoes will help in prolonging the life of your nursing shoes, but it doesn't mean that sooner or later, they will get worn out, and you will need to replace them. Keeping an eye on your shoe's overall condition will help you to notice some of the signs that will let you know when it's time to replace them.
FAQ
How do I choose nursing shoes?
To make your search smoother, there are essential factors you need to consider, like support, comfort, stability, protection, slip-resistance, design, and style.
Can nurses wear any shoes?
The most common nursing shoes include clogs, crocs, sneakers, and casual shoes. Although there are certain requirements at different healthcare facilities and hospitals that guide you on the kind of shoes you should wear, most healthcare facilities will require a nurse to wear shoes that have a closed-toe design with a covered heel that provides slip-resistance and adequate feet protection.
How long do Dansko nursing shoes last?
Dansko nursing shoes are made specifically to cater to the needs of nurses and other people in the healthcare profession. With proper care and maintenance, a good pair of Dansko nursing shoes can last for about two years if used properly.
How do nurses clean their shoes?
The easiest method to use to clean and disinfect the nursing shoes that don't require you to use a lot of effort would be to throw them in the wash with some mild detergent, and if they're white, add some bleach.
Do you wear socks with clogs?
It's not a must that you wear your clogs with socks or hosiery. However, if it's during the cold season or you live in a cold area, you can wear socks to help keep your feet warm as you work. But remember to factor this into consideration when buying your clogs so that you get shoes with a little more space. You can also wear your clogs without socks if that is what you prefer.