Being a nurse means you will spend most of your time on your feet moving around, walking, or lifting heavy objects, which put a lot of strain on your back, feet, and knees. Being on your feet all day means you need to invest in nursing shoes that are comfortable and supportive. These shoes will not only provide you with a relaxing fit, but they will also help to reduce the stress on your lower back, knees, legs, and feet while at the same time providing you with enough protection.
There are very many brands of nursing shoes in the market today, and nurse mates dove is one of them. These are some of the most comfortable and practical nursing shoes that are popular with medical professionals. And because you put your feet and legs through the wringer every day, a high-quality pair of shoes is essential to help reduce the load on your joints and reduce your risk of developing arthritis and other rheumatic diseases.
Who is Nurse Mates?
Nurse Mates is one of the leading companies that design shoes for professionals who are always on the go and put emphasis on comfort and durability. It focuses on what professionals like nurses, doctors, factory workers, hotel workers, etc. who are always on their feet need. This has helped them build a quality brand for more than 50 years. They ensure that their products are made with quality materials and use foot ware technology like stain-free leather and pillowtop cushioned bottoms to give you a comfortable, practical. Yet, stylish shoes you can wear to work. Some of their different types of shoes include the Dove-loafer, Anni Hi-moccasin, Bryar-clog, Angel-lace up, Grady-Mary Jane, and Pennie-moccasin.
Nurse Mates has a versatile collection of medical shoes, so if you're looking for a good pair of shoe that is supportive, stylish, and appropriate with your facility's dress code, Nurse Mates would be your best option. They not only manufacture high-quality and slip-resistant nursing clogs, but they also have very sleek nursing sneakers, slip-on, and lace-up shoes. The sneakers have a flat top trendy style that is very easy to slip on and off and a slip-on sneaker version that is available in unique colors and patterns so you can pair them with your favorite scrubs.
The Nurse Mates women's Dove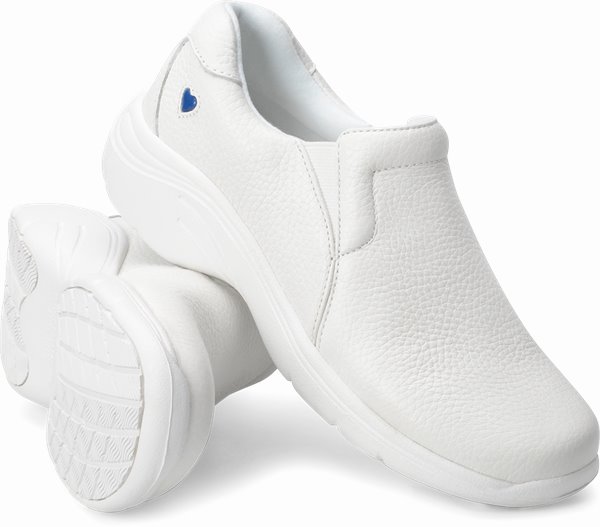 This is one of the best-selling Nurse Mate shoes in the market that is very popular with nurses. They're specifically made to be lightweight so that you don't feel like you're carrying bricks on your feet all day. They tend to come in either black or white, with a simple yet beautiful design for your comfort and lightweight mobility. They give you the perfect balance between a professional look and your comfort, so you don't need to sacrifice your style for the shoe's durability because these shoes are built to take care of these two essential aspects. You will love the fact that you can easily slide into these shoes, and you will hardly feel like you have shoes on your feet. You also don't need to worry about getting blisters or the tongue rubbing on your feet. They're stain-resistant, slip-resistant, and spill-resistant, which makes the shoes easy to clean even the stains and you're stable on your feet whether you're walking on wet or slippery floors.
Features of Nurse Mate dove shoes
These stylish slip-on nursing shoes are designed to cater to the demands of hard-working professionals who spend most of their time on their feet. They ensure that you're comfortable, properly supported, and stable as you go about your work. Here are some of the essential features of these shoes.
Material
The upper part of these shoes is made with full-grain tumbled floater leather that is extremely durable and stain-resistant. It doesn't have any cloth on the outside of the shoe, so it will be easy and quick to wipe clean. And because they're slip-on shoes, they have small elastic goring inserts on both sides of the shoes to help you when putting your shoes on and taking them off. These shoes are available in black, white, and pink colors, and there is a patented black version of the shoes available. The soles of the shoes are made of EVA rubber that is super lightweight and slip-resistant.
Comfort and support arches
Comfort is one of the best features of Nurse Mate Dove shoes. When you're wearing these shoes, you feel like you're floating on air. They come with a padded collar that helps to support your ankles and keep your feet stable with an elastic goring on each side that makes it very easy to slip on and off. The sole has a soft cushioning with anti-fatigue features, which gives you a bouncy effect and makes the shoes very comfy throughout the day. These shoes are incredibly lightweight so that you don't feel exhausted at the end of your long shift.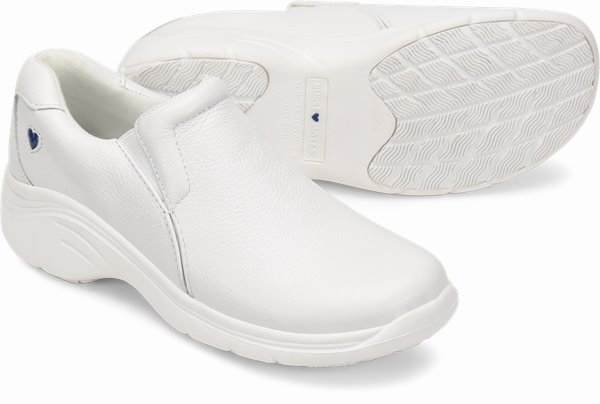 Platform and heel height
These shoes have a heel that is 1 ½ inch high and a platform that is ½ inches. Nursing shoes need extra cushioning so that you remain comfortable throughout your long 12 hour shifts. Most shoe companies are designing women's shoes with more cushioning at the soles because of the way your ankles and legs are built. Men's shoes don't require that much cushioning at the soles.
Size
All the Nurse Mate shoes are made in US sizes so you can easily find your size, which means you don't need to convert to European sizes. It's best to get your normal size, but if you're not sure and to be on the safe side, you can order a size bigger or smaller to see which one fits perfectly and return the other if there is a return policy.
Safety features
The thick quality treads on these shoes are very effective as they have excellent grip on slippery or wet floors that you find in most health facilities. This protects you from slips and falls that could cause serious injuries. This is an essential feature in nursing shoes because most hospital floors tend to be slick and very smooth. This is also an environment where spills are widespread, so you need shoes that will keep your feet stable on the ground at all times, no matter the kind of floor you're walking on.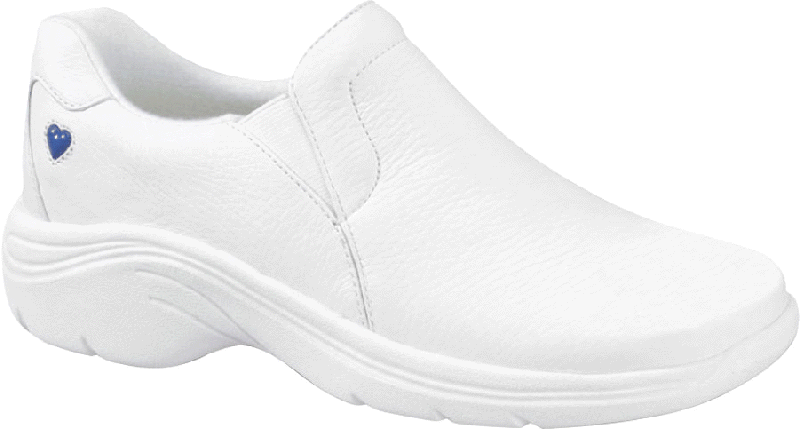 Benefits of wearing Nurse Mates Dove shoes
These shoes have a very professional and classic look.
The white shoes have a white sole that doesn't scuff the floors.
They're made with quality leather that most women prefer over other materials.
Most women find these shoes more attractive and prettier than other nursing shoes available in the market.
The comfort of these shoes is an essential feature. The inside padding gives you a soft and luxurious feel while the footbed inserts conform to the shape of your feet as you walk, making it easier to move.
The inside of the shoes has no sharp or rough edges that can cause any friction or pain on your feet.
Drawbacks
These shoes don't have proper ventilation, so your feet tend to get hot after some time on your feet.
Some people might need more support around their ankles. This might be because of a medical condition or the shape of your feet.
These nursing shoes a bit more expensive than other shoes. Nursing shoes are specifically designed for nurses who are on their feet most of the time daily.
Who should wear Nurse Mate Dove shoes?
Just like the name suggests, these shoes are specifically designed to be worn by nurses, however doctors, therapists, dental hygienists, and other professionals whose work requires them to stand for long hours or be on your feet daily. You can wear shoes indoors and outdoors but keep them away from mud and snow. However, to keep these shoes clean and in good condition, only wear them indoors or when you're on the job.
How to take care of Nurse Mates Dove shoes
It's effortless to take care of these shoes because they're made from a stain-resistant leather. Working in a medical facility means that accidental spills are bound to happen, and when this occurs, you just need a soft cloth or a damp sponge to wipe your shoes clean. You can also polish your shoes with the appropriate polish color if they start to scuff after wearing them over a long time. If the outside of the shoes is worn out, the leather conditioner will revive the condition of the leather.
Conclusion
Nurse Mate Dove shoes are women's nursing shoes that are specifically designed to meet their needs. They're made to ensure that you're comfortable and properly supported when standing, walking, or running around in the hospital corridors and hallways taking care of your patients. They're made in a lightweight design that has a stylish and professional look so that it can conform to your facility's dress code. The best part is they're made with a unique leather that is stain resistant, so it's easy to clean and slip-resistant to prevent slips and falls.