Buying a new pair of nursing shoes isn't an easy task. Shoes made with high-quality material don't come cheap, and the fact that you'll be wearing them all means you want them to be as comfortable as possible. There are different ways you can go about selecting the best shoes for male nurses.
Before you spend your hard-earned cash on a new pair of nursing shoes, you must identify the characteristics that constitute a quality shoe so that you can avoid problems later and get the best value for your investment. You should consider factors like shoe comfort, overall support, design, durability, slip resistance, and foot protection are very important points to consider. This will ensure that you get to enjoy all the benefits that come with the shoes as you wear them to work.
Also, when selecting the right work shoe, you should base it on your working environment and the hazards you face every day. For example, a nurse who works in the office will opt for casual shoes since there are low chances of hazards, then you who work in the ER where you need protective nursing shoes with a good grip on wet floors and slip resistance.
Also, depending on the healthcare facility you work in, there may be certain rules and guidelines you need to follow when it comes to the type of nursing shoes you should wear. The next thing to consider is the nursing shoe. Choose shoes that are comfortable, durable, supportive, protective, and cater to all your personal needs.
There are some features you need to consider when selecting the best shoes for male nurses.
A wide toe box
Your toes need plenty of room to spread out and not feel like they're being crushed in the shoe. You might wear a shoe that is very comfortable at the beginning of your shift, but as the day progresses, you start to experience pain. To avoid having this problem, buy shoes that have a wide toe box and don't buy shoes with half a size smaller than your normal size, thinking that it will stretch with time unless the shoes offer plenty of space for your feet. You can also go for shoes with reinforced toes that will protect your feet from falling objects.
The material of the upper
The upper part of your shoes should be made with quality material that is comfortable, safe, and durable. Ensure that the upper part of the shoes is made with material that you can easily clean off any spillages and hard-wearing. Don't go for stylish shoes made with suede and forget that when it comes to cleaning stains, it will be a problem.
Most nurses like wearing sneakers that have a mesh material on the upper part of the shoes. Even though the mesh makes the shoes light and breathable, it will be hard to clean bodily fluids like blood, vomit, or urine. On the other hand, leather is easy to clean and breathable. While leather may be heavier than mesh, if you can find the right shoe style, it can be a versatile option if you have to look after patients and attend meetings.
The material of the sole
Just like the material at the upper apart of your shoes is easy to clean and durable, the same qualities should apply to the material at the sole of your shoes. The best shoes for male nurses should have a rubber sole to provide great traction on any surface you walk on. The bottom should have tread marks to provide you with enough grip so that you don't slip and fall on wet or slippery surfaces. Hospital floors can sometimes become slippery, which can be dangerous for you and your patient.
Shoes with rubber soles and good treads will keep your feet firmly on the floor and protect you from falls. If your shoes don't have enough traction, you can buy non-slip pads that you can stick on your shoes to improve traction.
The right size
This might look like an obvious point, but most people take it for granted. Before you buy new shoes, get the correct measurements of your feet and don't refer to shoes you've been wearing for some time or don't measure your feet immediately after removing shoes you've been wearing the whole day or when your feet are swollen. If the shoes have a roomy fit, get half a size down, but don't get a size too tight, thinking that they will expand once you break them in.
Arch size and support
You know how important it is to wear comfortable shoes with good arch support and cushioning. Arch support not only benefits your feet, but it also helps to prevent pain in your lower back and improve your posture. With the right cushioning, your shoes can absorb shock from all the walking and running you do all day. This will prevent your knees, hips, and knees from wearing down and becoming sore.
People fall into three categories of foot shape, those with a normal, high, or low arch. While most shoes provide cushioning to cater to all levels of comfort, there are those specifically made for each foot shape. If you choose to buy shoes with a high arch when your foot shape is for shoes with a low arch, you will spend your time complaining about how uncomfortable the shoes are instead of working.
One of the most common foot problems nurses experience because of wearing ill-fitting shoes is plantar fasciitis. This causes inflammation in the tissues that connect your heel bone and toes. You can remedy this situation by correcting your shoes with arch supports or buy shoes specifically made for the shape of your feet's arch.
Pattern, color, and style
The style and fashion of the shoes don't contribute to the comfort level, but it could help you narrow down the choices available if you find shoes that have the two features and doesn't compromise on comfort. You should consider some practical issues like shoes with a slip-on design so that you can easily put them on and tale them off or a wider sole to prevent your feet from swelling. Also, consider shoes with solid dark colors to avoid showing stains and marks left on the shoes.
Right socks
Getting the right socks is also something you should consider. Go or socks that are moisture-wicking and breathable to prevent your feet from sweating too much, which can cause athlete's foot, foot odor, and warts. It's recommended that nurses wear compression socks to help improve circulation in your legs and muscle soreness after your shift.
How to maintain your nursing shoes
You must take proper care of your shoes to maintain their quality and increase their lifespan by keeping them in good condition.
Buy shoes designed for your feet.
Choosing the right size of your shoes, arch, and width can have a significant impact on the quality and lifespan of the shoes. Wearing shoes that are larger or smaller can wear out the sole faster, stretch it out, and affect its long-term use and durability. For your health and lifespan of your shoes, it's good to get your feet and arch measures so that you can know the type of shoes you should wear.
Tie laces appropriately (if present)
If you're going to wear shoes with laces to work, tie them properly, and make sure they don't drag on the floor, which can be dangerous and wear them out faster. Insert the laces in every loophole to avoid creating an unnatural shape of your shoes and hamper support as you walk.
Clean and maintain your shoes
Depending on your work station, your shoes can get dirt, bodily fluids, grime, or hazardous chemicals on them, and you must clean them regularly to avoid tough stains or wearing down the shoe's material.
Use your shoes for work only.
The fastest ways of wearing your shoes are wearing them outside your workplace like going to the store, for sports activities, or other activities that reduce their lifespan and affect their durability, protection, support, and mobility after some time. If you like wearing your nursing shoes, buy a second pair for personal use.
Replace worn-out shoes
When your nursing shoes become worn out, they become less effective at protecting and keeping your feet safe at work. Shoes with worn our sole reduce their grip, which can cause accidents and affect your posture while putting stress on your heels or arches, which can lead to back, leg, and foot pains. Replace worn our shoes for the good of your health and safety at work.
Review: Comparison table for the best shoes for male nurses
[table "" not found /]
Merrell men's encore gust slip-on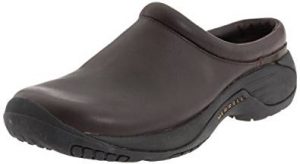 This Encore gust slip-on shoe has a stylish casual design that is sleek and fashionable. This casual shoe is made with a soft full-grain leather upper with a padded collar for a snugly fit and a comfortable slip-on. The inside has an antimicrobial fabric that helps to fight bacteria and foot odor. The breathable mesh lining is designed to keep your feet dry and wick away moisture from your feet. The removable supportive ortholite footbed has extra padding to increase your comfort and support during the long hours on your feet.
If you prefer to use a customized insole, you can swap out the standard one with another that fits your foot shape or medical condition. The compressed molded EVA foot frame helps to improve your stability and comfort while the 2-inch heel improves your balance and reduces the energy you spend when you move forward. The heel is air-cushioned to help absorb shock and reduce the impact when your feet get in contact with the hard floor.
The nylon molded arch shank provides support when you're standing or walking and maintains the shoe's durability. The bottom outsole is made with a flexible sticky rubber that is good for traction while at the same time, making your shoe flexible for more energy return and reduce fatigue.
Verdict
An excellent shoe for male nurses that you can easily slip on and off. It offers overall comfort, support, flexibility, and all-round protection during your shifts. The sticky rubber outsole provides great traction and stability when walking on slippery or wet floors. If you don't like the black option, you can get the bug brown that also has a professional look.
Pros
Very comfortable shoes
Made with durable quality materials
Suitable for people with narrow feet
You can wear it as casual wear
Cons
Can be tricky finding the right shoe size
View price on Amazon
Sketchers for men keystone sneaker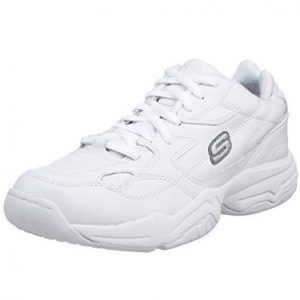 Sketchers' keystone sneaker is a very comfortable and functional sneaker that you can wear to different work settings. It has an athletic design for a male nurse who has a busy day moving up and down daily. It's made with a synthetic leather upper that is comfortable and stylish while still protecting your feet from falling objects and hazardous liquids.
The removable PU insole has added cushioning for extra comfort and support. In contrast, the cushioned EVA midsole absorbs shock as you walk around, which helps to reduce stress on your feet and increases your stability. The bottom of the sneaker is made with a slip-resistant traction rubber outsole that increases grip on various terrains and surfaces so that you can walk around without the fear of slipping or falling.
Verdict
The Sketchers keystone sneaker is ideal for male nurses who prefer a shoe with a laced-up design that will provide all-round protection in solid black or white colors. This professional work shoe focuses on providing you with maximum comfort and support throughout your busy day.
Pros
Very comfortable shoes to wear all-day
Great non-slip rubber soles
Offer good support
Helps to reduce foot pain and fatigue
Cons
The shoelaces are a bit short
It takes some time to break them in
View price on Amazon
New balance men's Mx608v4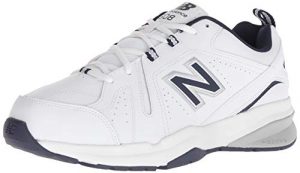 New Balance is a shoe company known for its comfortable, walking, and training athletic shoes, and this one is no exception. This classic shoe is versatile with a unique design. It's made with a smooth, durable suede or leather upper that offers all-round protection for your feet while walking. The laced-up design helps you to adjust your feet to secure it in the shoe properly.
The padded and breathable mesh tongue with mesh gusset outlets on both sides and thick collar helps the shoe to breathe while still providing a fit. The heel has a pull tag that makes it easier for an on and off transition when you're in a hurry to go to work or do other activities. The inside of the shoe has a comfortable, breathable lining that allows air to circulate in the shoe throughout the day to keep your feet cool and comfortable.
This will also help to prevent your feet from sweating too much when you're on your feet the whole day. The lightweight cushioned EVA footbed and midsole provide excellent shock absorption when walking on hard surfaces while the non-mark rubber outsole increases traction to keep you stable as you walk on any surface.
Verdict
This classic shoe is comfortable and offers you great support and all-round stability during your busy day at work. If you love the New Balance brand, you will enjoy wearing this shoe to work every day. The shoe has excellent traction and shock absorption features to keep you stable and supported on any surface you walk on, and your feet don't become sweaty and smelly thanks to the breathable lining in the shoe.
Pros
Comfortable shoes
Excellent shoe for people with wide feet
Enough all-round support
Cons
Limited heel lateral support
The seams seem to tear quickly.
View price on Amazon
K-Swiss men's training shoe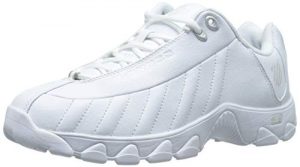 K-Swiss men's sneaker is a tennis training shoe that has a casually low profile design and a classic retro appearance. This all-white version from the logo, stitching, and matching inlets is very stylish for male nurses who need to wear white sneakers to work. This shoe is made with a leather upper with excellent designs and a unique lacing system and a padded mesh tongue and collar for a comfortable feel when wearing. The memory foam insole provides added comfort and allows you to enjoy walking or standing in this shoe.
The heel and thick midsole help to absorb shock and reduce the impact on your feet as you walk and provide great energy return, while the rubber outsole has a deep tread design for maximum grip and traction on any surface. This increases your mobility and stability so you can walk in confidence that you will not slip or fall. This shoe is designed for someone with an active life, and to ease your movements and promote agility, it has a rubber outsole made with flexible material.
Verdict
A great casual shoe for male nurses who are looking for a shoe that focuses on comfort, design, and style. Apart from the all-white version, you can opt to go for the black, red, grey, or other colors and style variations that work well with your work clothes. It offers you comfort and all-round protection with all the extra cushioning and excellent traction on any surface.
Pros
Great shoes you can transition from work to casual shoes
Sturdy and offer excellent cushioning
Stylish and classic look
The leather is easy to clean
Cons
The toe box is narrow
Lacks arch support
View price on Amazon
Dansko men's wynn slip-on clog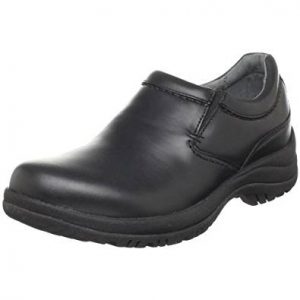 This Wynn slip-on from Dansko is durable work clogs for male nurses that offer great support and protection to your feet during your long hour shifts. The slip-on design has a padded collar and dual goring to offer a secure and snugly fit. The upper part of the clog is made with durable leather that you can easily wipe clean and gives the clog that professional look. The removable insole provides excellent arch support and stability while you're on the move all day.
The sturdy midsole is made with flexible material for better mobility, and the 0.75-inch platform gives you a light lift when walking around and helps to absorb shock from the impact of the hard surface floors. At the bottom of the clog, there is a slip-resistant rubber outsole with deep treads that provide better grip and traction on slippery and wet floors.
Verdict
This Wynn slip-on clog has a clean design for male nurses who want clogs that have a low profile appearance that will blend well with most of your working clothes. You can also get the clogs in different brown variations. A nice clog with a professional appearance that offers good arch support and stability and great flexibility to ease your movements as you walk around.
Pros
The footbed provides good support
Great non-slip shoes
The lift in the heel helps with your posture
Helps to reduce lower back and leg pain
Durable and very comfortable
Cons
It takes some time to break them in
The insoles don't last long.
View price on Amazon
Keen utility men's PTC slip-on

Keen slip-on work shoes have a sleek design without compromising on your comfort. You can easily wear them to work every day because of their simple design and excellent toe protection, no matter your working environment. This slip-on features a patented toe protection technology that helps to guard your feet against hazards in your workplace. It's made with a durable and flexible material that allows ease of movement as you go about your busy day.
The stain-resistant leather is waterproof, which helps to preserve and retain the appearance of the shoe. The side goring panels on the inside of the slip-on stretch to allow a snugly fit and help your feet to adjust as you walk around. The smooth leather lining along the front and collar helps to reduce friction on the upper part of your feet and increase your comfort. The keen cush memory foam removable insole provides extra cushioning and support to your feet with every step you take, and you can replace the insole with one of your preference.
Underneath the footbed is an EVA midsole that is designed to absorb a good amount of shock and disperse energy, which helps to reduce the impact of your feet on hard surfaces. At the bottom of the shoe, there is a slip-resistant rubber outsole with traction treads that help to increase grip on any surface floor so that you can feel protected walking on any floor. The TPU shank will increase the stability of the shoe and provide more significant walking support.
Verdict
This Keen slip-on work shoe is an excellent choice for male nurses who want a simple, clean looking shoe that will provide you with adequate comfort, support, and protection in your workplace. It's a shoe that is made with waterproof material and a stain-resistant finish, which makes it ideal if you work in an environment where there are liquids and hazardous chemicals that can spill and stain your shoes. You will be comfortable throughout the day with all the extra cushioning, and your feet won't feel tired after a long shift.
Pros
Comfortable shoes you can wear for long hour shifts
You can easily wipe them clean
Have a roomy toe box
Great for stability
Ideal for people with a high arch and wide feet
Cons
They run a bit big if you get your actual size
The insoles may wear out quickly
View price on Amazon
Final thoughts
In choosing the best shoes for male nurses, remember that female and male nurses have different needs. The insoles of the male nurse's shoes are wider while the outsoles are made extra tough because men have more bodyweight. It's essential to find a good pair of nursing shoes for men to help you have a productive and pain-free shift. Male nurses work the same long hour shifts as their female counterparts, and they deserve comfortable shoes to keep your aches and pains at a minimum.
Merell men's encore gut slip-on shoe is an excellent example of a stylish, sleek shoe that doesn't compromise on comfort, support, and stability. You will be comfortable and well supported walking in this shoe, and you don't have to worry about foot odor because the antimicrobial fabric will take care of that. The slip-resistant outsole will keep you firmly on the ground and protect you from slipping on slippery or wet floors.