We all love Crocs! Don't we? They are a perfect combination of comfort and being casual. Yet, just like other shoes, if one fails to find the appropriate size; even crocs can cause foot fatigue.
If you're hunting for crocs to wear around the home for maximum comfort, the question that arises is "do crocs run big or small?"
Mostly, crocs are true to their size, but these shoes may fall into the gray area if you don't select the right size. It depends upon which style you choose. However, casual models tend to run big. 
Let's dive deeper and discover details 
What Are Different Types Of Crocs
The deciding factor for the perfect fit is the model. Some models are designed to provide comfort others are made for low to moderate working conditions. Below we have discussed some models one can choose from.
Crocs Classic Clog
Crocs Classic Clogs are designed to offer you a more casual and comfortable fit. Ordering the perfect size will give you the perfect fit. These crocs are similar to the classic version.
Crocs Bistro Clog
Crocs Bistro Clogs have a different design than classic clogs. It has a unique style on the top of the shoe. The closed top and the closed-toe are what make it stand out. 
Even though it is closed, the crocs still feel bigger than usual. These crocs are best for wide feet as they provide a generous and roomy fit. 
Crocs Crocband Clog
If you are looking for a sportier version of Crocs, then crocs Crocband clog is the best option as compared to the classic version. The bold mid strip around the midsole makes it different from the classics.
Plus, it is slightly different when it comes to fitting. If you narrow your feet then Crocband Clog is the best choice for you. Because the Crocbands as compared to the classic doesn't have a lot of space. They aren't a good choice if you have wide feet. 
Crocs Slipper
Just like the classic Crocs Clogs, Crocs slippers have a similar design. The fuzzy lining in the slippers provides great warmth making it ideal to wear them around the house. 
These are the perfect fit if you pick the right size. But, not to forget it does have a lining, so you need to be careful that it doesn't run small.
Crocs 'On the Clock' Shoes
As the name suggests, Crocs' "On the Clock" Shoes are good for people who are on their toes for a longer duration. These shoes are different from the classic Crocs. These are completely covered slip-on and don't have as much room as the classic crocs. These crocs provide a more secure fit perfect for nurses and food prep.
Do Crocs Run Big?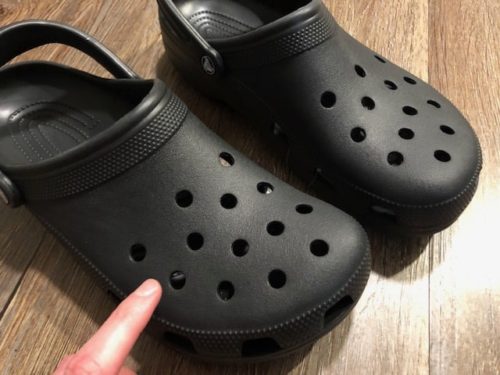 As we mentioned above, most crocs are a perfect fit. However, it varies on the design you are choosing. Some are made for comfort, others are good in working conditions. 
Like, with the classic clog crocs, you wouldn't face any sizing issues. It is a perfect roomy fit. Ordering your exact size will help you achieve comfort with these. But, if you have wide feet Crocs bistro clog is the best option. 
In contrast, models like the Crocs Crocband Clog don't have a roomy feel. Perfect for regular-sized feet but a big no with people with wide feet. 
After looking at all the models, we can say that crocs can run big or small if you don't pick the right model for yourselves. 
How to Select the Right Crocs Size?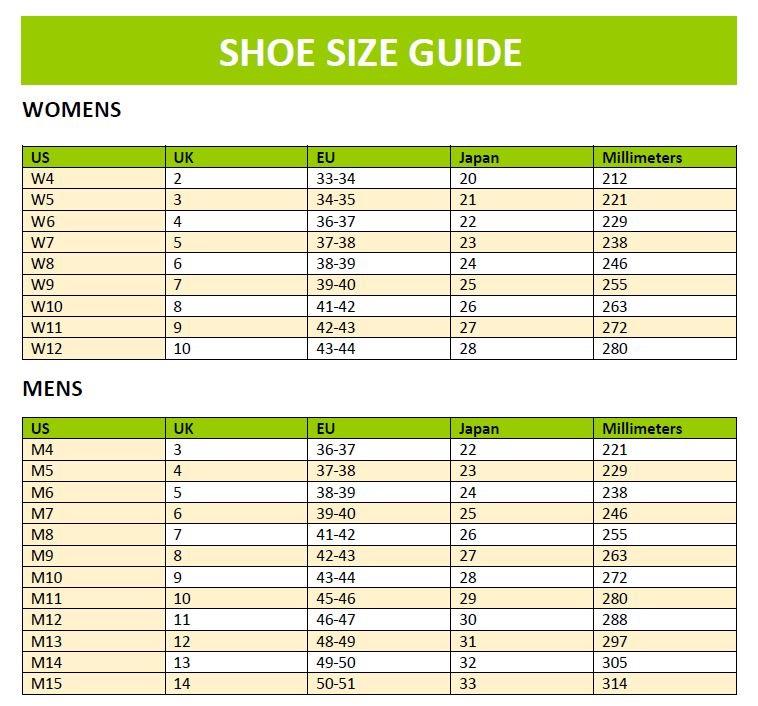 Since 2002, Crocs have been a part of the shoe market. And, during this time, the trend of wearing these shoes has increased drastically. After having a close look at the wants of their target market they've come up with numerous different crocs models. 
Due to the rising demands, the manufacturers have come up with unique designs over the years. However, one must look at their needs and choose crocs, otherwise, they might run, big, small, or even uncomfortable. Either you have to stand throughout the day or chill at your place, all kinds of crocs are available. 
Took a day off to enjoy the weekend? Crocs slippers are the best? Why? Because they have the look of slippers with the comfort of Crocs! Sounds perfect right? 
Have you to stand around all day just because you are a nurse or doctor? Crocs 'On the Clock' shoe is the best. Why? Because of the enclosure at the back, they won't slip off easily. 
Want to achieve a sporty look but still want to wear Crocs? Crocs Crocband Clog is what you're missing out on! The wide mid strip in front is perfect to complete your look. 
Choosing the design isn't much of a hassle, but the critical component to find the perfect fit is to choose the proper size. Now, it's time to dig deeper into the details to find the one for yourself. 
Now that you've successfully chosen the design according to your need, you must look at the description it gives about the fitting. 
What Are Different Types Of Crocs Fitting?
There are 3 types of sizes and fits available in Crocs. Your feet size and usage are the deciding factors that either you want to go for a standard fit, relaxed fit, or a roomy fit
It's hard to guess by the name what makes one fit different from another. But, don't worry we've got you covered. Have a look below! 
Standard Fit
The snuggest of all types is the standard fit. You don't get a tight feeling in your feet neither these shoes come off while walking.
The chances of the standard fits coming off are minimal. However, you may have to push your feet a little at the top of the shoe. 
Relaxed Fit
Even though the name says "relaxed fit", they aren't too comfortable. The relaxed fit models don't have much space as compared to the standard-fit ones.
While buying one of these you should expect a tighter feeling. But, still, your toes won't touch the top of the shoes. Additionally, you will experience your sides of the feet touching the shoe walls. However, there are many models in the relaxed fit section that consists of laces and straps that keep your crocs in place and give more stability. 
Roomy Fit
As compared to the relaxed fit and standard fit, these are the widest Crocs of them all. The length and width are perfect in roomy fit models. The manufacturers made sure that there are no short ends in this version. 
You must think that extra width and length will make your Crocs slip off but don't worry! They won't come off your feet, because some of the models have a back strap that gives a more stable fee. 
Can You Stretch Out Tight Crocs?
If your shoes are new, they might be tight for the first few times you wear them. But, is it the same case with crocs too? Do they become normal after the first few uses? 
The answer is Yes, you can stretch out tight crocs and just like any other new pair of shoes, Crocs also can stretch after a few uses. Once that phase is over, you'll be worry-free about these things. However, if you put your Crocs under direct sunlight, they won't stretch that much as the heat won't let the material expand fully. 
But, the question is why does anybody want them to stretch? Do people deliberately stretch their shoes? Yes, they do, and they have a genuine reason for that! 
For example, you are a double XL and the sizes won't go up more than that in your desired model. Then what would you do? You'll try to stretch them. But how? 
Below is one method you can try to stretch your crocs: 
How to Stretch Your Crocs?
In this method, all it takes is 10 minutes in total and your Crocs will be stretched like you want them to be:
Put the Crocs and a towel in the dryer for 5 minutes.
Take out the Crocs from the dryer and wear them with 2-3 socks on, while they are still hot.
These two steps will do the trick if you follow them correctly.
Do you think it's this easy? No, that's not all. Read below for the rest of the details regarding the drying method.
Step 1: Put The Crocs In The Dryer
It's not as simple as it looks. You cannot put the Crocs directly into the dryer. They will move all around the dryer and this method will be unsuccessful. 
Wrapping a towel around the crocs will do the trick. Because, by wrapping the towel, you'll allow the heat to absorb evenly in all parts of the Crocs. Ensure that your Crocs are in the dryer for 3-5 minutes at least.
Step 2: Take Out The Crocs While They Are Hot
The second step is the critical part of the process. You must not wait for the Crocs to cool down. It's the heat that plays a major role in this stretching method. 
But, you must be thinking how can you wear those super-hot Crocs right away? This is why you must wear at least 2 pairs of socks to protect your skin from the steaming hot sole. 
Plus, wearing the shoes with multiple socks will help in stretching out the dimension, causing the material to slightly break, causing the shoes to stretch. Walk around while wearing the shoes for 5 minutes and you'll have the perfect fit.
Step 3: Redo The Process If Necessary
This step isn't a part of the process. You only have to perform this if your foot doesn't fit inside it after doing the drying method in one go. You can skip this step if it isn't needed.
Do Crocs Have the Same Size As Regular Shoes?
Crocs may look different than normal shoes but their size is the same as regular shoes. Your normal shoe size can work quite well if you are going to buy Crocs. 
However, every brand has its sizing and so do the feet. So you must try before buying one. 
But, you will find Crocs sizes consistent with the regular shoe sizes.
Are Crocs A Good Option For Toddlers?
Crocs aren't a bad choice for kids. However, some of the Crocs models might run big for kids. This is because every model has a different fit. As some models are designed for maximum coziness while others are fit-perfect. It can make a difference. 
There are many kinds of Crocs in which there is space around the sides and top. The extra space makes more room for the feet to slip in. That's why you should buy smaller-sized Crocs for toddlers. So, if your kid is a size 5, buying a size 4 in Crocs will do the job.
Do Crocs Lose Elasticity Soon?
Just like a regular shoe loosens once you start wearing them Crocs will also undergo the same. But, it doesn't mean they will lose their stretch soon enough that you have to discard them. 
Crocs are comfortable once they get out of the box. If you compare Crocs with the regular type of shoes the initial period for Crocs is not painful. The shoe-fitting after it has stretched a little will be influenced by the initial style and fit.
Final Verdict – Do Crocs Run Big Or Small?
All in all, the fit of Crocs varies upon the model of the Crocs you choose. Once your Crocs have loosened a little bit, you will be ready to enjoy the durability and comfort of these trendy shoes. 
If you are well aware of different models of Crocs, then you can easily buy the perfect fit for yourself. Some types may run big or small, but most of the time Crocs are a perfect fit. 
However, wearing Crocs consistently and for long hours can damage your heels if you aren't well-versed with the precautions. Keeping your shoes cleaned and sanitized will ensure that your feet are safe and smooth.