One great thing about the nursing profession is the excellent range of specialties that are within the field. However, you will still need to wear comfortable nursing shoes, regardless of your specialty. Without comfortable shoes and combining them with great compression socks, the long hours you spend in the hospital setting will leave a thorough beating to your legs, feet, back, and knees, and you will be in pain for quite a long time. This is where nursing shoes come in – they look like normal shoes, but they have unique properties that make them ideal for the job.
Since all human beings are different, and the same case applies to nurses, not everyone will be enthusiastic over the idea of wearing a pair of clogs the whole day – you might not even like clogs in the first place. Instead, many nurses are considering whether lace-up shoes are great for this kind of professional setting, considering that they are comfortable and lend themselves well in many settings – but are they suitable for a nurse? Are they great for hospital floors, or should you just consider looking for something else? Read on to find out our thoughts on this.
What are the benefits of having a pair of good quality shoes?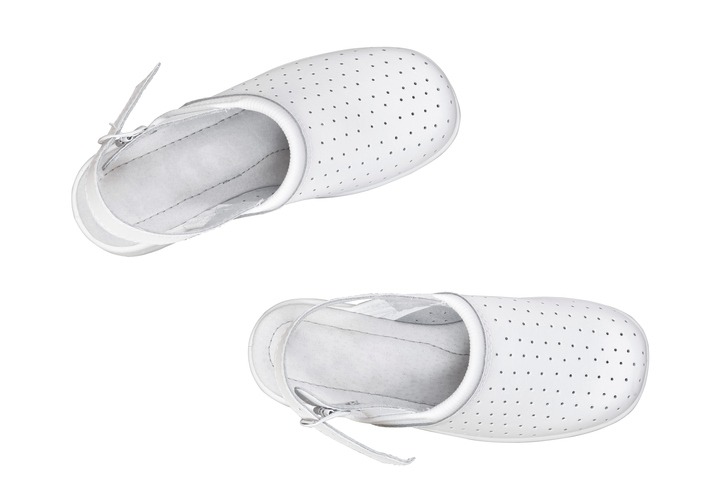 There are several advantages you get, including:
The reduction of discomfort and stress
Assisting in balance
Lower chances of developing pain in the lower back and feet
Prevent issues with your spine
Since you are spending long periods on your feet, you need comfortable shoes to help you with the support of your body. Here are some features of the best shoes for the job to explain why.
Comfort
This applies to any shoe you are wearing regardless of the occasion. When you wear comfortable clogs, crocs, or shoes in the hospital, you will remain relaxed on the job and always in good condition. You need to find shoes that have plenty of space for your ankles and toes, while also including a coating of soft material for extra cushioning – such as soft foam. In this regard, clogs are the best option.
Durable
Saves you money in the long term, as well as time, since you do not need to keep taking time to look for new footwear. The longer you can use a shoe, the longer you can work in the tough environment of a hospital. The reason why lace-ups can be risky is due to contact with hard objects, which can wear them down – unless you are dealing with solid sneakers.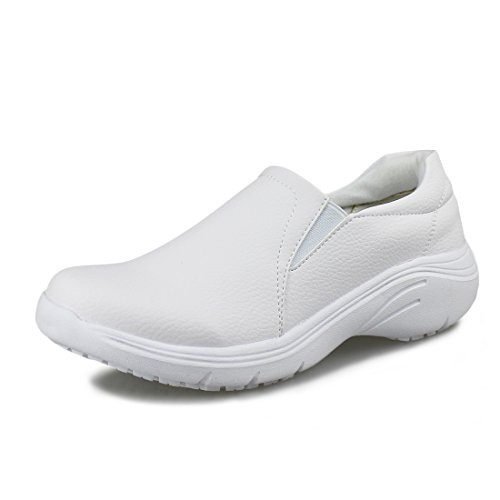 Soles
This is perhaps the defining feature that determines whether the shoes can hold up. When you are working in these environments, your balance and stability will depend on the type of the sole of your shoe – so it is essential to make the right choice.
The best option is using gripping soles, as they have solid grips that will help you be confident when walking on various surfaces. While lace-up shoes can be great, they do not all fit into this criteria – and you probably know at this point that hospital floors can be tricky o walk on. The outer soles of nursing shoes usually have EVA and rubber material, and excellent tread design.
Inserts/Insoles
These are the thin material that you put on the soles where your foot will rest, and they are removable for those days when you want to clean the inside of the shoe. In many cases, lace-up shoes will also have removable inserts, as well as other nursing shoes, such as clogs.
The insoles need to be smooth and breathable, as this helps the feet to relax and reduce the chances of odor developing due to trapped moisture.
Support to the ankles
The more significant amount of ankle support the shoes have, the more control you eventually have as you move – and this will prevent accidents such as slipping.
When it comes to lace-up shoes, you need to be careful. Not all of them will work for you on hospital floors, especially since these floors tend to be slippery. When you are struggling to control your stability, it can result in problems such as sprains and foot aches, which nursing shoes do not have.
Shoe weight
The less weight a shoe has, the more comfortable it will be to wear. This is what makes many nurses opt not to go for shoes such as boots. In the case of lace-up shoes, it will depend on the type of material that makes the shoe, as this will determine its weight and comfort levels. For instance, sneakers can be comfortable, but leather lace-up shoes might not be for you.
With regards to nursing shoes in general, boots have maximum weights, while clogs have the lightest – mainly because of the rubber and EVA padding materials.

Laces
This depends on your preference, as you might not want lace-up shoes for the sake of convenience. You can lace shoes in two ways: rubber flyers and laces, and both of these methods are great.
However, the shoes that have no laces require less time to wear, which is helpful in case you regularly work in emergencies, or when your feet do not have the usual shape. On the other hand, having laced shoes gives you some extra control to ensure you move smoothly.
Foot shape
Yes, not every shoe will work well with you – because it depends on the specifics of your feet. Generally, there are three shapes to look at; the normal arch foot, the high arch foot, and the flat foot.
If you have a flat foot, your footprint is wide, while the heel to toe slope looks like a straight line. It is present in about 20 to 30% of people.
The normal arch foot is present in about 60% of people, and the arch is balanced and noticeable. On the other hand, a high arch foot has a narrow footprint that is curved, and it is present in about 20% of people.
Conclusion
Regardless of all these factors, it is important to remember that your comfort levels matter when you are considering nursing shoes. Ensure you consider all these factors, whether you are buying lace-up shoes or not.