Did you know that some studies reveal an average nurse to walk almost 3.5 miles every day, especially when they are working a shift of 10 hours? Yes, nurses never seem to sit down really – therefore, having a pair of comfortable shoes is essential to the job. Particularly, it gets essential since the environment they work intends to have oily or wet floors.
However, these shoes are not just for nurses; anyone can use them, such as those that regularly engage in sports, as well as hikers and people who stand for long hours. Wearing the right pair of non-slip shoes is essential because it helps to reduce the inherent risk of accidents when you are doing activities.
What are slip-resistant shoes?
When we are talking of slip resistance, it is surfaces or shoes that protect you from injuries that are caused by slipping regardless of what the surfaces contain, such as grease or water. It will reduce the chances of accidents, even though you might accidentally slip at some point.
All slip-resistant shoes have an element in common – good tread patterns on the soles, as well as the soles being comprised of rubber, which gives you a better grip when you walk. The other common materials used in the making of the soles are PU and PVC.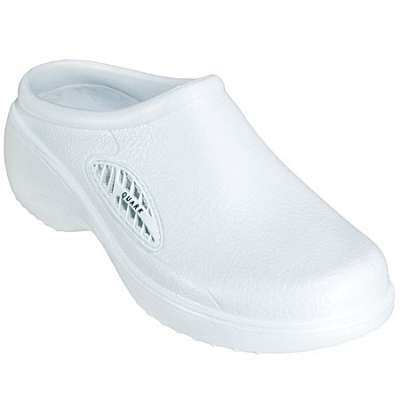 Keep in mind that the best non-slip shoes will have excellent and intricate treads, as well as soft rubber soles. They do not need to have thick soles necessarily, as the type of material in use and the treads will determine the slip resistance.
Is there a difference between slip-resistant and non-slip shoes?
There is no difference between both shoes. Their design is meant to assist people when they run or walk, as well as when3 working on different surfaces that are slippery without the risk of falling and slipping. Both terms are also used within the same context.
As long as the shoe you are using gives you excellent levels of traction, it is considered a non-slip shoe. The grooves need to be as deep as possible to allow your feet to have a better grip on the ground, as this will give you greater levels of stability, compared to flat-soled shoes that have no treads. The sole is also comprised of rubber, PU or PVC of high quality (although rubber is the best).
Also, the treads can influence the gripping ability of the shoe, especially if you are on wet floors. The treads of the best shoes tend to have round or circular designs or even multi-patterns.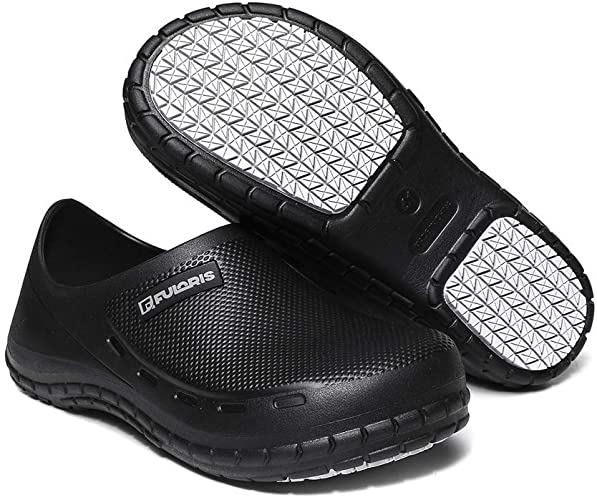 What is the importance of these shoes?
Aside from preventing or reducing the chances of injuries due to slips and falls, there are additional benefits that you will get. These include:
Prevent any chances of pain developing in the back, knees, hips, and ankles
Help you to maintain correct posture throughout
Allow a range of flexibility and movement in your feet.
These shoes will also help to enhance your endurance and speed levels as you work, especially because nursing is a profession that demands a lot from you physically.
General qualities to look for
Must have solid treads and be durable
Should guard the socks and feet from spills and fluids
Easy to maintain and clean
Have ample back support
Lightweight
In the case of personal considerations, you should ideally assess the following criteria:
The weight of the shoes
The personal biomechanics (this relates to arch support and biomechanics)
How often you will need new shoes
The fit of the shoes
Current or past injuries you have
Personal biomechanics
The problem with the arch area of many nurses is that the feet tend to roll as they move around. This is easy to correct using your shoes, but it is important to take some time to know the correct arch support for their bodies.
For instance, if you have problems with your arch, you need 'motion control' shoes, and if your arches are of normal height, select 'stability' shoes. If you have high arches (which is rare), then you will need shoes that have extra cushioning. Besides, there are specialized orthotics that can help you if you have severe bunions, flat feet, or legs that have different lengths from the standard.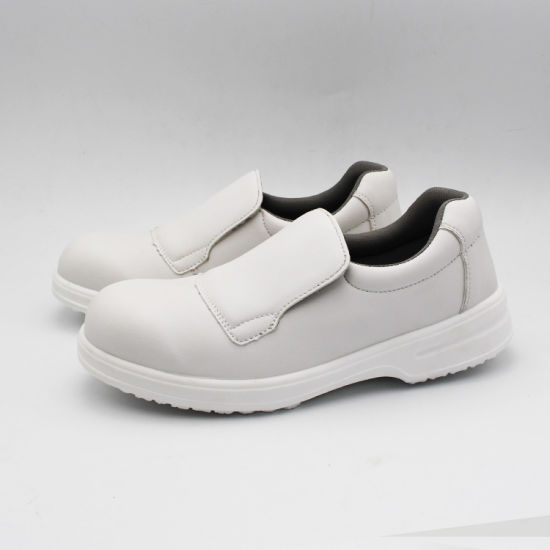 Support levels
You know you have a great pair of nursing shoes on your hands if they fit you properly and give you unparalleled support. They will reduce any stress on your feet, knees, and back, especially since you are continuously on your feet. It also helps to have compression socks as well.
Weight
If you are wearing heavy shoes, you will get tired after some time, so it is important to wear lightweight ones. It also helps if the shoes have extra padding on the collar and tongue (in the case of lace-up shoes), as well as the forefoot, mid-foot, and heels.
What are some shoes you can use?
In the field of nursing shoes, these shoes are trendy:
Clogs – these are durable, very easy to put on, and very comfortable. They also protect the feet at all times and will meet all the needs you have regarding your footwear.
Sneakers or tennis shoes – these offer you practicality and comfort at the same time. They will always give you excellent stability levels, full protection of the feet, and a non-slip sole. If you happen to work in a fast-paced environment that requires you to run, such as the ER or ICU, you will find them particularly helpful. They can also be useful for male nurses since they might not want the other shoe options.
Slippers or slip shoes – they are great when you are primarily working in an operating room since you must make rapid changes into sterile shoes. However, bear in mind that the toe section and back must be closed while having non-skid soles and low heels.
Conclusion
Having the right pair of nursing shoes for you is essential, and all nursing shoes are non-slip due to the demands of the job. Make sure to choose them according to the criteria above carefully – and you will have a pair that you enjoy using for a long time.