Deciding what shoes to wear at work is critical and can have a direct effect on your comfort, focus, health, and productivity. People who spend the majority of their time standing or walking understand the importance of comfortable footwear. Some jobs with more physical work can cause a person to feel pain all over their body. From back pain to feet and joints, the pain feels never-ending and increasing over time. The next thing you know, you'd become an uncompetitive and non-productive employee. If you don't want that to happen, start investing in high-quality shoes. However, if you fail to find such shoes and continue buying uncomfortable but stylish shoes, you might have to face the music in the future. One of the most hard-working professions is healthcare nurses. They spend up to 12 hours helping the doctors heal people. Such a level of commitment and determination can only be provided when nurses feel safe and healthy.
If you ever encounter a healthcare worker or anyone with an extremely exhausting job, ask their opinion about the suitable footwear for work. They'll surely have solid opinions on the best brands or places where you can find pretty comfortable shoes. There is a long list of features that the right footwear should offer. If you don't know about them, don't worry, we've got you covered. We are reviewing Sas nursing shoes for you. These shoes are very comfortable and cute. You can consider buying them if the shoes fit your criteria. Buying the shoes would be great, but a little research before deciding will also help. So, let's learn about one of the comfortable footwear.
SAS Women's Freetime Sneakers: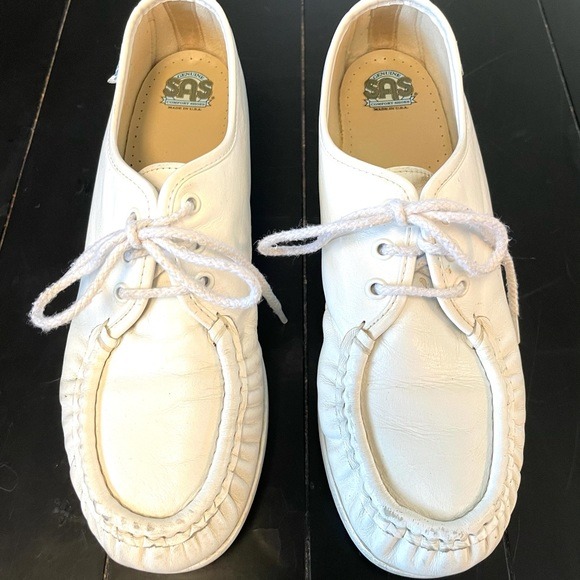 Commonly known as SAS, San Antonio Shoemakers is a great footwear manufacturing company. It was founded in 1976 by Terry Armstrong and Lew Hayden in San Antonio, Texas. This footwear brand takes pride in handcrafting shoes for women and men. Being a family-owned business, SAS manufactures shoes in Texas, USA. However, some footwear operations like hand lacing and hand stitching are done in Acuna, Mexico. SAS shoes can be bought online easily. It has a variety of comfortable and attractive shoes. Here, we have reviewed one of the shoes from SAS that can be used by nurses. Some interesting features of these shoes are given below:
Material:
The material of any shoes is the embodiment of their performance and durability. Cheap shoes are often manufactured by using low-quality material with no regard to customers' health. However, you won't find this issue in SAS shoes. According to the seller, these shoes are made of 100% leather. It consists of up to 1-inch heels for support. To remove moisture, a removable footbed of CoolStep is included. Furthermore, shock absorption and support are provided by the TRIPAD technology comfort system. These features combine to ensure maximum comfort and support. As a result, you get to stay calm and relaxed all day at work.
Size:
If you are struggling to find shoes that fit perfectly, consider trying out SAS shoes. The toe box is wide and has plenty of space. Moreover, these shoes have sizes available from 4 to 12 (X-wide). You can refer to the available size chart to check your size. As per the sellers, these shoes are true to size, so; interested individuals are suggested to buy their usual size. Shoes that fit perfectly well are the only ones that provide the utmost comfort. If you want to experience comfort in the shoes, you have to be very specific about the size. When you wear shoes with the correct size and maximum comfort, you'll feel like walking on the clouds.
Available Colors:
When it comes to colors, these shoes are versatile. You can buy them in your favorite colors. All colors are pretty and add more grave to the design of shoes. They are available in seven different colors, including:
Black
White
Mocha
Navy
Charcoal
Bone
Teak
These colors allow users to think creatively and choose the most suitable color. You can match them with your scrubs to show them off daily. A colorful pair of shoes should not always have to look boring. You can have elegant yet attractive footwear at the same time.
Design:
Prioritizing style over comfort is never a wise choice. But what if you have both features? That')/ be just perfect! The design of these shoes is one of their unique qualities. The leather of these shoes comes with handcraft construction. Even though they are not like the fancy shoes out there, you'll still find them unique. The design of these shoes contains a certain charm, even in their simplicity. All in all, this pair of SAS nursing shoes is pretty impressive in terms of their design.
Pros: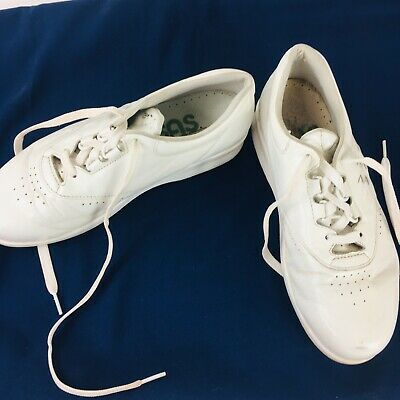 Exceptional Comfort Level:
These SAS shoes will take users' comfort to a whole new level. You will be pleased to be able to walk around at your workplace. Your feet will relax and get the treatment that they deserve. Truth be told, healthy and relaxed feet are the purpose of these shoes. You can try it yourself and wear it. Walking, running, or standing for long hours can become easy as a breeze. Other than comfort, the shoes are available in numerous colors and have a beautiful design. It lets users decide which color they want, unlike limiting their choices with white or black-colored shoes.
Great value for the money:
For some people, buying nursing shoes seems to be an expensive investment. However, the benefits that you'll get for the money are worth the price. These shoes allow users to do the hardest parts of their job without feeling exhausted. During the entire day, the feet remain at ease. Furthermore, these shoes are made of high-quality leather. It indicates that the item will last long. Therefore, the price is high because the comfort level is high. We would suggest buying good-quality nursing shoes even if they seem expensive.
Excellent Fit:
It is remarkable how well the shoes can fit your feet. You can read about the customers' reviews to see their happiness. As the seller stated, the shoes are true to size. Therefore, finding the right shoes for your feet would not be a problem. Thanks to their excellent fitting, these SAS shoes can reduce stress and bring you to your feet. No matter how comfy, soft, and light the shoes are, if they don't fit well, you can't enjoy them.
Cons:
Most of the customers were happy and satisfied with their purchase. However, some users were not happy. Even though most reviews are positive and encouraging, some were disappointing too. It's important for you, as a potential buyer, to look at both sides of the coin before placing an order. Therefore, in this section, we will discuss the main issues and why customers did not recommend the shoes.
Flimsy:
Among numerous customers' reviews, a few pointed out the short life of these shoes. The shoes did not last long for many users. Even though the comfort level and size were on point, they had to buy another pair of shoes because these couldn't last long. Shortly after using the shoes, some customers' feet started hurting. As a result, wearing them became difficult, and eventually, the consumers had to replace them.
Fitting:
One common concern that was raised by some users was the fitting. They found that the shoes were tight on their toes. It caused a lot of discomfort, pain, and even swelling in some cases. However, most of the customers praised the perfect fitting; some were disappointed too. Another concern was about the shoes being too large/wide. You can avoid such issues by doing thorough research about your perfect size. As long as you are getting the true size of your feet, you're good to go. However, the feet could get hurt badly, and all your money could be wasted if the size gets messed up.
SAS Nursing Shoes – FAQs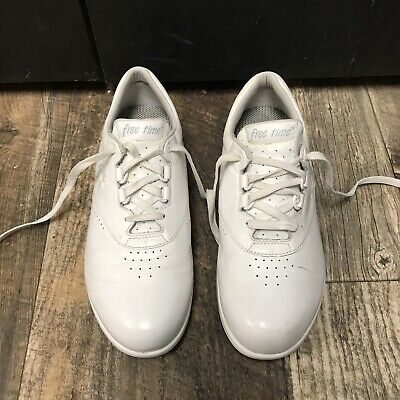 Do the shoes run large?
No, they don't. These shoes are known for being true to size.
What's its heel-to-toe drop?
The height of the heels is 1 ¼, and for toes, it is ½ inch.
Are these shoes available in black color?
Yes, they are.
Are these shoes slip-resistant?
Based on the performance, these shoes seem to have great slip resistance. Not all customers will like their design, but the slip resistance is on point. Wearing them at a hospital or other workplace where floors can be messy is a good option and wise decision. You can walk smoothly without the fear of falling.
Are they available in different widths?
Yes, they are.
Are these shoes unisex?
This version of SAS shoes is specifically for women. However, SAS has similar footwear for men as well. It's called Time Out.
Is the slip resistance good enough to withstand oil/ mayonnaise?
While they provide good slip resistance, the shoes are not certified slip-resistant. It's better to be careful on such surfaces where the floor could get extremely messy and slippery.
Are these shoes made in America?
Yes, they are made in America. SAS is a Texas-based American company.
If the shoes don't fit well, what shall I do?
You need to see the terms and conditions of the seller that you choose to buy shoes. Read it thoroughly before purchasing to avoid any mishap after buying the item.
Are these shoes water-resistant?
No, they are not. They contain standard leather uppers and a vinyl or rubber sole.
Our Verdict:
The SAS Freetime shoes for women can be your best choice for nursing shoes. These full-leather shoes are perfect for volkssport walkers and people with stand-up jobs. These shoes are well-cushioned, and their performance is exceptional. Thanks to their design and structure, which was created especially for the ultimate ease of nurses, these shoes are flexible and comfy. Numerous long-term walkers are super delighted to have these shoes and recommend them to everyone. Hence, we would suggest that you should consider giving them a shot. The price may seem a little high, and you might think the money is being wasted, but that's not true. You'll realize the actual worth of SAS nursing shoes once you try them. It'll be difficult to go back to other types of uncomfortable shoes. So, pay the price because your feet deserve a little extra attention and soothing treatment. With these shoes on, you'll perform better at your job with reduced lethargy and fatigue.
Having said that, you need to be careful with your investment as well. These shoes have won the hearts of numerous users but disappointed some as well. You can do further research on the reviews to see if it helps. Look carefully for the right size before buying. We don't want you to regret your purchase just because of a lack of information.
Conclusion:
Whether you are working as a nurse or in a clinical setting, the importance of wearing comfortable shoes never goes away. If you want to be on the top of your field, you cannot afford to suffer from body pain and fatigue. To perform excellently and accelerate your performance, even more, you must be comfortable and relaxed. Nursing shoes are made just for people like you. They are designed to reduce your body stress and let your feet breathe joyfully. A relaxed and well-rested employee is much more productive than the one with health issues. Hence, don't let your health become a barrier on your way to achievements. Buy good-quality comfortable shoes like SAS nursing shoes to make your life easier. With these shoes, surviving 12-hour duties at the workplace while frequently walking and running will seem like a much easier task. Several people are already benefiting from it. You can see the reviews about customers praising these shoes.
No matter how difficult the job is, we all want to look professional and elegant at our workplace. Always prioritize comfort over style, but having both in single shoes would be perfect! You can rock your outfit with beautiful shoes while experiencing maximum comfort. With a wide range of colors and beautiful designs, these shoes are a convenient choice for you.