You might think of CrossFit as excruciating workout sessions, camaraderie, and gear. Undoubtedly, Athletes who participate in CrossFit are very particular about their sportswear. This is the reason why Reebok goes out of its way to create the best shoes for sports activities to keep its customers happy and satisfied. The most recent introduction in the nano line was the 9th edition which perpetuates their long-term superior status in the shoe game for CrossFit. Since the Nano 8.0 was also such a great hit, they decided to upgrade it and make it even better. With some newly added technology and combining all the old features of the nano 8, they created a superior shoe.
It is everything the predecessor had, only now it has additional features. A lot of work, effort and time went into research based on the development of this shoe product. Reebok mostly tried rounding up athletes and avid gym-goers to give their constructive criticism on the best-selling shoes in the sports market. The nano 9 has a wide toe box that allows your toes to curl and move around while you are lifting heavy weights and making landings. In addition, the logo designers in the shoe make the shoe seem more slim, fast and gives it a touch of a sneaker style.
They have kept a ripple pattern, and the outsole is MetaSplit, although some changes have been made to improve the quality. Such as added flexibility and traction. These shoes are smooth to the touch and have a classic look. It has maximum cushioning in the midsole, and the sole is decoupled, so it can help make you run better and faster.
The Reebok Women's Nano 9 vs The Reebok Women's Nano 8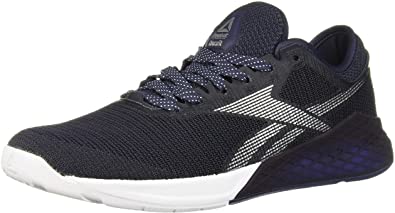 The Reebok Women's Nano 9 cross-training shoes are a must-have for going to the gym. They certainly do not disappoint. The outsole is flat and has more area of contact with the ground so to support your balance and provide strength. You will feel as if you are attached to the base when you are doing squats because of how well-defined the outsole edges are. You can move your feet in the ground without them rolling over or your foot sliding. They have also incorporated their popular high-tech flex weave material, which provides a significant facelift to the trainers. Comparing that with the Nano 8, the shoes feel much slimmer. However, also being firmer both at the same time, and they contain the foot exactly as we desire for our comfort when it's time for some lifting to be done. The Reebok Nano 9 has a higher weightlifting rating than the Nano 8.
Some of the features of the Reebok CrossFit Nano 9 for Women
They come in a wide variety of 13 different playful colors you can get to choose from.

They are true to size, and you don't have to worry about them being too snug or too broad for you.

They can be used for CrossFit, gyming, and cross-training.

They have a heel drop of 4 mm.

The advantages of The Reebok Women's Nano 9

They are highly durable and have a great upper and sole.

They are wide in size, which makes for a comfortable toe box so you can feel at ease while wearing them during training.

They have excellent padding.

The heel has a deep secure sock.

There are plenty of colors to pick from when buying these CrossFit trainers
The disadvantage of the Reebok women's nano 9 for women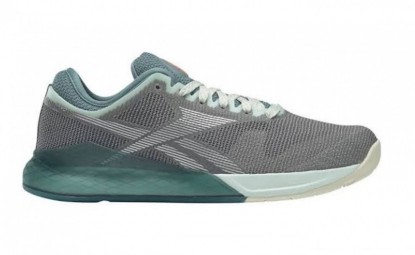 Unfortunately, they don't have an excellent grip and aren't slip-resistant on wet surfaces.

The upper material sometimes scrunches up in the forefoot if the shoe is laced tightly.

If you're not careful, the outsole may start to come apart after a couple of weeks of constant use.

The nano 9 is a bit heavier in comparison to other training shoes
Why You Should Buy the Reebok Women's Nano 9 Crossfit shoes
They have incredible versatility and are well-beloved and favored amongst many trainers.

they provide you with comfort in every possible way and has an incredibly smooth feel

it is described as one of the tip cross-training shoes for weightlifting because of how stable they make your feet feel

It has undergone numerous test, and true to its claim they prove the shoe performance excels at short distance running because how flexible and responsive they have proven to be

The midsole wrap is supportive and provides stability in lateral movements, even more so than other CrossFit shoes.

The shoes are considered to be at an incredibly low risk of getting damaged. This claim is made by Rich Froning himself, who spent most of his time for many months testing out these shoes.

If you're a fan of rope climbing, you will be glad to know that these shoes are great dir for rope climbs. They can grip the rope quite well.

It brings back the vector logo, which creates an aesthetically pleasing appeal to the shoe.

The flex weave material creates such ease and comfort and allows your feet to breathe.
The Final Verdict
The Reebok brand has made all the right decisions when it comes to the much-awaited Nano 9. It is a considerable upgrade from the previous training shoes – the Nano 8. They took an already highly praised and accomplished shoe and added more comfort, stability, and flexibility to it. These shoes have just the right amount of strength and cushioning to offer their buyers.
With that being said, this is why it is considered such a versatile shoe because you can wear them to do anything ranging from jumping, doing squats, lifting weights, climbing rope, going for a jog, or even taking an evening or early morning stroll around the block.
So What are you waiting for, ladies? Get rid of your old trainers and get yourself an all-rounding pair of the latest Reebok's Nano 9.