Introduction
Are you looking for high-quality shoes to fit your morning running routine? If yes, you'll be glad to know that today we will discuss shoes from one of the most renowned brands in the world. These shoes are called Glycerin 17 and they are presented by Brooks. For those who don't know, Brooks has been in the shoe business for over a century and this brand is trusted by millions. Let's discuss some of the most prominent features of Brooks women's glycerin 17.
Overview – Brooks Women's Glycerin 17 shoes
These shoes are made up of breathable mesh and synthetic rubber soles which ensures that you don't experience some common issues such as burning feet or excessive sweating. Glycerin 17 comes in 7 different colors that would easily go along with any dress color and type.
In terms of comfortability, these shoes consist of DNA loft cushioning on the footbed to keep your feet protected at all times. In addition to this, it also makes your run smooth and more effective.
Unlike other shoes, you won't have any complaints regarding the fitting as Glycerin 17 is designed using 3D printing technology to always ensure a perfect fit.
Now that we've discussed the specs of Brooks women's Glycerin 17, it's time to highlight some of its pros and cons.
Pros and Cons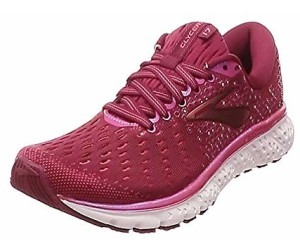 Pros
Here's the list of all positive factors about Glycerin 17.
Comes in multiple sizes: Brooks Women's Glycerin 17 shoes come in 29 different sizes. So it's no longer an issue if you are worried about not finding the right fit. The sizes cover almost all foot types and age groups.
Comes in multiple colors: These shoes come in 7 different colors. We agree that some brands offer more color options but 7 is still good enough.
Washable: The fabric used for manufacturing these shoes is suitable for washing. Don't worry if you just ran on a muddy track. Just give these shoes a quick wash and they will be as good as new.
Wide toe box: Some buyers often complain that a narrow toe box is not only uncomfortable but painful. If you're one of those people, here's some good news for you. These shoes come with a wide toe box that will allow you to easily bend and move toes if needed.
Shock absorption: This feature reduces foot stress while jogging, running, and jumping. No matter how hard you go on your feet, these shoes are guaranteed to keep your feet comfortable and reduce the risk of foot strain.
Trusted brand: Brooks is an American shoe company that started in 1914. That right, they have been in the shoe business for over 100 years. No wonder they are recognized as one of the best shoe companies in the world. Their products are loved by millions of users around the globe and they are known for their high-quality items.
Refund policy: Unlike many other shoe brands, Brooks products are easily refundable. Just make sure that the shoes are still in unused condition. Moreover, some vendors may require additional fees to refund the product. It's best to discuss these details with the seller beforehand.
Cons
Sizing issue: Some buyers complained that they received an incorrect size. To make the matter worse, the company doesn't offer good customer support and makes it impossible for the buyers to ask for a refund.
Not suitable for professional runners: Brooks women's glycerin 17 may not be the ideal pair of shoes if you're a professional runner. It's missing out on some very important features that are required for long-distance running.
Not slip-resistant: Buyers complained that the shoes are not slip-resistant. Some even slipped off on wet surfaces which resulted in minor injuries. You must be very careful while running in these shoes and try to avoid tiled or other slippery surfaces.
Very expensive: These shoes start with the price tag of $129 and go as high as $239, making them one of the most expensive running shoes by Brooks. For some buyers, the price of the product is often the most important factor. These may not be the best pair of shoes if you're on a budget.
Poor customer support: Some buyers complained that it's almost impossible to get hold of someone from customer support. Some even mentioned that it took days or even weeks to receive responses to their queries. It can be frustrating for buyers who receive an incorrect or defective item and are willing to get a refund or order replacement.
Frequently asked questions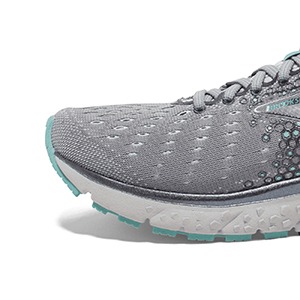 Q. What are these shoes made up of?
These shoes are made up of breathable mesh and rubber soles.
Q. How much do these shoes weigh?
As mentioned on the sales page, these shoes weigh roughly 1.2 pounds. This is less than the average weight of running shoes which is 1.6 pounds.
Q. Are these shoes suitable for hiking?
No, these shoes are designed just for neutral runners. For hiking, it's important to wear slip-resistant shoes. This would ensure that you maintain the grip while hiking. Unfortunately, these shoes are not slip-resistant and should not be worn for hiking purposes.
In addition to this, these shoes may not be durable enough to withstand the foot stress caused by hiking. This may result in deteriorating the quality of these shoes.
Q. Where are these shoes made?
Brooks women's glycerin 17 shoes are made in Vietnam.
Verdict – Should you Buy Brooks Women's Glycerin 17 shoes?
Brooks women's glycerin 17 has an overall rating of 4.5 stars out of 5 and we agree with it. Although expensive, these shoes consist of excellent quality and features. In terms of comfortability, the footbed consists of a thick layer of DNA loft cushion that prevents your feet from any sort of stress. The only negative factor about these shoes is their price but the quality and brand name make up for it.