The nurses and other healthcare workers work tirelessly to ensure the right medical services are provided to the patients admitted to the hospital. They are on their feet all day, they keep running here and there to take care of the ailing patients and those who get admitted to the hospitals and reach out for medical help. The healthcare workers are working tirelessly to meet the requirements of their patients so they need the right footwear for their feet so they can support them all day long, comfortably. A good pair of shoes will not only protect their feet but also provide support for their legs and prevent back pain. So we dug deeper to find out the best shoes for nurses.
Overview on On cloud stratus
This amazing brand was first started in 2010 by David Alleman, Oliver Bernhard, and Casper Coppetti in Switzerland which is now one of the most loved and well-known brands, referred by athletes, runners, and healthcare workers. They have a variety of collections having futuristic design and impressive elements and one of them is On Cloud stratus.
The On Running Cloud stratus is a running shoe that is different from other On Running shoes, not only from an aesthetic standpoint but also in how it feels and responds while running. It serves as an excellent option for healthcare workers. All the top features and specifications make this particular model a much preferred and sought-after. The features and elements included in this shoe make the feet feel very much comfortable and provide a relaxing field to those who are wearing it.
Now let's get into the pros and cons of On Running Cloud stratus:
Pros:
Extremely light in weight
Ideal for indoor focused runners and athletes, especially healthcare workers
Flawless grip and flexible
Sole provides excellent stability along with great comfort
Breathable mesh and adjustable laces
Perforated heel area
Cons:
Laces sometimes get untied while walking or running
Cushioning is not soft unlike other On Running sneakers
Stiff sometimes and are for light runs only
On Running Cloud stratus Shoes Fit and Design: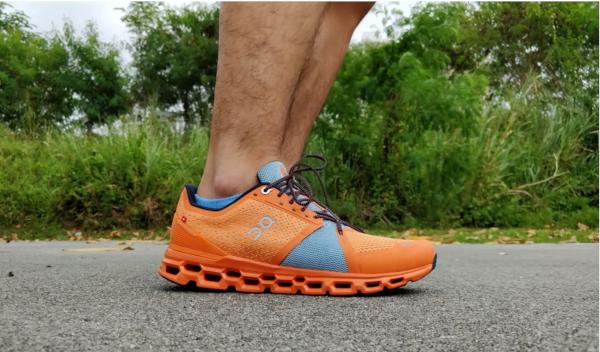 The sizing for all On Cloud's shoes is general but they do feel roomy because of the one-piece construction.
Upper:
The upper of the shoes are engineered with mesh sock that makes them sung around your feet comfortably and warmly. The upper mesh is extremely breathable. The mesh sock feature is first from the On Running Cloud collection. Whether you are wearing these in a humid environment or warm, your feet will stay cool in these breathable meshed upper. The mesh is also stretchy and accommodating of wider feet, especially in the toe box. The upper is made up of a variety of materials, varying in tensile strength, stretch, and support.
The holes that the laces loop through in the sideband also allow for a quick and easy lace fastening. The lacing is also comfortable but it stops mid-foot sometimes and doesn't help in securing a stable heel and ankle fit. The padding around the heel is soft which gives more flexibility in the specific area without any unwanted rubbing.
Inner:
The inner of Cloud stratus has a consistent and neutral arc that feels extremely comfortable and is ideal for nurses who are always on the go from one place to another.
Midsole:
The amazing CloudTech elements work together to form the best cushioning of these shoes. This cushioning makes these shoes excellent for long-distance running but it may not be the ideal one for professional runners or athletes as they may feel stiff at some times. Between the CloudTech midsole and the upper, On added a thin layer of thermoplastic polymer dubbed SpeedBoard. As the CloudTech midsole tubes compress under the impact, the SpeedBaord is meant to load up like a spring, helping you push off with a maximum rebound
The midsole provides a more stable durable feel to your feet as well as your posture.
Outsole:
The outsole is made with the amazing new On Cloud's Helion technology which is a super foam that provides a really lightweight, comfortable, and also responsive ride. Though it's different from other shoes of On Running Cloud's collection but just like the name, it really provides the running on clouds feeling.
Combining with the Speed Board, it helps in transferring the energy to forward momentum which is much faster than a shoe with a flatter sole. The tread also provides a grip and traction which allows you to change the direction and momentum in a split second.
Weight:
It weighs 282g, the Cloud stratus is 8g lighter than its predecessor, and a very lightweight running shoe, you will be able to run hard and far in a shoe this light.
Toe box:
The toe box of Cloud stratus is of medium width and feels nice and airy due to its breathable and meshed upper material.
Cloud stratus best for nurses:
Nurses don't have an easy job and your feet are the main support that keeps you on standby and active all along so having suitable and comfortable footwear is extremely necessary. On Running Cloud stratus are one of the most preferred shoes by healthcare workers because of their extreme flexibility, breathable design, durability, stability, and comfort. They are ideal for nursing activities and are lightweight. They will be your support companion throughout the shifts. They provide excellent support with their cushioning and prevent any back, leg, and ankle pain.
Conclusion:
On Running Cloud stratus have lots of color options to choose from. The material used in the making of this shoe is vegan leather and the fabric is very breathable and the overlay is synthetic. This particular combination ensures longevity and comfort. To provide extra support and cushioning feel dual-density insole is included. The dual-density insole could be removed if the person is not willing to have it.
So if you are a nurse or other healthcare worker, working on the slippery floors of a hospital, we guarantee that these are the best shoes for you.