Nurses exert a lot of stress on their feet, from racing between rooms to retrieve equipment to standing alongside a patient to check on his status. But what if nurses want to sit down and rub their tired, hurting feet? Indeed it's difficult for them to have a good bedside demeanor. This tension appears to be greater for nurses who have flat feet.
Therefore, when it comes to nursing shoes, there are two main factors to consider:
Comfort

Support
Of course, these two factors are primary objectives for nurse shoes, but durability and slip resistance are also significant features. After all, these amazing healthcare workers are on their feet for 12 hours a day.
How to define an ideal nursing shoe?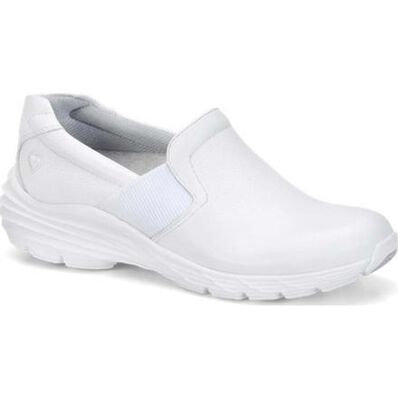 Several designs and shoe brands are available for nurses to select from, but the most crucial consideration is that the shoes are designed specifically for the nursing profession. A perfect nursing shoe provides the following benefits:
Comfort is the basic demand for a quality nursing shoe. Nurses are in constant motion and on their feet all day, so they need shoes that can handle that amount of activity smartly. Choosing an insole is the right option to avoid injuries or tightness and protect from foot and back fatigue.

Safety is the second most important factor while selecting a nursing shoe. It is essential that nursing shoes are anti-slip, allowing these healthcare professionals to walk and work in slick conditions. In a nursing setting, floors may become moist with fluids, and the last thing you need is to lose your balance at a vital moment. Working with the correct quantity of anti-slip gives you the confidence to work without the worry of falling.

Simplicity with style is also an important quality of nursing shoes. Nursing shoes demand that flairs and laces do not become an issue.

Cleanliness is the basic need of the nursing profession, and it is very important in a hospital to use clean and stainless shoes. Shoes made from stain-resistant material that is easy to clean also are highly appreciated.
Nurse Mates Align Harmony Women's Slip-Resistant Slip-On Shoe: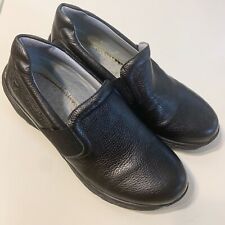 Nurse Mates is a brand that caters solely to the nursing community, and they have researched what is required for nurses in terms of footwear, scrubs, and other items. They understand well that what it is like to be on your feet all day. It is quite easy getting a comfy, timeless style with Nurse Mates with a small heart on the side to make you aware that they're Nurse Mates.
The Harmony is part of the Align line that provides you with a corrected orthotic to keep your foot in the right place. Because of their structure and form, they may be classified as shoes for walking and standing all day. Although some individuals like to go up a size to accommodate their comfort needs, they fit true to size.
Nurse Mates Align Harmony Women's Slip-Resistant Slip-On Shoes are a one-of-a-kind orthodontic with Align technology that ensures an equal distribution of body weight between the flat feet. The arch is quite supportive and precise. They're even appropriate for all-day strolling and are available in various sizes and two standard colors, black and white.
Prominent features of Nurse Mates Align Harmony Women's Slip-Resistant Slip-On Shoes:
Align with corrective orthotic Nurse Mates Align Harmony Women's Slip-Resistant Slip-On Shoes have slip-resistant EVA bottom, and its heel height is 1.5 inches. Some of its prominent features are as under:
The uppers are made of full-grain leather and are stain-resistant. A man-made footbed and a slip-resistant outsole are included in the Nurse Mates Align Harmony, so they'll look beautiful for a long time.

This is a full-length slip-on shoe, and there is nothing to worry about laces getting in the way or becoming tangled. The top of the shoe is elasticized to make it easier to put on and take off while also keeping it tight when worn.

To keep it on your foot throughout hectic days, a full shoe heel is also offered.

The shoe sole is made of EVA rubber, with extra rubber inserts on the bottom to offer the optimum anti-slip performance in wet conditions. There's also an extra EVA insole that may be taken out if needed.

The ergonomic Align orthotic by Nurse Mate is included with Harmony to help place the foot in an ideal position. It provides more support, correct alignment, and better stability to your feet.

The stretch goring on the Nurse Mates Harmony Slip-On makes this supporting style simple to slip on and off. These Nurse Mates Align Harmony Women's Slip-Resistant Slip-On Shoes have high-density foot foam to assist, absorb shock, and provide support to nurses who spend most of their work hours on their feet.
Pros & Cons of Nurse Mates Align Harmony Women's Slip-Resistant Slip-On Shoes: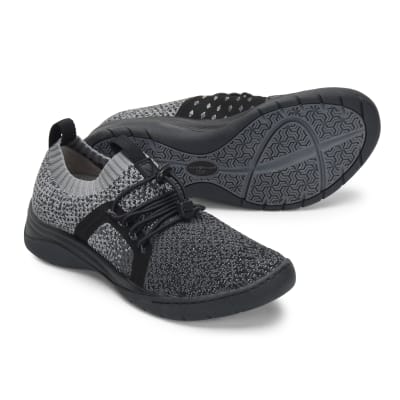 PROS:
Made from full-grain leather

Supportive removable insole

Corrects body alignments

Ideal for flat feet

Slip-resistant
CONS:
Slightly more expensive than other nursing shoes

Slip resistance could be better
Conclusion:
Nurse Mates Align Harmony Women's Slip-Resistant Slip-On Shoes provide comfort, durability, and ease to be on your feet for such a long time. It is suggested that you start by wearing them for a few hours a day and work your way up to wearing them all day. These are the best shoes for a nurse who is concerned about their appearance. They also include robust, elastic goring on the sides that allows your foot to bend while you walk. They have a great style and shape and are still quite functional in a typical nursing environment.
A little extra care while choosing the perfect size for you makes these shoes a sage choice that relieves you from physical pain and mental tension. This pair of shoes is ideal for fallen arches and provides complete support to make flat feet the very last thing standing in the way of your hard work and determination.