Nurses at Wisconsin have to renew their nursing licenses every two years to avoid termination of practice. The state currently has around 95,000 licensed nurses. This proves just how much progress the state has made in the field of medical nurses and healthcare. A proper license helps the nurses work with pride as licensed and qualified nurses, and they can hold the position with pride.
A licensed nurse gives the impression and assurance that you as a patient will always be in the care of skilled professionals. While practicing as a nurse, you must keep your license always up-to-date. Doing so will ensure that you can keep your skills checked and be entitled to being a qualified nurse.
Getting a Wisconsin Board of Nursing license
In Wisconsin, nurses are licensed by the Wisconsin Department of Safety and Professional Services (DSPS). Candidates wishing to apply for Registered Nurse and Licensed Practical Nurse should complete the necessary education hours before renewal.
Alternatively, they should have completed a course equivalent to pre-license education.
The Wisconsin Board of Nursing also looks for candidates who hold a degree from an ANCC-accredited nursing school. You will need to apply for the qualifying exams from their official website.
Remember that you have to apply for the exam before the actual exam. So, keep yourself updated while you are in the final months of your nursing education. If you appear in the exam and get through, you can be a licensed nurse.
You should ensure that you have the adequate knowledge required for nursing and the related fields. This will keep your license free of danger and prevent you from getting any penalties for wrong procedures.
While renewing your nursing license for the first time, you should have a minimum continuing education (CE) of 1 hour on HIV/AIDS.
read more: Nurse Salary in Wisconsin
CE requirements for Registered Nurse (RN) and Licensed Practical Nurse (LPN)
Under the Wisconsin Board of Nursing, RNs and LPNs do not require continuing education (CE) to renew their licenses.
CE requirements for Advanced Practice Nurse Prescribers (APNPs)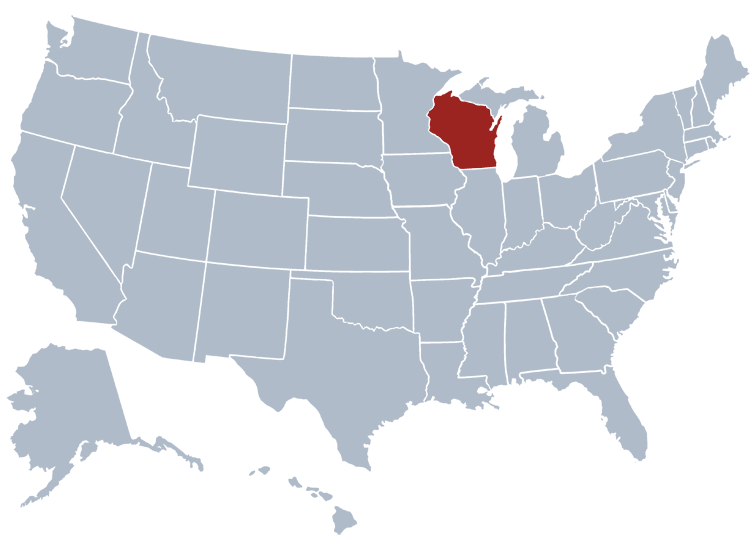 APNPs require 16 contact hours of continuing education in therapeutics or clinical pharmacology. A minimum of two CE topics must be practical and valuable for nursing practitioners. They are also required to hold a national certificate.
The Wisconsin Board of Nursing accepts course certificates from providers that the Board approves.
CE requirements for Advanced Practice Registered Nurse/Certified Nurse-Midwife (APRN-CNMs)
APRNs and CNMs do not need requirements other than a national certificate in Wisconsin.
Cost of renewing a nursing license in Wisconsin
Renewing a nursing license under the Wisconsin Board of Nursing will cost you around US$ 60, excluding other charges.
Nursing license renewal requirements for the Wisconsin Board of Nursing
FEE: Payment of renewal fees.
RES: It refers to the residency verification required for nurses living in a compact state. Those living in Wisconsin will also undergo RES.
SVY: This refers to the Nurse workforce survey under DWD (Department of Workforce Development). Nurses returning from a compact state do not require this process.
read more: Wisconsin Board of Medicine: License Lookup and Renewal for WI
How to renew a nursing license in Wisconsin
To renew a nursing license in Wisconsin, you first need to have all the necessary documents. This includes your CE requirements. You have to complete your CE requirements before the license expiry.
Next, visit a nursing CE broker website and submit your renewal application. Finally, you must pay the renewal fees, which cost around US$ 60.
Another way to turn in your renewal application is through offline mode. At Wisconsin, you can even submit your application in paper form.
To check if your application is active, you can confirm the status on the Board's website.
Renewing a nursing license after the deadline
It is not a good idea to wait for the last day to turn in your renewal application and documents, as many things can go wrong in such a process. However, nurses who have missed the deadline for license renewal will get a short extension period. This is the final chance to renew their expired licenses.
Once this period is active, you should act quickly and submit your application. Otherwise, you will run the risk of discontinuing your profession.
Obtaining a Wisconsin multi-state license
Wisconsin is one of the Compact Nursing License states. This title enables the state to issue a multi-state license. Nurses who reside in one of the compact states can practice in another compact state without the need of getting a separate license. Such a license eases the tension regarding nursing licenses, especially when moving to a new state.
If you are a licensee from another state and wish to avail a WI multi-state license, your primary address should be Wisconsin. Alternatively, you can also mention that you will move to the state in the near future. Otherwise, Wisconsin is strict in providing multi-state licenses.
This process is crucial to the smooth functioning of the nursing faculty. So, the Board will make a verification of your initial and current state of residence. They will also determine if they will provide the needful to you. You should have all your documents updated and ready before applying for a multi-state license to avoid problems.
Transferring your nursing license to Wisconsin
If you have had experience practicing as a nurse for over two years, the Board can issue you the right to work in Wisconsin. You only need to provide your updated documents, and the Board will do its job. This way, you can transfer your current license to Wisconsin state and start working without any hassle.
Conclusion
These are all the steps and instructions you need to know before applying for a nursing license renewal. The process is simple if you have all the correct, up-to-date documents.
You are now well versed in the requirements and necessary information needed to renew a nursing license in Wisconsin. Always make sure to check the Board's website for updates.
While surveying license renewal, remember to read everything carefully and answer accordingly. Once you have done that, you will be out of any trouble regarding data discrepancy.