Are you thinking of what you need to do to renew your nursing license in Hawaii? If so, we've got it covered for you. Read on as we list everything you should know for nursing license renewal in Hawaii.
It's been reported that there are 20,0000 registered nurses in Hawaii. Nursing is a noble job and can be pretty challenging at times. However, it's rewarding when people appreciate your work and benefit from it through your service.
Hawaii Board of Nursing
Every state has a regulatory body that passes or approves laws regarding nurse licensure. In Hawaii, the Hawaii Board of Nursing takes care of all these procedures, including license renewal. So, if you're planning to practice as a nurse in this State, you should get a license from this regulatory board.
And to do this, you should appear for an exam conducted by the Hawaii Nursing Board before. Note that this exam is different from the Professional Exam Committee and is conducted before this. This exam is conducted to regulate nurses in Hawaii, including registered, vocational and licensed practicals.
The board strives to provide safety and assurance to the public by certifying competent nurses. Furthermore, the nurses must renew their nursing license to continue their practice. And if it's not renewed in time, then their license will be revoked.
Nursing License Renewal Requirements in Hawaii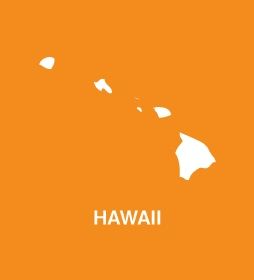 The Hawaii Board of Nursing looks after the CE (Continuing Education) records of applicants every three years. The applicant will receive a letter from the board with the updated license. And to get this updated license, you need to complete your CE requirements. In short, here are the things you should do to renew your nursing license:
You should complete your CE requirements.
Submission of application for license renewal.
Payment of fees.
You should also complete a criminal background check. Licensed nurses in Hawaii from 2017 must have their background checked by the State of Hawaii and the FBI. And this process will determine an individual's record of criminal history. Additionally, the nurses should visit Fieldprint, an identity management service for electronic fingerprinting. This electronic process will help identify the status of an individual.
Whether RN, CNA, LPN, or APRN, a nursing license will expire on June 30 of every odd-numbered year. And regardless of the issue date, it will be the same date followed by an odd-numbered year.
read more: Nurse Salary in Hawaii
Continuing Education (CE) nursing requirements in Hawaii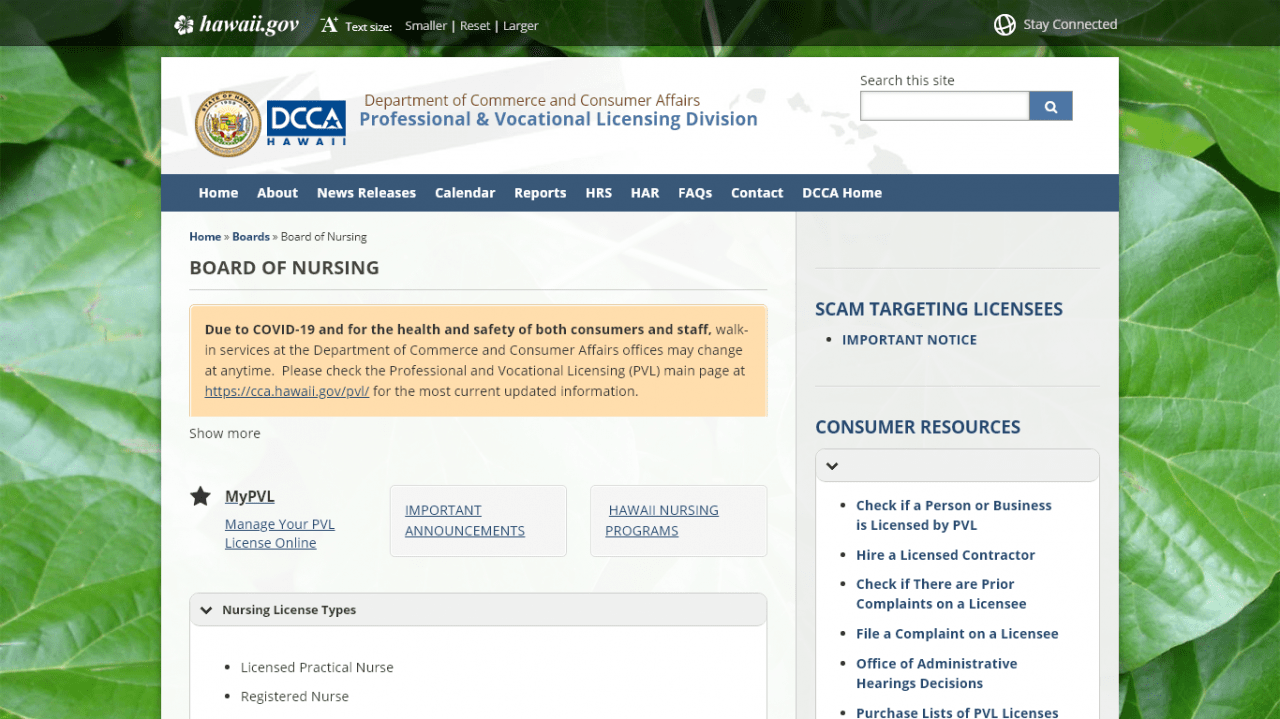 Nurses fall under four categories and have different CE requirements to qualify for renewal. It would be better to visit the official website for detailed information. Here are some of the highlighted CE requirements in Hawaii for different category nurses:
If you're an RN, your license renewal will be every two years. And to qualify for the renewal, you need to fulfill at least one of these competency requirements:
You can complete thirty hours of CE approved by the Hawaii Nursing Board.
Refresher course of didactic and clinical practice for sixty hours each.
Completion of a nurse residency program approved by the board.
Be a principal or co-principal for a research study in nursing.
Take a post-licensure academic education related to nursing practice and complete at least two-semester credits.
Within the renewal period, you should co-author or author a peer-reviewed article or book related to nursing or health.
Complete an EBP (Evidence-Based Practice) project during the two-year renewal period where you should be a lead or co-lead.
You should act as a guide or preceptor to at least one nursing student.
These are some of the highlighted requirements that you need to do to renew your nursing license. Note that you are required to do only one activity for every renewal and not more than that.
Certified Nurse Assistant (CNA)
License renewal for CNA is after every two years, and in Hawaii, CE isn't required. However, you need to work with pay for a minimum of eight hours related to nursing or related nursing services. And it should be for the last two years.
In case you have worked in a Medicare or a non-Medicaid in a licensed facility, you should present a completion certificate related to training. Plus, pass a twenty-four-hour CE training or competency training course.
Licensed Practical Nurse (LPN)
The license renewal for LPN is done every two years and should complete at least one of the requirements set by the authority. Additionally, the competency requirement is the same as the RN. You should complete thirty hours of CE courses or act as a mentor or teacher to a nursing student. The requirements are the same as RN, and you need to do only one activity per renewal.
Advanced Practice Registered Nurse (APRN)
The license renewal is every two years for APRNs, and the competency requirement is the same as RN and LPN. You can choose one of the requirements to qualify for nursing license renewal.
If you have prescriptive authority, you need to have thirty contact hours of CE. Additionally, dedicate eight hours to pharmacology, and it should be related to your clinical practice and be board approved.
Additionally, you should do only one activity for every renewal and shouldn't be more than that. Furthermore, APRNs must have national certification during renewal.
Furthermore, if you're wondering if the Hawaii Nursing Board recognizes NetCE or not, the answer is yes. The board accredits it, and you can complete some education requirements from courses offered by the NetCE.
read more: Hawaii Board of Medicine
Conclusion
We hope that this article was helpful to you in sorting out the renewal path for your nursing license. There aren't many options for CNAs but to follow the requirements set by the authority. RN, LPN, and APRN have several options to take in and decide on. It is an opportunity for you to choose one that is convenient and suitable for you. So, don't panic but be calm and decide on the options that you can take.