Do you have a passion for helping human beings? Are you emotional enough to feel the pain of people who are homeless? Can you imagine the pain through which parents go through whose children left them in old homes? If your answer to the above questions is yes, you can become a social worker. Sympathy is an important feature of a social worker. But there is one other career as well, which exists due to sympathy. What is it? Nursing. Yes, nursing is a profession where people work more due to sympathy and love for human beings rather than money. So, a nurse can become a social worker. Read till the end to know how a nurse can opt for a social working career.
What Is Social Work?
Social working is a profession that promotes the feeling of helping human beings. Social workers help disabled people, perform an effort to provide a home to homeless humans, collect food for those who spend their day and nights on the street without food and spend time with parents whose children left them at an old age place.
Relation Between Nursing and Social Working
Nurses must spend their time for the goodwill of patients. Heavy-duty hours of nurses show their dedication towards helping humanity. Similarly, social workers wander from organization to organization for aid through which they could help the needy.
Nursing occupations are not highly demanding, due to which they have fewer salary packages. But the thing which keeps them going is their enthusiasm for serving mankind. Social workers, on the same side, work on a volunteer basis without any greed for money.
There are common characteristics visible between nurses and social workers. It shows that nurses can pursue a social working career or become social workers.
How Can Nurses Become Social Workers?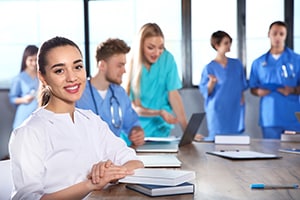 Changing careers is a difficult step. A person needs to analyze all situations before opting for such a big step in life. Difficulties which occur while changing career are:
But switching from nursing to social work is not that difficult. A person can adapt easily to his new profession. Because passion for serving humanity can make you cross every hurdle. Steps for switching from nursing to social work are mentioned below.
Bachelor Degree in Social Work
If you want to make your career in social work, then you want to graduate with a social work major. But no problem, if someone doesn't want to waste more years doing BSW, they can opt for MSW (Master in Social work), no matter what their major was in bachelors.
That's why nurses can go for MSW. They don't have to go for BSW again after wasting their important years of life in the nursing field.
Complete Training Period
In the professional world, an employee with null experience is nothing. Experience is very important to pursue a good position in your career. Whether you are a regular student or have switched from one degree to another, training is important to get experience.
Nurses who have their MSW done need to complete training periods. It is when freshers can incorporate their knowledge in the real world. Training sessions include interviews with different organizations' heads, team management, and persuading investors. This step will polish your skills and make you a good social worker from a good nurse.
Go for State Social Work Licensure
When a social worker reaches different organizations for meetings or AIDS, he needs to prove his credibility. Organizations cannot support every social worker. So what makes you credible among others in front of investors? Your social work licensure. Licensure is proof of credibility, experience, and trust which others have in you. Organizations, where you are practicing, can generate you a social work license.
Advantages of Opting Social Work and Nursing
It is very valuable and beneficial for people who opt for nursing along with social work. A list of a few advantages is given below.
Increase in Opportunities
In Asia, a large number of people are jobless. If someone chooses CS as their major, they find it difficult to get a job after graduation. It is because market demand keeps on changing. But a person who possesses two majors has a large number of options. One from nursing and one from social work.
Polish Skills
Subjects of social work and nursing courses have some subjects in common. So, people who have studied these courses will have a stronghold of these concepts. In the practical field, this factor can prove to be a bonus point. Employers can get impressed with your skills and offer you a higher position in the department.
Develop a Sense of Maturity
These two professions not only make you a better person but teach that you should help people and ignore their backgrounds. For example, while helping people, a social worker does not look at whether they are black or white, Christian or Muslim, men or women. They help others with the thought that all humans are equal and humanity does not demand discrimination on any basis.
The same is the case with nurses. Have you ever heard a nurse refusing to treat a patient because the patient was black? The answer is no. The purpose of a nurse is just to serve people and make them better. They look at people just as humans, not as a piece of color.
The equality factor is more common in nurses and social workers than normal humans who believe in caste, creed, or color system.
Multi-Talented
Opting for two careers makes people multi-talents and good problem solvers. Suppose you place a problem of team management in front of a nurse. They would be able to solve it because they might have learned this technique, not in the nurse course but the social work course for sure.
Conclusion
Hence, we can conclude by saying that any person who has a high quotient of sympathy can become a social worker. No matter if he is a nurse – if a person loves humankind, then the money, he can be a social worker.