Nurses serve in various fields providing healthcare to all types of patients of all ages. NICU or Neonatal Intensive Care Units are also places where nurses provide services. Professionals certified in Neonatal nursing can work in NICU in hospitals, clinics, and other healthcare centers with such facilities.
While general nurses can take on the basic responsibilities in NICU, they require certification in the field to work full time. People planning on taking up a career in Neonatal nursing can find all the useful information before taking the step.
Carry on reading this short write-up to know a few facts about nursing in general and how to become a NICU nurse step by step in particular. It will be a good idea to know some important details in advance before joining the course.
Places Which Require Services Of Nurses
As mentioned earlier, there is a need for nurses' services in many places. If it were not for them, providing healthcare would have been impossible. The following places need the services of nurses.
Doctors' offices
Clinics
Hospitals
Military
Ambulance/Helicopter
Old age care homes
Schools and other educational institutes
Psychiatric centers
Home healthcare
What Or Who Is A NICU Nurse?
A nurse who provides healthcare to sick infants in Neonatal or Newborn Intensive Care Units is a NICU nurse. NICU nurses specially offer healthcare to less than month-old babies who have various health issues. These include premature birth, heart diseases, and congenital disabilities.
Only certified nurses can work in NICU because they have to take care of vulnerable infants. Anyone in the nursing field can get a certificate. However, it is also essential to have a calling to serve better and have job satisfaction.
Nursing schools across the country offer many courses. Hence, people interested in a Neonatal nursing career can join an accredited institute and get trained to become NICU nurses.
But before joining a course, make sure to consider all the aspects so that there are no regrets later. If you are thinking of making a career in Neonatal nursing, here is a step-by-step guide to becoming a NICU nurse.
Become NICU Nurse Step By Step
Consider If Neonatal Nursing Is For You
As mentioned earlier, any educationally qualified person can become a NICU nurse. But if you don't incline to look after and care for babies, the responsibilities can become overburdened. You may feel a lot of stress and not be able to fulfill your duties up to expectations.
The infants in the NICU are vulnerable and extraordinarily sick, and they require 24×7 attention. While you will be performing the duties in shifts, it can still be very exhausting. As a result, you might even want to quit your job.
So, before you decide, think about all the aspects related to Neonatal nursing. You can take the next step if you are determined to go towards that career path.
Learn And Understand The Responsibilities Of A Neonatal Nurse
Once you are firm in your decision regarding a career, it is necessary to grasp the role and duties of a NICU nurse. It will enable you to either stick with your choice or take another path.
Neonatal intensive care units provide treatment and care to babies who have severe health issues. While many babies are born healthy, a lot more are not so lucky. The reasons for their illnesses can be due to different instances.
Premature birth, deformities, genetic disorders, heart diseases are some issues that babies may suffer from. The hospitals, clinics, and nursing homes with NICU treat the infants till they are ready to go home.
Till about a decade ago, caring for vulnerable babies used to be quite a challenge. It is still so, but thanks to the advancement in the medical field, more babies get cured faster now.
Specific Duties of a Neonatal Nurse:
As a NICU nurse, you will have plenty of things to do in the facility. Babies require constant attention, especially if they are sick. Your duties include
Assisting the infants in breathing.
Providing medication on time.
Feeding the babies.
Cleaning them and keeping them comfortable and warm.
Taking their body temperature.
Keeping a watch on vital signs like breathing and heartbeat.
Measuring and weighing the babies till they go home.
Working out a healthcare plan with your colleagues.
Using advanced lifesaving equipment.
Conducting difficult procedures.
Examining, planning, and administering treatment.
Offering information, comfort, and explanation to loved ones.
Besides providing the service at healthcare centers, you may also have to go to the patients' residences if necessary.
Working Hours of a NICU Nurse:
Generally, you will require working eight hours or twelve hours shifts four-five days a week, depending on the schedule. You will likely have to work on weekends in case of an emergency.
Average Salary:
As per the latest statistics, qualified nurses earn about $80,000 per annum. Neonatal nurses with experience and advanced certification can earn even more. Wages also depend on how big a healthcare facility is.
Demand for Nurses:
The opportunities for Registered Nurses have significantly increased in recent times. So, no matter whichever nursing branch you follow, you will have plenty of job opportunities once you qualify.
Get A Nursing Degree From An Accredited Institute
Now that you have an idea about the duties of a NICU nurse, this is the next step in your career path. You can become an RN with one of the following.
Bachelor's degree in Nursing (BSN)
Associate degree in Nursing
Diploma in Nursing
However, with the number of candidates rising rapidly, many facilities require candidates to have a bachelor's degree to go for further training in specialized programs like Neonatal nursing. Hence, it will be best to join a BSN course if you want to get into neonatal nursing.
Many colleges and universities offer BSN courses throughout the country. So, you can collect information and apply for a spot. With the increase in job opportunities and high pay packages, many people seek admission to various institutes. So, you may not get a spot somewhere you prefer. Hence, try to apply in several places so that you don't miss out on a year.
Obtain A License To Become A Registered Nurse
All candidates intending to work as nurses must obtain a license. The condition extends to all territories of the United States. Intending candidates must complete a nursing program and sit for the NCLEX-RN or National Council Licensure Exam for Registered Nurses. Only then can they get employed as a registered nurse.
The exam lasts for about six hours, and students have to answer around 75 questions. They have to take the test via a computer. Candidates will get a license once they get through the exam.
The test can be easy for those who are prepared but challenging for those who are not. If you want to pass the test on the first attempt, staying focused and studying hard is vital.
There are many NCLEX study tutorials, so you can use these to prepare for the exam. You can also ask around for some tips from friends or relatives who are nurses.
It is important not to panic before the day of the test. You should stay focused but relaxed. If you are ready, then you will perform exceptionally well.
The exam emphasizes four significant aspects of nursing:
Health promotion and maintenance
Safe and practical care environments
Physiological integrity and your capability to provide correct nursing care
Psychosocial integrity and how to deal with the challenges of working as a nurse
Work In A Neonatal (NICU) Facility to Develop and Increase Clinical Experience in The Field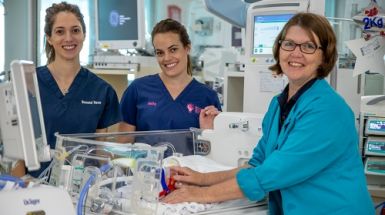 Even if you pass the NCLEX and become an RN, you won't be designated as a NICU nurse at once. Clinical experience is one of the essential aspects of becoming a Neonatal nurse. If you are keen to build a career in neonatal nursing, you have to start gaining experience at the earliest.
Candidates require at least two years of clinical experience in a NICU facility before applying for certification. So, once you get employment in a hospital, you can start working in the newborn intensive care units and garner valuable experience.
When you begin working and build an experience in the area, it will also help to shape your career in several directions. There are at least five separate sub-branches in Neonatal nursing that you can choose once you have a certification.
While developing the experience, you can build your confidence and finally decide on working as one of the following.
working as Nurse
Neonatal Nurse: 
A nurse who offers care in various categories to different infant patients. The professional offers supportive care or specialized care to severely ill, recuperating, or moderately sick infant patients.
Neonatal Nurse Manager:
A professional nurse who looks after the management of the NICU facility and staff.
Neonatal Clinical Nurse Specialist:
A qualified nurse in Neonatal nursing who instructs and supports trainee nurses and additional staff studying clinical skills.
Neonatal Nurse Practitioner (NNP):
A certified nurse with skills and experience who work alongside nursing staff and doctors in NICU. They work together to offer a wide range of care to babies in the facility.
Neonatal Developmental Care Specialist:
A nurse that offers direct care to ill and premature babies. Specialists also aid peers in providing care to the patients in the NICU facility.
Intending candidates for the Neonatal nursing branch can learn many new and valuable things when working at the NICU facility. After a two-year experience, you can become eligible to take the test mentioned below.
Sit For A National Neonatal Certification Exam
Once you have a two-year of experience working at a NICU facility, you can take and pass a certification exam. Many aspiring nurses take more than one test to prove their skills and experience. Having more certificates can also help in finding better jobs.
Many certification organizations offer several particular tests related to neonatal nursing. So, you can sit for one or all the exams.
What certifications can I get as a neonatal or NICU nurse?
Neonatal Resuscitation Program (NRP) Certification:
All intending NICU nurses require this certification. You can't become a neonatal nurse without it.
National Certification Corporation (NCC):
It offers certification in two programs. They are National Intensive Care Nursing (RNC-NIC) and Low-Risk Neonatal Nursing (RNC-LRN).
Electronic Fetal Monitoring (C-EFM): 
It is a required sub-specialty certification for registered nurses, physician assistants, and paramedics.
Neonatal Pediatric Transport (C-NPT):
It is another essential certification that neonatal nurses and other healthcare professionals have to get.
CCRN Certification:
Aspiring candidates also have to get a certification in critical care nursing. The American Association of Critical Care Nursing offers it to nurses that work in NICU facilities.
Besides the above, it is imperative to have certification in the following if you intend to become a neonatal or NICU nurse.
Basic Life Support (BLS):
A course in BLS takes just about four to five hours at the most. In this course, you will learn
Single rescuer CPR
Team-based CPR
Choking relief
AED operation
Patients may become severely under your watch. So, during emergencies, you will have to provide medical care and work to bring back unresponsive patients. The knowledge and skills in BLS can be a great help.
Advanced Cardiovascular Life Support (ACLS):
The course is about two months long. In this course, you will learn about the signs of life-threatening cardiovascular emergencies like
Cardiopulmonary Arrest
Acute Coronary Syndromes (ACS)
Stroke
Other Emergencies
At the ACLS course, students will learn how to perceive the dangerous signs and how to respond and treat the patients.
Neonatal Resuscitation Program (NRP):
This course can run between five to eleven hours. It is a course that teaches you to resuscitate newborn babies in case of emergencies. You will have a practical and a theory class to receive the certification.
Get Employed And Make A Career As A Certified NICU Nurse 
After you obtain all the necessary certifications, you can begin a new and fulfilling career in neonatal nursing. Earlier, you only had compassion and inclination. But now, you have skills, knowledge, experience, and certificates. So, caring for the infants will not seem so hard though you will have new challenges every day.
You can provide the best care to the babies and educate and comfort parents and loved ones who are worried. A dream job and a great pay package can combine to give you the utmost satisfaction in life and your career.
Final Thoughts
If Neonatal nursing seems a great challenge and you can't do it, there are many more nursing branches. So, you are sure to have a fulfilling career in nursing whether you choose one or the other if you have a true calling.
You can also watch some motivational videos and read books on nursing and how fulfilling it can be.