NLC or Nursing Licensure Compact is an agreement that has taken place between the states to allow nursing professionals to have a nursing license and also the ability to practice nursing in different states which are a part of this agreement. It was developed in 2000 and has grown to involve Twenty-five states. The eNLC, or Enhanced Nursing Licensure Compact, was implemented in 2018 to streamline the nursing process and involved mandatory licensure standards and lacking in the originally developed compact license. Every state requires a competent and highly skilled medical workforce to meet the citizens' needs. But these requirements may vary for a few healthcare professionals in each state. Therefore, it is necessary to search the requirements as a registered nurse before you move the state lines.
Endorsements
Iowa is known to be a compact state. If you claim Iowa to be your primary state of residence of yours or if you plan to move to Iowa, you must be applying for the application by endorsement to keep and use your nursing license in Iowa. You need to follow these requirements-
Nurses must complete their graduation from an Iowa board-approved nursing school
They need to pass the NCLEX examination
They need to complete the application either online or in paperwork
The Iowa states ask nurses to hold the certification of present ACLS. A mandatory abuse course is required to be completed every five years. Besides this, you need to complete 24 contact hours or 2.4 continuing education units in case of your first renewal. Then you are required to complete 36 contact hours or 3.6 units for every subsequent renewal of your license. You can easily renew your nursing license online by paying $99. Renewal takes place every three years and should be completed thirty days before the 15th of the licensee's birth month.
read more: nurse salary in Iowa
What are the CE license renewal requirements for Iowa?

If you want to work as a nurse in Iowa, you have to get continuing education to renew your active nursing license. Following are the renewal requirements for RN, LPN, and Advanced nurse practice.
RN
Renewal requirements are required every three years and thirty-six hours of continuing education. Every RN has to complete one hour associated with identifying and reporting dependent adult or child abuse as provided by the Iowa Department of Human Services. It is especially for registered nurses who regularly examine, counsel, attend to, and treat children or dependent adults.
LPN 
Renewal requirements are needed every three years, and LPN has to complete thirty-six hours of continuing education. Every LPN has to complete one hour related to the reporting and identification of dependent adult or child abuse as provided by the Iowa department of human services. It is especially for those LPN who regularly examine, treat, attend to, and counsel children and dependent adults.
Advanced Practice
Nursing professionals in advanced practice need to complete renewal requirements every three years and thirty-six hours of continuing education as needed for an RN license renewal. They have to complete one hour in reporting and identifying dependent adult or child abuse as provided by the Iowa department of human services. It is especially for those LPN who examines, treat, attend to, and counsel children and dependent adults. They also have to complete two hours in the Centers for Disease Control and Prevention guidelines to prescribe opioids to cure chronic pain. This also includes recommendations and advice on limitations on strength/dosage, risk factors related to abuse, length of the prescriptions, and nonpharmacologic, and nonopioid therapy options.
Licensing information
You have to pay the fees to become a nurse in Iowa irrespective of whether you are moving from a different state to Iowa or if you are first-time nursing professional.
The licensing examination fees paid by first-time nurses include –
$200 for the NCLEX examination
$93 app fee along with a $50 background check fee. So the application fee that must be paid in total is $143
The endorsement licensing fee paid by professionals who already have RN licensure includes-
$169 application fee, where $119 is paid for the app fee and $50 is paid for the background check fee
License renewal fees include an application fee worth $99
read more: Iowa Board of Medicine
Deadline for renewal of license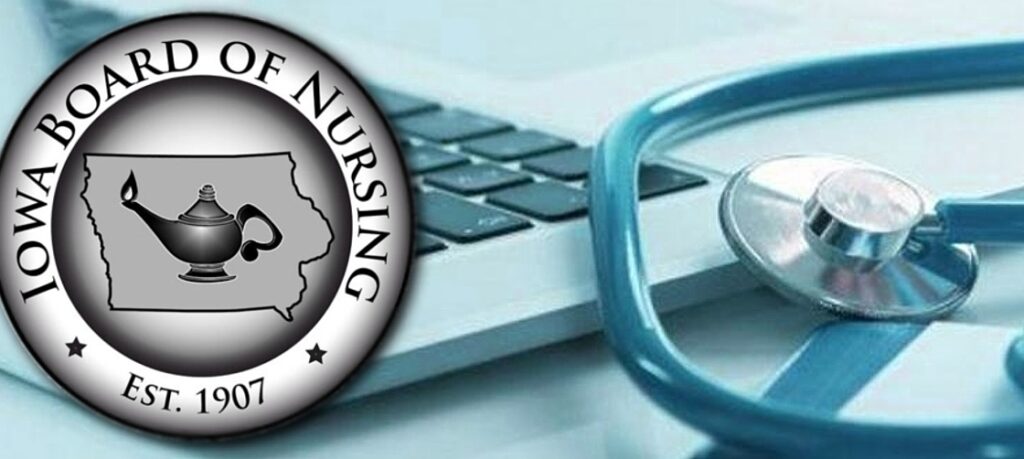 A licensee can renew a nurse's license at the beginning of sixty days before the license expiry date. For instance, if a nursing license expires on 15th January, then renewal of the license can take place on 15th November. The Iowa law states that renewal should be completed thirty days before license expiration. The lower board encourages the renewal of licenses promptly.
What happens in cases of Late Renewals of licenses in Iowa?
Renewals for a nursing license that are received every 16th of your birth month and before the 16th of the next month are regarded as late renewals, and in such cases, payment of $50 is required to be made with a $99 additional renewal fee. The date in which renewal is received in the Iowaboard office is the date that is typically used in determining if there has been a late renewal. The postmarked date on the envelope is not considered. As per its rules and regulations, the lower board of nursing doesn't prohibit any nursing professional from practicing nursing during the grace period of thirty days, but some employers may have this prerogative for prohibiting nursing practice during this time interval. The licensee can continue obtaining continuing education in this period of thirty days after expiration. However, if a licensee renews the license late, it will be audited. The board staff doesn't have the authority to waive the late fee of $50.
Processing Time:
As soon as the lowa board receives applications for license renewal, they are processed quickly, and nurses can check their application status via IBON online service. You can earn an Iowa nursing license when you apply at the official site of the Iowa board of nursing and give the exam. Iowa board of nursing allows nurses to get their license to practice in the state. NCLEX or national council licensure examination is required to pass as per the Iowa board to become an RN or LPN. The CE or continuing education records are properly checked and audited by the Iowa board of nursing every three years.