Indiana is one of the beautiful states famous for Brown County State Park, also known as Indiana's playground. There are many more things apart from these tourist attractions. People also come here to become registered nurses and land their dream careers within the health care sector.
Indiana board of nursing passes laws and approves rules and regulations related to nursing licensure in Indiana. Nursing professionals who want to practice in this state need to obtain a license from the state nursing board before starting their practice. Indiana board of nursing regulates all licensed practical nurses, registered nurses, vocational nurses, etc. If you want to take nursing exams in Indiana, you should check their website, where they announce the registration details for conducting the Indiana nursing exam.
Are you looking for information about seeking a nursing license in Indiana? Then you can get a hassle-free experience in obtaining your license by following the below guide.
How to apply for Indiana nurse license
Getting a nurse's license can be quite a lengthy and complicated procedure. Follow the tips to get started with-
Suppose you want to apply for nursing licensure in the Indiana board by examination method. In that case, you've to complete two standard types of application- The Indiana Licensure application and the NCLEX candidate Bulletin. You must also pass the additional NCLEX examination successfully and complete your graduation from a reputable and accredited nursing school that the Indiana Board has approved for Nursing. A registered nurse applying for Indiana nursing licensure through endorsement becomes eligible for a temporary permit after completing all the necessary application procedures and fees.
Nursing License renewal in Indiana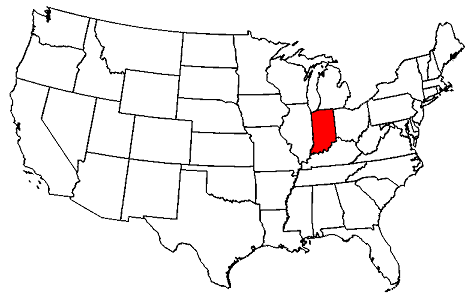 Do you need to renew your Indiana nursing license? Following are the tips to help you in your license renewal process-
A nursing license in Indiana expires on 31st October of every even-numbered year. The fee included in the license renewal process is $50. If you fail to renew the license within the expiration date, you have to pay additional fees of $50.Always ensure to keep your current address with Indiana professional licensing agency. You'll be notified of license renewal through your address or your email. You can also visit PLA Online Services to complete the process for an Indiana nursing license online.
Verification of Indiana nursing license
Registered nurse license verification is provided via the NURSYS verification procedure offered by the National Council of State Boards of Nursing. You can visit the official NURSYS site and check the nurse license verification.
Licensing information
The licensing fee for first-time nursing professionals in Indiana by examination includes the following-
$200 NCLEX fee
$50 application fee
The licensing fee for professionals who already have an RN license and by endorsement includes the following-
The license renewal fees include the following
$50 for the application fee.
Indiana is considered a compact nursing state that enables nursing professionals to hold licenses approved by multi states.
What are the steps required to renew your Indiana nursing license?
Verification of the license status 
If you want to confirm your nursing license, you need to visit the verification page.
Complete all the requirements related to Indiana nursing continuing education before the expiry of your license
Ensuring the completion of all nursing CEUs online in a timely schedule is important.
Visit the Indiana board of nursing to enter your renewal application.
Indiana is known to be a compact state. You must not apply in Indiana to obtain nursing licensure if your primary state of residency is supposed to be a different compact state unless you declare your primary state of residency to be Indiana. The renewal information page helps you to solve and understand all requirements.
RN and LPN
RN and LPN are not required to fulfill any continuing education requirements. So currently, the Indiana board of nursing doesn't seek their Registered nurse (RN) and licensed practical nurse (LPN) to complete additional continuing education courses. But till 15th September 2016, the exception to this rule seeks LPNs Or RNs having 3 or more years of an expired license without having any active license in other states or jurisdictions to take refresher coursework. A CNM (certified nurse midwife) isn't required to obtain continuing education requirements for renewing a license to practice. CNMs are required, like LPNs, to maintain their skills and knowledge to stay competitive in nurse practice.
APRNs
APRNs need to complete 30 contact hours every two years, and they must complete 8hours of CE in pharmacology. Advanced practice nurses (APRNs) keep records of their continuing education in case of an audit taken by the Indiana board. They are required to attend only those continuing education programs that a sponsor has approved of continuing education (nationally approved). If an APN candidate is granted prescriptive authority for less than twelve months before expiring, then continuing education requirements are no longer required.
read more: Indiana Board of Medicine – License Lookup and Renewal for Indiana Physicians
What is the salary and job outlook for nursing professionals in Indiana?
The shortage of nursing professionals sees a high demand for healthcare professionals. As per the estimation of BLS (The Bureau of Labor Statistics), the nursing profession will be growing by 9% between the years 2020 and 2030. The mean annual is supposed to be $67490. Thus, the job outlook for nurses in Indiana is positive
read more: Nurse Salary in Indiana
CE records auditing
The Indiana board of nursing conducts an audit of the applicant's continuing education (CE) records every 3years and sends a letter and an updated license to the applicant. Indiana board of nursing recognizes state nurses if they hold a current license in another state and as long as no disciplinary actions are taken against them.
The things needed to renew the license are as follows-
Completion of CE requirements
Submission of application for the renewal
Payment of fees
NCLEX Requirements in Indiana
Most states, including Indiana, require nurses to take the NCLEX exam. NCLEX stands for national council licensure examination and is a standard test that helps nurses become registered nurses or licensed practical nurses in Indiana. There are 97200 licensed nurses in Indiana.