Oklahoma opens up incredible job opportunities for several nurses. Even travel nurses can enhance their career opportunities in Oklahoma with several assignment choices amid the natural and cultural beauty of the state.
Guide to practice nursing in Oklahoma.
If you are a nursing professional or are considering becoming a registered nurse, Oklahoma is a good place to start your nursing career. The following guide will help you better understand continuing educational requirements, salary, job outlook, and licensing renewal criteria.
What is the licensing information in Oklahoma?
The fees required to become a registered nurse in Oklahoma for both professional and first-time nursing moving from a different state to Oklahoma are as follows.
The licensing fees for examination paid by first-time nurses include the following
$200 for the NCLEX examination fee
$85 application fee for registered nurse (RN) and licensed practical nurse (LPN) and $150 for multistate
The licensing fee paid by endorsement for professionals who already have RN licensure includes the following
$85 as application fees for RNs and LPNs and $150 for multistate
The application fee for APRNs requires $70
The license renewal fees include the following
$75 application fee for RN and LPN and $45 for APRNs
Oklahoma is considered a compact nursing state that enables nursing professionals to hold licensure approved by multi states.
What are the steps required to renew Oklahoma nursing licensure?
Verification of license status 
Nursing professionals must confirm their license by visiting the verification page.
Complete all the continuing education requirements required in Oklahoma before the expiry of the license takes place. 
Nursing professionals are required to complete all their nursing continuing education requirements (CEUs) within the schedule
Visit the Oklahoma board of nursing to complete the renewal of your nursing application
Oklahoma is regarded as a compact state and so you must see all specific requirements by visiting the renewal portal of the Oklahoma board of nursing. Suppose an applicant's primary state of residency belongs to some other compact state. In that case, they must not apply for renewal of their license in Oklahoma unless they declare their primary state of residency to be Oklahoma.
What are the continent educational requirements that help renew the license?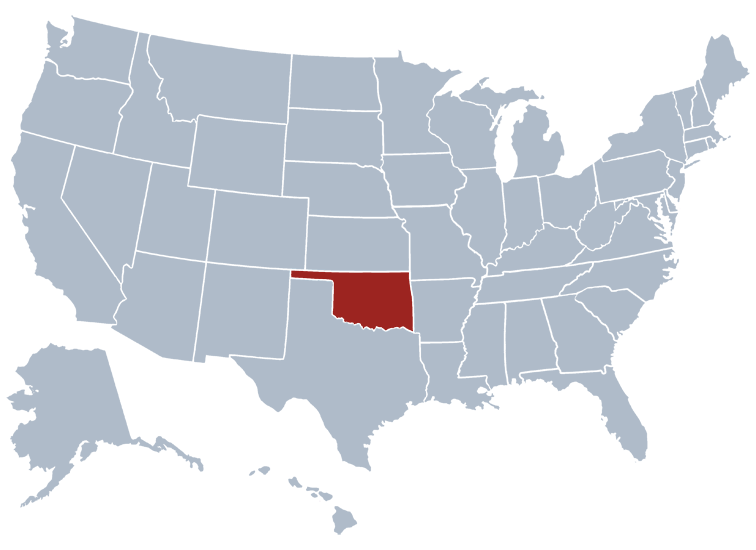 Registered nurse (RN) /licensed practical nurse (LPN) 
Each RN and LPN are required to complete 24 contact hours every two years or
they must produce proof of employment in a position that requires the LPNs or RNs to verify working hours of 520 every two years or
complete Oklahoma board approved refresher course or
Complete nursing coursework of at least 6 credit hours which is in correlation with the current nursing level of licensure or even higher
APR
Every APRN is required to complete 24 contact hours every two years, in which they need to spend fifteen hours in the practice of pharmacotherapeutics.
They need to complete two hours of educational requirements in pain management or two hours of educational requirements in the practice of addiction or opioid use.
They are required to maintain their national certification as well.
The Oklahoma board of nursing approves all the nursing courses which are ANCC accredited.
read more: Oklahoma Board of Medicine License Lookup and Renewal For OK
What is the salary and job outlook of nurses practicing in Oklahoma?
There is a shortage of nursing and healthcare professionals globally. This puts healthcare professionals in great demand. The BLS or Bureau of Labor Statistics has estimated that the employment opportunities in this field will increase at a rate of 9% between 2020 and 2030. The mean wage of healthcare professionals is $66600 annually. Thus working in Oklahoma is the right choice for you.
read more: Nurse Salary in Oklahoma
How can you apply for Oklahoma nursing licensure?
Suppose you are an RN by profession and want to have a travel assignment in Oklahoma but don't possess an NLX multistate licensure. In that case, you have to apply for a nursing license by an endorsement via OBN, which stands for Oklahoma Board of Nursing. Every first-time applicant is required to have a license by examination.
The verifying process of citizenship status requires-
Successful graduation from an accredited nursing program that the Oklahoma board has approved
Complete NCLEX requirements successfully
Verifying the nurse licensure from the original state.
Give all the proof of continuing qualification for nursing practice and visit the OBN site to know further details.
Complete all fingerprint cards to facilitate proper conduction of criminal background checks.
A photograph of 2"x2" size
After receiving all the required important documents state nursing license would be granted by the Oklahoma board within 4 weeks.
NLC state
Oklahoma has been a Nurse licensure compact state since 2018 when the implementation of the compact took place. NLC is also referred to as Enhanced Nurse Licensure compact, and Oklahoma being an NLC state, allows LPNs and RNs to have multistate nursing licenses using which they can practice in 39 compact states. There are presently 44200 licensed nurses practicing in Oklahoma. Nursing is a demanding and rewarding career in Oklahoma. Nurses who maintain their license with the Oklahoma board of nursing feel a sense of pride in offering quality patient care and also hold the ethical nursing standards. The Oklahoma board of nursing also audits the nurse's CE or continuing education records within three years. After auditing, the board sends a letter to the licensee and an updated license.
How can I transfer the nursing license to Oklahoma?
Oklahoma board of nursing helps to get your license quickly to start your nursing practice in this state. You just need to prove that there are no complaints or disciplinary action against you by the licensing board.
The process to obtain Nursing License from the Oklahoma Board of nursing?
The Oklahoma board of nursing is entrusted with the responsibility to pass laws and approve regulations regarding licensure requirements in Oklahoma. The nursing profession wants to obtain licensure from the state agency before starting working. There are exam requirements that must be taken and passed. The professional examination committee regulates all nursing professionals irrespective of vocational, licensed practical, or registered nurses.
The minimum requirements include obtaining pre-licensure education hours or any course approved by the Oklahoma board of nursing. The LPN must have post-secondary education qualifications that help them get a nursing degree from an approved school. If you are an LPN and want to work as a CNA without holding a baccalaureate degree, apply at the official website of the Oklahoma board of nursing.