Believe it or not, most people find the romance between a doctor and nurse quite intriguing. While there are plenty of books, movies, and TV shows involving a doctor-nurse romance, it happens in real life. The love stories are not as dramatic as in fictional settings. However, it does occur, and many couples end up getting married.
Most often, articles are about serious topics, but this one will be a little different. It will be a light-hearted write-up that mentions some of the best love stories set in a medical workplace. By the end of the article, you are sure to have a smile on your face. So, keep on reading and find out which doctor-nurse love stories you should see or read about.
Best Doctor And Nurse Love Stories
Scrubs
Scrubs is a medical-themed TV show that first aired on October 2 in 2001. It ran for nine seasons and last aired on March 17, 2010. The show had numerous cast members and several storylines. A number of characters also had relationships in the series, with some being nurses and doctors.
For example, the characters Dr. Christopher Turk and Carla Espinosa, the head nurse, fell in love and married. However, their romance is not without twists and turns on the way.
Another romance happens between Elliot, a female intern, and nurse Paul Flowers, but it lasts long.
The series is one of the most-watched shows to date. If you missed out, then you can also watch it now online.
ER
ER is another TV show which aired between 1994-2001. It is one of the longest-running medical-themed shows with 15 seasons in total. The series also had several storylines with plenty of drama, romance, tragedy.
If you are fond of the genre and have not seen the series, it is available online too. You can binge on it and enjoy every episode.
The Resident
Aired first on January 21, 2018, the Resident is also a TV show set in a medical workplace. The series follows the story of multiple characters, including Conrad Hawkins (senior resident at Chastain Park Memorial Hospital) and Nicolette Nevin, aka Nic.
The characters fall in love, get married and have a daughter in the series. However, she suffers a severe brain injury in a motor accident and dies in season 5. So, it is a beautiful story but with a sad ending.
If you want to watch more medical drama, you can check out
Grey's Anatomy,
New Amsterdam,
Saving Hope,
Chicago Hope, etc.
Besides American TV shows, there are also several serials in other languages set in a medical workplace. If you don't mind watching with subtitles, there are many to choose from, such as
Code Blue I, 2, 3 (Japanese)
Surgeons (Chinese)
Doctors (Korean)
Doctor Stranger (Korean), etc.
An Incurable Case of Love (Japanese)
There are many more shows, books, and movies r. But everybody has different preferences. So, you can check out some lists and read or watch whenever you have time. If you love to read, there are several platforms where you can read eBooks too. So, everything is just within your reach.
Select as many as you want and fill up your free time enjoying all the medical love stories at home or anywhere. You can download the movies and serials or watch them directly on one of the platforms.
Besides the fictional doctor-nurse romances, it happens in real too. Here is a love story that had a happy ending even though times were difficult.
Real Life Doctor-Nurse Love Story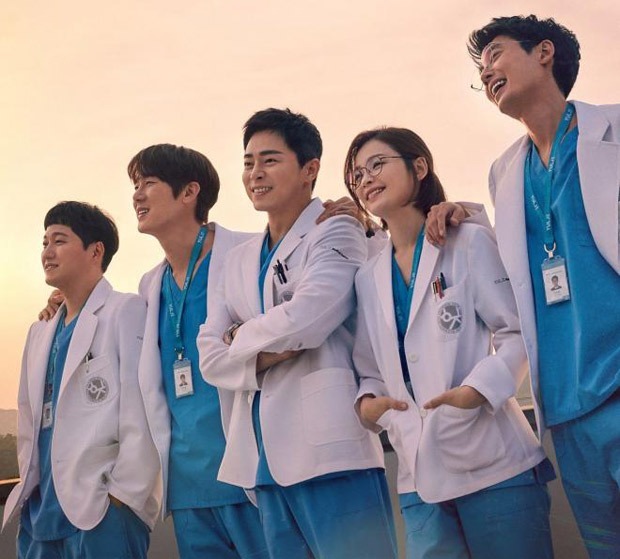 St. Thomas Hospital, London: There is not a lot of mention of the earlier part of their relationship. But the love story of nurse Jann Tipping and Dr. Annalan Navaratnam is quite endearing.
Though burdened with multiple responsibilities, the nurse and doctor met and fell in love. The couple continued to perform their duties and were supposed to marry in August of 2020. However, the global pandemic crisis forced them to cancel their wedding plans.
The story doesn't stop there, though, because the couple decided to have a private wedding ceremony at the chapel in the hospital. The nurse and doctor tied the knot at the historic chapel in April.
The hospital shared the news and photos only after a while, though, and it has received many positive comments worldwide. In a difficult time like now, something incredible like this can bring a smile to anyone.
Final Thoughts
It is only one of many beautiful romantic instances which happen in a medical setting. Whether fiction or real life, love stories can inspire, motivate, and bring about positivity in everybody.
Now, it is even easier to find the most beautiful stories. So, whether you may prefer reading a book or watching a show, plenty is available. You have endless choices. So, whenever you feel bored, check out one of those mentioned above and others too. Have fun, feel mushy, and get inspired, and of course, keep away boredom.