Dry feet are something that all of us have to face once now and again. Some people suffer more than others, but it's still a condition that can be quite annoying to deal with. Some conditions may cause dry feet. Some medical causes for dry feet are eczema and athlete's foot. However, the condition may also be caused due to exposure to extreme cold and dry or extremely hot and dry weather conditions.
No matter what the cause is, you can put your dry feet worries to rest by taking several steps. The most obvious step involves wearing proper footwear at all times to reduce exposing your feet to the elements. However, if you want quick results, you have to compliment your shoe by using some kind of cream, lotion, or jelly as well.
One of the most popular solutions that have emerged for dry feet is petroleum jelly. Sold under the brand name of 'Vaseline,' petroleum jelly can offer numerous benefits to dry feet sufferers and can improve conditions quite quickly.
How is Petroleum Jelly Manufactured?
If you walked back in time, you would find that Vaseline, which is now such a popular product, was an accidental discovery. In simple terms, petroleum jelly is nothing more than mineral oil that chemists derive from oil.
There are two types of petroleum jelly:
Unrefined petroleum jelly: Unrefined petroleum jelly has deficient levels of purity, which makes it unfit for use as a cosmetic product. Skincare professionals typically discourage people from using unrefined petroleum jelly as it may have harmful contaminants that may adversely affect the skin.
Refined petroleum jelly: Vaseline is petroleum jelly that is refined for high purity levels, which makes it contaminant-free and, thus, safe to apply on skin.
The Benefits of Vaseline Use for Dry Feet
Easily Available and Affordable: What makes Vaseline an excellent choice for dry feet problems is a simple fact that the product is available almost everywhere. No matter where you may live in the world, one product that your nearest medical store is bound to have is Vaseline.
Vaseline is also quite affordable compared to other cosmetic solutions for dry feet. Its low price makes it a product that even people from lower-income groups can afford.
Prevents Chafing: Dry feet problems can be further aggravated through something known as chafing. Chafing is what happens when the skin on one part of the body rubs against the skin on another part or clothes.
If chafing is not prevented when you develop dry feet issues, it can lead to broken skin or maybe even rashes. In such a situation, the use of Vaseline may help in preventing chafing as petroleum jelly works as a barrier between the affected part of the body and other body parts or clothes during chafing.
Retains Moisture: When you use Vaseline for dry feet, your skin will not absorb it, unlike conventional moisturizers. Instead, it becomes a barrier that keeps moisture from leaving your feet.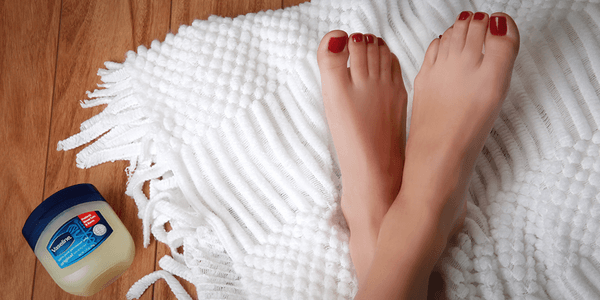 In cases where people experience dehydrated feet, the feet must retain moisture for the skin to heal. Vaseline helps in this regard and comes in especially handy if you have plans of going out in the cold, windy and dry conditions.
Prevents Outbreaks of Eczema: Chronic skin conditions such as eczema may often trigger dry feet. The worst thing about eczema is that it can adversely affect the skin on any part of the body.
To control outbreaks of this chronic skin condition, you can use Vaseline. If used regularly, studies have shown that Vaseline can prevent eczema outbreaks. The fact that it is much more affordable than alternative Eczema solutions also makes it a solution for the masses.
Reduces Chances of Infection: Continuously exposing dry feet to the elements is not in your best health interests, as the chances of infection may increase. However, you can keep these chances of infection at bay by using Vaseline as a protective measure.
Due to Vaseline's barrier forming properties, it can keep infections away from your skin, thereby significantly reducing the chances of infection.
Soothes the Skin: In time, dry skin peels off naturally. However, the sensation that comes with this natural skin peeling is not very enjoyable. It may cause a lot of irritation.
Through Vaseline's use, you can soothe this irritation for short-term relief. The peeling will continue to happen, but you will not feel its uncomfortable sensations if you apply Vaseline.
How to cure dry feet using Vaseline?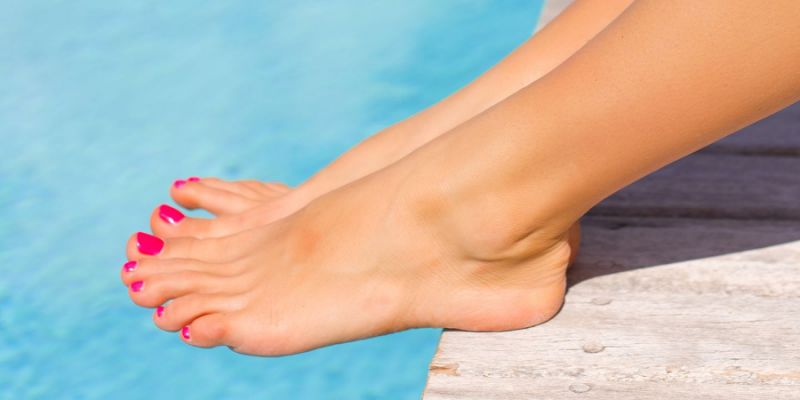 Here are a few steps that will help you to solve the problem of dry feet using Vaseline.
Apply Vaseline jelly: Gently apply Vaseline jelly on your toes to reduce friction while walking.
When you apply Vaseline to your toes, they do not stick together. Sticking toes may further aggravate the problem.
Remove dry skin: To remove dry skin from your feet, you can take the help of exfoliators. Remember to avoid harsh exfoliators as they cause more dryness. After removing dry skin using gentle exfoliators, apply Vaseline to hydrate the skin.
Overnight treatment: You can apply Vaseline on your dry feet and leave it overnight. Remember to wear good socks made of comfortable fabric. Keeping Vaseline overnight on cracked feet helps to seal the barrier. This helps in repairing feet.
Lukewarm water treatment: Keep your feet in lukewarm water for 20 minutes. Use foot scrubber to remove dry skin. Apply moisturizer to the affected area and then seal the moisture using petroleum jelly.
How frequently should you use Vaseline?
As Vaseline is a refined petroleum jelly that has no impurities and harmful contaminants, it can be used regularly for dry skin and cracked skin.
You should increase Vaseline's use when the weather is dry. Dry conditions, combined with extreme heat or cold, are catalysts for developing dry skin issues, and regular Vaseline use during such situations can help your feet retain much-needed moisture to keep them from drying or cracking.
So, all in all, it can be said that yes, Vaseline is quite good for healing dry feet and restoring cracked feet to their proper conditions.