A reliable and strong pair of shoes is a necessary companion for every person, but sometimes it is hard to find those that fit you perfectly. Shoes are things that have to be the perfect fit, or else they provide a lot of discomforts. This issue is really grave for people with wide feet because not many shoe companies make comfortable shoes that have enough room to let their feet be comfortable.
Dansko shoes are the most comfortable shoes that consider all kinds of feet while manufacturing their products. They provide shoes of unique designs and sizes so that no one is left out of the chance to find the perfect fit for their feet. The designs of Dansko shoes are such that they offer maximum room and comfort for the feet and have features that make the shoes perfect for wearing for long hours as well. They are well-loved among their customers and always get good reviews.
Some of the best shoes for wide feet from Dansko are Dansko Women's Professional Clogs and Dansko Women's XP 2.0 Clogs. Let us look at them in detail.
Dansko Women's Professional Nurse Clogs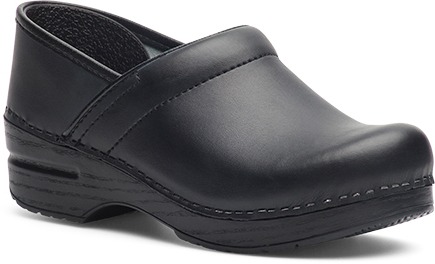 For people with wide feet, Dansko offers a variety of high-quality shoes designed to accommodate wide feet. The Dansko Women's Professional Nurse Clogs are our favorite shoes for those with wide feet. These shoes feature a large toe box and generally have a wider fitting.
These shoes are particularly popular among people with wide feet due to the patented materials and construction that provide comfort throughout the day while promoting good foot, leg, and back health. Dansko shoes with this style feature an impressively roomy toe box that allows your toes to enjoy much-needed wiggle room. Walking in them provides better stability and balance because of the large heel strike area.
Those wearing Dansko's Women's Professional Nurse Clogs will experience optimum comfort right from the first wear since it has a padded instep collar. In addition to cushioning your feet against shocks and impacts, Dansko's classic rocker bottom construction reduces the fatigue your feet experience after a long day of walking. The bottoms also feature shock-absorbing rockers to protect against fatigue and provide user support.
Moreover, a wide range of sizes is available, and extra-wide widths can also be provided if necessary.
Here are some of the most important features of these shoes:
This pair of clogs have a classic rocker bottom that provides protective shock absorption, reducing fatigue and sore feet.
Your toes will be able to stretch out more freely while the toe box increases the durability in a commonly weak location.
You walk more steadily, and balance is improved when you use an extra-wide heel strike.
Moreover, the Dansko Professional Clogs can be worn easily and comfortably thanks to their slip-on design.
Memory foam is used in the midsole of the shoe to provide the maximum level of comfort.
For wide feet with low arches, the removable midsole also incorporates arch technology.
Pros
It has been designed specifically for people with wide feet.
In addition to providing excellent arch support, it provides excellent comfort.
Shock-absorbing rubber is used for the outsole.
Cons
The shoes are known to be heavy which could provide discomfort for some people.
Dansko Women's XP 2.0 Clogs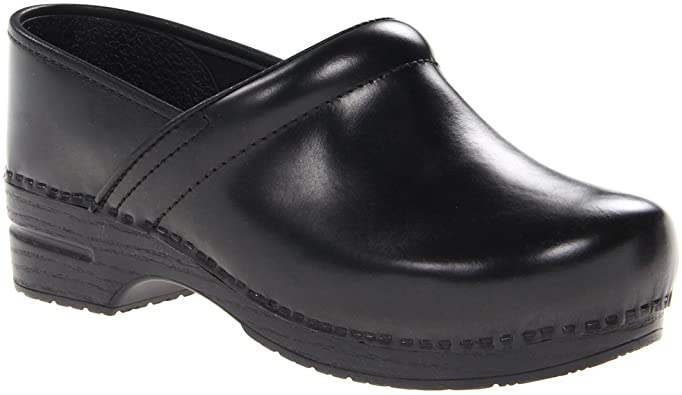 Dansko Women's XP 2.0 Clogs offer the classic professional shoe in an updated version that's perfect for wide feet. With the ergonomic, natural arch technology and slip-resistant sole, it is comfortable to wear. The lightweight EVA foam midsole of these clogs helps to reduce the overall weight and increases the comfort level. These shoes are designed with natural arch technology to provide you with exceptional comfort and support.
This style of Dansko XP 2.0 Clogs offers advanced shock absorption and reactive bounce-back technology. A very big advantage of this show is that you never again have to worry about slipping on wet or oily surfaces, thanks to the textured sole. After a long day at work, you can stretch and move freely thanks to the spacious, reinforced toe box. There are clogs available in sizes 4.5 to 13, including half sizes and wide widths.
Here are some of the most important features of these shoes:
This pair of women's XP 2.0 clogs are designed for wide-footed individuals. The dual-density insoles have been designed with ergonomic and natural arch technology to provide both comfort and support.
With its new EVA midsole, the shoe is lighter and more comfortable, giving you a weightless feeling during your day.
Every step is full of bounce, and your feet are protected from shocks through the rocker-style bottom.
One can wiggle the toes for comfort in the toe box, which accommodates any foot size.
Purley leather is used to make the shoe, making it easy to clean and increasing its life. As a result of the lightweight midsole, the foot is not overexerted.
As well as providing stability, it reduces shock during every step.
It has a dual-density PU footbed that is extremely comfortable. Furthermore, it is removable, so you can add orthotics to it if you desire. Those with wide or flat feet will benefit from the arch support provided by the footbed.
Pros
It has a midsole that is extremely light in weight.
It has been designed with arch technology.
It has a wide toe box that prevents swelling of the feet and reduces discomfort.
Besides these shoes, Dansko also offers the Dansko Sara Waxy Sandal, which is great for casual use for people with wide feet. It is a very popular sandal from Dansko and has got many positive reviews from its buyers.
Sara is recommended for those with feet of medium to wide size and looking for something that will provide them with good arch support. Dansko Sara offers a more cushioned footbed and lightweight, slightly flexible outsole that will be a welcome change from the hard sole of the original Dansko Professional clogs. With velcro hook and loop closures, both the ankle and forefoot straps are adjustable for a more personalized fit.
The wearers of these shoes always return to Dansko's rocker sole because they love the design. Having a rocker sole reduces pressure on the painful areas of your feet when you have forefoot or heel pain. Another great advantage of the Dansko Sara is a multipurpose summer sandal, perfect for wearing with shorts, capris, skirts, or a sundress in a casual setting.