Nurses have so many responsibilities in the field besides taking temperatures and administering injections. If frontline workers like them were not available, everyone would have had such a hard time.
The professionals are trained in various departments, and so they have the skills to perform multiple tasks with ease. They not only train to conduct duties but also care for patients with sympathy and kindness. Sometimes, a doctor may not be available to perform some tasks. Trained nurses can take up those responsibilities if the authority permits them.
Performing ultrasounds is one of the tasks that nurses can do when a doctor is not present. However, the nurse on duty needs to have some training in that field. Having skills in different tasks can also help nurses seek advanced career opportunities that pay more.
Trained nurses with expertise in ultrasound can work in clinics, hospitals, nursing homes, and other healthcare centers.
What type of training do nurses get to perform ultrasound procedures?
Professional nurses mainly train to use ultrasound technology for peripheral IV insertions and limited obstetric examinations (pregnancy).
Limited Obstetrical Ultrasound
If nurses work in places that provide healthcare in pregnancy-related issues, they may undergo training for conducting a limited obstetrical ultrasound.
It differs from a typical ultrasound in the sense that the procedure focuses only on specific locations and not a full scan. A basic ultrasound procedure usually takes place during the second or third trimester of pregnancy.
The limited ultrasound procedure analyzes the cervix and determines the quantity of amniotic fluid in the uterus. The purpose of performing the ultrasound is to provide helpful information to mothers-to-be once pregnancy is determined.
The procedure takes place when there are some unanswered questions. For instance, a hospital or a pregnancy center will recommend an ultrasound to establish fetal presentation in a patient. An ultrasound can also take place to determine fetal heart activity in a hemorrhaging patient.
Who can train for performing limited obstetric ultrasound?
Registered nurses interested in working at pregnancy centers and OB/GYN settings can undergo a course. The training duration doesn't last too long, but it can be pretty intense. Trainees have to stay under supervision at least eight hours per day and also undergo practical sessions.
Even after training is complete, qualified and experienced professionals should guide and monitor the nurses. It will increase their skills and prevent mistakes.
Places to get training
Most training centers offer courses which can last anywhere from two days onwards. The Jefferson Ultrasound Research and Education Institute (Philadelphia and several cities around the country) is one of the places that offer a two-day course.
There are also plenty of other training centers. So, you can search for medical colleges and universities which offer the courses located in your area for convenience.
Peripheral IV Insertions Using Ultrasound Technology
As science and technology advances, experts and researchers also continue to develop techniques and devices for various purposes. Even in the medical field, there have been many inventions in the recent past. Ultrasound-guided peripheral IV insertion is one of the new techniques that many medical centers are using now.
The technique enables healthcare professionals to insert peripheral IV with ease and also avoid complications. It is also a valuable technique to insert PIV when it is hard to find the blood vessels. Using the method for inserting central IV line also prevents disasters.
Other uses of PIV with ultrasound guidance include assessing the bladder before putting a catheter. It is done to make sure if sufficient quantity comes back. It can be risky to insert a tube inside the bladder if there is not enough urine. So, the technique helps to know the status.
Besides sonography technicians, nurses can also perform the procedure. However, they have to undergo training to obtain the knowledge and skills to perform the procedure.
Nurses trained for the procedure can work in hospitals, clinics, emergency settings, pregnancy centers, and other places where needed.
Often in the emergency rooms, it becomes challenging to find the veins in patients for starting an Intravenous line. Nurses with the knowledge and experience can quickly use the technique to find the veins and provide the necessary treatment and care.
Places to get training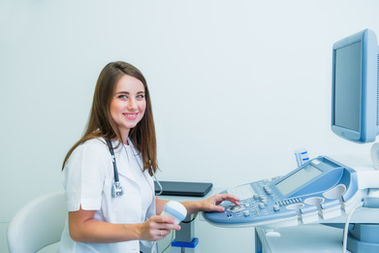 Many places offer training in ultrasound-guided peripheral IV insertions. If nurses want to work in that department, they can find medical colleges, universities, or recognized institutes where they offer the course.
You might also find training centers in your town or city. So, if you work, you can choose a place nearby and take the course. The course will not last very long so you can manage both the work and the training.
Besides others, the University of California, Irvine's School of Medicine, and SonoSite, Inc are two institutes that offer courses in the subject.
Career Opportunities
While there is high demand for regular RNs, medical centers often look for nurses with more skills. Hence, nurses who can perform ultrasound can find placements easily.
They not only have more jobs to choose from, but nurses trained in ultrasound can earn more too. According to reports, the average salary for nurses with certification in ultrasound technology is about $75981 per annum.
If you have made up your mind to work as a nurse, having different skills can be quite beneficial. With more ultrasound techs being in demand, you can take a course and get certified.
Final Word
Technology keeps advancing every day. In time, ultrasound technology will also get more advanced, which can help experts and healthcare workers obtain results fast. It, in turn, will help patients get better and faster treatment.
There will also be a great demand for skilled professionals who can take up ultrasound responsibilities when better technology arrives. Since there are not enough ultrasound technicians, registered nurses can take up courses and get a certification.
With a lot of experience, skills, and a certificate, there will be more job opportunities to explore. You can make a career and take up responsibilities and care for patients as you always wanted to.
Having a satisfying job will also enable you to perform your duties more confidently. At the same time, your patients and place of employment will only gain from your performance.