Several medical units are present within a hospital setting that offers a wide range of healthcare facilities like critical care or acute care or a combination of both the cares. However, both critical and acute care differs from one patient to another. When you know the difference between critical care and acute care, you can easily find out the area of specialty you want to pursue in healthcare.
What does acute care mean?
Acute care is a form of short-term medical/healthcare given to patients suffering from serious illnesses or injuries. This commonly includes concussions, fractures, abdominal pain, burns, fever, or wound that requires stitches. Acute care is another form of an acute surgical method such as gallbladder removal, appendectomies, routine surgical procedures, and tissue removals.
What does critical care mean?
Critical care is a form of medical care that needs a life-saving operation and requires close monitoring of the condition of patients. Critical care units generally emphasize offering long-term stays inside the hospital setting. Critical care units provide care and treatment to patients with the following conditions- respiratory failure, broken bones, severe infection, organ failure, spinal cord damage, life-threatening disease, and heart conditions. This care is given to patients suffering from life-threatening illnesses or serious diseases.
Differences between critical care and acute care
Both critical care and acute care are forms of medical care as well as both relate to careful attention to the patients, but there can be many points differences between the two areas of care. Following are ways critical care differs from acute care.
Definition
Acute care can also be referred to as secondary care since a patient is referred hereafter diagnosed by primary care healthcare professionals. Acute care is, needed to be treated by someone more specialized. Here a patient is diagnosed with a serious short-term illness or medical condition. There remains confusion surrounding this type of care unit since it takes place in those areas which also offer different emergency care services. An acute healthcare professional needs to work with people suffering from infectious diseases, chronic diseases, and serious injuries.
Healthcare professionals provide critical care to patients needing emergency healthcare. It is also known as intensive care since both are related to the treatment and monitoring of patients who need intense care round the clock. Critical care professional offers severe and dedicated care to patients as they are kept under constant monitoring since their health condition may change in just seconds. Critical nurses need to know a great deal of equipment related to intravenous and catheter lines, blood flow meters, cardiac ultrasound, blood gas analyzers, electrocardiogram machines, portable x-ray machines, cardiac output measurement systems, dialysis machines, oximeters, ventilators, temperature controlling system, etc.
Work environments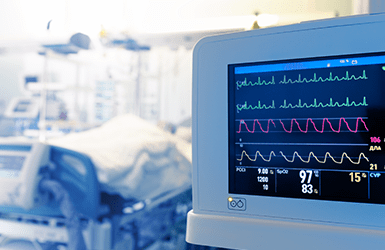 Both critical care and acute care units carry a sense of responsibility to offer the best and most highly effective patient care; however, they may differ from one another in different work environments where they occur typically. For instance, acute care units involve:
Assessing the patients quickly.
Discharging after a few days of admission.
Completing all routine procedures quickly.
Depending on their medical condition, few patients remain in the critical care unit for some weeks and even months to get the recovery treatment that they need to get better. However, on the other hand, critical care contains more intensity as healthcare professionals care for patients going through serious life-threatening diseases. This also includes performing serious lifesaving operations and surgeries and monitoring the patients closely during the recovery process.
Education requirements
The professionals handling critical care and acute care units have to acquire good education qualifications to carry out their duties. But their exams and degree of qualification may vary. An acute nurse is required to take and pass the NCLEX-RN exam, earn an associate degree or bachelor's degree in the field of nursing, and state licensure. A good working experience at urgent care or hospital facility combined with a certification program offered by the American Association of critical care Nurses is also important for acute care nurses. On the other hand, a critical care nurse has to go through the same process -earn a bachelor's degree in nursing, pass the NCLEX–RN exam, and earn certification program and state licensure. But for earning experience, they have to work in a medical setting and apply for ICU or trauma roles.
Roles included in acute care units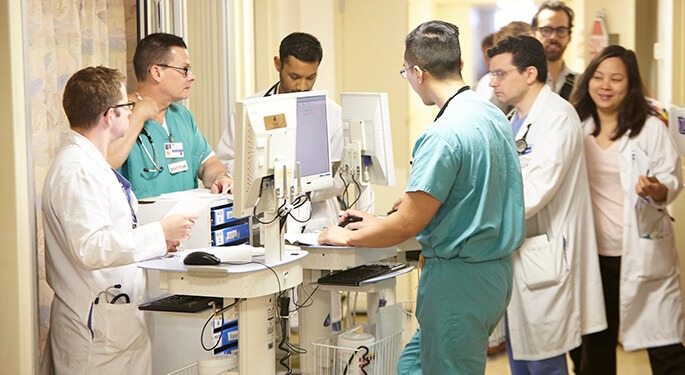 Following are the potential career paths included in acute care units-
ER nurse
General surgeon
Acute care nurse
Acute care nurse practitioner
General surgeon
Acute care pediatric nurse.
Roles included in critical care.
The roles included in the critical care unit include the following job titles-
Trauma surgical technician
ICU nurse
Trauma surgical technician
Trauma surgeon
Critical care physician
The Skills Needed 
Acute care professional
Acute care professional needs to work in the different work environment since they treat patients as different individuals. Skills needed to be acute care professional are- compassion, effective communication skills, caring, adapt to changing requirements. When acute care professionals effectively communicate themselves with the patient and the concerned family members, they can understand the nature of patient care much better. High-level skills are needed in first aid to help patients manage better.
Critical care professional
The work environment of critical care includes the patient's desperate and frantic behavior and the concerned family members. So critical care professionals must be calm working under pressure and in stressful situations. They need to perform their duty quickly without wasting time since even a minute may lead to life and death matter.
Acute care
Professionals working in acute care units perform the following duties –
Monitoring intravenous fluid
Treatment to wounds
Arrangement of patient transfer
Adjustment of pain relief medicine and monitoring closely
Monitoring equipment such as ventilators, monitors, etc., to ensure these are working properly.
Critical care
Professionals working in critical care unit performs the following duties-
Evaluation of important signs
Clean wounds and do dressing
Administer medicine through gastric tubes, intravenous tubes, and injections.
Monitor reactions of patients
Infuse blood products
Track heart monitor and other life-supporting devices/equipment
Identify areas of patient needs and create care plans that will be in their best interest.