Introduction
Synthetic shoe leather has to be one of the best alternatives for real leather. Thus, you can enjoy the look of real leather by using synthetic one. Shoes made using genuine leather are quite expensive, but if you get shoes made from synthetic quality leather, then you will benefit from low cost. They are cheaper and are cruelty-free because they are made without using animal products.
Synthetic leather is artificial, and it is made from chemically treated plastic. However, since this leather is synthetic, the shoes contain a strong plastic smell. This is a drawback of using artificial synthetic leather because that smell is unpleasant and can get overpowering if the shoes are still new.
You cannot do anything at that point because this disturbing smell will only go away with time. There are a few ways by which you can speed up the process to get rid of this synthetic shoe smell.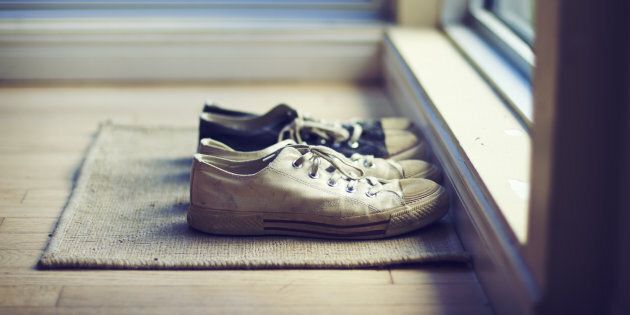 Number 1
In case your shoes are waterproof, then they can be easily cleaned for smell removal. As you can immerse a cloth in lukewarm water, use a bar of hand soap and with that soapy mixture. You can clean the shoe properly, It may consume some time and energy, but you have to be patient, make sure to dry them completely after washing them. You will have to repeat the same steps a few times according to the strength of smell present in the shoe. This will be very helpful in escaping some of the chemical residues from your new leather shoes.
Number 2
Keep your shoes in the open air. Sunlight is very important, but it can damage your shoes too, so do not put them out in the sun for a longer period. Once you have started using your shoes, you should keep them in a properly ventilated area after every use as there is much air passing through them. This will allow that smell to flee away with the continuous gushes of air. Removing smell naturally will be accelerated this way.
Number 3
Another easy way of dealing with this is to wrap them in a newspaper if you are not using your shoes. Hence, you can put your shoes away while they are covered in the newspaper. Make sure to use a newspaper only and not just any other paper. Newspaper is highly fibrous, so it can naturally absorb all kinds of odors. That is why keeping paper close to your smelly shoes can be very useful in reducing smell.
Number 4
Tea tree oil is another magical ingredient for removing the powerful smell of synthetic leather. Tea tree oil is an excellent product for reducing the smell from your shoes. Just washing your shoes more often is a hassle, and you will not get rid of the smell. So tea tree oil is like a very powerful secret against any smells because its fragrance is so overpowering. All you need to do is sprinkle 2-3 drops of tea tree oil through the shoe, and it will reduce any odor and prevent other odors.
Number 5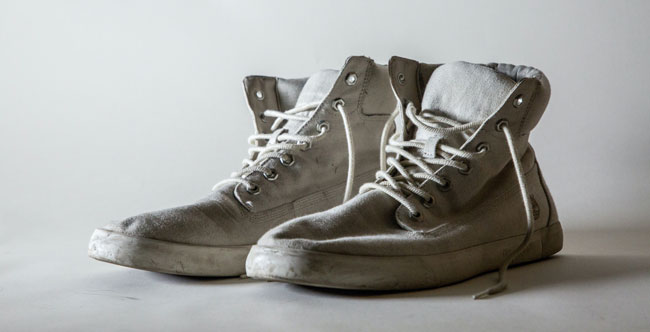 Applying baking soda to the shoes can be helpful in this case, too, since baking soda can absorb all types of odors. Thus, it may absorb the synthetic smell of your shoe, too, because it can neutralize every kind of smell. It is also used for other purposes for removing various kinds of smells. You can use it in powdered form by sprinkling it and spreading it with the help of some cotton. Or you can make a mixture of baking soda and water and apply it to the new pair of shoes, preferably with cotton. Now leave your shoes with this application for many hours. It would be better to keep them for the whole day. Then simply brush off that powder or clean it with a wet cloth.
Number 6
The next technique is to apply the odor-absorbing foot powder to the shoes. This is a very easy trick for the removal of smell from shoes. This action will be very helpful in the case of synthetic leather shoes, since they are non-porous to get neutralized inside the leather shoe.
Number 7
You can also put your new shoes now in a paper bag along with a piece of charcoal for the whole night. All the remaining smells and chemicals in the air will be gone by the next day, and your smell-free shoes will be there only.
Number 8
I don't think we can get any shoe sachets from the market, but you can make one at home too, as it is a very convenient and inexpensive way of removing the smell. It is very easy and fun to make. Shoe sachets work great and are a quick fix for nasty chemical smells. It is an inexpensive way of keeping your shoes clean and protected from all kinds of smells.
What you need to do is to mix half a cup of baking powder and some corn starch. Baking soda is responsible for absorbing the disturbing smells, and while corn starch will be useful in absorbing all the moisture. Then you can take a few drops (around 10) of any essential oil. Mix all three ingredients properly. Then, you need to find a dense fabric and cut it into four equal squares. After that, you have to add one-quarter of the powder in the center of each fabric square. The last step is to cover it with the other fabric and tie them in a nice sachets style.
Conclusion
Finally, the last step you need to do is to keep the sachet in each shoe for a couple of hours. Making shoe sachets at home is a very easy and effective technique. It depends on how often you use the shoe sachet, but they can be used for up to 2-3 weeks.