If you are interested in becoming a nurse, you will be happy to hear that a nursing career comes with steady job security, competitive salaries, and the immense satisfaction of knowing that you have made a real impact on your patients' lives. It's important to note, though, that there are many different potential career paths and job titles that you might want to pursue, and each carries its own educational and training requirements.
What is a BSN?
While a Registered nurse and graduate nurse or BSN are similar in the sense that they both relate to nursing, one is a degree and the other is a license. The Bachelor of Science in Nursing degree, or BSN, is a four-year bachelor's degree done at a university or college. A BSN degree offers a much broader education than the 2-year associate degree in nursing (AND) and opens a whole new set of possibilities for a nursing career. The benefits include a higher salary, better job offerings, and advancement in the job market. Lately, it's becoming increasingly more common for healthcare facilities to require BSN degrees for the RNs that they hire. While an associate degree will cover the education and training you need to pass your NCLEX exam and work as a Registered Nurse, a BSN dives deeper by building on the concepts from the associate degree and taking your skills and education to the next level.
What is Registered Nurse (RN)?
Meanwhile, an RN or Registered Nurse is a licensed nurse who either:
Holds a nursing diploma
Has completed an Associate's Degree Program in Nursing (ADN)
Has completed a Bachelor of Science in Nursing or RN to BSN program
As the healthcare industry has changed over the years, the systems that educate our healthcare workers have adapted as well. The number of diploma programs has decreased in recent years, with more associate degree programs and now bachelor's degree programs. While each one will lead you to earn your RN license, each one builds on the last. Completing one of the above programs makes the future nurse eligible to become licensed as a Registered Nurse. For a nurse to get licensed. They must submit an application through their state's board of nursing, and successfully complete the National Council Licensure Examination (NCLEX)- an exam consisting of a minimum of 75 questions.
What is an NCLEX exam?
After a nurse completes his or her education, there is one more step that must be taken before work can begin. All nurses must pass the NCLEX exam in order to receive a nursing license. The National Council Licensure Examination is designed to measure the competence and skills needed to perform safely and effectively as a newly licensed, entry-level nurse. There are two types of exams that are given. The NCLEX- RN is taken by those who would like to become registered nurses, and the NCLEX- PN is for those pursuing a license as a practical nurse.
Each exam lasts about 2 to 3 hours and anyone who does not pass it must wait 45 to 90 days before taking the test again. If you are considering a nursing career, it is important to keep the NCLEX exam in mind when choosing when you want to go to school. Some schools place an emphasis on preparing students for this test because the license it awards you for passing the exam is necessary if you want a job in nursing. The curriculum that has been created for the nursing training programs offered by different institutions is designed to prepare students to sit for NCLEX exams. Hands-on training that includes stimulated hospitals and laboratories and real-life situations are provided.
Registered nurses and practical nurses each receive the training they need to succeed on the exams. Experienced instructors give students the tools necessary to pass. Once they have passed the exam, these nurses are ready to begin working in the hospitals, physician's offices, schools, nursing homes, public health agencies, and anywhere else nurses are needed
Can you work as a nurse without a license?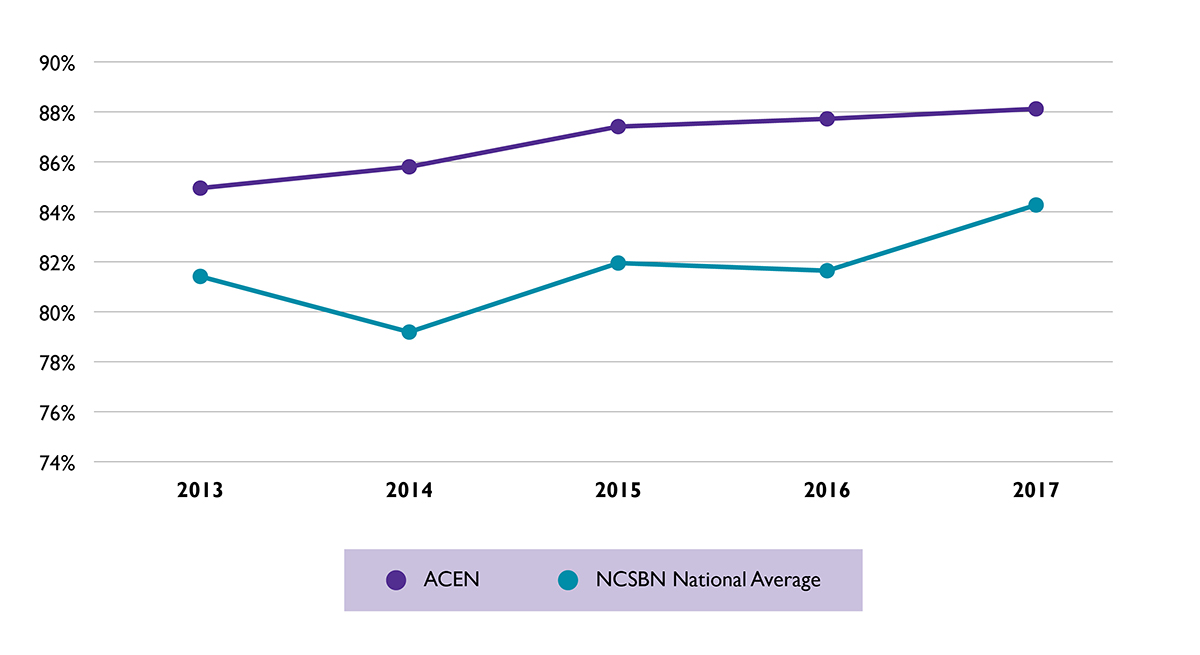 Every state requires the nurses who graduated with a nursing degree to take the NCLEX test and get the license to become a registered nurse. Only then you will be allowed to use your nursing abilities and knowledge at different healthcare centers. Without a license, you cannot work professionally as a nurse in hospitals, clinics, or other healthcare facilities. Since nursing involves diagnosing patients, treating health problems, providing medical procedures or regimens as prescribed by a physician, as well as providing supportive or restorative medical care. Since being a nurse means that you have a patient's life, health, maintenance, and all other things in your hands and you work closely with the doctor for their benefit and health, most of the states require a license to make sure that you can handle such cases and situations.
There are many reasons why one wasn't able to get a license by passing the NCLEX exam, but that doesn't mean your nursing degree will go waste. You can work as a nursing assistant is an option to still provide patient care if you have your degree, but no license. Several positions are available in nursing reach with textbook companies and through other venues, like magazines, blogs, and nursing information websites. Also, after completing nursing school, your state may allow you to take the phlebotomy certification exam. This allows you to take blood and start intravenous therapy on patients in a blood donor center or work in a laboratory setting. Check local job boards at the hospitals and your local health departments for positions, such as family planning or medical records, they may not require a license as well.
Conclusion
You can surely get different opportunities to use your nursing knowledge and abilities without a license, but it's better if you try hard to take up the NCLEX exam and work to obtain the license and become a registered nurse so you can work as a professional nurse.