Manicured nails show how well-groomed you are, making you feel more confident. They give an impression that you give yourself due attention and present yourself well. Besides being in a fast-paced environment that requires a lot of hand function, nurses may not always enjoy manicured nails as policies on the use of nail polish vary per health institution. Multidisciplinary committees convene per hospital to determine the guidelines.
What Do Respected Authorities Have to Say?
CDC
Center for Disease Control (CDC) states that healthcare workers tending to patients in areas with a high risk of acquiring infection should keep their nails less than a quarter-inch long and not wear artificial nails, gel, or nail polish. High-risk areas include transplant units, maternity wards, burn units and the Intensive Care Unit.
WHO
The World Health Organization (WHO) prohibits artificial nails and extensions to all health workers, regardless of their designation, in the interest of patients' safety.
Other bodies have conducted studies, and the probe into the relationship between infection and nail polish had insufficient and inconclusive findings. No significant increase in bacterial growth occurred with fresh nail polish. We examine the resultant evidence-based guidelines;
AORN
The Association of Operation Room Nurses (AORN) demands nurses remove and reapply nail polish every four days to avoid microbial growth. The growth is because nails polish starts chipping by the fourth day and can harbor bacteria.
AORN also argues that nurses who have spent significant time and money polishing their nails may become less vigorous when doing routine surgical scrubbing to protect the polish. In this case, pathogens are left on the hands rather than on the nails. The bacteria left on the hands grow, posing the risk of infection on patients.
AAMI
The Association Of Advancement of Medical Instrumentation (AAMI) deals with sterility assurance. It demands that all nurses in the Sterile Processing Department have their nails less than a quarter-inch long, with no extensions.
Societies like the Infectious Diseases Society of America (IDSA) and the Society for Healthcare Epidemiology (SHEA) are conservative in their approach to whether or not nurses should wear nail polish. They generally classify nail polish as artificial nails and prohibit it for healthcare personnel in high-risk areas.
Artificial Nails Described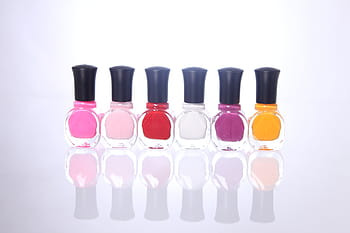 In the clinical environment, substances applied on top of the natural nail to enhance the appearance in any way are artificial nails. They could be bonding, tapes, gel, stick ons, dip powder nails, tips or overlays.
Scrubbing is the thorough cleaning of hands up to the elbow with antiseptic before wearing attire or gloves for invasive procedures. Nurses use a brush to scrub beneath the nails under running water. It reduces bacteria that may cause infections on surgical wounds if transferred during surgery.
Artificial nails can minimize the intended effect of the scrub because all foreign parts on your fingernails can hide and grow microbes, which you then transfer and cause infection. The CDC, however, states that intact nail polish barely spreads bacteria.
Nail Polish in the Healthcare Setting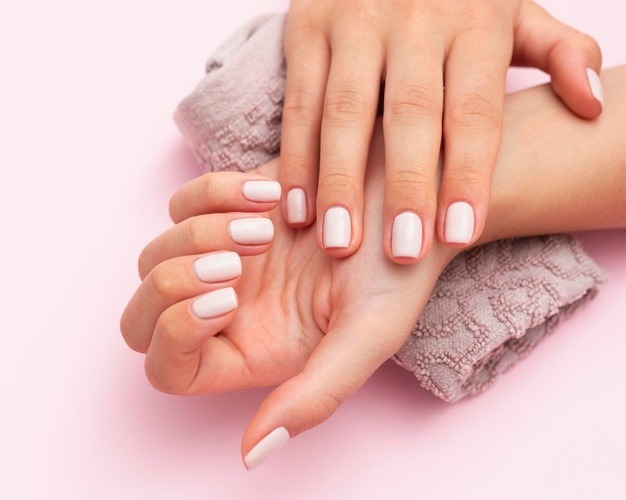 Hospitals that allow nurses to wear nail polish attach the following conditions;
That the polish used should not chip easily. Polish that chips may get onto sterile surfaces. Patients have already weakened immunity, and chippings can only cause more harm.
Removal and reapplication for regular polish should be in a maximum of four days. Beyond this, they stand to collect a more significant amount of bacteria than fresh polish.
The nurse should use regular polish and not gel nail polish.
The paint should have a neutral color to match the nurse's personality and be durable.
In clinical settings where there are restrictions against using nail polish, the reasons include;
Nurses should maintain total hand sanitization to maintain a sterile clinical environment. Nail polish compromises this intention.
Healthcare settings generally ban the use of gel nail polish. The gaps between the gel and the nails as the nails and cuticles grow harbor bacteria. The gel polish is also challenging to clean using alcohol during surgical hand antisepsis.
Imperfections on nail polish can host bacteria and trap fungi, reducing the effectiveness of a scrub.
Reduced hand hygiene from artificial substances on nails can easily cause gram-negative bacteria and yeast outbreaks.
Chipped nail polish may cause microscopic tears on gloves, breaking the protective barrier between the nurse and surfaces. It is therefore risky for the nurse too.
Distraction- Most nail polish applied on the hands is of bright color and does not look modest for the nurse's personality.
Eliminating nail polish decreases the spread of healthcare-associated infections.
Nail polish may not last long as constant use of sanitizer makes it tacky. Sanitiser has alcohol, which dissolves nail polish. It, therefore, makes polish look messy.
Nail polish restrictions only apply to fingernails. Nurses are allowed to paint their toenails as they please. They always remain in socks or stockings and shoes. During leave days and holidays, those working in hospitals that ban nail polish can treat themselves to manicures with nail polish of their choice, then scrap it off upon resuming work.
Though gel nail polish is restricted, some hospital settings allow nurses to wear Shellac polish. Shellac is cured under UV lamps and lasts longer than regular polish. It takes longer to chip too. However, some hospitals classify it as regular gel polish and ban it entirely.
In other countries like Australia and the UK, nail polish of all forms and all artificial nail extensions are not allowed. Boards make such decisions because it can be tasking to monitor the fingernail polish on each nurse to identify chips during every shift. The nurses have more demanding priorities.
Conclusion
Application of nail polish by you as a nurse depends on the rules set by the committee at your workplace. It is best to prioritize the health and safety of patients above all else. Prioritizing means that if necessary, the need to keep a patient's environment sterile should beat your desire to grow or decorate your nails.
A nurse should always rely on surgical conscience to do the right thing to avoid compromising the patient.