Can Nurses Work In Labs
This is a question that you might find yourself asking if you or someone you know wants to work in a lab setting? It's not uncommon for people who choose nursing as their profession to end up working in the lab, and if this is your ultimate career goal, you can certainly look into it.
However, before you go out and spend a great deal of your money on schooling that will result in a lab tech degree, take a moment to think about whether or not this is something you want to do. There are both advantages and disadvantages to working in a laboratory environment, so be sure that what you're giving up by pursuing the lab tech position will be counterbalanced by the advantages it offers.
What is a lab nurse?
Lab nurses are part of the laboratory team, which supports physicians and other medical professionals by providing clinical testing services for patients. They provide direct patient care in one or many laboratory areas, such as blood banks or chemistry.
That means helping arrange patient samples for testing by a pathologist, medical technologists or other laboratory professionals. Lab nurses also prepare specimens for clinical testing and constantly monitor patient samples during testing to ensure accurate results are obtained to support disease diagnosis.
Lab nurses often report critical lab values over the telephone to physicians making decisions about patient care related to these results. They may also function as shift managers, coordinating the operations of lab staff during busy periods.
What do lab nurses do?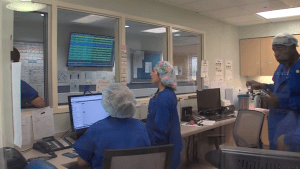 Lab nurses must be knowledgeable in all laboratory areas and read results from pathology tests. Lab nurses may work in various clinical settings, including hospitals, physicians' offices, home health agencies, and research laboratories. Lab nurses must be up-to-date in current medical and lab procedures and follow safety protocols in the lab.
A lab nurse may work alone or with a team of professionals depending on the facility. Still, they always have responsibility for directing staff members to ensure patients get their tests results promptly. Lab nurses must have good communication, interpersonal, and problem-solving skills to work with physicians from various specialties, patients, and families.
How to become a lab nurse?
To become a lab nurse, one must perform clinical laboratory tests and have an in-depth understanding of these procedures. They should also have excellent communication skills since they often work directly with doctors and patients. Lab nurses typically need a bachelor's degree related to medical technology or nursing and must be licensed to practice in the state where they work.
Lab nurses may advance by gaining experience in their current position or moving into supervisory positions within the lab setting. They may also choose to specialize in a specific testing area (such as cytology). Advancement opportunities are available at an educational institution, large hospital system, or diagnostic laboratory.
The Benefits of being a lab nurse
A flexible work schedule, with standard days and hours and options for evening and weekend shifts. It gives job security since labs and their services are an essential part of the healthcare industry.
You also get opportunities for advancement into supervisory positions or leadership roles. Being a part of patient care and directly involved in the testing process is also one of the benefits of being a lab nurse. You also get opportunities to learn new skills and expand your knowledge base through ongoing training and education programs.
The challenges of being a lab nurse
Long, irregular shifts during some times of day or weeks due to high demand for laboratory services are very challenging. Lab nurses also have to work in a fast-paced environment with strict deadlines, especially if you work in the emergency room or an intensive care unit.
High-level responsibility is required since results are critical to patient diagnosis and treatment plans. Stressful working conditions due to exposure to hazardous chemicals used for testing.
How To Prepare For A Career As A Lab Nurse
Obtain an education through a formal study program accredited by the NLNAC (National League for Nursing Accrediting Commission) or CAAHEP (Commission on Accreditation of Allied Health Education Programs). An Associate degree in nursing is earned at a community college, but a Bachelor's degree is generally preferred.
A Master's degree in nursing, which typically takes two to four years to complete, provides more options for specialization and advancement. An accredited program in the medical laboratory sciences is completed in a shorter period at a college or university. Obtain clinical experience through an externship or internship. Obtain licensure in the state where you work.
Gain experience by working as a part-time laboratory assistant or medical laboratory technician to determine if this career is a good fit for you before committing to further education and training. Participate in continuing education courses on an ongoing basis to keep up with changes in the medical laboratory sciences.
Gain leadership skills by taking on a supervisory role within the lab or serving as a mentor for laboratory assistants and technicians. Develop excellent time management skills, fiscal responsibility, and teamwork abilities to succeed as a lab nurse. Integrate your technical expertise with clinical knowledge to provide high-quality patient care.
Develop excellent communication skills to work well with patients, physicians, and other healthcare personnel. Maintain focus in working with chemicals used for laboratory testing, which may be hazardous to humans. Remain current on regulations relevant to your job duties. Be aware of changes in federal regulations governing the testing process, such as the Clinical Laboratories Improvement Amendments (CLIA) and HIPAA.
The future of nursing and Lab Nursing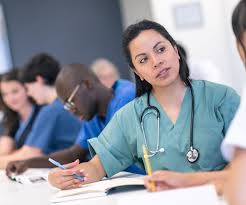 The Bureau of Labor Statistics cites a 17 percent growth rate for lab technicians and a 13 percent growth rate for medical assistants through 2026. Nurses with additional training in the medical laboratory sciences have a strong potential to advance into leadership roles, particularly as managers or directors of clinical laboratories.
In addition to earning an advanced degree, formal training in laboratory testing is necessary to meet state licensure requirements. Nurses who are certified through the American Society for Clinical Pathology (ASCP) or similar organizations can increase their value to healthcare organizations.
Conclusion:
Nursing is a rewarding, ever-changing profession that offers many opportunities to help improve patient care and outcomes. With strong career prospects and high demand for skilled healthcare professionals in the medical laboratory sciences, it's an excellent field to consider if you enjoy working with people and want a career helping others.